The Real Reason You Don't Hear From These Rappers Anymore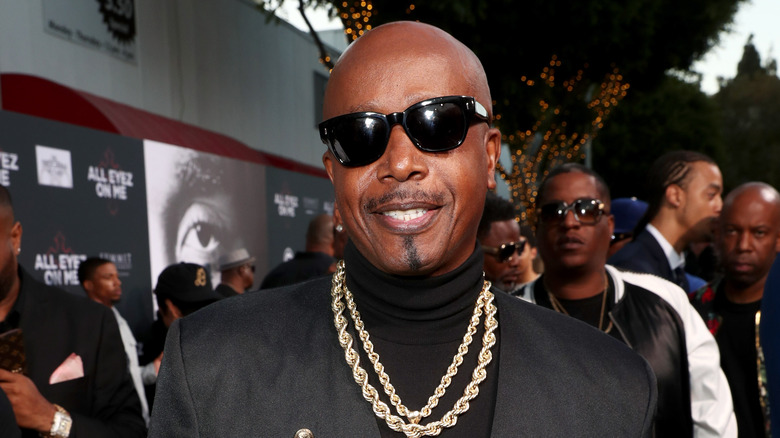 Todd Williamson/Getty Images
Throughout the history of popular music, artists have come and gone. Very few performers have had the staying power of, say, Fleetwood Mac or the Eagles, and most performers, if they have any lasting success at all, only manage to stay big for a comparatively brief period of time. And though rap is a relative newcomer to pop music — it became a thing in the late 1970s and early 1980s (per NPR) — the same thing can be said of its artists: most have come and gone, a few have endured. 
Of course, the reasons for the ends of various rap/hip-hop artists' careers are varied. Some simply failed to resonate with audiences and faded into obscurity. Others battled personal demons and died at a young age or disappeared into the shadows as they lost their battles. Some have died in violence, some have gone to prison, and more than one rapper has made and lost several fortunes due to their inability to manage money.
MC Hammer went broke, found God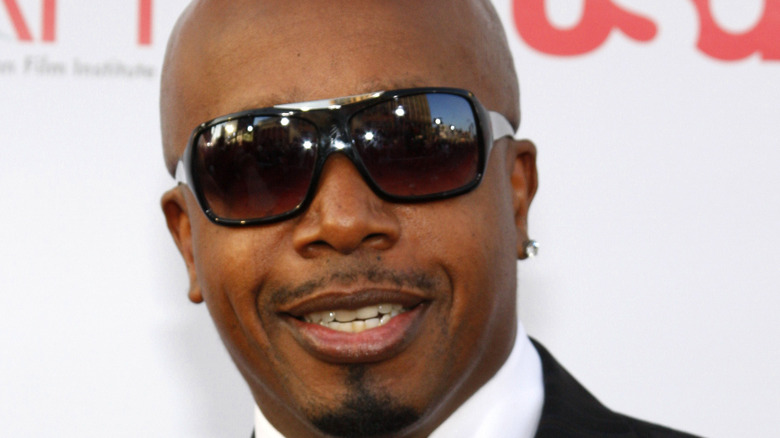 Tinseltown/Shutterstock
Few rap songs have reached No. 1 on the pop charts, and that was particularly true in 1990 when rap was considered a niche genre. However, MC Hammer's 1990 hit "U Can't Touch This" smashed through those barriers and paved the way for pop-oriented rap (or rap-oriented pop, depending on your point of view), as Songfacts explains, including his follow-up hit, "2 Legit 2 Quit." Hammer (born Stanley Kirk Burrell) became an icon, complete with cartoon tie-ins, merchandising, the whole bit. He made tens of millions, and he spent it as fast as he made it. As the Daily Mirror explains, Hammer spent so much money on anything and everything that he effectively went broke and was forced to declare bankruptcy.
After his rap career fizzled, Burrell found God and went into the ministry, according to Believer's Portal. He maintains an active Instagram account, and it appears as though he's still involved in the church, including distributing food to the poor in Oakland, California. He's also pivoted to tech investing in the last few years. 
Chamillionaire is a businessman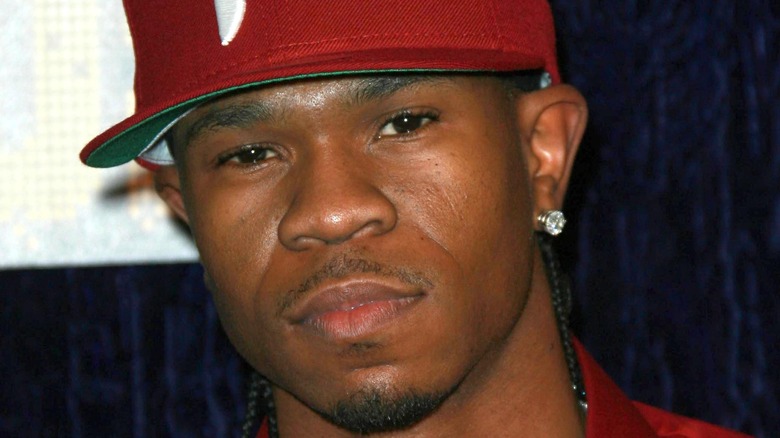 s_bukley/Shutterstock
By some measures, being spoofed by "Weird Al" Yankovic is proof that you've made it as an artist. Houston rapper Chamillionaire (born Hakeem Temidayo Seriki) is one such artist — his 2005 hit "Ridin' Dirty" was parodied as "White & Nerdy." Indeed, according to Vulture, Seriki had naught but praise for Weird Al's spoof of his one and only hit song, saying, "It's really an honor when [Weird Al] does that. Weird Al is not gonna do a parody of your song if you're not doing it big."
After his big hit in the early aughts, Cahmillionaire's career dimmed, with follow-up projects failing to reach his earlier heights. However, he invested his earnings into various businesses, including a Texas auto customization shop (according to Swamplot) and his own record label, Chamilitary Entertainment. In 2010, it looked as if Seriki had some financial difficulties, as he was forced to sell a mansion for less than he paid for it. However, he brushed it off by saying that he was cutting back on expenses since he needed to spend his money on caring for his son and ailing mother.
Kelis is a farmer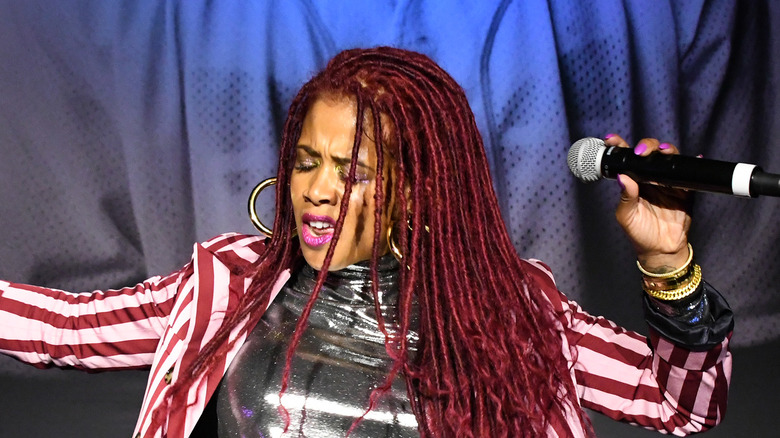 Araya Doheny/Getty Images
New York-born Kelis Rogers, who performed mononymously under her first name, had a lengthy career in rap beginning in the late 1990s, according to Musician Guide. However, she reached her peak, celebrity-wise, in the early aughts, with the release of her 2003 hit "Milkshake" (she doesn't actually like milkshakes, according to the Daily Mirror) and her tumultuous and toxic marriage to fellow rapper Nas (per Hollywood Unlocked).
After her marriage ended and her music career ended, Kelis took a step back, according to The Guardian. She enrolled in one of the world's most prestigious culinary schools, France's Le Cordon Bleu, and then bought a farm outside of L.A. "It's pretty much my husband and me looking after the farm. You get up in the morning and do what you gotta do, and then you look around, and you're like: Why does it still look like this? Oh my God!" she said of the realities of daily life as a farmer.
Lauryn Hill is still around, kind of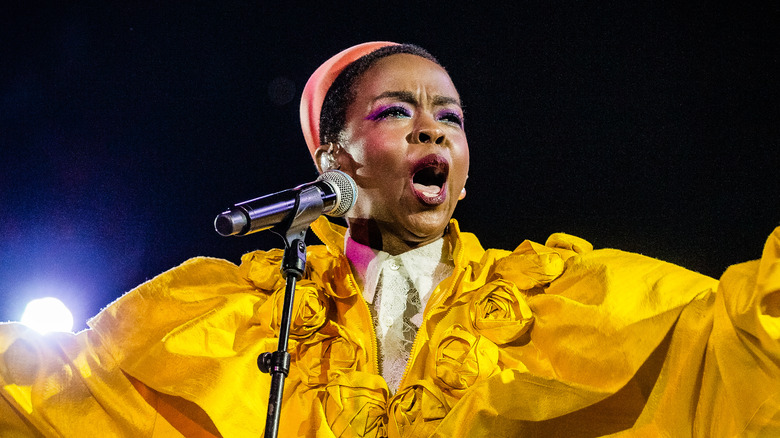 Ben Houdijk/Shutterstock
Sometimes a musician will forge a career in acting as a sort of follow-up to their music career (witness LL Cool J and Ice Cube, among multiple others). Lauryn Hill took the opposite approach — she was an actress, appearing in "Sister Act 2" before making it big as a rapper with the seminal '90s act the Fugees. After the Fugees, Lauryn struck out on her own, releasing "The Miseducation of Lauryn Hill" in 1998. According to Insider, the album is one of the seminal works in the history of rap, not just in the 1990s but of all time. 
Unfortunately for Hill, she failed to follow up the success of "Miseducation" with subsequent projects. However, she still tours, although if you're thinking about purchasing a ticket to a Lauryn Hill concert, you might want to consider putting that money into the slot machine. That's because your odds of getting any value for your money aren't great, as Hill reportedly has a habit of showing up late to concerts or not showing up at all.
Luther Campbell helps out Miami kids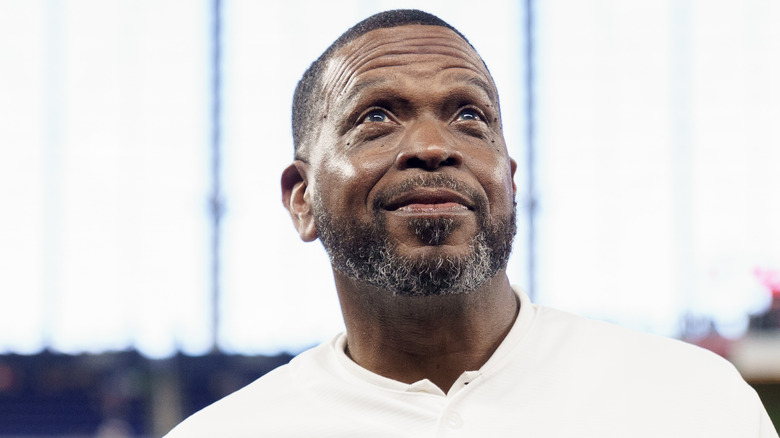 Bryan Cereijo/Getty Images
In the late 1980s, Luther Campbell, also known as Luke Skywalker, Luke, and Uncle Luke, blazed a trail by operating one of the first independent rap labels and championing First Amendment rights. With his group 2 Live Crew, Campbell released "As Nasty As They Wanna Be" in 1989, alleged to contain illegally obscene lyrics — a case that reached the Supreme Court. Campbell also took to the courts to successfully argue that "Pretty Woman," 2 Live Crew's version of Roy Orbison's "Oh, Pretty Woman" didn't break copyright law because it constituted fair use in the form of parody.
Campbell continued to record and release new music into the 2000s, although he scored his last and biggest hit in 1998 with the top 40 single "Raise the Roof." He still tours and can fill venues while crafting and releasing music for others through his Luke Records imprint. In 2018, Campbell helped make and starred in "Warriors of Liberty City." The documentary series depicts the Liberty City Warriors youth sports organization, a group Campbell helped co-found in a Miami area where crime and property rates are high to provide a road to success for underprivileged kids.
Sticky Fingaz produces movies and runs a nonprofit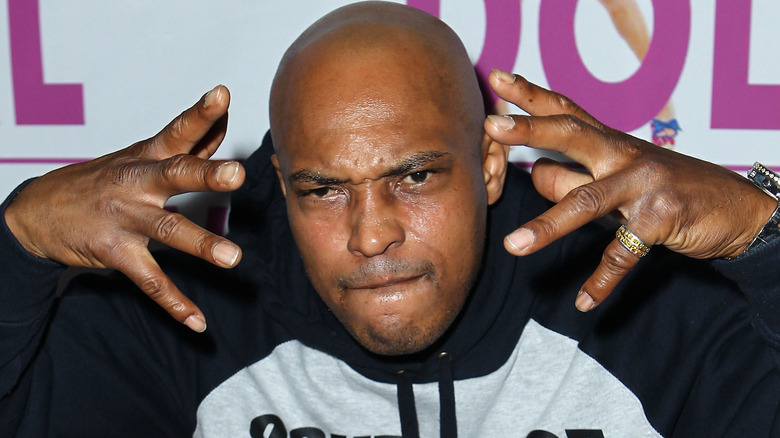 Leon Bennett/Getty Images
One of the tougher and harder-sounding groups of '90s hip-hop, Queens-based rap collective Onyx hit big in 1993 with its debut LP "Bacdafucup." Its first three singles were all smashes: "Shifftee," "Throw Ya Gunz," and the classic "Slam," a No. 4 hit on the Billboard Hot 100. The members of Onyx take turns delivering menacing but hard-partying verses on the song, with Sticky Fingaz handling the final, climactic stanzas, in a raspy, desperate voice declaring himself "the inspiration of a whole generation."
What was once a quartet is now a duo, with original Oxyz members Big DS and Sonny Seeza departing in 1994 and 2009, respectively. Remaining rappers Fredro Starr and Sticky Fingaz have continued to record as Onyx into the 2020s for small and independent labels. Sticky Fingaz, under his given name of Kirk Jones, produces a lot of entertainment elsewhere, as a founder of Major Independents. (Fredro Starr serves as a chief consultant to the multimedia entertainment production company.) He's also racked up dozens of acting credits in independent projects and is a founding member of the charity Hunger-Aid.
Juvenile makes furniture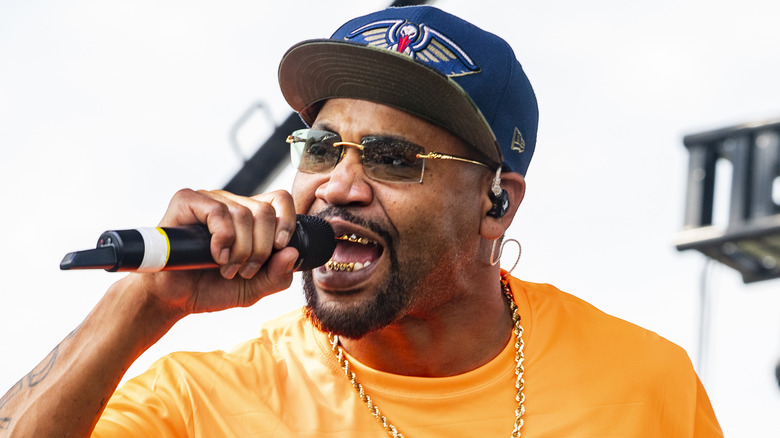 Erika Goldring/Getty Images
One of the most dominant rappers of the late 1990s and early 2000s, Juvenile (real name: Terius Gray) was a standout act on Cash Money Records, purveyor of the New Orleans hip-hop sound. Juvenile's third album, "400 Degrees," sold more than four million copies, and he's likely best known for two mega-hits: "Back That Azz Up" from 1998 and "Slow Motion," a No. 1 hit in 2004.
Juvenile never really stopped making music. After a five-year hiatus, in 2019, the rapper released "Just Another Gangsta." In June 2023, he received a career achievement award of sorts on a federal level, when Troy Carter, a congressional representative from Juvenile's home state of Louisiana, honored the rapper with a resolution commemorating service to hip-hop and the Black community of New Orleans. He's also busy making art that isn't music — in late 2020 he launched Made By Juvie, a high-end furniture and housewares company. Among the items that the rapper designs, crafts, and paints himself are light fixtures, tables, chairs, gun racks, and beer taps that look like robots.
Pete Nice left 3rd Bass for baseball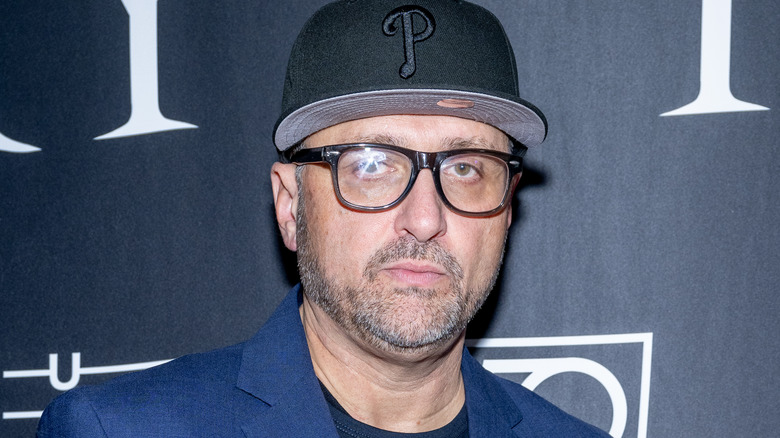 Roy Rochlin/Getty Images
Hip-hop developed in New York City in the 1970s and 1980s, and the city produced a lot of influential acts, including 3rd Bass, a trio that included MC Serch, DJ Richie Rich, and Prime Minister Pete Nice, a Columbia University student and radio host who played emergent rap acts. They signed to early rap label Def Jam and produced the well-reviewed "The Cactus Album" and "Derelicts of Dialect," the latter of which generated the hit Vanilla Ice diss track "Pop Goes the Weasel." MC Serch went solo in 1992, which put an end to 3rd Bass.
"3rd Bass" is a play on "third base," a baseball term, and fittingly, Pete Nice quit music in order to devote his professional life to documenting the history of the sport. Under his birth name of Peter J. Nash, the musician spent seven years researching 2003's "Baseball Legends of Brooklyn's Green-Wood Cemetery," a book about the final resting place of 200 of baseball's early legends and innovators. He also published "Boston's Royal Rooters" and wrote and produced the accompanying Red Sox documentary "Rooters: Birth of Red Sox Nation." Nash also operated a baseball memorabilia shop in Cooperstown, New York, (just outside the Baseball Hall of Fame), which led to legal issues involving a lawsuit over fraudulent merchandise and tax fraud charges.
Da Brat got into broadcasting and family life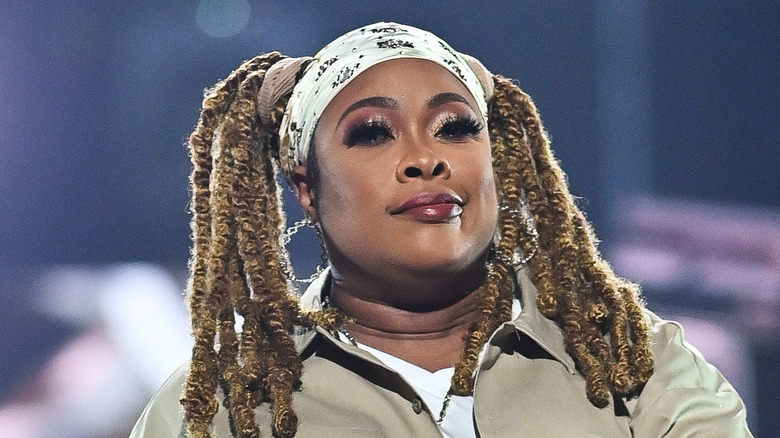 Prince Williams/Getty Images
While still a teenager, Da Brat became one of the first women to make it big in the male-dominated world of hip-hop. Mentored by producer Jermaine Dupri, Da Brat released the ultimately platinum-selling "Funkdafied" in 1994, which generated the enormously successful title single, the first in a long string of '90s hits for the rapper.
Da Brat's songs may not be on the radio as much as they were in the 1990s, but the rapper is still on the airwaves every day. In 2015, Da Brat joined the on-air staff of popular Atlanta radio program "The Rickey Smiley Morning Show," simulcast in part for the syndicated TV talk show "Dish Nation." In 2020, she teamed up with fellow millennium-era stars LeToya Luckett and Kyla Pratt for a well-reviewed stage production of the 1996 crime movie "Set It Off."
The rapper and entertainer has also experienced many developments and milestones in her personal life. In March 2020, she addressed long-standing speculation about her sexual orientation when she announced on Instagram that she was in a long-term relationship with entrepreneur Jesseca Dupart. The couple married in February 2022, and a year later, right after Dupart created hair products inspired by her wife's famous braids, the rapper announced her pregnancy.
Joe Budden quit rap to document rap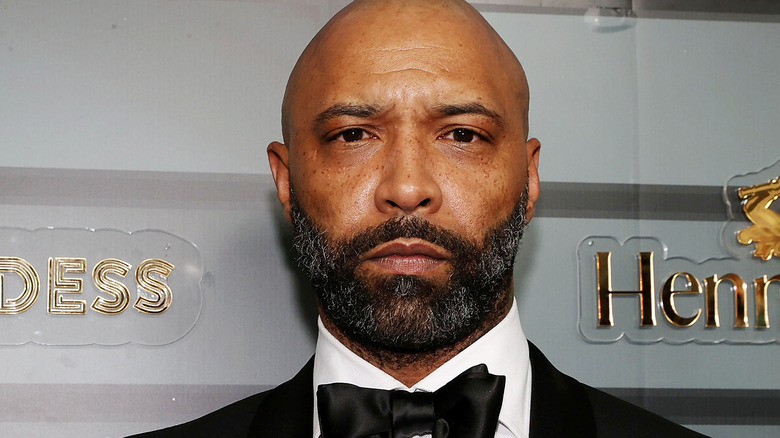 Shareif Ziyadat/Getty Images
Jersey City rapper Joe Budden recorded a huge amount of material in the 2000s, both solo and with the supergroup Slaughterhouse. He's as well known for hits like "Pump It Up" as he is for engaging in public feuds with other rappers, including Jay-Z and Drake. After eight solo albums and several mixtapes, Joe Budden walked away from the business of making music. In June 2016, he played what he claimed would be his final six shows and held a farewell party for 60 of his biggest fans — but it wasn't a retirement. "My words were clear and concise: This will be the last Joe Budden show in New York. ... Joe Budden shows. Joe Budden period," he told The Ringer. 
Instead of creating hip-hop, Budden made a name for himself as a hip-hop journalist, covering the music and the scene for Complex in 2017 as the host of the daily program "Everyday Struggle." A year later, he joined Sean Combs' media company Revolt, running and hosting the talk show "State of the Culture." Budden also hosted "The Joe Budden Podcast," which he brought to Spotify and then Patreon, where he took a position as a company board member, serving as Creator Equity Advisor.
Soulja Boy soldiered on with other forms of entertainment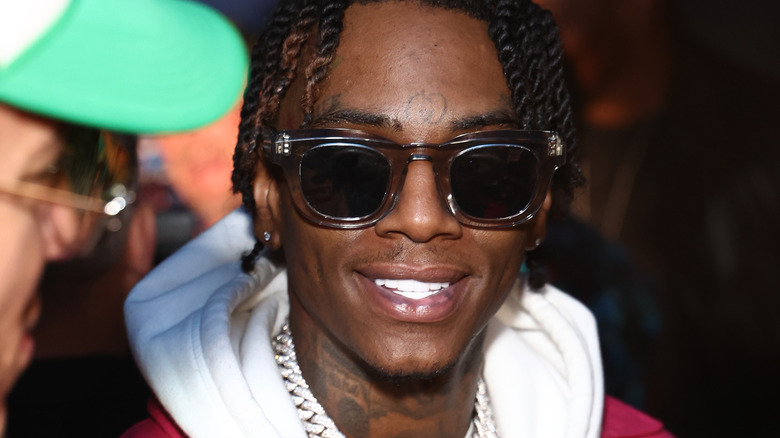 Joe Scarnici/Getty Images
Combining the styles singular to all the places he lived as a child — Chicago, Atlanta, and Mississippi — teenage rapper Soulja Boy — or Soulja Boy Tell 'Em — utilized the emergent online tools of the 2000s to become, briefly, a cultural phenomenon. He uploaded his tracks, utilized the visibility-spreading powers of MySpace, and launched a viral dance craze to sell millions of downloads of "Crank That (Soulja Boy)" — a No. 1 hit in 2007 — and "Kiss Me Thru the Phone."
The last time a Soulja Boy album charted was the 2010 release "The DeAndre Way," after which Interscope dropped the rapper's indie labels from distribution. Soulja Boy has since released several records and mixtapes. Revolt TV aired two seasons of Soulja Boy's reality show "The Life of Draco," which bridged the entertainer's shift into appearing in on-screen entertainment. In a 2022 Instagram Live video (via the New York Post), Soulja Boy stated "I'm an actor now. ... my new TV show coming out January 21, 2022, we going into the year with all positive energy." Such a project has yet to materialize, as did another potential comeback. Soulja Boy called Kanye West a "coward" to TMZ for failing to use contributions to his 2021 "Donda" album. But the rapper isn't hurting for cash. He told HipHopDX in 2023 that he made around $100,000 a month from "Kiss Me Thru the Phone" during that song's 2008 run of popularity.