The Tragic Death Of 1940s Film Star Linda Darnell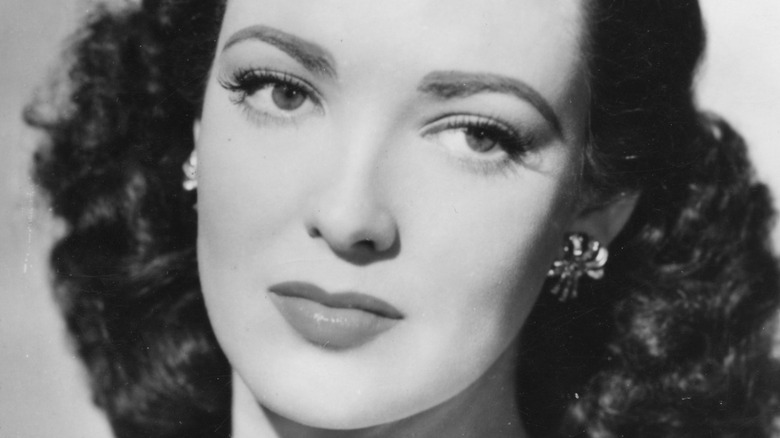 Print Collector/Getty Images
Linda Darnell had one of the most tumultuous careers in Hollywood history. According to Turner Classic Movies (TCM), she developed a reputation early in her career for her stunning good looks. Hollywood actresses in the 1940s were marked by their glamour and seductiveness, which meant that Darnell fit right in, especially with her uniquely smoky voice. However, she never quite reached the popularity of her contemporaries, like Lauren Bacall, Hedy Lamarr, or Lana Turner, despite a career that lasted decades and included appearing in many major motion pictures.
As per TCM, Darnell, born Monetta Eloyse Darnell, was pushed into show business at a young age by her ambitious mother, leading to her becoming a contract player at 20th Century Studios by the time she was only 15 years old. According to "Hollywood Beauty: Linda Darnell and the American Dream," Darnell stated that her mother "really shoved me along, spotting me in one contest after another. I had no great talent, and I didn't want to be a movie star particularly. But Mother had always wanted it for herself, and I guess she attained it through me."
Elsewhere in "Hollywood Beauty," Darnell's elocution teacher, Frances Brown, recalled that Darnell was not particularly impressive in her acting skills. However, they noted Darnell's "sweet and considerate" demeanor — as well as her mother's presence at her every turn. "Monetta's mother was very ambitious for her daughter," Brown said. 
Despite breaking into Hollywood, Darnell's journey — like many others in the industry — was not an easy one.
Career ups and downs
Turner Classic Movies states that Linda Darnell spent much of her early career acting in the less serious, more escapist films of 20th Century Studios, which they specialized in at the time. When big opportunities began to come her way, they seemed to slip through her fingers. Notably, she was passed for the lead female role in 1941's "Swamp Water" in favor of Anne Baxter. "Right under your very nose someone else is brought in for that prize part you wanted so terribly," she said of the experience (per "Hollywood Beauty"). However, her career finally saw an upturn when she was loaned out to United Artists to appear in 1944's "Summer Storm," an adaptation of Anton Chekhov's "The Shooting Party." It was a transformative role for Darnell as, up until that point, she was mostly playing sweet and innocent characters, but "Summer Storm" saw her portray the sexy femme fatale that would typify most of the rest of her career in the 1940s.
The rest of the decade saw her taking on a range of characters that displayed her talent beyond mere good looks while also not straying too far from the seductress persona that she'd cultivated. Some of her standout films from this period include 1945's "Hangover Square," 1946's "Anna and the King of Siam," and 1949's "A Letter to Three Wives," for which she garnered high praise (via The New York Times). Unfortunately, as recounted in TCM, Darnell fell victim to Hollywood's habit of neglecting its actresses who it believes no longer have the sex appeal they once had, no matter how talented they are, and in the 1950s offers started to dry up, a situation that wasn't helped by her growing alcohol abuse.
Her tragic death
Linda Darnell's life came to a tragic end on April 10, 1965, as the result of burns from a fire. The Los Angeles Times states that she was visiting her friend and once-secretary Jeanne Curtis' home in Chicago and that they had stayed up late to watch a television broadcast of Darnell's own 1940 film, "Star Dust." As a result of the fire, Darnell received burns on more than 80% of her body.
Turner Classic Movies reveals that there is more than one version of the story. While it's true that Curtis and her daughter managed to get out of the fire, some of have stated that Darnell had evaded the house fire, only to go back inside to rescue her friend's daughter, who she thought was still in the house. Another account states that she went back into the blazing home to get her mink coat.
Darnell died in the hospital two days after the blaze. She was 44 years old. Making her death more ominous is the fact that Darnell had previously played a concubine who dies by fire in 1946's "Anna and the King of Siam." Her last interview, which was published after her death on May 9, 1965, in the National Enquirer, was no less unsettling — she said she hoped her life "doesn't end in tragedy."
Today, she is immortalized by an impressive range of films, as well as a star on the Hollywood Walk of Fame, located at 1631 Vine Street.
If you or anyone you know needs help with addiction issues, help is available. Visit the Substance Abuse and Mental Health Services Administration website or contact SAMHSA's National Helpline at 1-800-662-HELP (4357).