Why Prince Andrew And Prince Harry Were Not Allowed To Salute During Queen Elizabeth's Funeral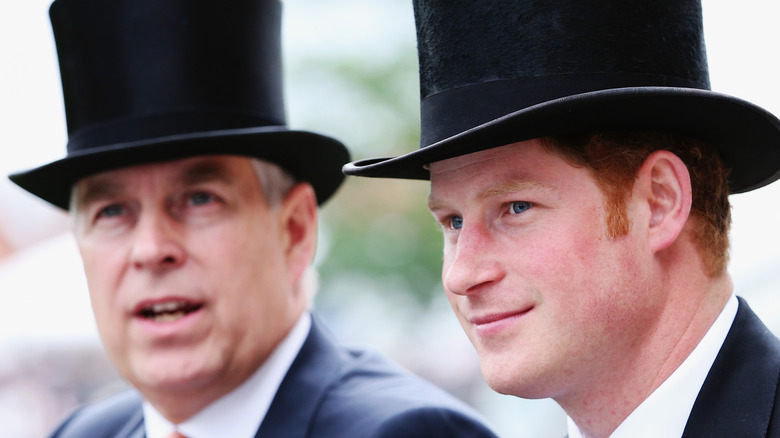 Chris Jackson/Getty Images
Queen Elizabeth II died on September 8, 2022, and her funeral was held on September 19 at Westminster Abbey. As Today explains, the funeral drew in around 2,000 guests and was one of the most significant events to happen in Britain in modern history. The longest ruling monarch was Britain's first official state funeral since the year 1965 when Winston Churchill died. The entirety of the U.K. went through a period of national mourning, which included multiple ceremonial events set in motion by Operation London Bridge and Operation Unicorn. 
Among the guests at Queen Elizabeth's funeral were both her son Prince Andrew and her grandson, Prince Harry. As CNN explains, both of the princes served in the military during wartime. Naturally, as is the case in the United States, war veterans will sometimes put on their military uniforms when attending certain formal events. However, the case is a bit different in the U.K., as both Prince Harry and Prince Andrew could not wear uniforms nor salute at the queen's funeral. 
The military experiences of Prince Andrew and Prince Harry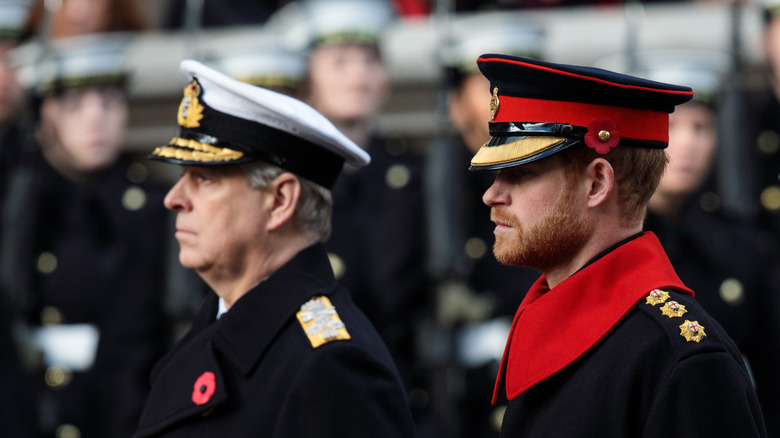 Jack Taylor/Getty Images
Prince Harry has a somewhat robust history of serving in the military. As the official Royal Family website says, Harry spent a decade as an army soldier. Harry got his start as an Officer Cadet in the Royal Military Academy Sandhurst back in May of 2005. He had to take on a very rigorous 44-week training course, which tests new cadets physically and mentally. Harry eventually completed the course, becoming an Army officer in 2006. His experiences also include being stationed in Afghanistan and attaining the military rank of Captain. 
As Britannica explains, Prince Andrew was a naval officer who spent a fair amount of time in active duty. He got his training at the Britannia Royal Naval College in the year 1979, completing his courses the year after. He's had extensive experience in aircraft repair and piloting helicopters, including during the Falkland Islands War. Prince Andrew also did work for both the Royal Navy and the Ministry of Defense. It wasn't until the year 2001 that Andrew finally retired as a commander, though he was later named honorary vice admiral in the year 2015. 
Why Prince Andrew and Prince Harry couldn't salute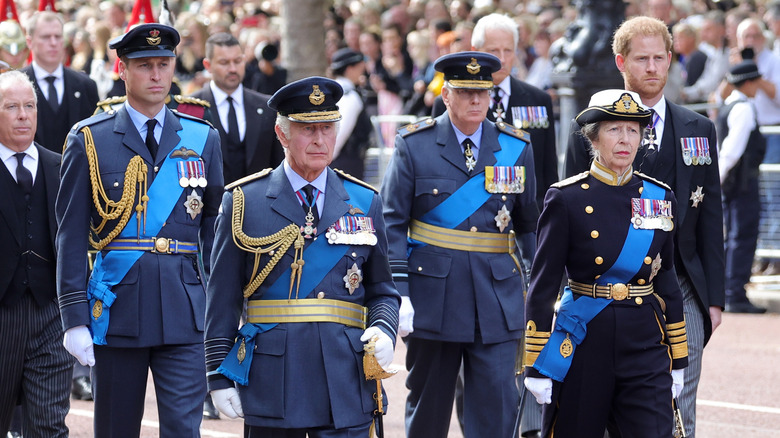 Chris Jackson/Getty Images
When it comes to saluting and wearing military uniforms at special events like the queen's funeral, there are rules in place. As The Herald Scotland reports, Queen Elizabeth's funeral was presented with both civilians and members of the military and had its own dress code — military uniforms for working members of the royal family and all-black attire for other funeral attendees. Women in the royal family also wore black veils. However, both Prince Andrew and Prince Harry did not wear their military uniforms to the funeral because they are no longer working royals, which leads to why they didn't salute. As Mint explains, only members wearing military uniforms were allowed to salute at the event. 
In Prince Andrew's case, he stepped down from royal duties back in 2019 due to controversy over his connections with convicted sex offender and accused sex trafficker, Jeffrey Epstein, through whom he met Virginia Giuffre. Giuffre alleged to have been assaulted by Prince Andrew as a teenager and filed a sexual abuse case. Due to that scandal, Andrew lost all of his military titles and was hence banned from wearing uniforms at events (via CNN). 
As for Prince Harry, he stopped partaking in royal duties in the year 2020, which is the reason why he did not wear a uniform at the funeral. Despite the reasons being different, both men were of the few in the immediate royal family not in uniform during the procession.