How Loretta Lynn Wrote One Of Her Most Famous Songs In Just 10 Minutes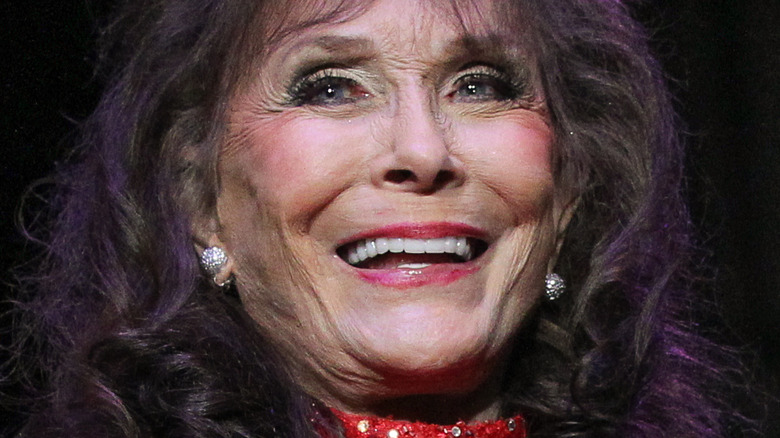 Terry Wyatt/Getty Images
Anyone who has ever tried to pen a poem or complete a sketch knows artistic inspiration can be a fickle thing. Sometimes, it takes weeks of sleepless nights to determine the next word or line. And sometimes, a completed work comes together in mere moments. Country legend Loretta Lynn, who passed away at the age of 90 on October 4, 2022, had the second experience with one of her most famous songs. Believe it or not, she penned "You Ain't Woman Enough (to Take My Man)" in just 10 minutes, as the artist said in the 2016 PBS "American Masters" documentary "Loretta Lynn: Still a Mountain Girl."
Lynn became legendary in part for writing about her experiences as a rural, working-class woman and mother. "Loretta always just said exactly what she was going through right then in her music, and that's why it resonates with us," country singer Miranda Lambert said in the documentary (via The New York Times). However, her near-instant inspiration for "You Ain't Woman Enough" actually came from the struggles of one of her fans, a woman who burst into her dressing room before a show, according to "American Masters."
Outside inspiration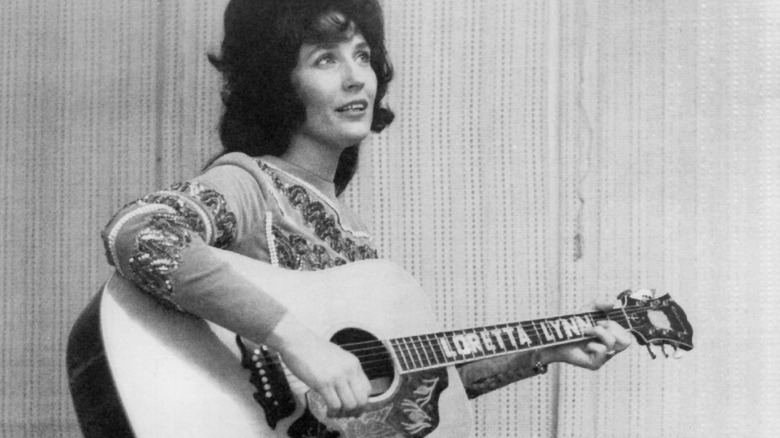 Michael Ochs Archives/Getty Images
The woman who inspired "You Ain't Woman Enough" came to Loretta Lynn's dressing room when she was preparing for a concert. "I had my hair up in pin curls," Lynn said in the "American Masters" documentary. The woman was worried because her husband was at the concert with another woman, a woman she was convinced was trying to steal him away. She pointed through the curtain so Lynn could see where her husband and the other woman were sitting in the audience. "I looked out there and I saw this painted-up girl," Lynn recalled. In comparison, the woman beside her wore no makeup but was beautiful without it. "Honey, she ain't woman enough to take your man," Lynn consoled her distraught fan. 
That line of reassurance formed the basis for a song that Lynn wrote in her dressing room in just 10 minutes. While she was inspired by another woman's story, she also related to her fan's fears. "I gave birth to this song, and I felt every bit of pain in these lyrics," she recalled in her book "Honky Tonk Girl: My Life in Lyrics."  She added that it was a common experience in marriage for a wife to fear her husband is cheating, even if that's not the case.
A song's legacy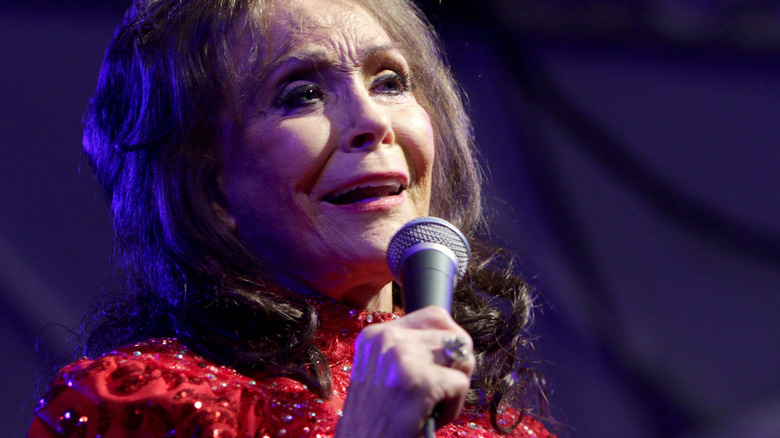 James Goulden Photography/Getty Images
Loretta Lynn released "You Ain't Woman Enough (To Take My Man)" in May 1966, according to Outsider. As a single, it reached No. 2 on the U.S. Billboard Hot Country Singles chart. It also gave the name to Lynn's second studio album, which became the top country album that same year, according to "American Masters." Further, per American Songwriter, the song's success solidified Lynn's reputation as a songwriter in Nashville's famous country music scene. 
Beyond the success it brought her, the song had a more intimate legacy, as female fans continued to relate to it. In  "Honky Tonk Girl: My Life in Lyrics," Lynn said she became friends with many of her fans over the years. In a parallel to "You Ain't Woman Enough"'s origin story, one of these friends approached her in tears before a show and confided that her husband was cheating on her. "That night I sang 'You Ain't Woman Enough' and dedicated it to her," Lynn wrote. "Girlfriends gotta stick together."