Where Is Chief Little Wolf Buried?
On the plains of southeastern Montana, amid rolling hills and stark pine trees, stands the village of Lame Deer. It's not a very big town; most of its residents are members of the Cheyenne nation, and Lame Deer lies within the borders of the Northern Cheyenne reservation. But the town has one famous resident. In the cemetery, whose barbed wire gate is strung with flowers, a metal plaque sits fenced off with a short wooden railing. The plaque records the name of Oh Kohm He E Kit, or Little Wolf, who died October 30, 1904 (via Find a Grave).
Little Wolf had died in the country of his birth. A biography posted by Northern Plains Reservation Aid remembers him (pictured above at left with his colleague Morning Star, also known as Dull Knife) as a wartime leader for a tribe in conflict. He was something of a diplomat as well, but lost his standing as a chief by committing murder. His memorial is simpler: "He was a commander of men, a great general."
A life at war
Little Wolf was born somewhere in what's now Montana in 1818. Little is known of his early life, but his training for war probably started early. Northern Plains Reservation Aid describes him as gaining a "reputation for military prowess during his battles against the Commanche and Kiowa." By the time he reached his 30s, he was training his gun against soldiers of the United States of America, too. It isn't clear when Little Wolf rose to a position of political authority, but by 1851, when he was 33, he had negotiated a tentative peace with the expanding USA. He would call off the war in exchange for a cash annuity from the American government, as well as representation for the Cheyenne and possibly other tribes.
The Americans did not uphold their end of this bargain, but Little Wolf stayed optimistic, counseling his compatriots against war. He made one exception: He joined in a winning battle against American troops in 1865. It was a just retaliation, in his view, for the 1864 massacre at Sand Creek, where Coloradan volunteers slaughtered hundreds of Cheyenne and Arapaho, including women and children (via National Park Service).
Glory and disgrace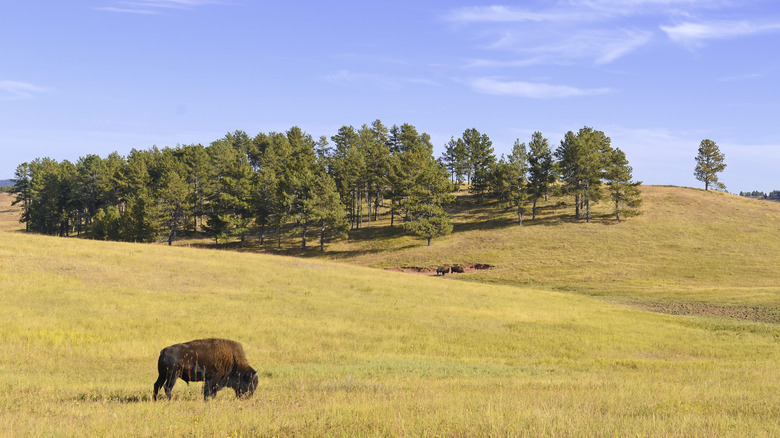 nyker/Shutterstock
Little Wolf's diplomatic mood had soured by 1868, faced by what seemed like endless perfidy from the Americans. The Fort Laramie Treaty, which he signed that year, required the Army to abandon a number of frontier forts. But the treaty did nothing to stop either army. Little Wolf did not join the Cheyenne contingent fighting George Armstrong Custer's troops at Little Bighorn, but the Army pursued him and Dull Knife anyway. At one point, in an effort to save Dull Knife's village, Little Wolf took and survived seven bullets.
Ten years later, exhausted by war, his people starving from the Army's blockade of food supplies, Little Wolf and Dull Knife turned themselves in. They accepted, as part of the terms of peace, a forced migration to a reservation in distant Oklahoma. But this was no improvement. The tribe continued to starve, and in 1879 Little Wolf left the reservation where he'd been confined for one last war against the Army. It failed almost immediately, but the Army allowed Little Wolf's subjects to return to Montana.
At the age of 62, Little Wolf murdered a fellow Cheyenne. This violated a serious taboo, and he lost his position as chief. He ended his days in the service of his oldest enemy, scouting for the Army along the plains. He died at 88, in Lame Deer, Montana, where he is buried in the town cemetery (per Find a Grave).