Who Is John McVay's Grandson, The Youngest NFL Head Coach Of The Modern Era?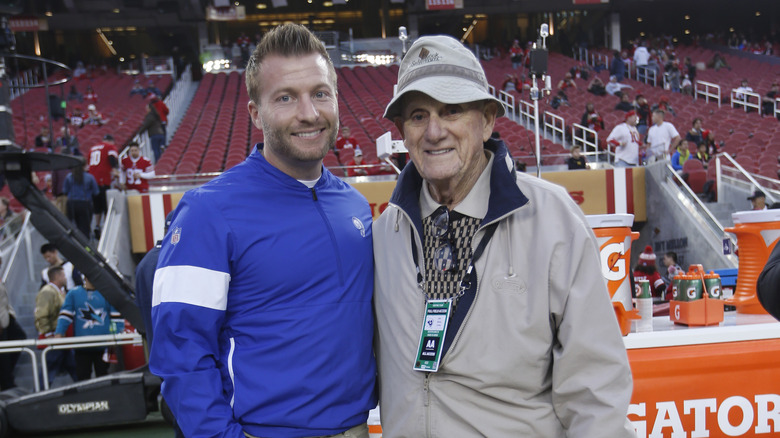 Michael Zagaris/Getty Images
On November 1, 2022, as NBC News reports, pro football legend John McVay died at the age of 91. In a statement, the San Francisco 49ers, of which he was once the general manager, offered its condolences to the McVay family. "This is a very sad day for our organization and the entire football community. John McVay was a driving force in constructing teams for our five Super Bowl titles," the statement reads in part.
McVay's career in, and influence on, football — professional football in particular — neither begins nor ends with his administrative position with the 49ers. He actually started as a player in high school during the Truman administration and had a lengthy career as a coach. He coached before transitioning to his career-defining role in the front office, ultimately with the San Francisco team. McVay's influence on professional football also seems to be a family one. His grandson is also an NFL head coach and is currently the youngest man to ever be given an NFL head coaching job.
John McVay's Football Legacy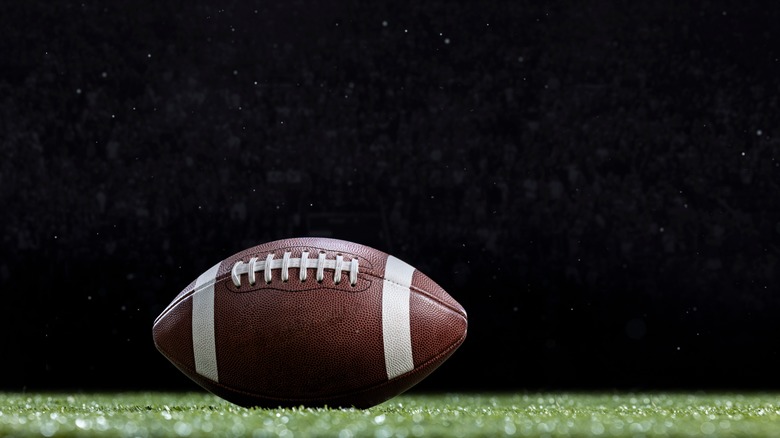 Brocreative/Shutterstock
McVay didn't go straight into the San Francisco 49ers' head office from another job outside of football. By the time he took over the organization, he'd spent most of his life in football in one capacity or another.
According to Massillon High School, McVay waited until his senior year to begin his high school football career but played well enough to make it onto Miami University of Ohio's team and then to Ohio State's team. McVay didn't make it to the pros as a player but instead began as a high school coach, then worked his way up to coaching college teams, and then the pros. His first professional coaching gig was with a team in the short-lived World Football League, and then he briefly coached the New York Giants.
However, it was from behind the desk that McVay truly shone in football. According to The New York Times, he was hired to the franchise in 1978, and during 14 seasons in the front office, he helped the team bring home five Super Bowl titles.
John McVay's Living Legacy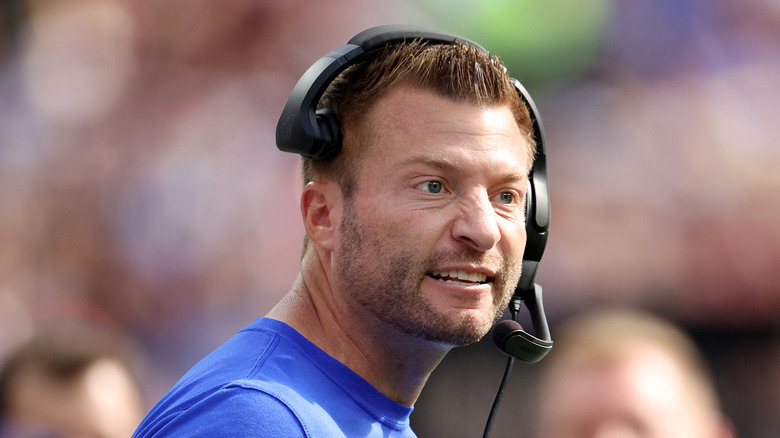 Harry How/Getty Images
John McVay's influence on football continues even after his death, in the form of his living legacy, his grandson Sean McVay. According to Sporting News, as of this publication date, Sean McVay is the youngest man hired as the head coach of an NFL team. He was just shy of his 31st birthday when he was hired by the Los Angeles Rams. "The results have been nothing short of terrific," notes Sporting News writer Jacob Camenker, pointing out that, since his hiring, the Rams have won a Super Bowl and have made the post-season in four out of five seasons with McVay at the helm.
According to Spectrum News, Sean McVay was born in Ohio in 1986. According to ESPN, Sean's father, Tim, was the son of John McVay and also played some football, though his career was limited to a lackluster college stint at Indiana University. However, Sean favored a different kind of football: The kind you play with your feet. He was a standout soccer star, although he broke his nose several times on the pitch. He didn't even transition to (gridiron) football until his freshman year.
Sean never made the pros as a player and instead went straight into the NFL as a coach. He was first an assistant wide receivers coach for the Tampa Bay Buccaneers, according to the Tampa Bay Times, before working his way up to his head-coaching gig.