Alanis Morissette Had A Personal Reason For Skipping The 2022 Rock & Roll Hall Of Fame Performance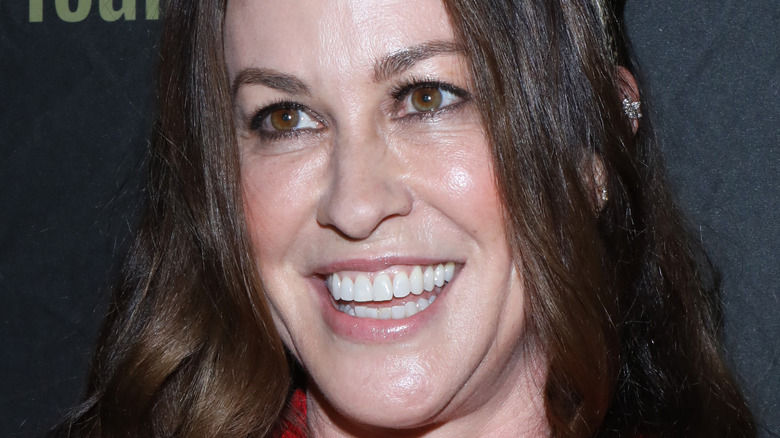 Jeremy Chan/Getty Images
Singer-songwriter Carly Simon was inducted into the Rock & Roll Hall of Fame on November 5, 2022. Although she did not attend the ceremony at the Microsoft Theater in Los Angeles, per Ultimate Classic Rock, she wrote a letter acknowledging the achievement, which read in part, "I am humbled, shocked, proud, over-achieved, under-qualified and singularly grateful to everyone without whom I really couldn't be here." Singer-songwriter and actress Sara Bareilles read the message and performed Simon's 1977 James Bond theme "Nobody Does It Better," while singer-songwriter Olivia Rodrigo performed the song for which Simon is perhaps best known, 1972's "You're So Vain." However, the tribute to Simon did not go as originally planned. 
Singer-songwriter Alanis Morissette was scheduled to perform "You're So Vain" with Rodrigo and had even rehearsed the duet, but ended up dropping out of the performance altogether before the actual ceremony, as reported by Vulture. Morissette took to Instagram to explain her absence, writing in an Instagram Story (via Vulture), "I have spent decades in an industry that is rife with an overarching anti-woman sentiment and have tolerated a lot of condescension and disrespectfulness, reduction, dismissiveness, contract-breaching, unsupportiveness, exploitation and psychological violence (and more) throughout my career." Morissette was reportedly referring to the event's production team, and continued, in part: "Thankfully, I am at a point in my life where there is no need for me to spend time in an environment that reduces women. I have had countless incredible experiences with production teams with all genders throughout my life. So many, and so fun."
Alanis Morissette and sexism in the music business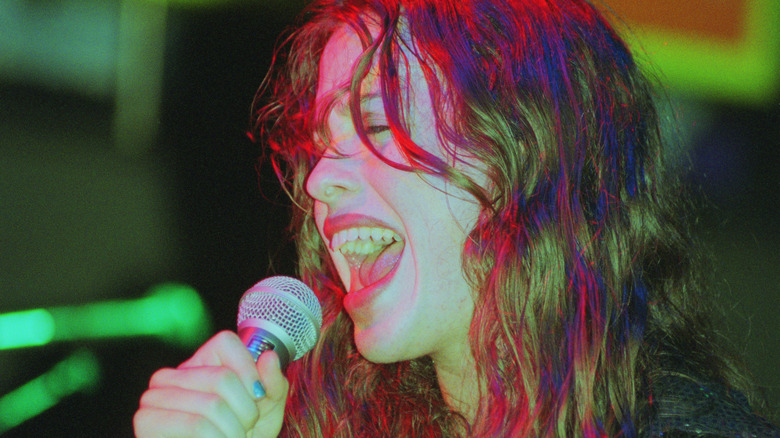 Brian Rasic/Getty Images
Alanis Morissette began performing as a child in her native Canada before achieving worldwide fame and acclaim for her 1995 album "Jagged Little Pill," which became one of the best-selling albums of all time. In December 1999, Billboard reported that the album had sold 27 million copies worldwide and won five Grammys, including album of the year. Billboard went on to name "Jagged Little Pill" the top pop album of the 1990s.  A 1996 review in USA Today opined that the album that "transcend[ed]" the trend of "introspective, angry 'n' independent women singer/songwriters" while self-proclaimed "dean of American rock critics" Robert Christgau rated it a B+, writing that Morissette was "happy to help 15 million girls of many ages stick a basic feminist truth in our faces: privileged phonies have identity problems too. Not to mention man problems." Clearly, Morissette has been no stranger to sexist comments throughout her long career, even from those who sought to commend her work. 
In 2014, Morissette wrote on her own website about the world into which she'd released "Jagged Little Pill," noting, "The scales were still dramatically tipped, in 1995, toward the disempowered-male, masculine approach to life, yet there was this whisper of a portended, more integrated future that gave rise to femininity being given its chance by the industry. Now instead of hearing, 'Well, we're already playing a woman on our radio station,' the album was welcomed." 
Why did Alanis Morissette really drop out of this performance?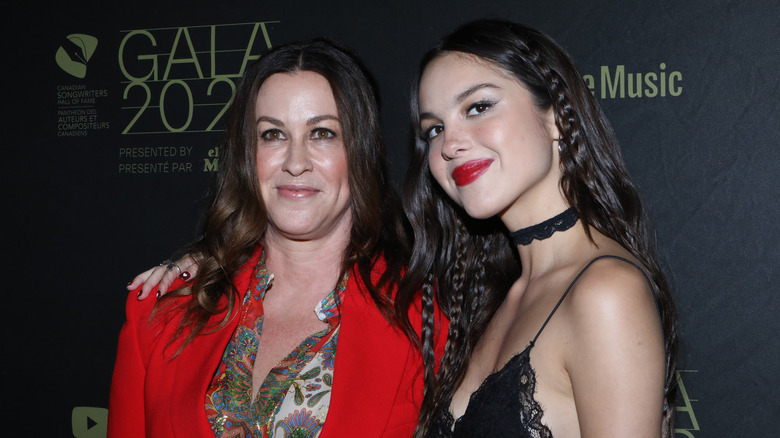 Jeremy Chan/Getty Images
Per Variety, Alanis Morissette explained via Instagram Stories that she was a fan of many of the women who had performed or been inducted into the Rock & Roll Hall of Fame, including Carly Simon, writing, "There are some misinformed rumblings about my not performing at the Rock & Roll Hall of Fame induction ceremony this past weekend." The article notes that Morissette was still appearing on the schedule as a performer right up until the Saturday night recording and that according to some sources, she'd "struggled with the song" during rehearsal, which was the actual reason for her quitting the show. Still other sources claim that as of Friday, Morissette and Olivia Rodrigo (shown above with Morissette in September 2022) were working out the arrangement and performance with the house band and everything seemed to be progressing normally. 
Morissette may not have appeared at the Rock & Roll Hall of Fame induction ceremony, but she has several projects keeping her in the spotlight 27 years after her rise to fame. "Jagged Little Pill" is now the name of a musical written by Diablo Cody in honor of and featuring the music of Alanis Morissette; it ran on Broadway until the end of 2021 and is now touring the United States. Morissette herself toured in honor of the 25th anniversary of "Jagged Little Pill" in 2022, per Rolling Stone. She also released the meditation album "The Storm Before The Calm" in June 2022, as reported by Louder.