Jason David Frank Broke A Guinness World Record With One Impressive Pine Board Feat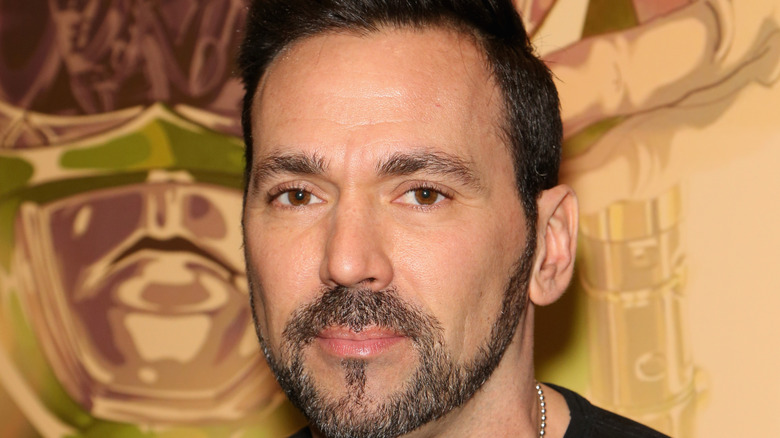 Gabe Ginsberg/Getty Images
Jason David Frank was an actor popularly known for his portrayal of Tommy Oliver — the Green Ranger — in the "Mighty Morphin' Power Rangers" TV series. He also appeared in other Power Rangers series, as well as a couple of movies. Before starting his acting career, Frank was a martial artist. He started learning karate at 4 years old and received a first degree black belt at just 12 years old (via Train Me JDF). Frank studied a variety of martial arts styles, and in 1994, he developed his own style called Toso Kune Do, which translates to "Way of the Fighting Fist."
Frank has achieved several distinctions in the field of martial arts, some of which include the Master of the Year Award for the World Karate Union Hall of Fame in 2003, the Arnold Schwarzenegger Classics Master Appreciation Award in 2005, and the Black Belt Hall of Fame's Most Successful Industry Leader in 2007, among others, as noted by Rising Sun Karate School. However, in January 2013, Frank mixed two of his interests and took his skills to the test by breaking pine boards while skydiving.
How many pine boards did he break?
In a video from Join the Teem, Jason David Frank shared how he prepared himself to break the record for the most pine boards while free falling. He did practice jumps with other skydivers who were holding the boards for him to break with his hands. Throughout his profession as a martial artist, Frank had broken countless pine boards, but the task was more difficult while suspended thousands of feet up in the air. The record was two boards broken prior to Frank's attempt.
The former Power Ranger was able to break four boards during the test dive, which was already two more than the official world record. On the day of the attempt, a Guinness book scout came to witness Frank beat the record. The team of skydivers brought eight pine boards with them and hoped that Frank would be able to break all of them. The pursuit was successful; according to the Guinness scout, he was able to break seven pine boards in 46.4 seconds before he had to deploy his parachute.
The record has since been broken
Jason David Frank was able to enjoy his reign as the Guinness World Record title holder of the most boards broken in a freefall for a few months before it was broken by Ernie Torres in May 2013 (via Guinness World Records). Torres has a first degree black belt in Tang Soo Do, a Korean martial art that is based on karate. During his feat, Torres was able to break 12 pine boards. There are other world records for the most interesting activities done while skydiving including the fastest time to solve a rotating puzzle during a freefall and the most people playing rock-paper-scissors during a freefall just to name a few,
Apart from acting, Frank also owned the Rising Sun Karate schools in California and Texas. Unbeknownst to many, the martial artist also has an artistic side and shared some of the poems he penned in a YouTube series he called "JDF Spoken Truth." In November 2022, Frank reportedly died by suicide at the age of 49, per TMZ.