Who Was Donald Trump's Grandmother, Elizabeth Christ Trump?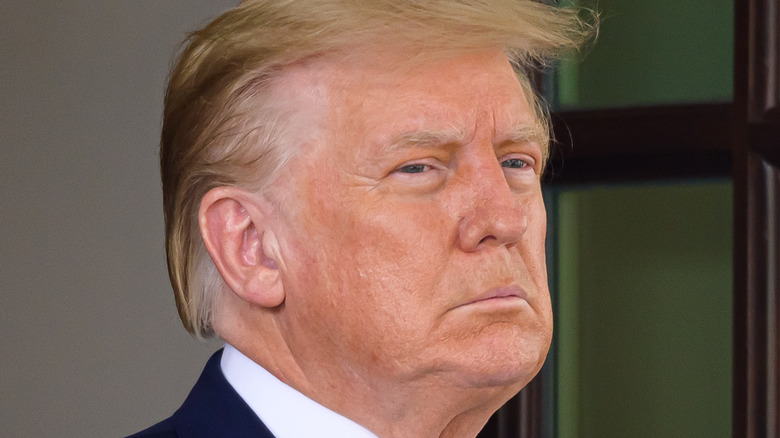 noamgalai/Shutterstock
Former President Donald Trump comes from a lineage that had innate business acumen. Trump's own grandmother Elizabeth Christ Trump was a surprisingly hardy and enterprising young woman who helped shape the Trump family business empire after her husband's death.
Elizabeth Christ and FrederickTrump came to the U.S. from the charming German town of Kallstadt in Bavaria. Kallstadt is known for producing a pretty good Riesling and many relatives of the Trump family (via The Guardian). In Germany, there is a joke that states that the town produces people with a tendency toward bragging (via NPR). If you ever visit Kallstadt, you can decide for yourself if that is true.
Frederick Trump left for the Americas at just 16 years old. Although he initially worked as a barber in New York, he later disappeared to frosty Yukon, hoping to take advantage of the gold rush there. He went back to Germany just a few years later to claim the hand of his neighbor, Elizabeth (via The New York Times). Prior to his marriage, he entered into a partnership to open a restaurant in Bennett, British Columbia (Canada) (per Bloomberg).  
Auf Wiedersehen, Germany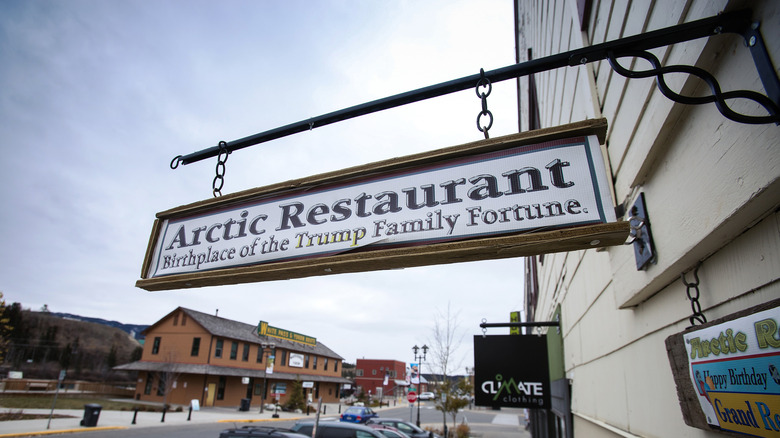 Bloomberg/Getty Images
As it turned out, Frederick's youthful gamble was a huge success. He provided the town's miners with food, booze, and possibly women (as it may have also been a brothel) (via Bloomberg) and was paid in lumps of gold which he saved up and invested in property. Frederick made a great deal of money and returned to Kallstadt as a success. On his second trip to America, he took Elizabeth with him to New York City, but she did not take to American life.
After just a few years, Elizabeth was homesick, and the pair attempted to return to Germany, but Germany no longer wanted them. Frederick avoided military service by disappearing abroad, and, as a result, he was deported and his German citizenship rescinded (via The Guardian). Elizabeth boarded the ship while pregnant with Donald Trump's father (via The Washington Post). She deeply mourned the loss of her beloved Germany and returned several times throughout her life.
The Beginnings of an Empire
The Trumps settled into a German neighborhood in New York City (via The New York Times), but their time together was short-lived. Frederick died in 1918 due to the Spanish Flu (per All That's Interesting), leaving Elizabeth as a single mother. According to President Trump's own admission (via NPR), Elizabeth was a strong woman, and she picked up where her husband left off by investing in property. Frederick left her with around $500,000 in today's money, and she used it to continue his business venture, although her role in building the Trump empire is rarely mentioned (via Politico).
Elizabeth founded a real estate company that would help turn her son, Frederick, Jr., into the experienced businessman he became. She named the company E. Trump & Son and employed all her children in various roles at the company. Her eldest daughter acted as secretary, while Frederick, Jr. learned the building trade from the ground up. The family built many houses in Queens until the 1929 Wall Street crash put a halt to the business. Nonetheless, Frederick Trump, Jr. was now hooked on the real estate trade, and years later, he became very rich.
Elizabeth Christ Trump celebrated her 80th birthday in her hometown of Kallstadt and died in 1966 (via The Guardian).