Who Were The Stray Gators From Neil Young: Harvest Time?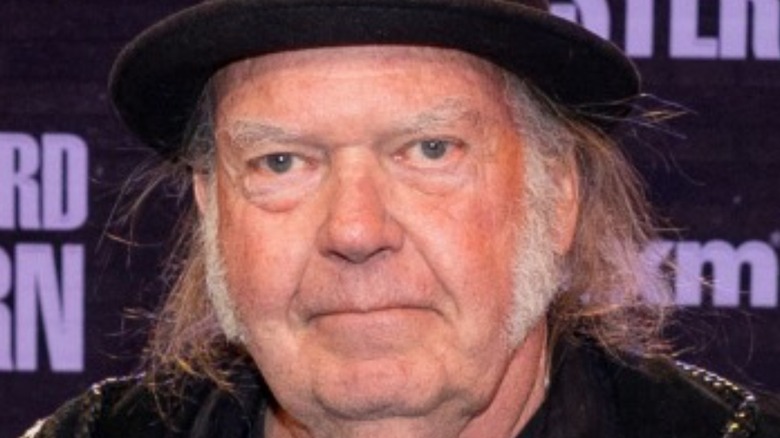 Emma Mcintyre/Getty Images
Singer-songwriter Neil Young's fourth studio album "Harvest" was released on February 1, 1972, and it became the best-selling album of that year in the U.S. It was recorded between January to September the prior year, and as Young stated, "I recorded most of Harvest in the brace. That's a lot of the reason it's such as a mellow album. I couldn't physically play an electric guitar" (via Rolling Stone). Young suffered from a back condition that required him to wear a brace, and most of the songs from the album were recorded before he got an operation.
As for how the album came to be, Young was already thinking of working on a follow-up to his 1970 album "After the Gold Rush" when he met up with producer Elliot Mazer, who had just established his own recording studio, the Quadraphonic Sound Studios, in Nashville, as reported by BMI. Young was a guest on "The Johnny Cash Show," which was recorded in Nashville as well, and he headed to Mazer's studio for spontaneous recording sessions of songs that would be included in "Harvest."
How the Stray Gators came to be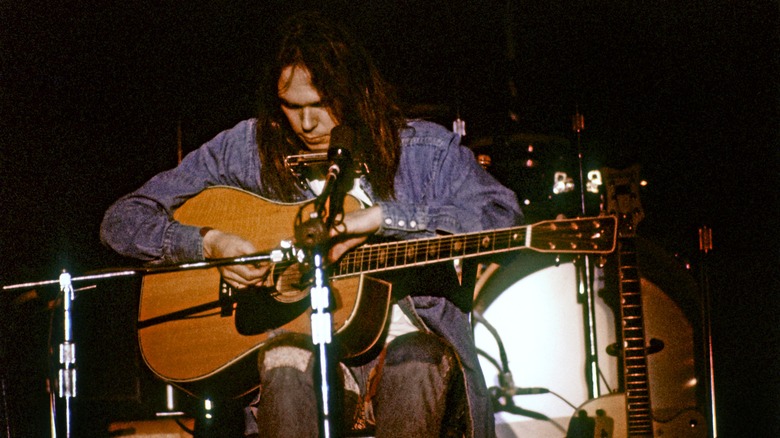 Michael Ochs Archives/Getty Images
Amid discussions with Elliot Mazer about utilizing his recording studio, Neil Young expressed his need for a pedal steel guitarist and a rhythm section for his recording. Mazer suggested members of Nashville country rock band Area Code 615 Tim Drummond (bass) and Kenny Buttrey (drums). Nashville session musician Ben Keith (steel guitar) and musician-composer Jack Nitzsche (piano) were also brought in to complete the group of supporting musicians for Young, per the Independent. "I arrived for the session after he'd already started playing ... I could tell this was not just another session, that this guy had some real magic happening. We cut half the album before he stopped to introduce himself! After that it got pretty exciting," Keith recalled.
At some point during the recording sessions, Young dubbed the supporting band The Stray Gators. The spontaneous recording produced four songs for Young's new record, namely, "Old Man," "Harvest," "Out on the Weekend," and "Heart of Gold," as noted by Amplify. Mazer talked about working with Young in an interview with Tape Op and stated that Young knew what he wanted to do and was very specific. He immediately knew that "Heart of Gold" was a going to be a hit upon hearing it for the first time. Young and The Stray Gators reconvened the recording of other songs on later dates, and by 1972, the album was released.
Neil Young continued working with them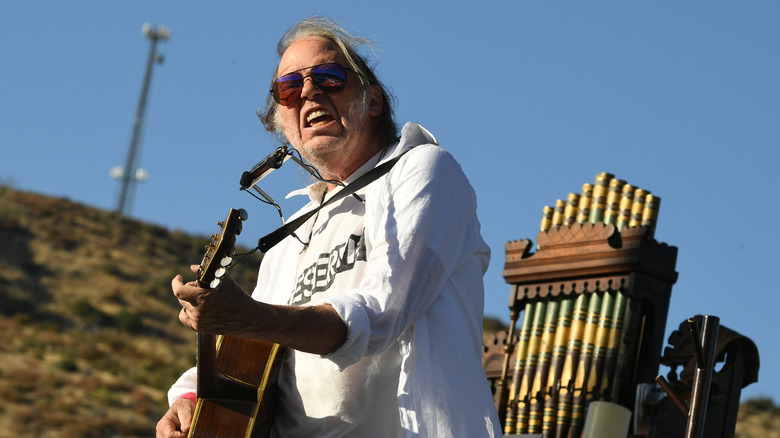 Kevin Winter/Getty Images
Neil Young continued his collaboration with the Stray Gators after the release of "Harvest" until 1973 when the supporting band stopped playing together. However, both Ben Keith and Tim Drummond worked with Young on several projects individually. In 1992, Young again worked with The Stray Gators on his 19th studio album titled "Harvest Moon," as reported by Rolling Stone.
Young and Keith had a close relationship, and the former often referred to the latter as his brother. In 2010, Young paid tribute to his friend after his death by saying, "I will miss him every time I look to my side, remembering him, my brother and fellow traveler" (via the Independent). Drummond also passed away in 2015, and Young honored him by writing, "You had the fire, the magic ... I remember your humor, your life, your quickness, your love," as noted by Uncut.
On the 50th anniversary of "Harvest," Young released the documentary "Harvest Time," which includes never-before-seen footage of the making of the album with The Stray Gators.