How Angelo Badalamenti Created The Chilling Twin Peaks Soundtrack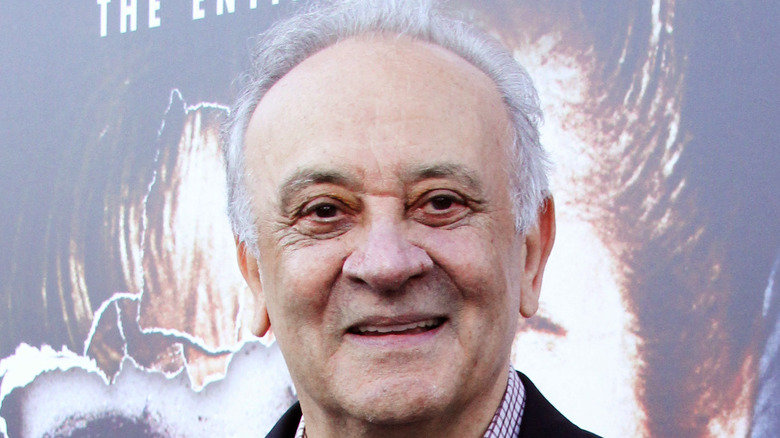 Kathy Hutchins/Shutterstock
We may receive a commission on purchases made from links.
"Twin Peaks" was a mystery TV series that was on air for two seasons from 1990 to 1991. Its third season, which consisted of 18 episodes, aired in 2017. The show was created by David Lynch and Mark Frost and focuses on Special Agent Dale Cooper (Kyle MacLachlan) as he investigates the murder of 17-year-old Laura Palmer in Twin Peaks, Washington (via IMDb). "Twin Peaks" is often regarded as one of the best shows of all time, and it also came with an equally successful soundtrack album with songs composed by Angelo Badalamenti.
Badalamenti was a classically-trained musician who started working in the film industry as a music scorer in the early 1970s. As reported by The Guardian, he met Lynch in 1985 while the latter was working on his film "Blue Velvet." Initially, Badalamenti was brought in as a vocal coach for actress Isabella Rossellini, but Lynch was impressed by Badalamenti's skills that he decided to get him to compose music for the film as well. After that, Badalamenti and Lynch worked on more projects together, including the soundtrack for "Twin Peaks."
Working on Twin Peaks music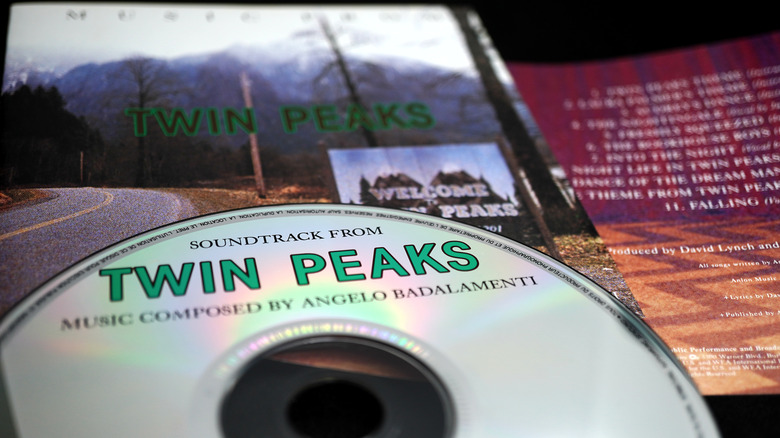 Kraft74/Shutterstock
While working on "Twin Peaks," David Lynch approached Angelo Badalamenti and told him that he was working on a TV show that he described as a "'Blue Velvet' soap opera." When Badalamenti prompted for the type of music he needed, the director said that he wanted to create a dark and ominous atmosphere to set the theme for the show, Badalamenti shared in an interview with PBS in 1990. The composer worked on some ideas on the spot and when he was done, Lynch told him that he was able to capture what he wanted. Badalamenti told Lynch that he'll work on it more, but was told not to change anything. "Don't change a single note. I see Twin Peaks," Lynch reportedly said.
Badalamenti had his own process while writing the "Twin Peaks" soundtrack. He sat on his keyboard with Lynch by his side, and he asked the director to set scenes and moods. In one particular session, Lynch described woods surrounded by sycamore trees on a moonlit night. "You are in the dark woods. Just get me into that beautiful darkness with the soft wind," Lynch said (via Play Like the Greats). Lynch then described what happened next, and Badalamenti responded with his music. "In David's mind, you can just see that he was visualizing the description he envisioned," Badalamenti said about Lynch. Together, the two collaborated to achieve the perfect soundtrack for "Twin Peaks."
Angelo Badalamenti won a Grammy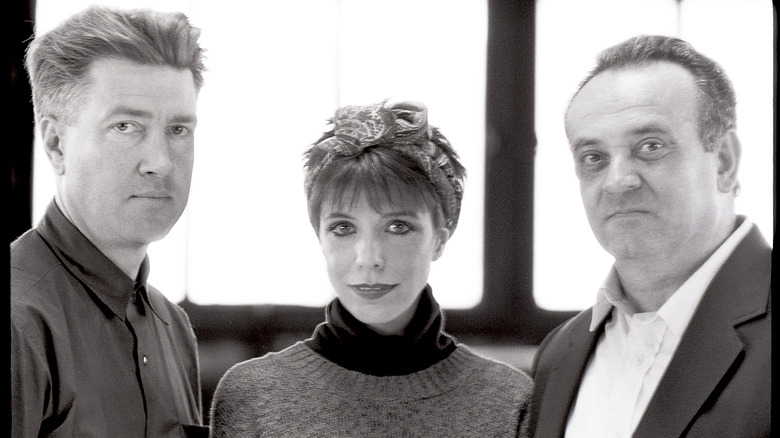 Michel Delsol/Getty Images
"Soundtrack for Twin Peaks" was released on September 11, 1990, and consisted of 11 tracks composed by Angelo Badalamenti (pictured right). Most of the tracks were instrumental, save for three songs — "The Nightingale," "Into the Night," and "Falling" — the lyrics of which were written by David Lynch (pictured left) and sung by singer and actress Julee Cruise (pictured center). The "Twin Peaks" soundtrack was a success, and it received gold status (500,000 units sold) in 25 countries. In addition, Badalamenti won the Best Pop Instrumental Performance for the "Twin Peaks Theme" at the 33rd Grammy Awards.
Badalamenti's compositions for "Twin Peaks" were as important as the visual elements of the show. "If the show was a boat moving along, Angelo's music was the river that carried it. It gave you a very specific sense of time and place that felt outside of real time and real place. It helped elevate the show into the mythological realm," "Twin Peaks" co-creator Mark Frost stated, per The Guardian.