Florida Is Still Feeling The Devastating Effects Of Hurricane Ian In The Bee Population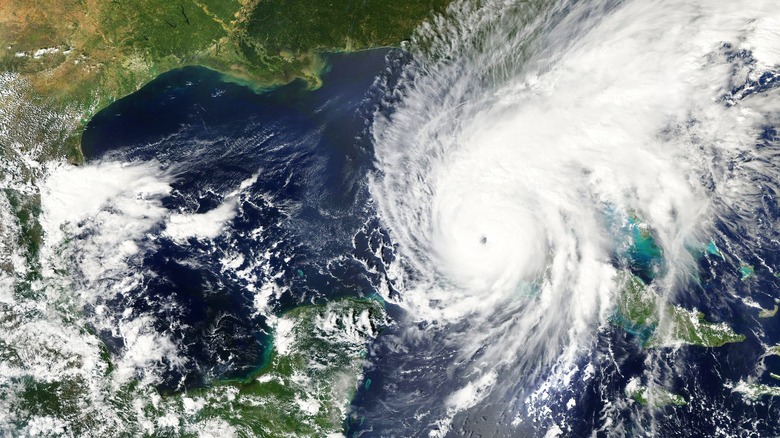 lavizzara/Shutterstock
When you think of the damage caused by a hurricane, you typically think of flooded waterfronts, downed power lines, and tree-crushed houses. But the storms can have other surprising and longer-lasting consequences. In the case of Hurricane Ian, which slammed into Florida as a Category 4 hurricane in September, those consequences came for the bees (via The New York Times).
For U.S. beekeepers, Hurricane Ian struck at the worst possible time. U.S. honeybees follow a specific travel schedule, according to CNN. First, they spend the fall and winter in Florida. Then, in February, they move on to California for the almond season. Finally, they disperse around the U.S. to pollinate around 130 different fruits and vegetables. 
The reason for their Florida wintering is the typically reliable blossoms of the Brazilian pepper tree, which was blooming just when Ian hit. That meant the storm was a one-two punch for the bees. First, its 12-foot storm surge knocked over and drowned 100,000 hives, WUFT reported. Then, it tore the nectar-rich blossoms off of hundreds of square miles of trees, leaving the surviving bees to starve. "This hurricane left a level of destruction never seen before," Florida State Beekeepers Association President John Coldwell said in a fundraising appeal. 
A food bank for bees?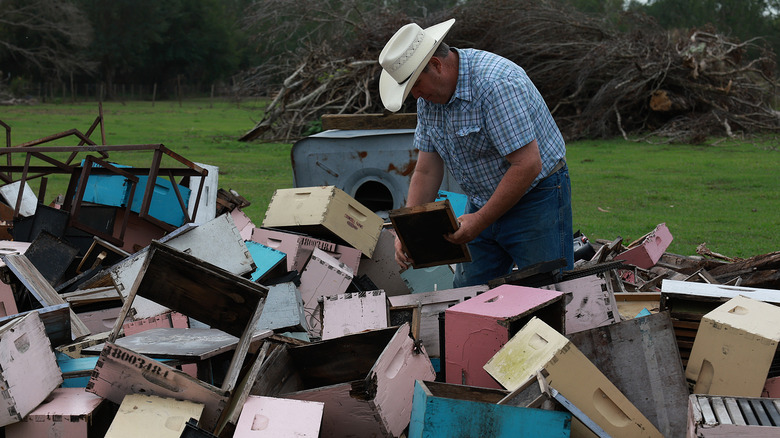 Joe Raedle/Getty Images
Because the bees' natural food source had been destroyed in the storm, Florida's beekeepers had to feed the bees themselves. Jeremy Ham of Old Florida Bees said he gave some of his 36 pounds of feed and they dug into it until there was nothing left. "They're just starving," he said (via CNN). 
Ham said that he was struggling to decide if it was worth it to keep paying to feed his bees out of pocket or cut his losses. However, luckily Florida's beekeepers did get some help. The Florida State Beekeepers Association worked with the University of Florida Institute of Food and Agricultural Sciences to arrange assistance from the nonprofit Greater Good Charities, according to WUFT. "We have donated meals to food pantries for humans and animal supplies to animal shelters and now we're donating to bees,"  Casey Paholski of Greater Good Charities told CNN. "We can't forget what helps get all the other food to the table."
All told, the charity supplied 508,800 pounds of syrup and 96,900 pounds of pollen to more than 100 beekeepers, according to WUFT. The help was a lifeline to the surviving bees, but beekeepers still took a hit. John Coldwell estimated that it would take two-to-three years to start earning at pre-Ian levels. "Our overall number [of bees] going into next year is going to be down," Michael Sadler told WUFT. "Everyone's going to be starting the year off behind."
Pollinators in peril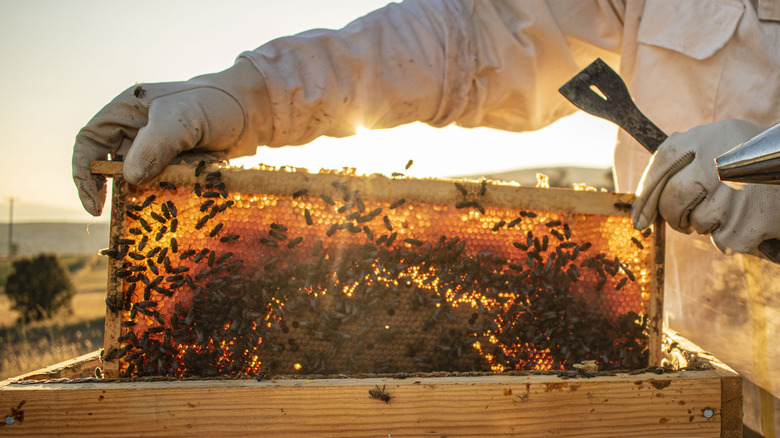 Arda Sari/Getty Images
Honeybees are vastly important to U.S. agriculture. In fact, a third of the food U.S. residents eat is a fruit or vegetable pollinated by the insects, according to U.S. Food and Drug Administration. And to do their jobs, these bees need human keepers, according to CNN. Because of environmental impacts from pesticide use to habitat destruction, there aren't enough wild bees to keep crops alive. "If every beekeeper in the country just released all their bees into the wild, we estimate it'd be about 2 to 3 years before bees would just collapse," beekeeping supplier Andrew Wagner said. 
Now, the climate crisis is making things difficult for domesticated honeybees as well. Scientists calculate that Hurricane Ian was made more than 10% wetter by human-caused global warming (via AP News). And the bees face another obstacle on the next stage of their annual tour. The U.S. West is in the midst of a once-in-1,200-year mega-drought made 42% more extreme by climate change (via The Guardian). Beekeepers are concerned this could impact the California almond harvest, which they rely on to fund their activities. "Our entire ecosystem is flipped upside down and twisted up like a blender," Florida beekeeper Keith Councell told CNN.