The Eerie Damar Hamlin Interview That Keeps Resurfacing Since His On-Field Collapse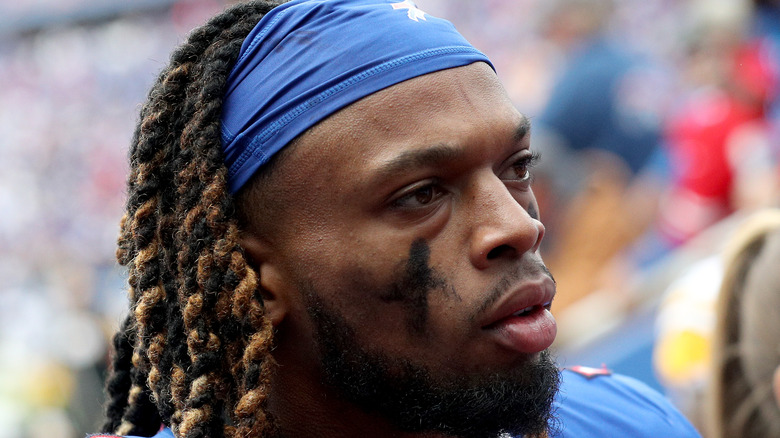 Bryan Bennett/Getty Images
The January 2, 2023 Monday night football game came to a shocking and scary halt after 24-year-old Damar Hamlin (above), safety for the Buffalo Bills, collapsed and suffered a cardiac arrest after tackling Cincinnati Bengals wide receiver Tee Higgins during the first quarter of the game, per the National Football League. Hamlin made the tackle after Higgins' 13-yard catch and momentarily got to his feet before falling back to the ground. He immediately received several minutes of CPR while surrounded by players from both teams; cameras captured everything, and social media quickly exploded with questions, prayers, and concern. After the procedure restarted Hamlin's heart, medics carried him from the field on a stretcher and transported him to the University of Cincinnati Medical Center. 
The Bills released an update early Tuesday morning stating Hamlin was receiving "further testing and treatment" and "currently sedated and listed in critical condition." Per the NFL, gameplay was suspended before the game itself was indefinitely postponed. There are no plans at this time to resume the game, which ended with six minutes remaining within the first quarter and the Bengals leading the Bills 7-3. According to NFL executive vice president of personnel Troy Vincent, a five-minute warm-up period expected to resume play that was mentioned by ESPN during its live broadcast never existed: "It never crossed our mind to talk about warming up to resume play," said Vincent during a media conference call hours after the incident. "That's ridiculous. That's insensitive."
Damar Hamlin on Dane Jackson's neck injury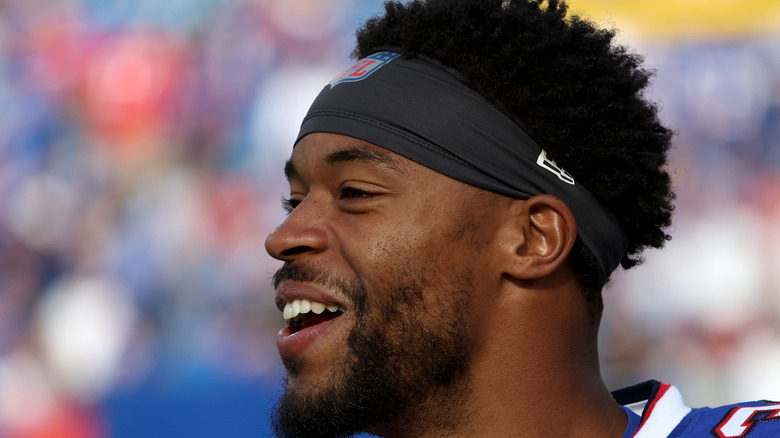 Timothy T Ludwig/Getty Images
A video of a "One Bills Live" interview with Damar Hamlin from earlier in the season in response to a neck injury sustained by his friend and Bills teammate Dane Jackson (above) went viral as several social media accounts posted it and called attention to its eerie timeliness. Twitter user Matthew Luciow noted, "This conversation where Damar Hamlin talks about cherishing every moment really hits the feels and puts life into perspective. We just have to keep praying and being positive" and added the hashtag "#PrayersForDamar." 
The Sun reported that Hamlin and Jackson had first played college football together at the University of Pittsburgh and quoted Hamlin as describing the "DB prayer we do every Wednesday," at which Jackson "was next to me and I just grabbed his hand a little bit harder — just because, you know, you never know when your last day could be that you get to experience something like this." He went on to describe the difficulty of seeing Jackson get injured and removed from the field and then having to immediately go back to playing the game at hand, saying, "It's like real-life stuff going on. Life is bigger than football." Per The Buffalo News, the neck injury was Jackson's second one of the season; he spent the night in the hospital and was released the next day. According to a statement released by the Bills, Jackson "underwent various tests which determined there was no major injury to his neck or spinal cord."
Hamlin and Jackson's dream come true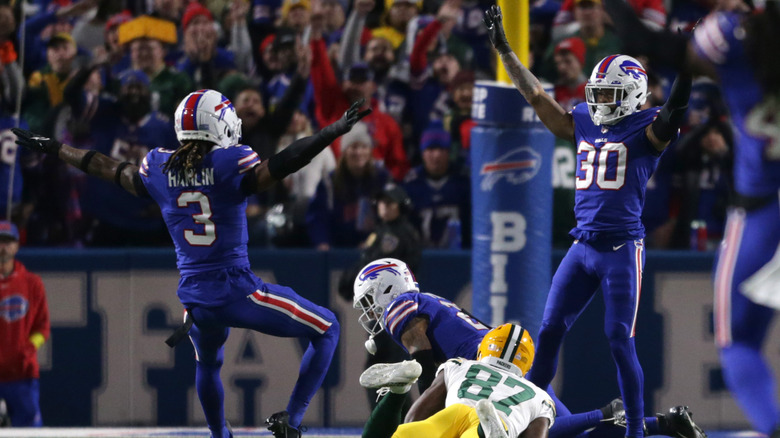 Joshua Bessex/Getty Images
Damar Hamlin and Dane Jackson, shown above celebrating on the football field together after a successful play in October 2022, discussed their history together in an interview with reporter Maddy Glab on the web series "Coffee With The Bills." The two are from the same side of Pittsburgh, and their high school football teams actually played each other in a scrimmage. Jackson was a year ahead of Hamlin at the University of Pittsburgh and started playing for the Bills a year before Hamlin was recruited, and Hamlin described Jackson as a mentor "being able to show me the ropes, just what to do, what not to do, just also the same process as being here." 
After correctly answering several trivia questions about one another, including first jobs (Jackson worked at a Subway) and favorite foods (Hamlin loves hot wings and even started his own wings review series), they responded to Glab's question about the best part of being Bills teammates. Jackson noted their history together, saying that "coming up with someone you grew up with, somebody from the same side of town ... that's stuff people dream of. They talk about that as little kids. And now for us to really do it ... it's a dream come true." Hamlin agreed, explaining that "a lot of people don't even get to have this opportunity that we have, coming from where we come from. So to even be able to be here together ... it's really like something you couldn't even dream of."