Eric Clapton And Duane Allman's Friendship Explained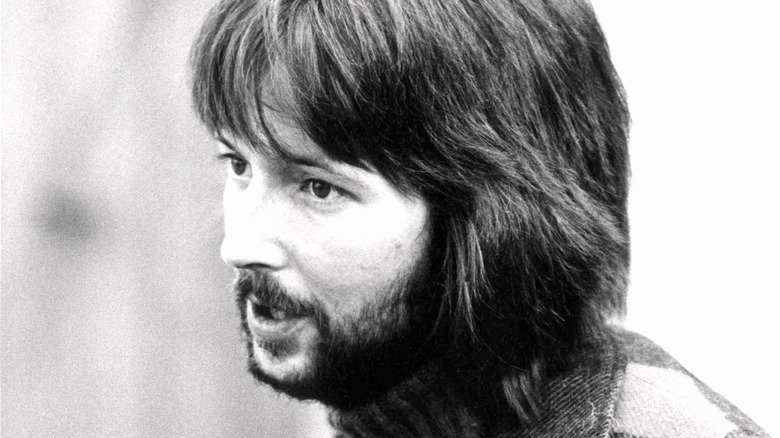 Michael Putland/Getty Images
How does an English guitar legend make friends with an amazing American rock talent? Eric Clapton and Duane Allman may have seemed an unlikely duo at first glance. Clapton, born Eric Patrick Clapp in 1945, launched his career in the early 1960s with the Yardbirds and then later created the band Cream (via Britannica). He went on to form Derek and the Dominos, and it was around this time that Clapton met Allman.
Born in 1946, Allman became a rising star in the southern rock scene with the Allman Brothers Band. He had worked as a session musician for a time, and it was his work with Wilson Pickett that first attracted Clapton's attention (via Allman's official site). According to Guitar World, Clapton quickly became a fan of Allman. He heard Allman's guitar solo on Pickett's cover of The Beatles' "Hey Jude," and he had to know who was playing. Allman, who was only 22 years old at the time, earned kudos from Clapton. Clapton later said that "I never heard better rock guitar playing on an R&B record."
Clapton and Allman admired each other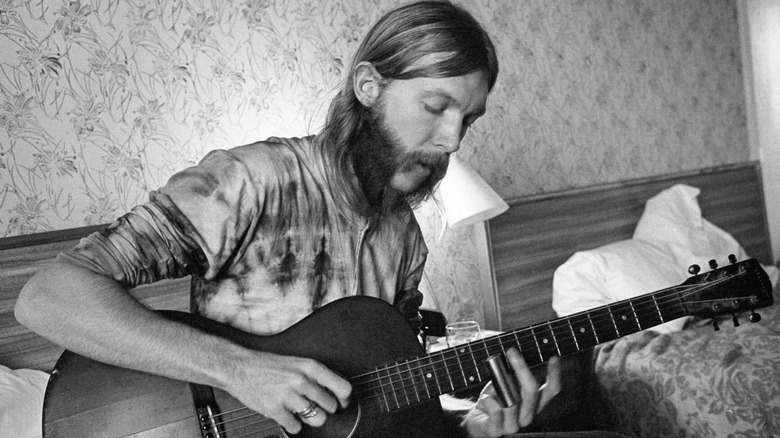 Michael Ochs Archives/Getty Images
While Clapton was initially impressed with Allman, he soon forgot about the up-and-coming guitarist until a chance meeting in 1970 in Miami Beach, Florida, according to Ultimate Classic Rock. Clapton was recording at the Criteria Studios with his band Derek and the Dominos, and his producer Tom Dowd took the whole group to see the Allman Brothers Band who just happened to be playing that night. The group, which also featured Allman's brother Gregg on vocals and the organ, had released their first self-titled album in 1969, per AllMusic.
Butch Trucks, the Allman Brothers Band drummer, later remembered that Allman had become anxious once he learned that Clapton was in the audience. But clearly, Allman didn't let his nerves get the best of him, and the band's performance that night led Clapton to invite him to hang out. According to Far Out magazine, Clapton and Allman really bonded which led to Allman helping Clapton out.
Clapton and Allman's friendship didn't last long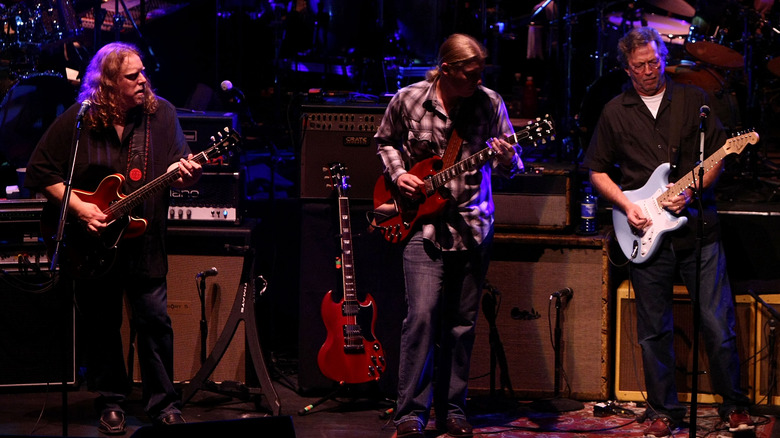 Michael Loccisano/Getty Images
Allman joined Clapton in the studio as Derek and the Dominos worked on their "Layla and Other Assorted Love Songs," which was recorded during August to October of 1970 (via AllMusic). "Eric and Duane just clicked in a special way," Bobby Whitlock, keyboardist for Derek and the Dominos, explained to Guitar Player. The two famed guitarists working together added a new dimension to the record, making it more powerful and dynamic sounding, according to Far Out magazine.
One of Allman's most remarkable contributions to the album came in the form of his work on "Layla," Clapton's ode to Patti Boyd. Clapton's love for his friend George Harrison's wife inspired the song. Allman helped make this tune better by adding five notes to it, per Ultimate Classic Rock. He also had an impressive solo on the slide guitar in the recording.
Sadly, the friendship between these stellar collaborators came to an abrupt halt nearly a year later. Duane Allman died on October 29, 1971, in a motorcycle accident (via his official site). "Keys to the highway," was one of the songs played at his funeral, which appeared on the "Layla" album that Allman worked on with Clapton, per Rolling Stone magazine.