The Environmentalist Origins Of The Phrase 'Don't Mess With Texas'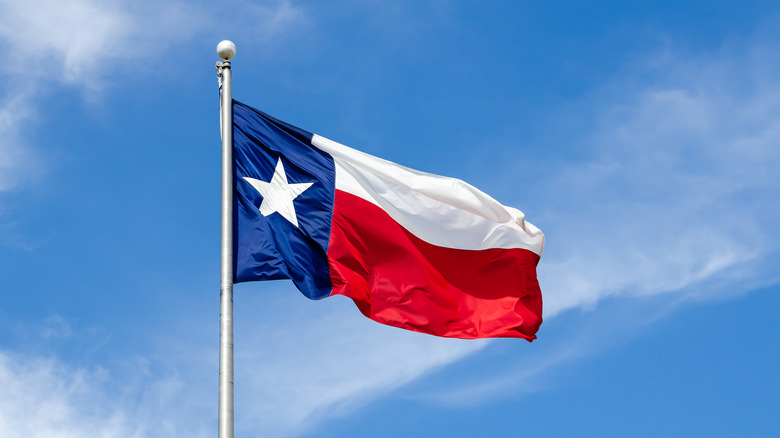 Leena Robinson/Shutterstock
Texas is known for its various nicknames and slogans, including "The Lone Star State" and "everything's bigger in Texas" (via The Bullock Texas State History Museum). But as Smithsonian Magazine notes, "Don't Mess with Texas" is perhaps the most beloved catchphrase among state natives. Per The Goodman Center, the advertising agency GSD&M developed the phrase in 1985. However, "Don't Mess with Texas" was not formulated to sell a product or state pride. Instead, it promoted an anti-litter campaign by the Texas Department of Transportation (TxDOT). In the 1980s, TxDot spent $20 million a year cleaning up litter.
CNN reports that TxDot hired Mike Blair and Tim McClure from GSD&M to develop a catchy solution to spread awareness of the problem. Per Smithsonian Magazine, their demographic was 16- to 24-year-old males. McClure, in fact, was the one who came up with "Don't Mess with Texas" after realizing that no one commonly used the word "litter." However, the term "mess" was a different story. McClure and GSD&M quickly rolled out the slogan using bumper stickers and purposely excluded TxDOT's name on them.
McClure explained (via Smithsonian Magazine), "We thought the way to get it into the public's consciousness quickest was to let Texans own it." He added, "I don't think they would have put something that said 'Don't Litter Texas.' 'Don't Trash our State.' I don't think they'd do it, but because it had that Texas bravado to it, they adopted 'Don't mess with Texas' as their own battle cry."
'Don't Mess with Texas' became a cultural phenomenon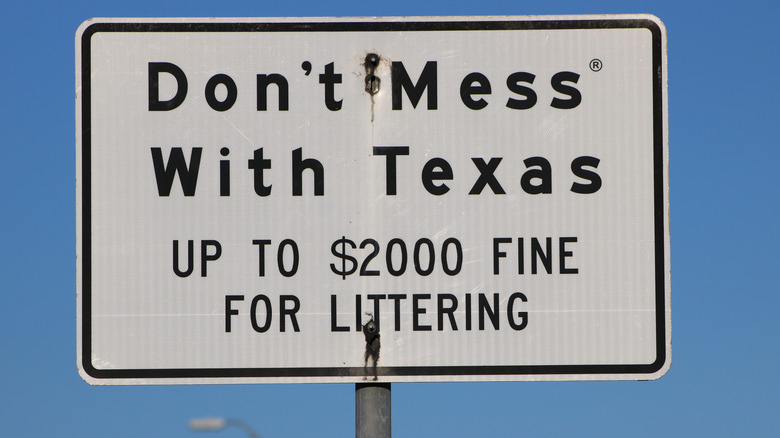 Edward H. Campbell/Shutterstock
Smithsonian Magazine reports that Tim McClure's unique approach worked. TxDOT subsequently released a commercial during the 1986 Cotton Bowl football game (via CNN). In it, famed musician and Texas native Stevie Ray Vaughn utters the words "Don't Mess with Texas" (as seen on YouTube). Ultimately, the ad and the slogan proved to be highly successful. Much to TxDOT's relief, the amount of litter in Texas decreased by 29% within one year and 54% by 1990. Linda Levitt from TxDOT explained to The Goodman Center why she believes the campaign hit a nerve, noting that GSD&M understood how Texans felt about littering.
Levitt said (via The Goodman Center), "People didn't think it was wrong." She added, "They assumed someone was going to clean up after them." In other words, GSD&M figured out how to appeal to its audience instead of commanding them to do something they likely needed to be more interested or knowledgeable in. 
Mike Blair from GSD&M told CNN why "Don't Mess with Texas" worked. He stated, "The line became bigger than what the campaign was about. It was almost as much about the attitude of Texas and Texans at the time, tough-talking, no-nonsense, go-about-our-business, get-things-done kind of attitude that has always been associated with Texans." Per the campaign's website, Don't Mess with Texas later used various Texan icons in their other ads, including Willie Nelson, LeAnn Rimes, and Matthew McConaughey.
The slogan continues to thrive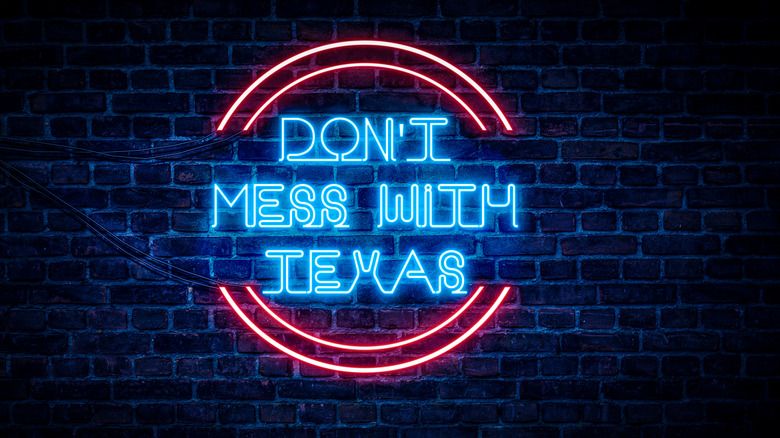 ABEMOS/Shutterstock
Mike Blair told CNN in 2011 that he was proud of the campaign. He said, "For us personally, there was a ton of satisfaction to know we created something that literally cleaned up the roads, and you could see the difference in the highways. It was just an absolute pleasure to have a part of something like that, to make the state cleaner, and I think a lot of people took pride in that." Despite this, Don't Mess with Texas says the state still has a littering problem today. They note that 362 million pieces of litter are on the road each year.
The "Don't Mess with Texas" campaign is still alive and well at the time of this publication. Trash cans with the catchphrase are found all over the state, notes Smithsonian Magazine. In addition, TxDOT later trademarked the phrase. According to NBC News, the agency wanted more control over the slogan. At one point, the University of Texas and other organizations used it on T-shirts. In 2020, the campaign celebrated its 35-year anniversary. That year, Don't Mess with Texas dropped a PSA featuring narration by George Strait (as seen on YouTube). In 2022, they released an ad featuring pop star Joe Jonas (per Twitter).