How The Pittsburgh Pirates Helped Cement Sister Sledge Into Sports History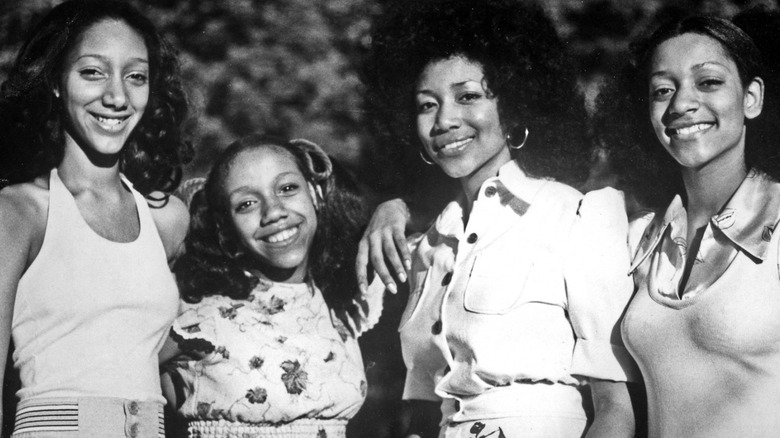 Michael Ochs Archives/Getty Images
The Sister Sledge musical group started out as family members and then went on to become one of America's top musical acts. The four Sledge sisters –- Debbie, Joni, Kim, and Kathy –- came from a creative background, having parents that worked as a dancer and an actress, according to Rolling Stone magazine. They grew up in Philadelphia, Pennsylvania, where they performed locally at church and school (via AllMusic). They received some of their early singing training from their grandmother who had sung opera professionally.
Originally known as Sisters' Sledge, the group made their debut when the sisters were still in their teens. "Time Will Tell" served as their first single, but it wasn't until later that they had any chart success. Sister Sledge hit the charts in the United Kingdom in the mid-1970s with "Mama Never Told Me" and "Love Don't You Go Through No Changes on Me." This last tune also became a minor hit for the quartet back home in the United States in 1975. By 1979, Sister Sledge would be successfully singing a different tune, and an assist from one of the country's top baseball teams would help make the group and their song "We Are Family" legendary.
Sister Sledge makes it big with We Are Family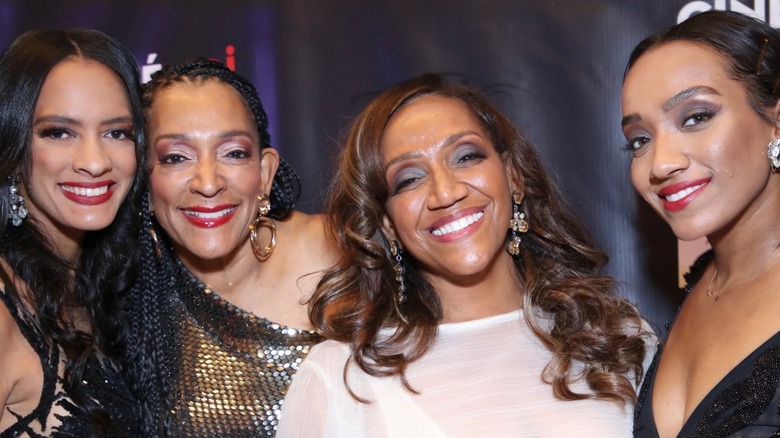 Robin L Marshall/Getty Images
Sister Sledge put out two albums with lackluster results before a special collaboration helped them advance professionally. They connected with Nile Rodgers and Bernard Edwards, the driving forces behind the band Chic. Rodgers and Edwards served as producers for Sister Sledge's third album, "We Are Family" (via Discogs). The dynamic duo also wrote and arranged the music for the record as well, including the title track, per AllMusic.
Joni Sledge later discussed making the album with Rodgers and Edwards with the Guardian. "Recording the track 'We Are Family' was like a one-take party -– we were just dancing and playing around and hanging out in the studio when we did it," she said. The album hit store shelves in January 1979, and it generated two major hits for the group. The first one was "He's the Greatest Dancer" and the second hit was the album's title track, which was taken to new heights when the Pittsburgh Pirates adopted it as their theme song that season.
We Are Family inspires the Pittsburgh Pirates to victory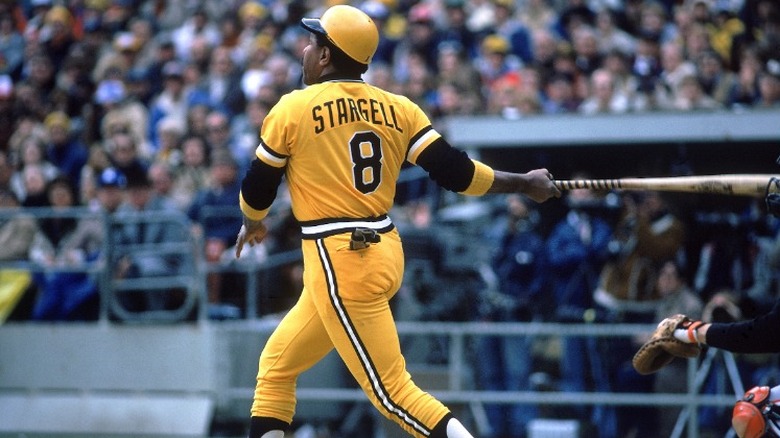 Rich Pilling/Getty Images
While "We Are Family" was already a success on the charts, Sister Sledge became part of sports history when the Pittsburgh Pirates used it to help motivate their team to get to the World Series (via Major League Baseball). The idea to pick this song as their anthem came from Willie Stargell, the team's left fielder and one of its power hitters. While Dave Parker, one of his teammates, had hoped to use a different song, he soon supported Stargell's selection. "What Willie wants, Willie gets," Parker said. "Whatever he went with, we were all for it."
The Pirates did band together like a family that season, winning their way to a World Series face off against the Baltimore Orioles. Nicknamed "Pops" by some of the players, Stargell helped his team achieve an impressive title win in seven games and he earned the MVP honor for all his efforts. To this day, the 1979 Pittsburgh Pirates are referred to as the "We Are Family" team. It goes to show how powerful a good anthem can be.