Why Philadelphia Eagles Coach Nick Sirianni Has A Grudge Against Kansas City Chiefs Coach Andy Reid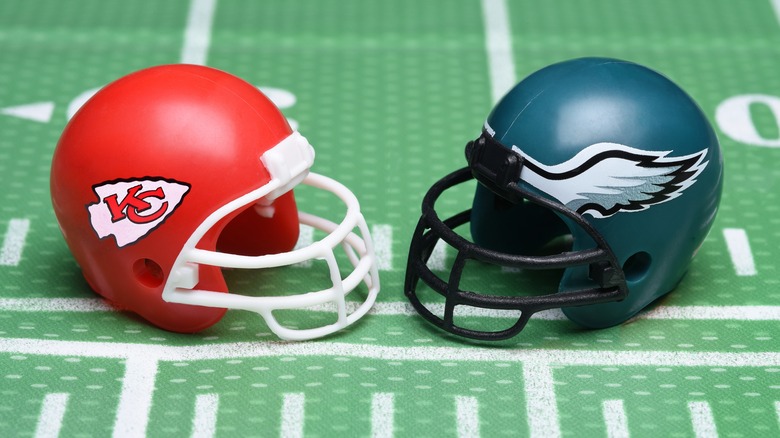 Steve Cukrov/Shutterstock
On February 12, 2023, as CBS Sports reports, the Kansas City Chiefs and the Philadelphia Eagles will face off in Super Bowl LVII in Glendale, Arizona. The Chiefs' head coach is Andy Reid, who has been in that role since January 2013, according to the Chiefs' website. The Eagles, meanwhile, are coached by Nick Sirianni, who has been the team's head coach since January 2021, according to the Eagles' website.
The coaching picture in the NFL is constantly changing, with coaches moving from lower-tier coaching positions (such as receivers' coach or offensive line coach) to bigger ones (assistant coach, head coach), and back down again as the owners' moods and the needs of the teams change. They may be promoted or demoted within their own team, or fired and then hired by another team at the same position or at another one.
All of this is to say that, at any Super Bowl, it's not unlikely that the two head coaches of the two competing teams have worked with one another on the same team at some point in their careers. As for Reid and Sirianni, they both worked for the Kansas City Chiefs for not more than a few hours. That's because, as ESPN explains, when Reid was hired to be the Chiefs' head coach, one of his first jobs was to fire Sirianni, at the time the team's wide receivers coach. And Sirianni has been salty about it ever since.
The dismal pre-Reid Chiefs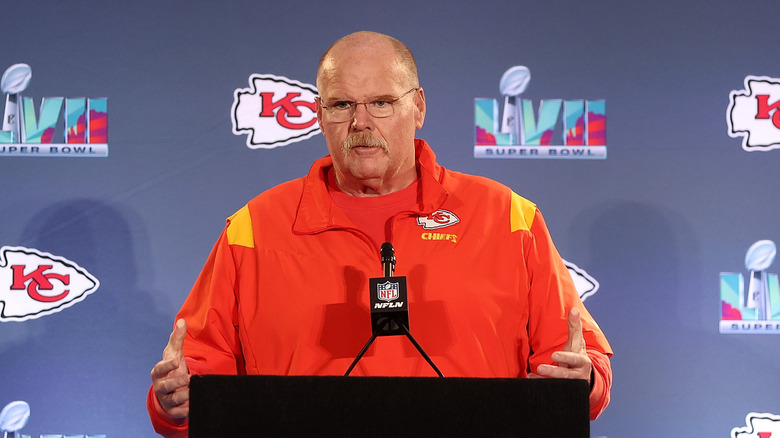 Christian Petersen/Getty Images
The Kansas City Chiefs, like just about every team in just about every sport, have had their ups and downs over the decades. Their most-recent period of downs (no pun intended), according to Pro Football Reference, was between 2007 and 2012, during which they put up five losing records in six seasons. Their 2012 season, under head coach Romeo Crennel, was especially dismal, ending with a 2 and 14 record, and the team wanted a change.
The team looked over a thousand miles to the east, and as Bleacher Report reported, hired Andy Reid, who at that time was the head coach of — wait for it — the Philadelphia Eagles. Writer Brian Leigh wasn't feeling it at the time, writing, "He's ... the wrong man for the job." Nevertheless, any Chiefs fan will tell you that Leigh was wrong: the team has had winning seasons every year since Reid was hired, and the Chiefs made the postseason in all but one of them and have hosted five consecutive AFC Championships.
When Reid first arrived in the Chiefs' front offices, the first thing he did was clean house. That meant that the Chiefs' wide receivers coach, Nick Sirianni at the time, had to go. Sirianni would later tell ESPN that he understood the reasons why Reid let him go, but he's still carrying a chip on his shoulder about the whole thing to this day.
A chip on his shoulder?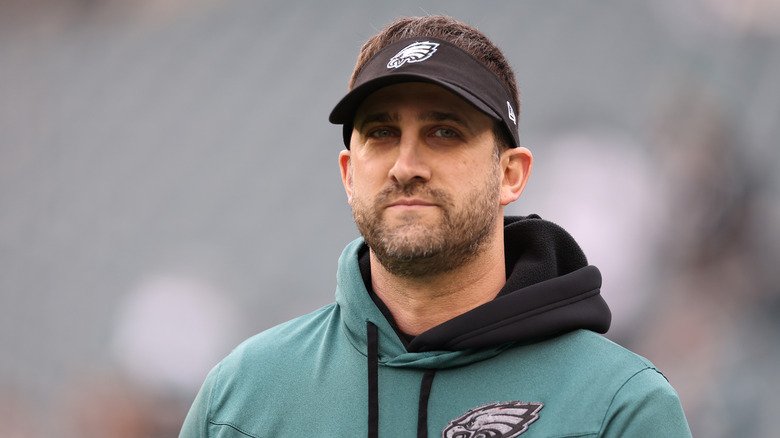 Tim Nwachukwu/Getty Images
Nick Sirianni (above) was a standout college football player for Mount Union, which is in the NCAA Division 3, and, after failing to get an NFL contract, coached a couple of other small college teams, including his own Mount Union, according to WCAU. In a move that is almost unheard-of for NFL coaches, he was hired by an NFL team — the Chiefs — from the Division 3 ranks, thanks to the help of a friend, and he started his NFL career as the offensive quality control coach.
While in Kansas City, he entered into a relationship with a woman with a day job, a schoolteacher named Brett, according to ESPN. Unfortunately, NFL stands for "Not For Long" when it comes to coaching jobs, and when Andy Reid was hired, he brought in his own guy and fired Sirianni.
Nick is of two minds about his firing. On the one hand, he said that Reid handled his firing with professionalism and courtesy, and tried to give him good advice. On the other, his firing disrupted his life, and he says he still has a bit of a grudge about the whole thing. "Do you always have this little chip on your shoulder? Sure, yeah, you do," he said. He also emerged from the whole thing net-positive, as he was able to get another coaching job pretty quickly, and he worked his way up to the Eagles' head coaching job.