Andy Reid: 8 Essential Facts About The Kansas City Chiefs' Coach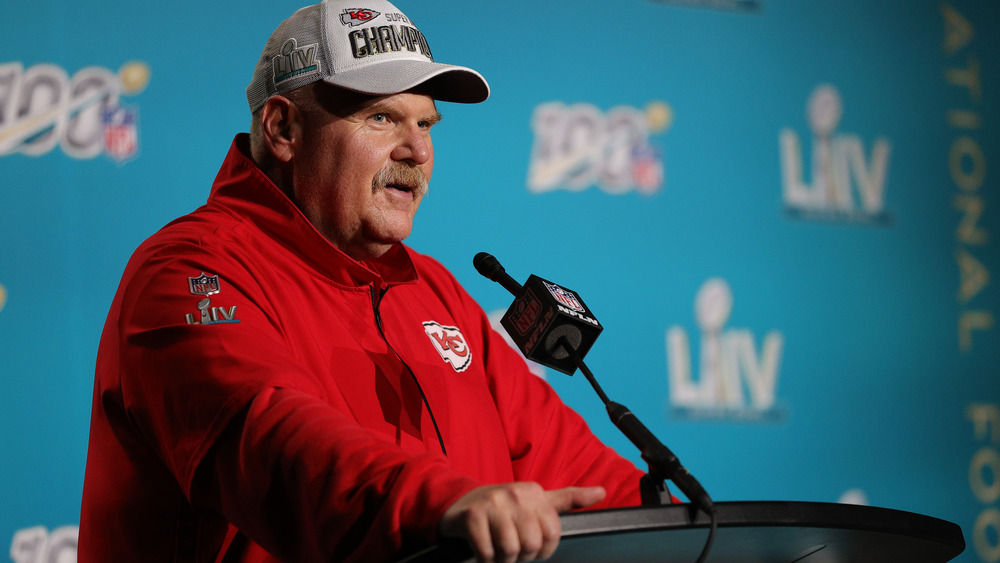 Maddie Meyer/Getty Images
Andy Reid came into the NFL with a splash. He was an unheard-of nobody until getting a shot to coach the Philadelphia Eagles right before the millennium. Since then, The Walrus, as he's affectionately deemed, has been rocking fans as well as a mustache up and down the field, most recently as the head coach of the Kansas City Chiefs, the team set to face the Tampa Bay Buccaneers in Super Bowl LV on February 7.
Reid is responsible for much of the team's recent glory. Up until 2020, the guy didn't have a Super Bowl ring to his name, but he still amassed a treasure trove of conference championships and brought teams back from the brink of complete failure. He's a coaching heavyweight, to say the least.
In 1999, while Reid was only 40 years old, he was hired as the head coach of the Philadelphia Eagles, which, at that time, made him the second-youngest person in NFL history to become a head coach. According to CNBC, Reid wasn't very well-known at the time either. He'd been a line coach and a quarterback coach for the Green Bay Packers for just shy of a decade, but coaching the Eagles was first time he'd be at the helm, and it's a good thing he was, too. Reid has had a way of turning teams around throughout his NFL career, and the Eagles desperately needed it.
He became the second-youngest head coach in the NFL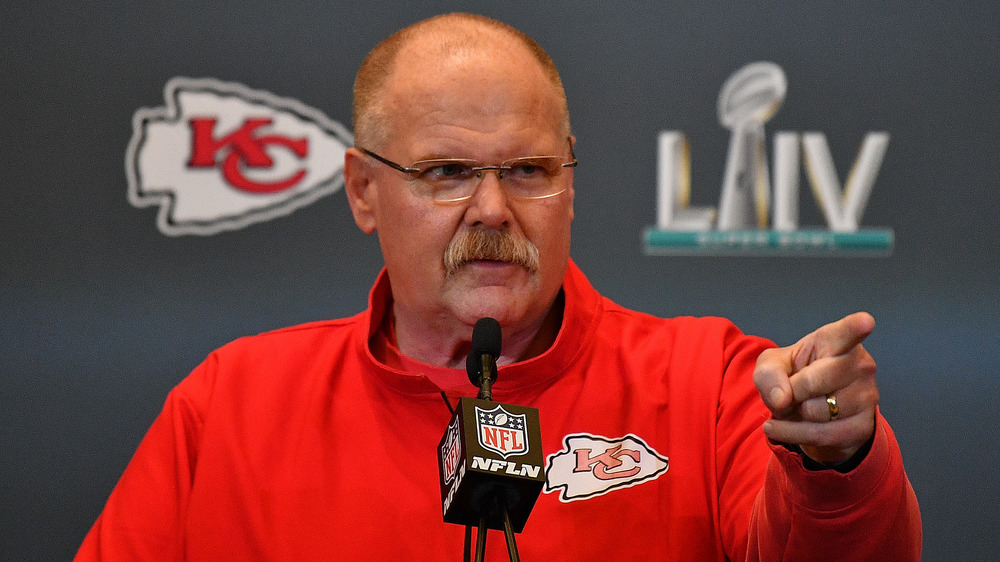 Mark Brown/Getty Images
According to USA Today, the team was coming off a 3-13 season under his predecessor, Ray Rhodes. It didn't take long for Reid to whip the guys into proper shape. In 2002, the Eagles would play their first of three consecutive conference championships under their new coach, according to CBS. Since then, Reid has managed the same feat with the Chiefs, heading the team to championship games from 2018 to 2020. The Chiefs and the Eagles are the only two teams to host three consecutive conference championships to date.
Reid spent a whole lot of time at Brigham Young University in Provo, Utah. He played tackle and guard for the school for two years and graduated with a bachelor's in physical education, as well as a master's, according to the Kansas City Chief's official website. The future NFL coach began his coaching career at Brigham Young by working as a graduate assistant to the college's head coach, which kicked off a head-spinning collegiate run where Reid was fiercely tossed between a handful of colleges.
After graduating, Reid was hired as the offensive line coach and offensive coordinator for the San Francisco State Gators, where he remained for a whopping two years before being punted to Northern Arizona to coach their offensive line. From there, he'd work with the offensive line at the University of Texas-El Paso. Then, at the University of Missouri, which would be his last job in the college sector, ending in 1991.
He spent a lot of time at Brigham Young University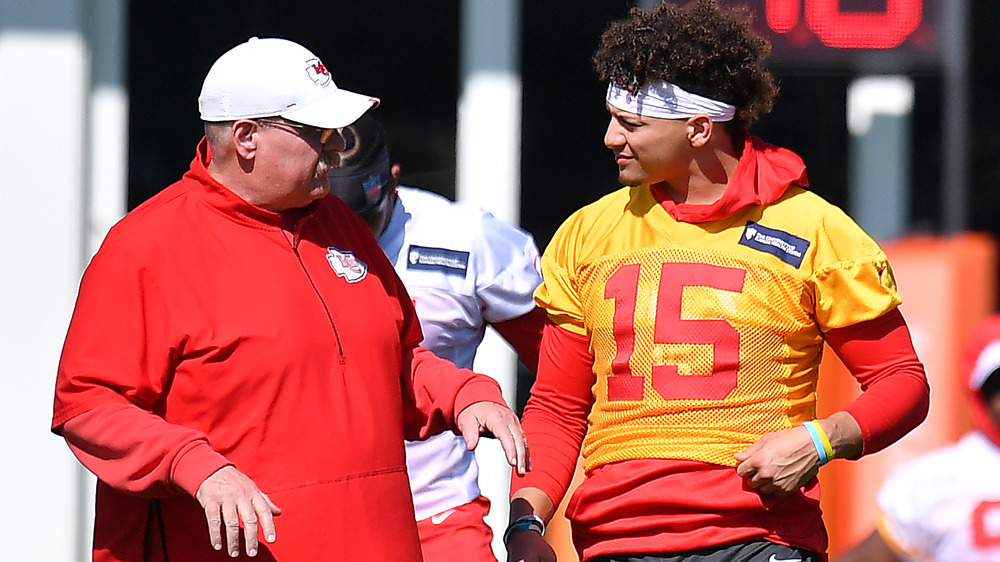 Mark Brown/Getty Images
Finally, Reid was off to the NFL to work with the Packers. The coach made his switch from the Eagles to the Kansas City Chiefs in 2013 after being fired by Philadelphia. His last season was a bust. In fact, it was the worst season he'd coached with the team, as USA Today points out, and the Eagles couldn't risk having a repeat, so Reid was let go. Being a head coach in the NFL is a cutthroat position that takes serious focus, a focus that Reid couldn't muster after the death of his son.
Garrett Reid had been working with the Eagles' strength and conditioning program at Lehigh University at the time of his death in August of 2012. According to ESPN, Garrett had suffered from a history of heroin addiction, and his father believed he had fallen into a relapse. Needles and a gym bag filled with mostly unopened syringes were found in his dorm room, along with a telltale heroin spoon. Toxicology reports revealed that Garrett Reid indeed had heroin in his system when he died, leading experts to believe his death was the fault of a self-administered heroin overdose. Garrett was only 29 years old.
He's one of the highest-paid coaches in the league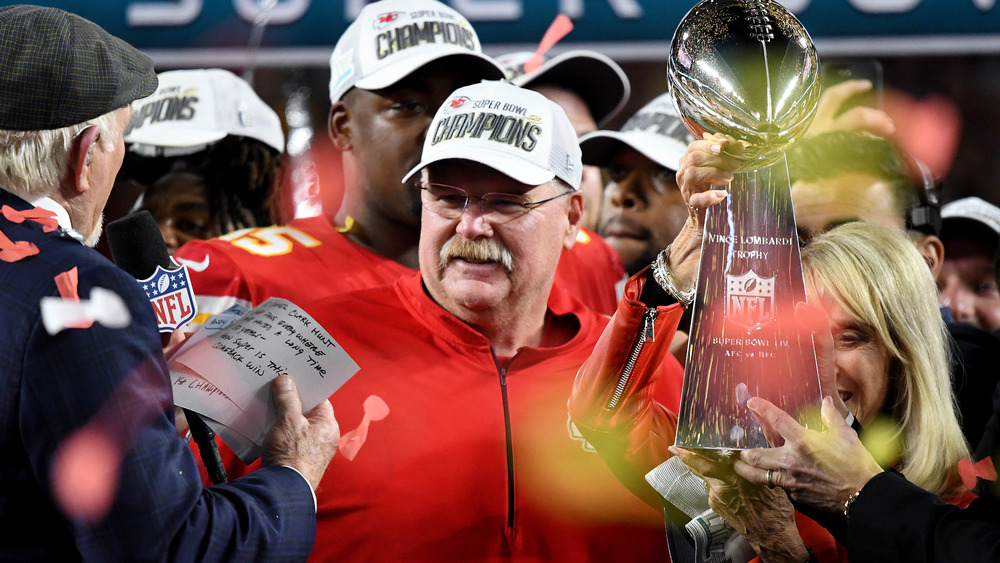 Focus On Sport/Getty Images
Many of us wish we could make the kind of money coaches in the NFL bring home, even the lowest-paid of them, but for most of us, that will never happen. These guys bank six or seven-figure salaries every year, but some of them make substantially more money than others. Given Andy Reid's track record, it's not surprising that he made Bleacher Report's 2018 Top 10 Highest-Paid Coaches list. Just look at the sheer number of conference championship games and two Super Bowls that Reid has under his belt. And he gets his chance at another Super Bowl ring in just a few days.
According to SB Nation, Reid has coached playoff teams for almost three-quarters of the time he's coached in the NFL, and it's earned him a serious payday. Sporting News claims that Reid gets an $8 million paycheck every year. Where he's definitely not the highest paid in the league — that honor goes to the great Bill Belichick of the Patriots — he's certainly living a higher life than most.
Britt Reid's nepotism hire ended with his DWI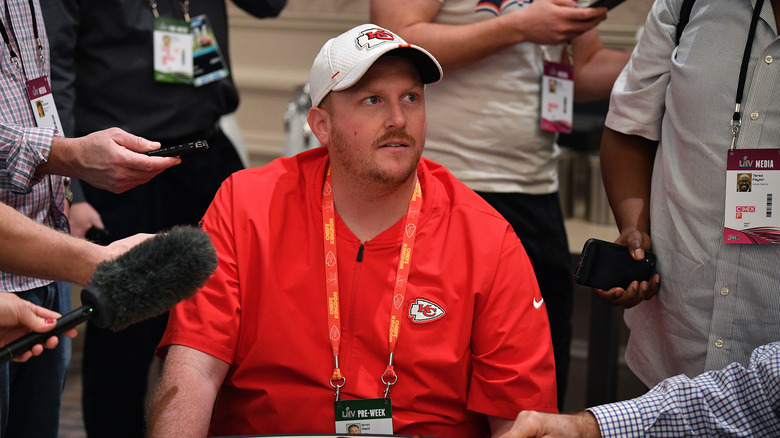 Mark Brown/Getty Images
For better or worse, Andy Reid has done whatever he could to support his son, Britt. Due to the amazing results Andy has achieved on the football field, he managed to secure the critical role as the outside linebacker coach of the Kansas City Chiefs for Britt, despite the fact that the younger Reid did not have the necessary experience. Even worse, Britt's record was far more notorious than his father's and instead consisted of convictions for a DUI, road rage, and drug charges while he lived in Pennsylvania years before.
In 2021, Britt lost the position he'd had handed to him after he drove while heavily drunk and smashed into two vehicles parked on the side of the road going 84 miles per hour, according to Yahoo! Sports. His grievously irresponsible actions caused irreversible damage to five-year-old Ariel Miller and injuries to six other individuals who were all unfortunate enough to be in his path.
For his crime, Britt was first suspended from the coaching staff, and then the Chiefs refused to renew his contract shortly after. He then faced considerably more severe repercussions in court, however, where he was charged and convicted of a DWI. In November 2022, the former assistant coach was sentenced to three years in prison.
Andy and Tammy Reid are devout Mormons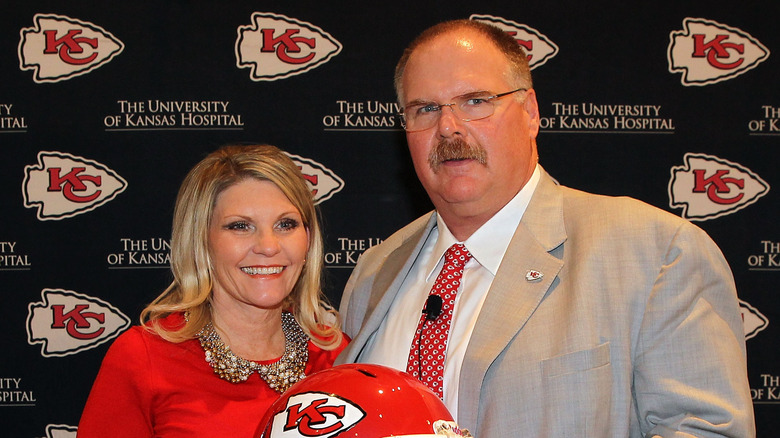 Jamie Squire/Getty Images
Andy Reid met his future wife, Tammy, while the two were students at Brigham Young University and began dating not long after. Yet as their relationship became more serious, there was a significant issue in that Tammy's family were devoted followers of the Church of Latter-day Saints, but Reid was not at that time. So, her father encouraged the young suitor to learn more about the faith, and by the end of summer, he was ready to become baptized. Then a year after his conversion to Mormonism, Andy and Tammy married in 1981.
Decades later, the couple has remained highly active within the LDS Church. When talking with The Kansas City Star, Andy said, "In our church, we try to get out and talk to members of the church and at the same time, anybody in the community that would like to listen about family, faith, and football." Tammy also added, "We do have this huge faith and we like to share it, because it's made our lives better and it makes our lives richer."
He once worked as a vendor at Dodger Stadium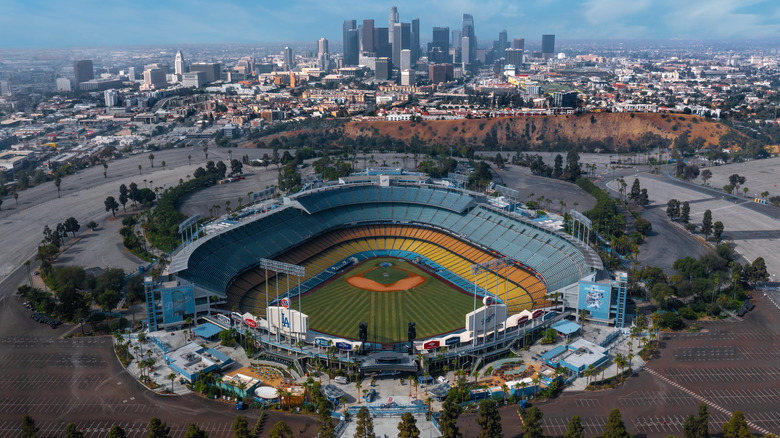 Kirk Wester/Shutterstock
Along with football, Andy Reid was obsessed with baseball as well and played as the starting pitcher for his high school team. His love of the game was probably influenced by the fact that the same year he was born in 1958, the Dodgers moved to Los Angeles with a stadium only 10 minutes away from where he lived.
Reid's dedication to the team went beyond just supporting them at their home field, as he explained to The Philadelphia Inquirer, "I had a scrapbook that I kept every Dodgers clipping for four or five years from the L.A. Times. Every picture I'd put in there, and I'd write a little title on it." Then once he got older, the avid fan was given the ideal opportunity of getting paid to enjoy his hobby by becoming a vendor at Dodger Stadium for a time.
He's won Coach of the Year multiple times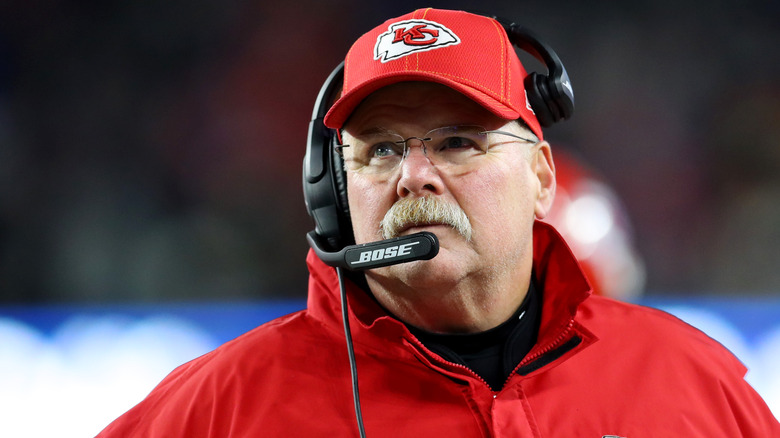 Maddie Meyer/Getty Images
For Andy Reid's uncanny ability to achieve victory on the football field, the coach has been highly decorated with several prestigious awards for his efforts. Most notable are the numerous times he has earned Coach of the Year honors from a few different important groups. When he led the Philadelphia Eagles in 2002, Reid was named NFL Coach of the Year. Then later during his first year at Kansas City in 2013, he was acknowledged as the AFC coach of the year, and managed to earn that honor again only two years later.
The praise for Reid does not end there, for he has also been awarded Coach of the Year on four separate occasions by the Maxwell Football Club, first in 2000, followed by 2002, 2010, and 2018. The Sporting News and Football Digest are two more that have bestowed the major honor on him, including in 2000 when he was named Coach of the Year by all three for pulling off the greatest turnaround ever that season in the entire history of the Eagles team.
He never played professional football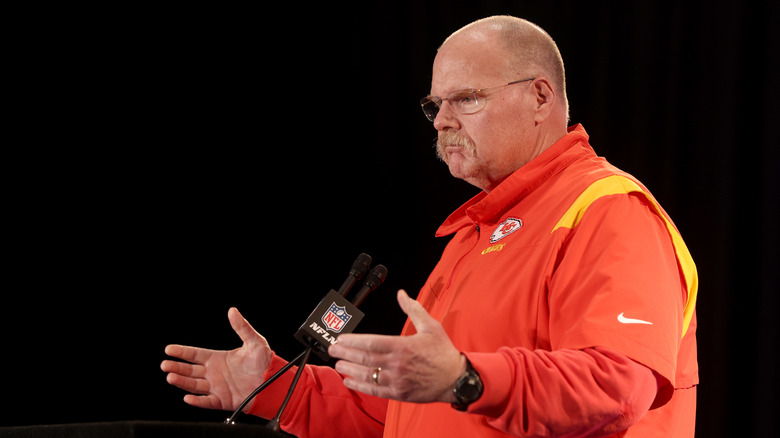 Christian Petersen/Getty Images
Andy Reid may not have had the exceptional skills needed to play football at the highest level in the NFL, but he definitely had a size advantage over his peers while growing up. Ted Pallas, an old childhood friend, told The Philadelphia Inquirer, "He was so much bigger than everybody else, but he handled it so well. A lot of kids would rag on him because he was – in a lot of people's eyes – different. He was probably 6 feet, 220 pounds when he was 12 years old. He was a man."
Reid also conveniently discovered his passion for the sport at a young age. The kid's neighbor and occasional babysitter, Reba Poor, recalled, "He was always active. He was always playing football. He was going to be football from the get-go." After playing quarterback in junior high, he later became an important member of the high school team as well.
Unfortunately, as Reid approached graduation and moved on to college, however, he gradually realized that a career as a pro athlete may not be in the cards, especially since he was unable to get a Division I scholarship. The truly deciding factor then occurred while part of the team at Brigham Young University because he badly injured his knee. So, his coach, LaVell Edwards, began to mentor him into the same profession as a perfect alternative, which has suited Reid very well, to say the least.