Tragic Details About Shania Twain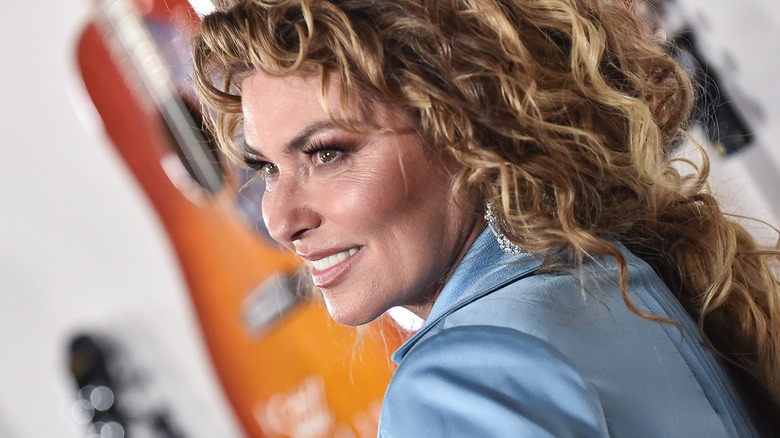 DFree/Shutterstock
Shania Twain spoke with Billboard around the time of the prep and kick-off to her 2023 tour, and amid her excitement over a setlist of songs spanning decades was a massively inspirational footnote: Five years prior, she had thought she would never sing again. It had taken a lot to get to the point where she was singing again, and then it was on to a grueling schedule of daily rehearsals in between overseeing everything from lighting to costumes.
"My days are very long," she explained, but if there is anyone up for the challenge, it's Twain. She's already overcome the kind of tragedy and hardship that would break many people.
And it started when she was incredibly young. From growing up in poverty to rallying against the misogynistic attitudes of a male-dominated industry, Twain's life has been anything but easy. Her triumphant album release and return to the stage after an amount of time that would be a death knell for most artists is a testament to an iron will and steadfast resolution — the sort that only comes after a lifetime of struggles.
Doctors told her mother she was stillborn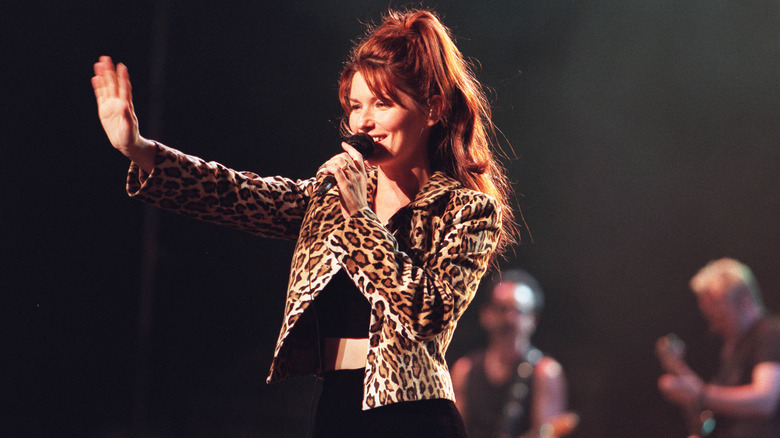 Michael Okoniewski/Getty Images
For Shania Twain, struggles started the moment she was born. In her memoir, "From This Moment On," she recalled hearing about how the doctor had handed her mother a cigarette and told her the bad news: Her daughter had been stillborn after a long and painful breech birth. The baby ultimately did take her first breath — against all odds.
Named Eilleen Regina Edwards at birth, Twain was her mother's second child and the first with husband Clarence Edwards. Twain's older sister, Jill, had been born not long after their mother's fiancé died in a car accident, and her marriage to Edwards would be no happier. They divorced when Twain was a toddler, and although her mother had told her his decision to completely cut ties with the family was based on her stepfather's request, it didn't stop her from wondering. She wrote, "Growing up, I knew he existed ... I did often wonder what he thought of me and if he cared." 
Twain was nearly starting school when her mother married the man she would consider her father. Jerry Twain was a member of the Indigenous Ojibway tribe, and she described him as possessing "a bright, charming personality with a playful character and plenty of jokes and pranks up his sleeve." Although she lauded her stepfather for his good qualities, she recalled that even when she was young, she knew her parents' relationship was a violent one.
Poverty and jealousy escalated into domestic violence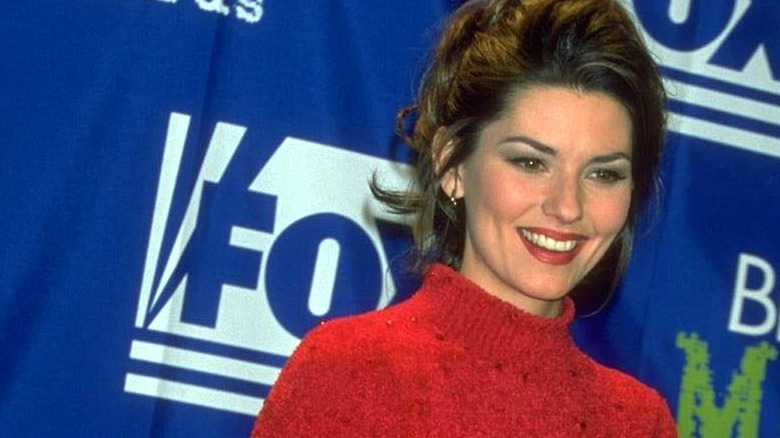 Diane Freed/Getty Images
Shania Twain has been incredibly candid about the effects that growing up in poverty had on her family. When she sat down to talk with Hoda Kotb on "Making Space with Hoda Kotb," she shared stories of how painful it was to grow up in Canada and not be able to afford things like warm clothes and waterproof boots, and what it was like having to lie about why she didn't have a lunch.
The constant worries about finances took their toll on the family, and in her memoir, "From This Moment On," Twain said although her stepfather was always employed in a string of ever-changing, minimum-wage jobs, tensions escalated into physical violence. She wrote about one incident, saying "it's likely that my mother might have been nagging him about not having enough grocery money," then sharing how it escalated into her stepfather "slammed her [mother's] head against the side of the basin, knocking her out cold. I could see Jerry repeatedly plunge my mother's head into the toilet bowl, then pull it out again. I remember wondering, 'Why is he trying to drown her when she's already dead?'"
Twain and her sisters ran to the snow-covered porch, and their screams led to the police being called. The fighting ended with the arrival of law enforcement, she recalled: "Until the next time."
If you or someone you know is dealing with domestic abuse, you can call the National Domestic Violence Hotline at 1−800−799−7233. You can also find more information, resources, and support at their website.
She was bullied for her talent as a child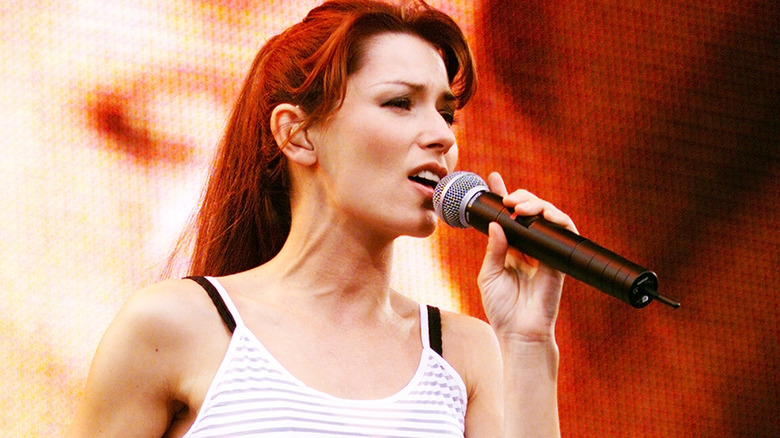 Dave Hogan/Getty Images
Some people are just born with a natural talent, and for Shania Twain, that was her ear for music. She wrote in her memoir, "From This Moment On," that her earliest memories involve singing as a toddler. She was so fascinated by music that even though she hated being the center of attention, she signed up to sing a song for her class at show-and-tell.
She was in first grade and decided that she was going to sing the John Denver hit, "Take Me Home, Country Roads," in front of her class. Because kids are the literal worst, it didn't go well: When the class started laughing at her partway through the song, she nearly fled. She finished, though, and wrote that it was traumatic enough that she felt as though she were done performing for good. And it got even worse: "The children's cruelty didn't end there. On the playground that afternoon, some of them ridiculed me, calling me a show-off. I couldn't understand it." 
She was still in first grade when — encouraged by her mother — she joined the school choir. Even though she thought she could blend into the crowd, she still found herself relentlessly ridiculed. "I felt targeted and bullied for being good at something," she wrote. "Being the 'little singer' wasn't so fun."
She moved her siblings and mother away from her abusive stepfather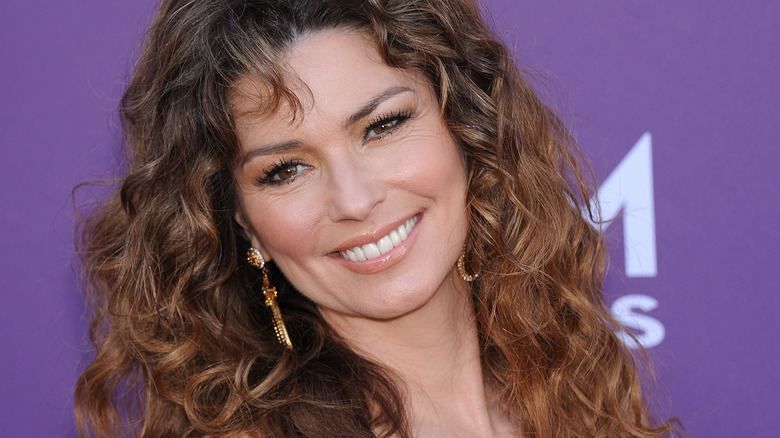 DFree/Shutterstock
Chapter 7 of Shania Twain's memoir, "From This Moment On," was titled, "The Worst Year of My Life and the Pursuit of Happiness." It was 1978, and it was dismal stuff. Her mother had sunk into a deep depression under the pressures of making ends meet, living in a society that frowned on interracial marriages, and the ever-present threat of violence, leaving her 13-year-old daughter to fill in for her. Twain recalled her rarely leaving her bed, except when her stepfather came home to drag her out of it: "as she kicked and scrambled, cursing him to hell ... My mother was in a bad state, half-dressed, not showered, pale and frail. My heart broke to see her like this."
Her mother had already made several attempts to leave her husband, but Twain wrote that the longest lasted a week. So, she decided one day that she was going to pack everyone into their car, wake up her mother, and tell her to start driving. And that's precisely what she did. 
After driving for 10 hours, they ended up in Toronto. They went on to find safety in a women's shelter, where Twain recalled experiencing things that she had never experienced before, including limitless cereal for breakfast. Her mother found a job cooking at a supper club, and on the weekends, Twain would go with her to sing and make what money she could in tips.
If you or someone you know is dealing with domestic abuse, you can call the National Domestic Violence Hotline at 1−800−799−7233. You can also find more information, resources, and support at their website.
She's experienced assaults and sexism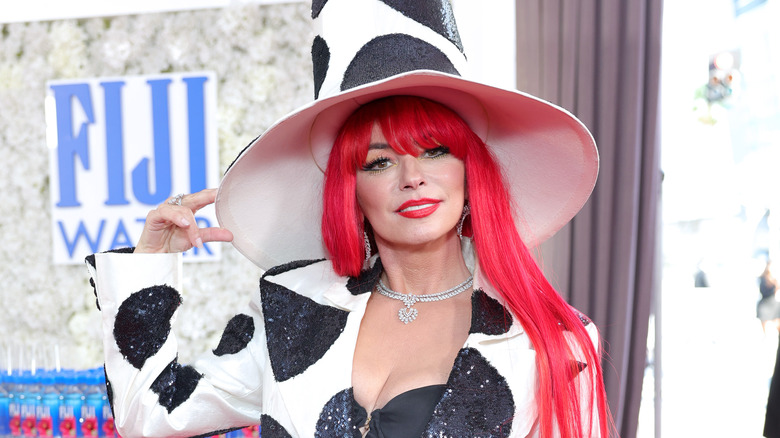 Stefanie Keenan/Getty Images
For the most part, Shania Twain says that most of the men she's worked with have been respectful, but it only takes a single traumatic experience to override all the good ones. Twain has shared that in one instance, one of the guys on her crew tried to kiss her, and after she refused, his father — who was also on the crew — began to berate her.
Others in the industry tried to take advantage of her, too, like the unnamed songwriter who, even though he was married, invited her to his home and tried to crawl into bed with her. Another who she described as having an important (but anonymous) position in the music industry tried much the same thing, and got the same answer: no. Even so, rumors circulated, and she tried her best to ignore them.
In her memoir, "From This Moment On," she also wrote about an incident that happened where she should have felt the most comfortable: her home. She was sleeping on the sofa when she was woken up by hands on her, and she wrote: "I consigned the incident to the back of my mind, just so that I could face him the next time we saw each other. I never said a word to him or to anyone else, figuring that no one would understand or believe that my father was capable of crossing such a sacred line with me."
If you or anyone you know has been a victim of sexual assault, help is available. Visit the Rape, Abuse & Incest National Network website or contact RAINN's National Helpline at 1-800-656-HOPE (4673).
She was accused of lying about her Indigenous ancestry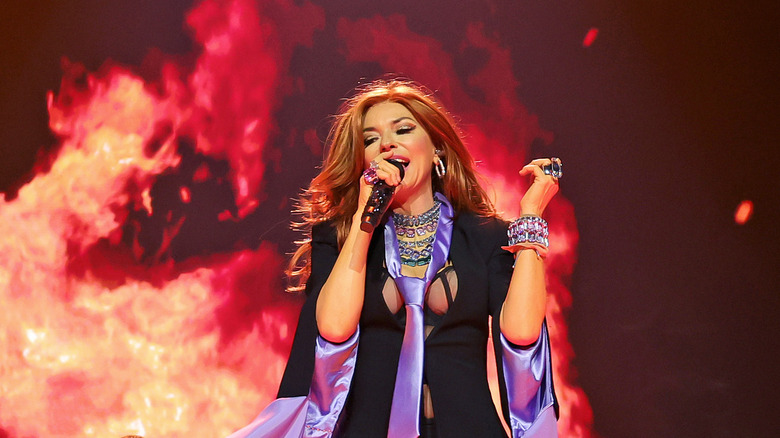 Kevin Mazur/Getty Images
When Shania Twain broke out big in the 1990s, it wasn't all smooth sailing. According to Robin Eggar's book, "Shania Twain: The Biography," she and her then-husband Mutt Lange did everything themselves, and by not unofficially joining the bigger singer-songwriter-producer community in Nashville, they were shunned by it. At the same time, the media decided to start digging into her past, and it was her hometown paper, The Daily Press, that came up with some scathing accusations.
In a nutshell, Twain had always simply referred to Jerry Twain as her father. When she hit it big, though, her biological father's mother approached the press to claim that she was ignoring her "real" family. The paper went one step further and claimed that she had lied about having Indigenous ancestry in hopes of giving her career a boost. 
Twain was forced to issue a statement that explained her private family life. It read, in part: "My father Jerry then legally adopted us and to this day remains the only father I have ever known ... being part of his family and their culture from a young age is all I've ever known. That heritage is my heart and soul, and I'm very proud of it." The paper responded with a full retraction and an apology.
Her parents died in a terrible car accident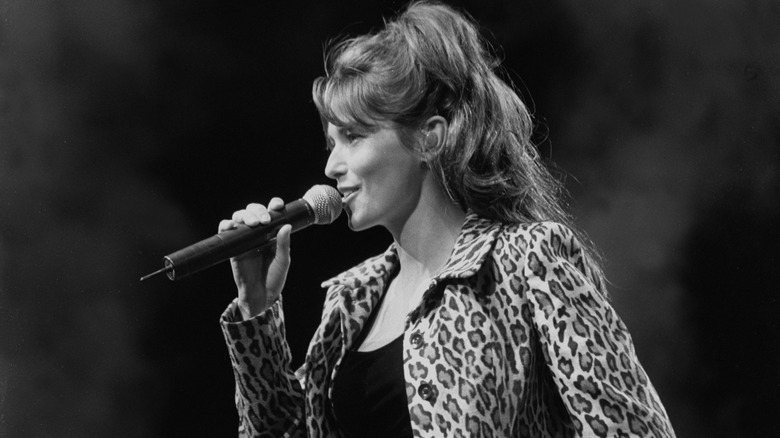 John Atashian/Getty Images
Shania Twain didn't have overnight success, and in the late '80s, she was going to school for computer programming. That's where she was when she got a phone call that changed her life. It was her sister, who called to tell her their parents had been killed in a car accident.
Twain talked about that moment when she appeared on "Making Space with Hoda Kotb," and it's the sort of heartbreak that only comes with the loss of parents. "I fell apart. Totally. Just into shock, for days. And I just couldn't let go of them. ... I lost a foundation. I lost a very important foundation, as rickety as it was, it was still a foundation."
One of five children, Twain added that even as she was falling apart, she stepped up to become the parental figure for her siblings — three of whom were minors at the time. It was a continuation of the role that she had already played, holding things together, keeping the kids fed and on time for school, while also keeping the house clean and trying to keep the peace. After their parents' deaths, it was just a little more official.
Her marriage fell apart in a traumatic way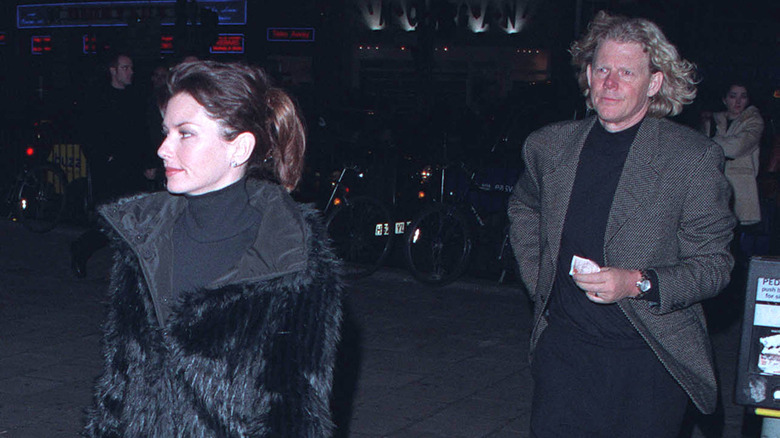 Gareth Davies/Getty Images
It was in 2008 that Shania Twain discovered that not only was her long-time husband Mutt Lange (pictured) having an affair, but that he was cheating on her with her best friend, the person she had confided in when she developed suspicions he was being unfaithful. She wrote in her memoir, "From This Moment On," that the entire thing was worse because it had been her best friend and not a chance, accidental thing: "This is more like the behavior of a vulture, slowly scoping, patiently waiting and hovering. Beware of these sneaky creatures," she wrote.
Candidly, she wrote of the feelings of betrayal, the overwhelming roller coaster of emotions, and how it had been her friend's husband who had ultimately told her about the affair, presenting her with all the evidence he'd collected when he'd started exploring his own suspicions about his wife. In trying to deal with the upheaval, Twain sat down and wrote herself a letter where she put her thoughts and her questions out there. 
She wondered if she would ever sing again, and how she would make sure her son grew up knowing his father. But she also wrote that as time went on, she was able to pick up the pieces and find solace in another relationship. Although she was terrified of getting into another relationship, she knew it was the real deal when her friend's ex-husband proclaimed his love. They were married in 2011.
She was awake during her open-throat surgery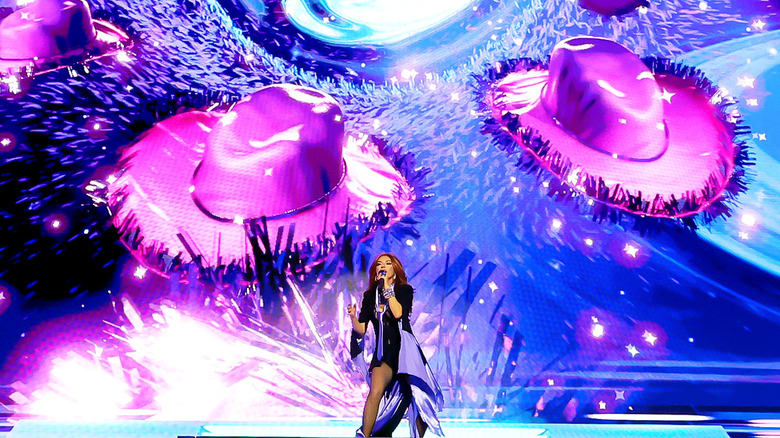 Kevin Mazur/Getty Images
The old saying, "When it rains, it pours," definitely applies to Shania Twain. In 2020, she was able to look back on a recently terrifying time in her life that started when she was diagnosed with Lyme disease. (Lyme, says the Centers for Disease Control and Prevention, is spread through tick bites and can cause a wide range of symptoms from headache and fatigue to inflammation of the brain.) For Twain, her symptoms impacted her vocal cords, meaning she needed to have open-throat surgery to repair the nerves.
That's terrifying for anyone, and for a singer, it could have meant the end of her career. She later appeared on "Lorraine," and said, "It was quite depressing, devastating, to imagine that I would never sing again." She also revealed that she had to be awake during the surgery, and added that going through that was less scary than the idea that her voice would be gone completely without the procedure.
Twain's voice changed drastically post-surgery, and The Associated Press shared a clip of an interview she did addressing the widespread criticism she'd received. She said that she knew her voice was different, and teared up as she said: "I am not afraid of the criticism. I'm not going to be perfect. My voice is not what it used to be."
She's been body-shamed for her fashion choices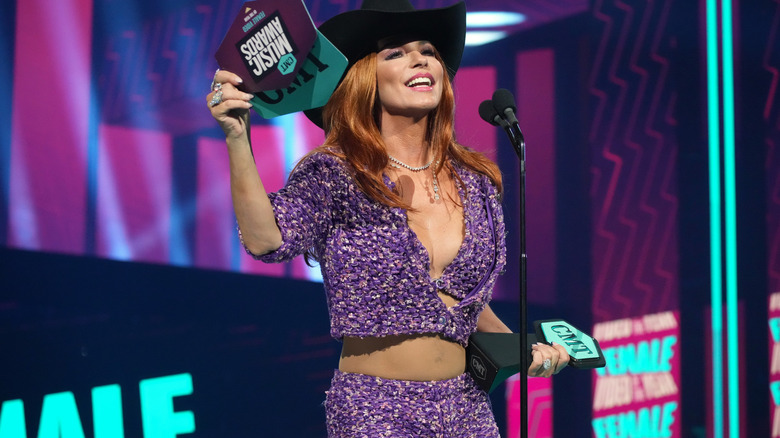 Jeff Kravitz/Getty Images
Shania Twain was 57 years old when she released the single "Waking Up Dreaming," and posed for a topless photoshoot for the single's cover art. She told People, "I am a woman in my late 50s, and I don't need to hide behind clothes. I can't even tell you how good it felt to do nude shooting. I was just so unashamed of my new body, you know, as a woman that is well into my menopause." She added that she had struggled with body positivity for decades, and when she found herself becoming less and less confident in her appearance, she decided to do something to break out of that cycle.
Of course, people who claimed to be fans had something to say about that, with a slew of social media posts accusing her of all kinds of things best left to the imagination and absolutely not worth repeating. It is worth repeating, however, that even the supposedly professional media made comments. In 2017, there was widespread outrage after a Montreal Gazette reporter tweeted about her recent concert, offering up the thought: "Shania looked like a tramp." 
His so-called apology didn't go over much better: "Sorry folks. Didn't mean to offend anyone about Shania Twain, but way too much makeup and should have dressed more conservatively. Apologies." Twain didn't listen, telling People: "I'm feeling more comfortable in my own skin than I've ever felt before."
She nearly died after contracting COVID
lev radin/Shutterstock
The COVID-19 pandemic left countless people with their own horror stories, and Shania Twain was no exception. She sat down for an exclusive interview with Mirror and shared just how bad it was. Not only were her vital signs failing, but she and her husband were living in Switzerland at the time, where he ended up having to arrange to have her air-lifted to a hospital. Once, that is, he found a hospital with a bed available. She was in such bad shape that she needed a place where she could be put into isolation and given plasma therapy — therapy that took days to start working.
"It was like science fiction, I felt like I was going to another planet or something," she recalled. "It all kind of happened in slow motion." She also shared how grateful she was that she'd had her husband there with her, saying, "I thought, 'Wow, if I was living alone in a more isolated scenario, I don't know what would have happened.' My heart goes out to people who don't have that support to help them get the right care."
While she was recovering, she wrote a song about the experience. "Inhale/Exhale Air" was released on her album "Queen of Me." She said: "I was inspired that I still had air in my lungs."
She's been outspoken about the struggles still faced by female artists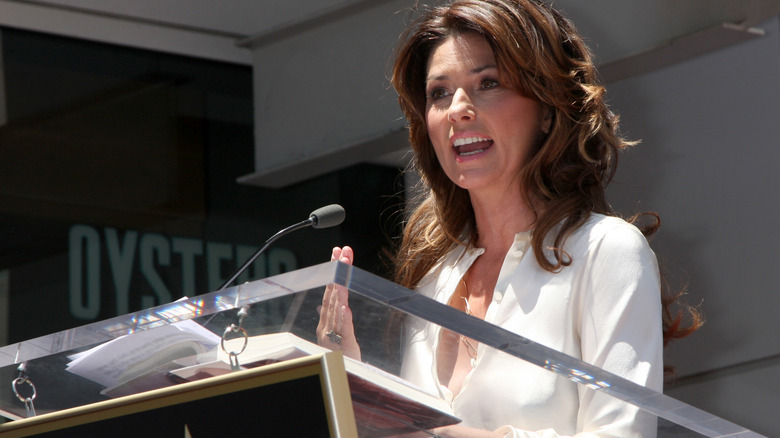 Kathy Hutchins/Shutterstock
Shania Twain became a country music icon at a time when women were sorely outnumbered by men, and when she sat down to talk to CNBC in 2023, she said that she was troubled by the fact that it hadn't gotten better. Instead, she felt it had gotten worse. "As I went along, I could see the progress," she said. "But I feel that since then, the industry has regressed, I feel it's more difficult for women to find space, to find room."
She was talking about executives, decision-makers, and people working behind the scenes, too, and spoke candidly about how getting noticed — and being taken seriously — was an uphill battle for her. And she's right: Between 2000 and 2018, only 18.5% of country music that got airplay was from women.
When she spoke with the Independent, she said that while she was an outspoken supporter of women's rights, she noted that being called a feminist had become something of a dirty word. Still, she said that at the end of the day, she hoped that some of her confidence had inspired other women to seek out the same confidence. "It is always a fight," she said. "I believe I have to work much harder than a male counterpart to achieve the same thing. But I'm not afraid to work harder."