The Untold Truth Of Gordon Lightfoot
Charlie Gillett Collection/Getty Images
When it comes to music's most gifted and influential songwriters, there aren't many more that are higher up on the food chain than Bob Dylan. He's seen and done it all, he's lauded by peers and critics alike. So who is it that he looks up to? Gordon Lightfoot. 
When Dylan sat down to talk to producer Bill Flanagan around the release of his 33rd album, he said (via the Huffington Post) he counted Lightfoot among his favorite songwriters. Specifically, what songs? "I can't think of any I don't like," Dylan said. When it comes to praise, it doesn't get much better than that.
In 2021, the notoriously private Lightfoot once again met with his biographer, Nicholas Jennings (via Everything Zoomer) to talk about what had happened since they'd finished the book on his life and career, and there were still some bombshells to drop. When Jennings tried to draw a melancholy, reflecting Lightfoot out of his somber mood by asking him if he'd seen "Once Upon A Time... In Hollywood," the musician shared the fact that when Charles Manson and his family went on their infamous killing spree, he was just a few blocks away and was still haunted by the fact that he had been sleeping not far from the grisly murders. In a nutshell? Lightfoot had an amazing life.
He had several near-death experiences as a child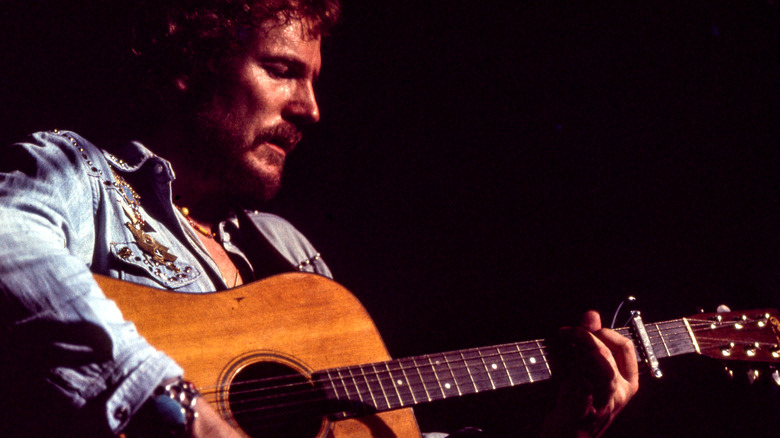 Ron Pownall/Getty Images
Born in 1938 and growing up in the Canadian town of Orillia, Gordon Lightfoot had a childhood that countless people can only dream of. It was the sort of thing filled with adventures in the Canadian wilderness, but it wasn't all fun and games. According to Nicholas Jennings' biography, "Lightfoot," his childhood included at least two near-death experiences.
One happened when he was 14 years old, and he and his cousin were planning on spending some time ice fishing on Lake Simcoe. They got turned around in the dark, though, and instead of heading to shore, they found themselves on literal thin ice. Lightfoot would recall falling through into the near-freezing water: "Every time we tried to climb out, the ice, which was only about an inch thick, kept breaking. I was really panicking. I could see the headline: 'Two Boys Drown Ice Fishing.' The water was so cold, it actually felt hot. And we were getting really tired. Finally, something held, and I managed to climb out."
Another happened four years earlier when Lightfoot and his father were driving home from a curling event. It was only when they were in the middle of the railroad crossing — that had no signal lights — that they realized they'd gotten there at the same time as a train. The near-miss had a massive impact on Lightfoot, who later said, "I came face to face with my mortality at age 10. ... and I've been depressed ever since."
Everyone has to start somewhere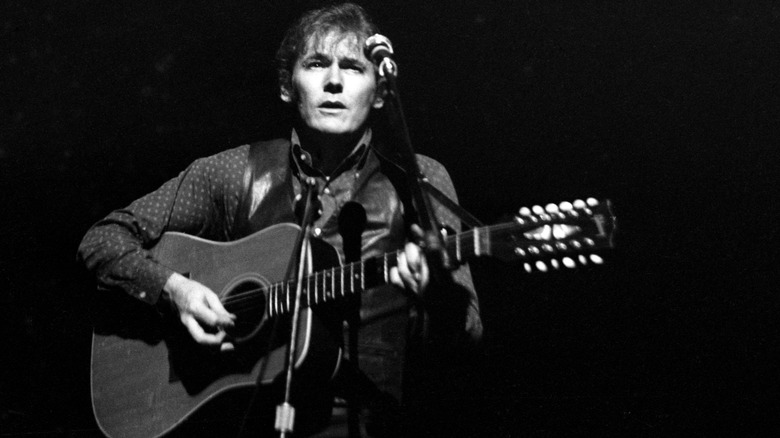 Sherry Rayn Barnett/Getty Images
Perhaps unsurprisingly, it was Gordon Lightfoot's family who first realized that he had some serious musical talent. According to what he shared with biographer Nicholas Jennings for his book "Lightfoot," some of the first cold, hard cash he earned was given to him by family members requesting that he sing a song for holiday get-togethers. "My mum, aunts, and other relatives would bribe me, saying, 'Here's a nickel. Get up there and sing.' Then they'd put me on Grandma Ethel's kitchen table and pay me to do it. I would've gotten up there anyway!"
More surprisingly, Lightfoot's early public appearances were on a Canadian show called "Country Hoedown." And yes, he was absolutely dancing his way onto the small screens of homes across Canada: He was one of an eight-member square-dancing troupe called the Singin' Swingin' Eight. He talked about his history as a singer-dancer on a CBC show called "Luncheon Date" back in 1975 (4:30), saying that not only was it his first professional job, but adding that he'd gotten hired for his skill as a sight-reader. "Every night they used to make us get out there and clog for a minute," he said. "So here I am, all of a sudden, I'm a famous country dancer."
Everything about Sundown is dark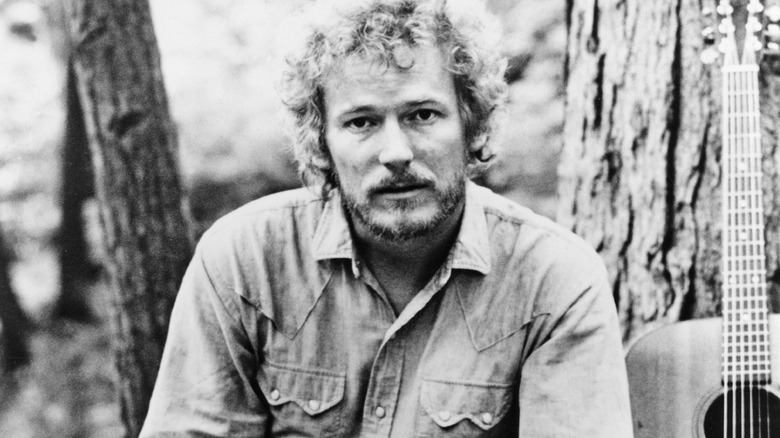 Michael Ochs Archives/Getty Images
Music can be a powerful thing, sounds that transport us to a time and a place. For Gordon Lightfoot, the hit "Sundown" apparently didn't have much good attached to it. As Nicholas Jennings recounted in his book "Lightfoot," he wasn't in a good place at all when he penned the song. At the time, he was just on the other side of a high-profile, headline-making divorce and seeing a woman named Cathy Smith. Still, he suddenly found himself contemplating what it was like to be cheated on ... instead of being the one doing the cheating. So, Lightfoot wrote the song one night when she was away with friends, as he imagined what she was doing.
He was also struggling more and more with alcohol addiction. Live shows more often than not dissolved into the kind of anger and cursing that had people complaining in a very public way.
At the same time he was in the studio, his father was in the hospital. He had been diagnosed with stomach cancer that Lightfoot would blame on the chemicals he worked around in his job in a dry cleaners, and he'd later say, "He was sick for such a long time that it was almost a relief when he died." Gordon Lightfoot Sr. did hear a recording of it before he passed: His son played it for him while he lay, bedridden, after treatment.
Gordon Lightfoot, Sundown, and John Belushi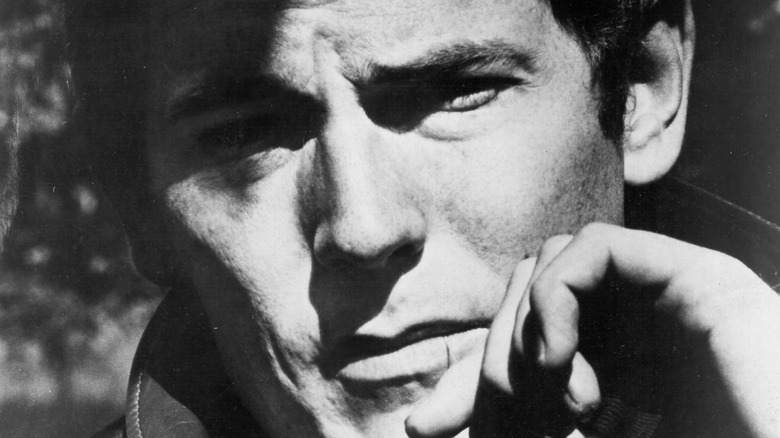 Michael Ochs Archives/Getty Images
Kevin Bacon, it turns out, has nothing on Gordon Lightfoot. He's been connected to what seems like everyone in the music and entertainment industry, but perhaps the oddest connection involves his muse for "Sundown," Cathy Smith. As recounted in "Lightfoot" by Nicholas Jennings, Lightfoot and Smith first hooked up for a one-night stand. After meeting again a year and a half later, they went on a few dates, she moved in, and it kicked off what they called "his most tumultuous love affair." And that's... kind of an understatement.
He ultimately wrote "Sundown" after their relationship started to get really rocky, but it gets way stranger than that. Lightfoot was one of the many, many musical guests that have taken the stage at "Saturday Night Live" over the years, and he was also in a skit. After playing his allotted two songs, he was interrupted when he started a third. Protests were futile, and ended with John Belushi's samurai character cutting the strings on his guitar. Things took a dark turn.
Lightfoot and Smith eventually split, and Smith got into the hard stuff. She ended up being the one who injected Belushi with the drugs that killed him. She served prison time for it. When she was out, Lightfoot reached out to her, arranged a book deal for her, and later said, "I did care for her, but she was just too hot to handle."
If you or anyone you know needs help with addiction issues, help is available. Visit the Substance Abuse and Mental Health Services Administration website or contact SAMHSA's National Helpline at 1-800-662-HELP (4357).
He passed on a movie about The Wreck of the Edmund Fitzgerald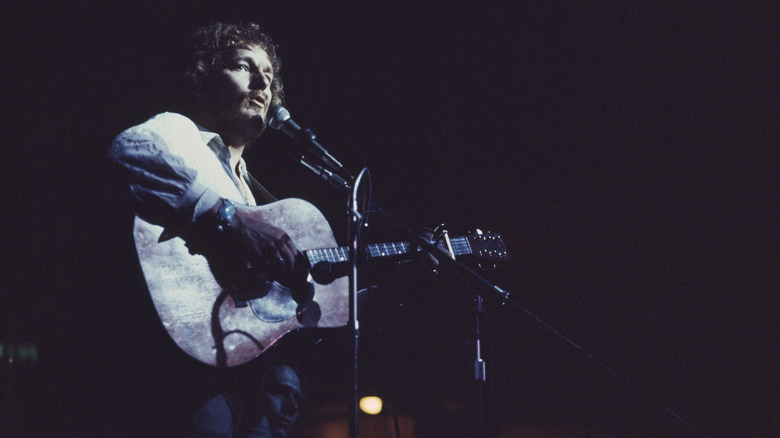 David Redfern/Getty Images
Gordon Lightfoot was 80 years old when he spoke with Rolling Stone in 2019 and reflected on his famous song, "The Wreck of the Edmund Fitzgerald." Lightfoot was asked to headline a movie based on the song. He said no: "I was not going to offer myself to them as an alcoholic. My conscience would not allow me to do that," he explained.
When he spoke with Nicholas Jennings for the book "Lightfoot," he shared the fact that he remembered that night pretty precisely. He had been at home, writing: "The wind was howling even in Toronto that night, and I went back up to the attic thinking, 'I wonder what it's like up on Lake Superior.' It must've been awful." After that, the song pretty much wrote itself in an eerie way. Lightfoot and his group got together to head into the studio, and they wanted to hear what he'd gotten down so far. What ended up being recorded was done in one take, and it was the first time anyone else had heard the lyrics.
The song became a massive hit, as unlikely as it was — especially considering how it was still fresh in the minds of those most impacted by it: the families of the 29 men who died that day. Lightfoot received numerous letters from those families and made it a point to sit down and pen a personal response to each and every one of them.
He may have been the voice of Canadian music, but...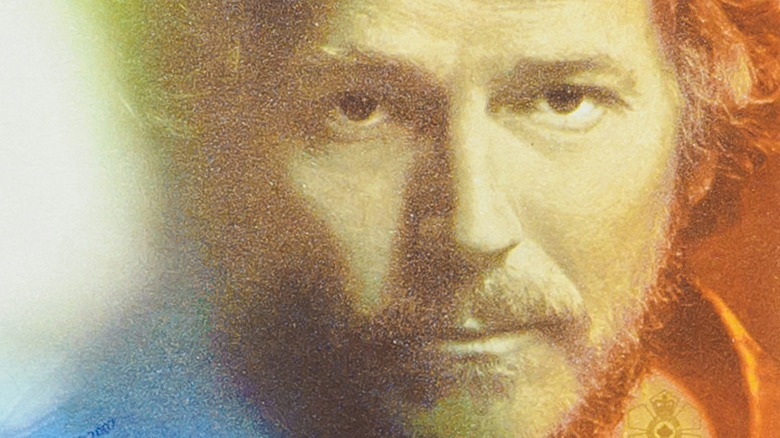 catwalker/Shutterstock
When Gordon Lightfoot was inducted into The Canadian Music Hall of Fame back in 1986, it was a big deal: For starters, inducting him was Bob Dylan, and introducing Dylan was Canadian national treasure Anne Murray. (Lightfoot was also given Canada's highest civilian honor — an appointment similar to a British knighthood — in 2003.) In other words, he's a big deal in Canada.
That said, it puts one of his 1969 interviews into an interesting perspective. He was featured on a program called "Down Centre" when he was asked when he started to write songs about Canada, and his reply was simply that he never did — none of his songs were specifically about his home country.
"I never contrived a Canadian song," he explained. "It's the atmosphere of Canada that are in the songs. The fact that I'm a Canadian, and that I dig Canada, the landscape of Canada and the geography of it just comes out in these songs. There's no specific attempt to write a Canadian song." Sorry, Canada, Lightfoot's music is for everyone.
He had a brief encounter with Scientology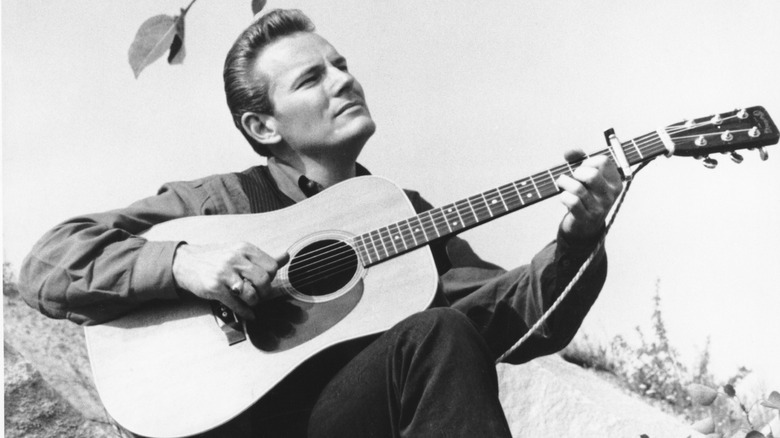 Michael Ochs Archives/Getty Images
In the late 1960s, it was a busy time to be Gordon Lightfoot. There were records, writing, and appearances, and, according to what Nicholas Jennings wrote in his biography "Lightfoot," there were a lot of parties and even more women. In some cases, Lightfoot took names, kept in mind where they lived and worked, and scheduled flights to swing by to see them ... sometimes on his way to seek inspiration overseas, and sometimes, as a side trip on his way back to his home and his wife. He wasn't very discreet about it, either: His song "Affair on 8th Avenue" was about precisely that.
At the same time, other songs reflected not only his knowledge that his marriage was falling apart but his ability to put himself in his wife's shoes and tell her side of the story. Wanting to get some kind of advice, he turned to L. Ron Hubbard and Scientology. It wasn't entirely out of left field: Other musicians, like Cass Elliot, had done the same.
Lightfoot's foray into the world of Scientology was a brief one, and he's said that it was less about the mystical side of it all and more about the therapeutic side. After claiming that he was so honest in the sessions that he achieved a "Clear" state pretty quickly, he also added that it wasn't what he was going for: "It was good to have someone to talk to, a bit like seeing a psychiatrist."
The interview where he opened up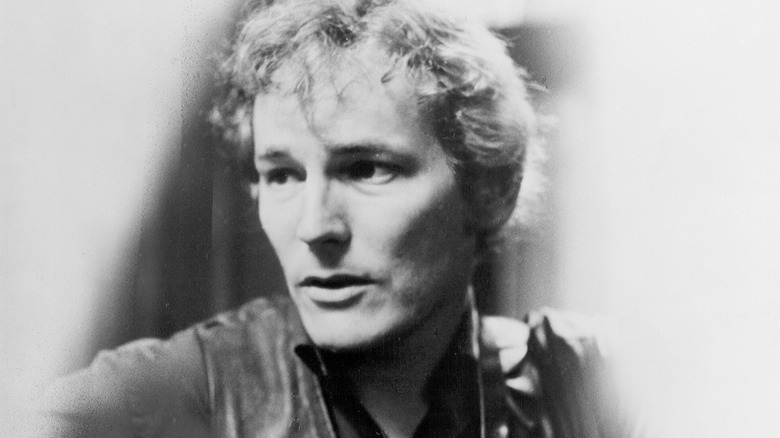 Michael Ochs Archives/Getty Images
Gordon Lightfoot may have been a very private person, but he did sit down for a frank, post-party, circa 1977 chat with a friend named Robert Markle, who had intended on writing a biography about him. That didn't happen, but he did publish the notes he took on that particular party and — at the end of the night — on some of Lightfoot's rarely-shared thoughts.
Lightfoot first explained what had been an apparently long-running feud with Rolling Stone magazine, and said that he'd taken such offense to an article they'd written about him that — if they would ask — he'd refuse to agree to have his picture on the cover. The problem? They'd published their thoughts on his drinking. 
Markle also asked him about the future, and what he'd like to see of his career. Even at that point, he said, "I get tired of it, sometimes, sometimes it really gets to you." At the time, he said, he was happy writing and singing and performing for the audience he'd found, but it wasn't all roses. "I'm a very simple human being. Sometimes life looks a little bleak to me, like the only thing you have to look forward to is getting old. I don't know if that's too groovy or not. ... Life's been pretty good to me, basically, up until now. The way I've been plotting my course, I don't see any end in sight."
His canoeing trips were legendary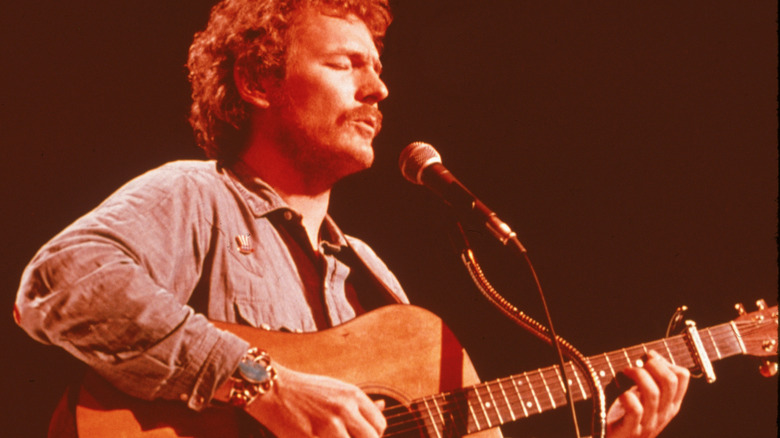 Fotos International/Getty Images
If Gordon Lightfoot seemed like the type of person who would head out into the wilderness for ages at a time, that's because he absolutely was. Nicholas Jennings wrote in "Lightfoot" that the wilderness was his retreat, and in between writing, recording, and performing, he would fit in month-long canoe trips that meandered through the Canadian wilderness. "They helped get me in shape and looking human again, because when you drink, you certainly aren't fit," Lightfoot explained. "It became a form of therapy."
Those who went with him on his trips recalled that he'd often push them for days without stopping for a real rest, going on ahead of the group and getting some alone time in the wilderness. In between, they'd stop at the small towns along the river and he'd stage some seriously low-key performances. 
While some of the bonds forged on those trips lasted a lifetime, they weren't without incident. On one trip that had been planned to last more than three weeks, they were only four days in when — after being dropped off on the South Nahanni River by helicopter — they hit rough waters and Lightfoot's canoe wrapped itself around a few boulders. Shockingly, they were able to rescue the canoe, make it water-worthy again, and continue on: the incident was immortalized in "Canary Yellow Canoe."
He survived a shocking number of often deadly health issues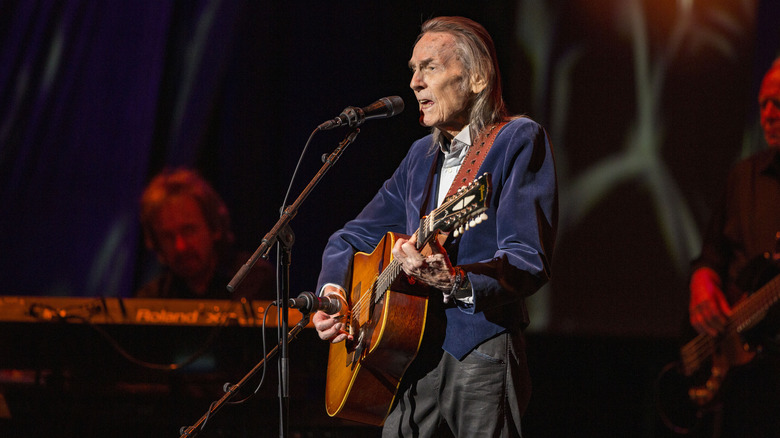 Daniel Knighton/Getty Images
When Gordon Lightfoot sat down with his biographer, Nicholas Jennings, a few years after their book had been published, he revealed that he was anemic, meaning injuries didn't heal as fast as they might have. He was, at the time, dealing with a hematoma that had gotten so bad he'd needed surgery, and he shared that he was also living with emphysema that was the result of a lifetime of smoking, and the same condition that led to the death of his mother.
A few years earlier, Lightfoot did an interview with the Cape Cod Times, revealing that he had suffered a mini-stroke and a potentially deadly aortic aneurysm that kills about 95% of the people who suffer one. And it was bad — he told Rolling Stone: "I was ashamed at the amount of blood they went through. It would have been better off if I had died," he said.
And that was just the start of what he'd gone through. He was late going on stage for a performance when his sister found him where he'd collapsed in his dressing room. According to the Nicholas Jennings biography "Lightfoot," he had died on the table after suffering massive internal bleeding. Emergency surgery stabilized him, but he spent six weeks in a coma, another three months in the hospital, and underwent a series of other surgeries that removed tissues from his leg and used it to rebuild parts of his stomach.
He didn't like to talk about his past relationships
Donaldson Collection/Getty Images
Gordon Lightfoot lived the rock star life to the full: By the time biographer Nicholas Jennings caught up with him post-book in 2021, Lightfoot not only had six children by four women, but he also had a handful of grandchildren and a great-grandson. Still, when he was asked about some of the women for whom he'd written his songs, he declined to answer specific questions. Not only was he hesitant to offend his current wife, Kim, but he also didn't want to rock the boat: Many members of his immediate family lived nearby, and he saw them on a regular basis.
In his biography, though, he did talk about the moment when he knew he needed to get his life back on track. After the breakup of his relationship with Cathy Smith, he invited a fan backstage at one of his concerts after seeing her with security. They were soon living together, but it wasn't long before she got sick of his drinking and — while he was touring — his womanizing ways. Just nine months after she gave birth to their son, Eric, she left: "Seeing them disappear down the driveway in a taxicab at 5 o'clock in the afternoon ... it damn near tore the heart right out of me. I knew then that I just had to quit [drinking]."
When he died, he had still been planning a new tour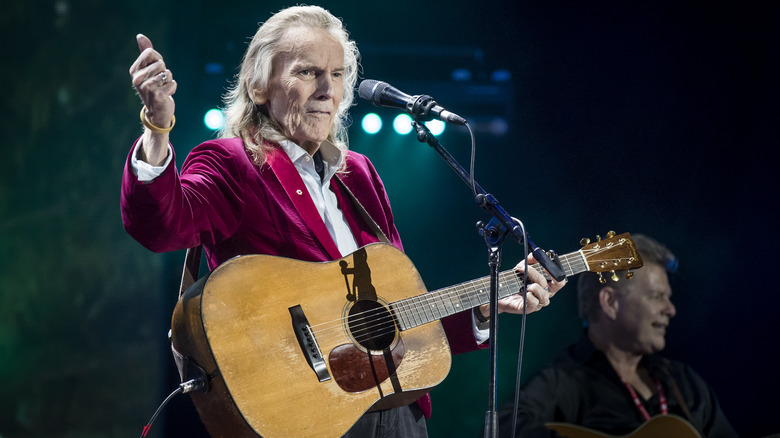 Mark Horton/Getty Images
While some entertainers might be content to rest on their laurels and let the online streaming services take care of playing their music, Gordon Lightfoot was not one of those people. When his death was reported on May 1, 2023, not only was the sad news shared alongside recent photos of him performing, but it was also reported that his passing — officially due to natural causes — came just about three weeks after he had canceled a series of concerts he'd had scheduled for both the U.S. and Canada. He was 84 years old. 
Lightfoot even kept at it through the worst of COVID, doing live streams in lieu of live concerts. When he spoke with American Songwriter in 2021, he added that he was proud to not only bring his hits into countless homes, with the addition of some special effects that made it sound like there was a live audience in front of him.
A respectable 82 years old at the time of the interview, he said even then that he had no intentions of stopping. "I've been in this business for a long time. I was into it for the longevity. ... This feels important to me," he explained. "If health permits, I'm happy just to be able to continue to perform in one way or another."