The Tangled Life Of Kid Rock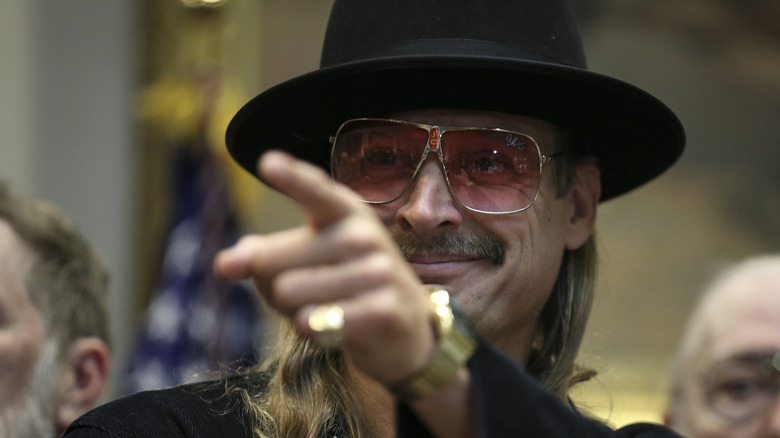 Pool/Getty Images
Some artists separate their personalities and their work, but Kid Rock? Not so much. With albums like "Rock N Roll Jesus," "Rebel Soul," Cocky," and "Devil Without a Cause," there's not too much room for interpretation left.
The thing about Kid Rock is that he's in the headlines for more non-music news than musically related ones, and there's no denying that no matter how any single person feels about him, he's a highly polarizing figure. From his political views to his stance on social issues and his choices to use words that many find, well, unfortunate, there's not much that he leaves up for debate. But debate, people do — especially considering there just might be more than meets the eye.
Take the fact that although his early music helped create an image of living the hard life in Detroit, that was widely reported to not be the case at all when his childhood home went up for sale in 2018. The five-bedroom, 5.5-acre, 6,000-square-foot home — complete with pool, tennis court, and horse barn — hit the market for a whopping $600,000. It was a far cry from the hard life on the streets of Detroit that perhaps many fans imagined. 
So, like any celebrity, there's plenty of good, bad, and surprisingly strange to talk about. 
It's unclear what happened with Pamela Anderson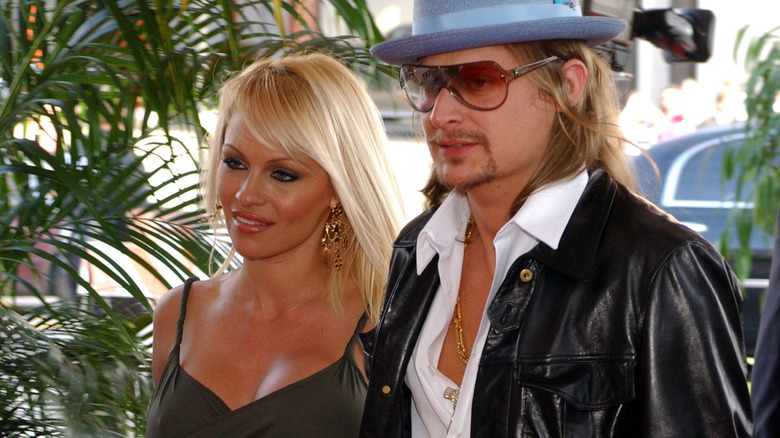 Frank Mullen/Getty Images
Back in 2007, Kid Rock was fresh out of his very short-lived marriage to Pamela Anderson and told Rolling Stone that part of his method for getting over her was to throw down with her other ex-husband, Tommy Lee, at an MTV event. "It was a full swing. I don't got big guns, but I know how to throw a punch," he boasted. 
She also wrote about what caused the break-up of their brief marriage in her book "Love, Pamela" (via Rolling Stone) and put the blame squarely on his shoulders. Anderson said that he had thrown a temper tantrum at a screening of "Borat," calling her every name in the book and then some when he saw her part in the movie. The writing was on the wall, and had, after all, some help from Rock's family: His mother had apparently shown up to his wedding to the PETA-supporting Anderson dressed in a floor-length fur coat. 
Rock also accused her of faking a miscarriage in order to get him to cancel his plans to see a Lakers game with buddy Jesse James. He said that he had flown up to Vancouver to be with her only to find her partying the night away: "I'm thinking, 'That's a quick recovery from a miscarriage.'" Anderson did respond to the accusations, saying (in part): "We were married for four months. If he has nothing nice to say about me, then please tell him to stop talking about me."
He supports the military, but not everyone's thrilled with his patriotism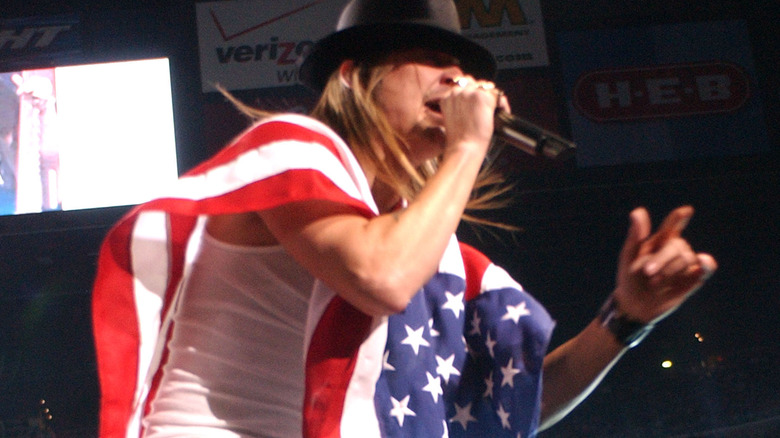 Jeff Kravitz/Getty Images
In 2014, Kid Rock was the recipient of Operation Troop Aid's Patriot Award, with the head of the organization even saying, "Kid Rock is one of the most giving entertainers I have ever met" (via Kid Rock's website). He was lauded for spearheading a fundraising movement that allowed for the shipment of 500 care packages, and he's performed in places like Kabul, Afghanistan, and Iraq for the troops stationed there. He told MTV, "It's one of those things I used to do and try not to talk too much about it, because it's not something you go to promote something at, or do anything for any self-gain at all. ... It's really a rewarding, life-changing experience."
There's another side to Rock's military support, though, and it's one that got some major criticism from groups like the Veterans of Foreign Wars. In 2004, Rock appeared in the Super Bowl halftime show. His choice of costume — an American flag with a hole cut in the center, worn like a poncho — raised some ire.
VFW spokesman Jerry Newberry explained (via the Tampa Bay Times), "That is just blatant, disgusting disrespect for the flag. We have people dying for that flag right now, and that just goes beyond any realm of understanding in my mind." The incident was even rolled up into lawsuits filed against CBS owner Viacom, claiming their promises of a wholesome, family-friendly show were clearly misleading. (The lawsuit was dismissed.)
Waffle House, a bare-knuckled brawl, and... the USO?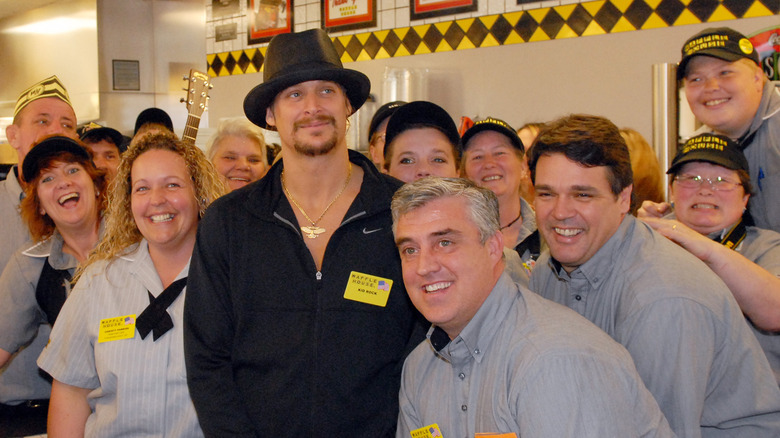 Chris Mckay/Getty Images
In 2007, Kid Rock was famously arrested after a fight broke out at a Waffle House. He was also sued by the man who claimed he and his entourage had not only smashed his cell phone but beat him up in the process. The man was ultimately awarded $40,000 in a case that Rock's legal team claimed was just about taking advantage of a rich and famous guy.  
Just days after the fight, Rock tried to make amends with an appearance at another Waffle House, where he signed autographs and chatted with fans, all to raise money for a homeless shelter in the city he was arrested in. He called it a way to make up for what happened, but he was less happy when his ideas about his court-mandated community service weren't as well-received.
In a now-deleted blog post on his website, Rock raged about his scheduled USO tour not counting toward his community service. He wrote (in part, via People): "I really take it as a slap in the face ... Apparently [the judge] thinks it's more important that I do something else rather than sing, shake hands, take pictures, and spend time with the men and women who put themselves in harm's way to protect the very freedom he and all of us live by." The judge, however, said that counting self-promoting events that he would have participated in anyway as community service was defeating the entire point of community service.
He was honored by the NAACP, and it was wildly controversial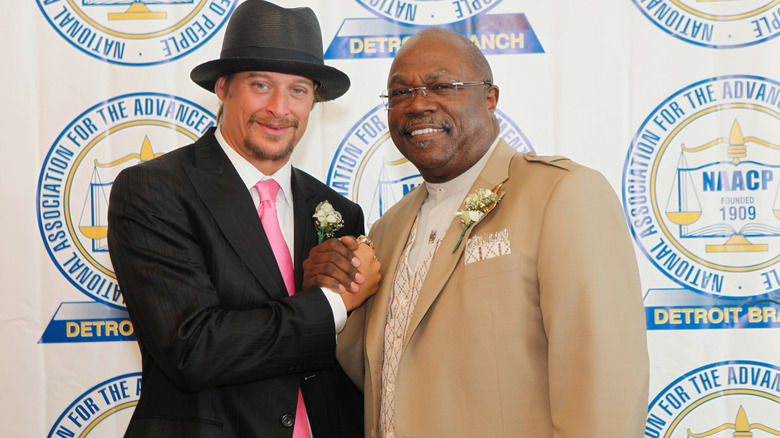 Monica Morgan/Getty Images
In 2011, Kid Rock attended the NAACP's annual Fight for Freedom Fund dinner, where he was not just a guest and a recipient of the organization's Great Expectations Award but also a donor. Rock had made $100,000 in donations to both the Red Cross and a series of Detroit-based organizations, which is great. The problem? His fondness for the Confederate flag.
The decision was defended by the president of the Detroit branch of the NAACP, Wendell Anthony (pictured, at the award ceremony). He explained (via Billboard): "We are not saluting the flag. We are saluting the works [of Kid Rock]." Rock, meanwhile, acknowledged the controversy in his acceptance speech, clarifying, "I love America, I love Detroit, and I love Black people!"
Not everyone was sold on his explanation that his love for the Confederate flag was simply a love for Lynyrd Skynyrd, or his statement, "I've never flown that flag with hate in my heart, not one ounce." Protestors gathered outside of the event, Confederate flags were burned, and detractors were quick to point out that regardless of what other bands used the imagery of the Confederate flag, it was important not to forget what it stood for.
He's had to say that he's not racist a surprising number of times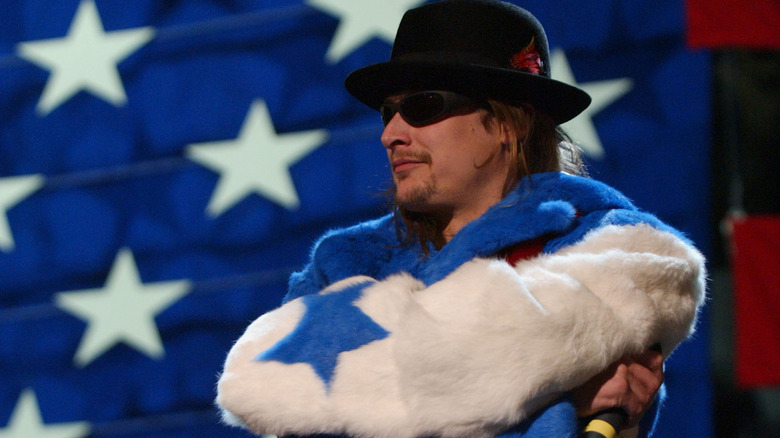 Kmazur/Getty Images
Kid Rock has been in the center of a series of incidents where he's been accused of racism. In December 2019, he was on stage at his Nashville restaurant when he unleashed an expletive-laden rant against Oprah Winfrey. The following day, Rock doubled down on his tirade, tweeting about how it had stemmed from a situation years earlier where he'd almost been on her show, but when he was asked to submit five things he liked about her, well, there were more expletives.
On the heels of the rant, the Ilitch family and Little Caesars Arena announced that the lease on Rock's restaurant wasn't going to be renewed. Although they implied it was his idea, Rock tripled down with a Facebook post reading (in part): "I may be guilty of being a loud mouth jerk at times, but trying to label me racist is a joke, and actually only does a disservice to the black community, which I have supported my entire life."
It's also worth noting that within days of that announcement, his restaurant had just settled a lawsuit filed by an ex-employee who claimed she had been fired not because she had over-poured a drink as her termination stated, but because she had come to work with an Afro.
He pulled charitable support amid racism accusations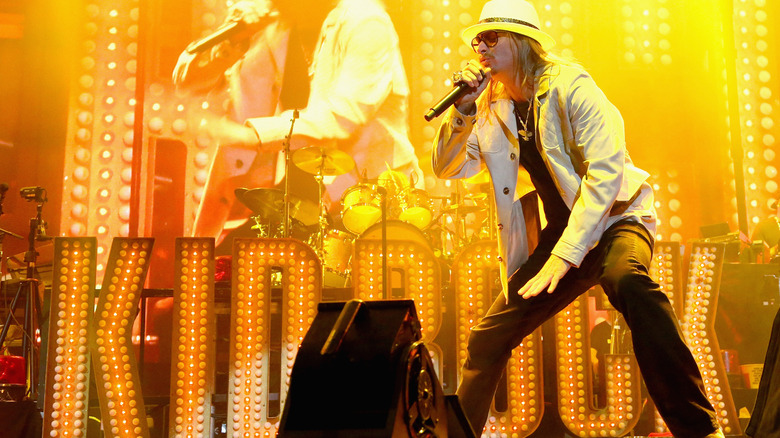 Gary Miller/Getty Images
As part of his pushback against accusations of racism, Kid Rock's Facebook message referred to the multiple charitable donations he'd made, including donations to the Eastern Market, a Detroit reading program, and "many, many more 10's if not 100's of thousands of dollars raised and donated in Detroit by Kid Rock."
He also made the comment that he would "go where you're celebrated, not tolerated," and was going to leave the fundraising and financial support to other organizations in Detroit. When media outlets — including The Washington Post — reached out to him to get a list of those charities he would no longer be supporting, they got no response.
How are things going at the Kid Rock Foundation? Charity Navigator is an organization that vets various charities and rates them on things like transparency, impact, and accountability. The Kid Rock Foundation currently has a Zero-Star rating for a variety of reasons, including a lack of a conflict of interest policy, no independent website, and the fact that much of the information used to gauge the effectiveness of charities was not shared.
Kid Rock doesn't have a great track record with animals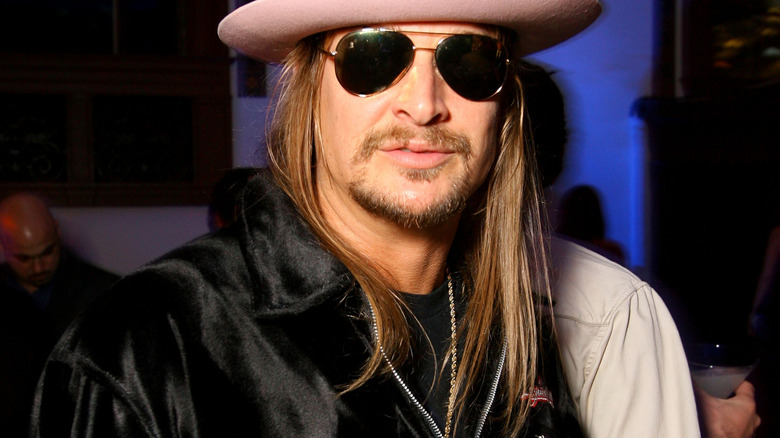 John Shearer/Getty Images
In 2015, Ted Nugent shared a graphic photo of himself and Kid Rock on Facebook. Rock was holding a cougar they'd just shot and killed, and Nugent went right after haters in the post, calling anyone who dared be offended "braindead squawkers ... with their obscene denial that killing lions is wrong. Its legal its necessary its good its beneficial its a damn riot!" The post got a ton of negative reactions, was condemned by animal rights organizations, and it's worth mentioning that the National Wildlife Federation considers mountain lions to be a threatened species. 
Also in 2015, he was interviewed by Rolling Stone. When the reporter got to his Alabama home, Rock presented him with three feral hogs in a cage trap. Boasting, "We're about to do some murderous s***," Rock pulled out a pistol and shot one in the head. It died — after a bit of thrashing and struggling — and he shot another twice, while completely failing to make it a clean kill in spite of having 9 mm, a rifle, and a .45. He was quoted as saying, "Well, there's some excitement to get the day started!"
The custody battle over his son was complicated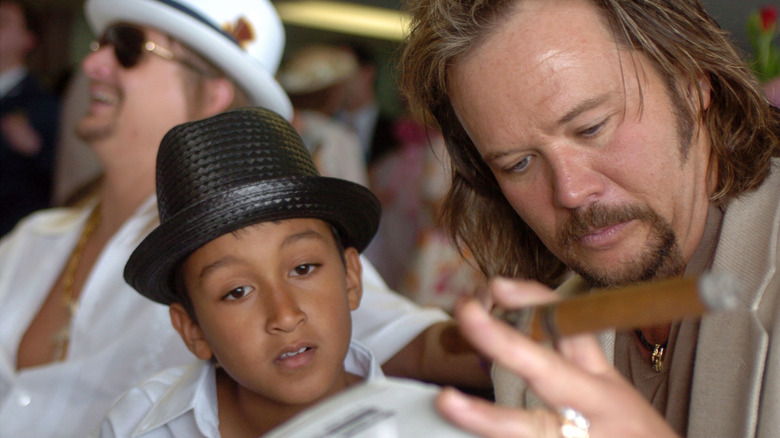 Mike Simons/Getty Images
Kid Rock became a single father at 22 years old, telling Rolling Stone, "He was pretty much dropped off at my door at six months old.'" He went on to share that yes, he made it work, but perhaps not in the best way. "I'd be driving the field trip Monday after ... you know, four nice girls on Saturday night in Cincinnati. ... it was kind of our dirty little secret together. He saw girls come in and out, which probably wasn't the healthiest thing. ... But I showed up to work on Monday to be a father."
Even as Rock was hitting the height of his popularity, he was also involved in a custody battle with his son's mother. In the end, it was reported that Kelley South Russell — who was an auto worker at Ford — would be required to pay for their son's health care as well as pay Rock $25 per week to see him. (That would change to $12.50 per week if she took the boy for more than six days in a row.)
ABC News quoted Rock's attorney as talking to the Detroit Free Press in a now-gone article, saying, "He was absolutely, positively insistent that she pay child support. ... My opinion is this is punishment." And as for the health care? "It's not a matter of he can't afford it — he can — but why pay for something you don't have to?"
He was vocal about 2013 ticket prices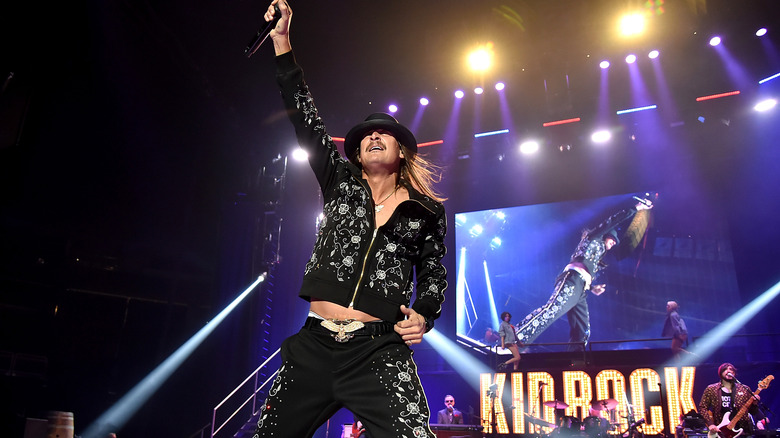 Kevin Mazur/Getty Images
It's no secret that ticket prices have, for a long time, been outrageous. Back in 2013, Kid Rock very loudly condemned prices, and it was a good time for it: Anyone wanting to see the Rolling Stones could expect to pony up $650 for a single ticket, and that put it well out of the reach of many people.
Rock sat down with Rolling Stone the magazine and namechecked the Rolling Stones the band, saying the pricing made him speechless. He went on to say that the amount of money entertainers and sports professionals made was so astronomical, so he had a heart-to-heart with Live Nation's CEO to make all the tickets to all his shows cost just $20. It's worth noting he wasn't the only one in on it: The tour also featured ZZ Top and Uncle Kracker.
The Atlantic called him "Kid Rock, Progressive Hero" for the move, and noted that he — along with artists like Garth Brooks — were trying to combat endlessly rising ticket prices. Now, fast-forward to 2023: What do prices look like now? Anyone who wants to see Rock in places like Detroit or Ohio can do so for between $60 and $90 a ticket, while some shows — like those in Texas — hover around the $30 mark.
Let's talk about that Bud Light meltdown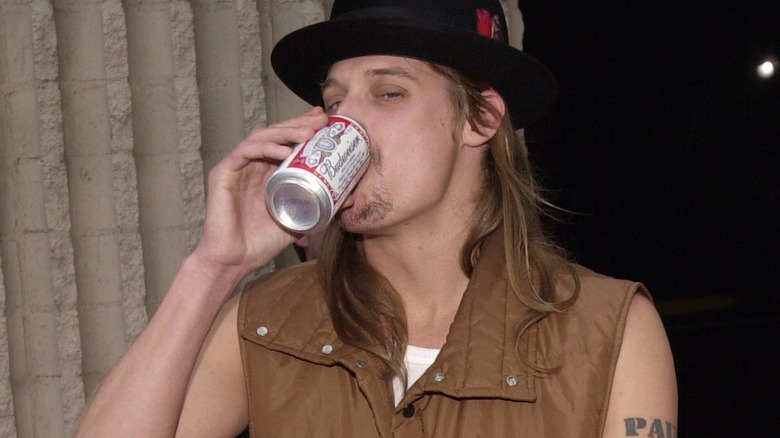 Chris Weeks/Getty Images
The arrival of 2023 saw the world becoming an increasingly hostile place for certain groups of people, and Kid Rock helped demonstrate just how hostile things were getting when he opened fire — literally — on a few cases of Bud Light. The tantrum was in response to trans activist Dylan Mulvaney's celebration of her 365th day of womanhood, which Anheuser-Busch recognized by sending her cans of beer with her photo on it. Rock — and others — were incredibly offended. 
Other far-right conservatives hopped on the boycott bandwagon, and although protests like this one tend to be very loud, ABC News interviewed financial experts who said that in the end, it really wasn't going to matter. Boycotts, they said, rarely do, and given that Budweiser has been proudly LGBTQ+-friendly for years, it's likely that LGBTQ+ supporters will buy even more beer and offset whatever conservatives think they're accomplishing by buying beer ... then destroying it.
As for Rock's video, one of the celebrities who responded to him was Howard Stern, who said on his SiriusXM show (via Billboard), "I wish I could call Kid Rock and have him come on the show and just tell me, 'What is it ... Why are you so upset about this? Like, how is it hurtful?' I'm really dumbfounded." 
He insists he's not homophobic, but...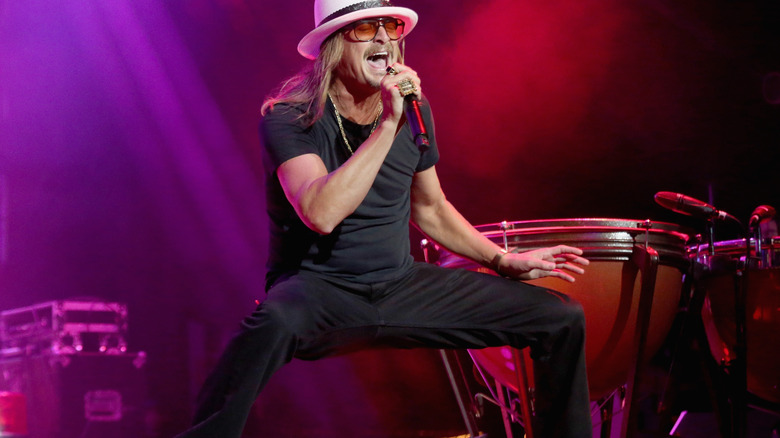 Gary Miller/Getty Images
Kid Rock made his feelings on the trans community pretty clear in his 2023 Bud Light meltdown, and in the years leading up to that, he's had questions raised about his tolerance toward the gay community as well. In 2021, TMZ published a video of Rock giving the middle finger to someone filming his expletive-filled rant on stage at Tennessee's FishLipz Bar & Grill. Along with the typical R-rated expletives, he tossed out a homophobic slur for good measure, and when it came time for him to address the video, he doubled down.
In a weird, self-referencing tweet, he said: "If Kid Rock using the word f***** offends you, good chance you are one. Either way, I know he has a lot of love for his gay friends and I will have a talk with him. Have a nice day. —Bob Ritchie."
The following year, even after his claims that no, he really wasn't homophobic, he posted a wildly homophobic meme for the Fourth of July. It read: "If you're anti gun, you don't get to celebrate the 4th of July. You would have never fought back. Enjoy pride month. [expletive]."
Did he run for Senate?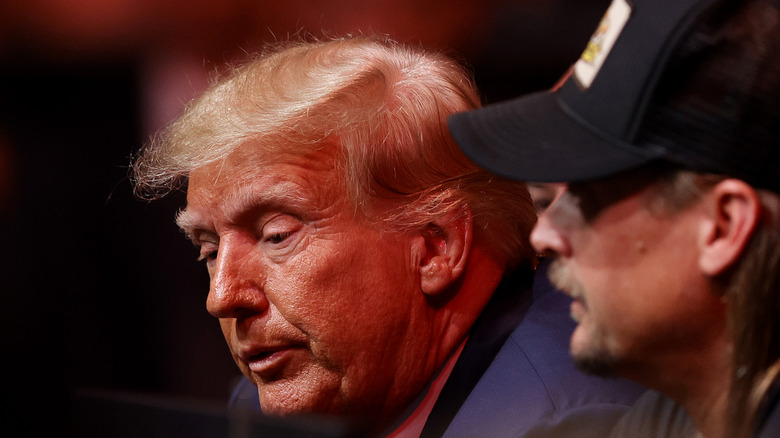 Carmen Mandato/Getty Images
Celebrities running for public office certainly isn't anything new, even to the 21st century. In 2017, Kid Rock tweeted that he was apparently launching a run for the Senate. He had a website, merch, and although many were writing it off as just a publicity stunt for his new music, others weren't so sure. A Republican pundit told Politico they were actually betting that he was going to win the party's nomination, and from there? Things were kind of up in the air.
Here's the weird thing: Rock later admitted that it had just been a publicity stunt, but afterward, experts told Billboard that his announcement meant that legally, he was running for office — and since he didn't file the right paperwork, he was actually in quite a bit of trouble. Rock responded in a very Rock sort of way — with a middle finger — and was ultimately cleared of any wrongdoing.
Fast forward to 2022, though, and it seemed like Rock's political aspirations might not be over after all. Rumors were starting to circulate the MAGA regulars were in the process of approaching him to really run for elected office.