Linda McCartney: A Look Back At The Life Of Paul McCartney's First Wife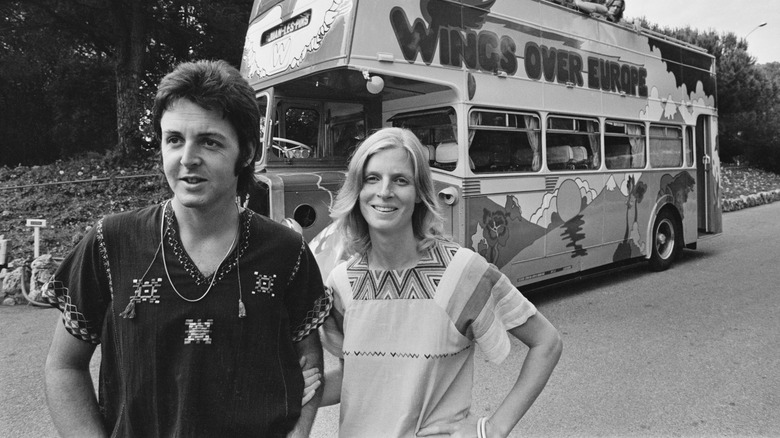 Reg Lancaster/Getty Images
Linda McCartney is most famously known as the first wife of The Beatles' Paul McCartney, and in a way, that's kind of sad. Before marrying, she had the kind of career that most people can only dream of, and as a photographer for rock's elite, she got up close and personal with groups like the Rolling Stones and the Who. She was so well-known in the photography and rock world that when rumors started circulating that she — originally Linda Eastman — was related to the famous Eastman-Kodak operation, everyone just kind of accepted it because that seemed to track. (She's not: Further rumor has it that she started the story herself.)
A famous vegetarian before being vegetarian was cool, McCartney worked on a series of cookbooks, some with writer Peter Cox. He got to know her pretty well after years of working with her, and said that contrary to popular belief, they weren't quite the perfect power couple history remembers them as. While Cox cited things like control issues, the shadows and pressures of fame, and mental health struggles as causing conflict in their decades together, he also said (via El Pais), she was "like a mother to him."
And in 1985, Paul said in an interview: "We have our fights. I would classify our relationship as quite volatile. We're not bored — we have wonderful children and a lovely relationship. I hope it lasts forever." Unfortunately, that was not meant to be.
She had a very well-to-do upbringing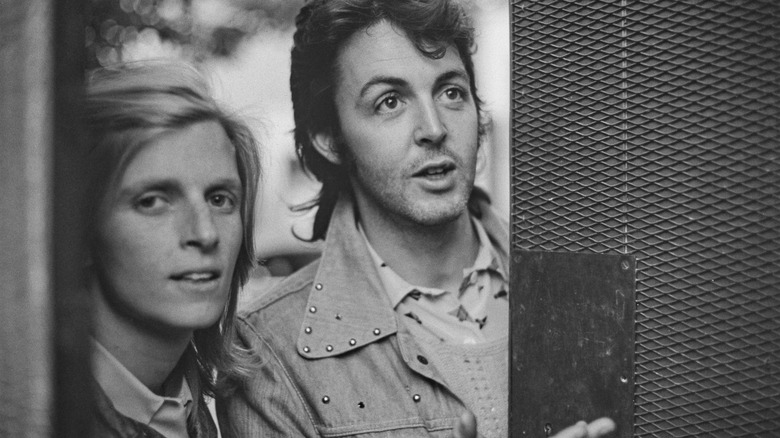 Evening Standard/Getty Images
Many stories of the rich and famous start with the sort of character-shaping childhood that's filled with struggles, uncertainty, and tragedy ... but the future Linda McCartney didn't have much of that at all. Her father, however, did: The Bronx-born Leopold Epstein was the son of a poor immigrant family who had made their way to the States seeking a better life, and when he worked his way through Harvard and went on to establish his own law firm, it's safe to say that he found it. Her mother already had a well-to-do background when they married, and changed their name from the Jewish Epstein to the less Jewish Eastman.
In Howard Sounes' book "Fab: An Intimate Life of Paul McCartney," he describes Linda's upbringing as privileged: They had an East Hampton beach house for getting away from their homes in Westchester and on Park Avenue, she had a song written about her, and her siblings were the sort that married into families that traced their lineage to the Founding Fathers.
If there was anything difficult about her childhood, it was her relationship with her father. More interested in animals instead of academics, her father's response was to ridicule her. By the time she was a teenager, she found another escape — rock music — and given that her New York City home was pretty perfect for seeing the stars, it wasn't long before she was given backstage tours and even attended recording sessions for groups like the Young Rascals.
Her first marriage ended in divorce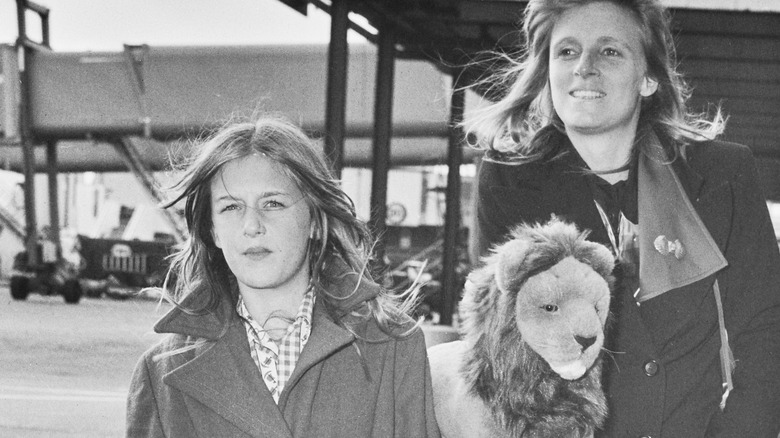 Evening Standard/Getty Images
Linda Eastman was born in 1941, and like many women of the era, she married young. She was dating the Princeton-educated geologist Joseph Melville See Jr., and when he moved to Arizona for grad school, she followed. According to Howard Sounes's "Fab: An Intimate Life of Paul McCartney," Arizona would always remain one of her favorite places.
She enrolled in art history classes, but according to the Danny Fields biography "Linda McCartney," she was much more interested in the state's horse culture. After briefly considering the idea of becoming a dental hygienist, the family suffered a massive tragedy: Her mother was killed in a plane crash. After briefly returning to her devastated family, she opted to leave again for Arizona. She recalled in a later interview, "It was a kind of escapism. I was very immature. I just escaped."
She married the boyfriend she'd followed across the country, and they had a child — Heather — but all was not well: A friend named Jonathan Kress recalled, "It wasn't that she didn't have a tremendous amount of affection for her daughter, but I heard her remark more than once, 'Why did this happen to me?'" When her husband opted to take a job opportunity that took him to Africa, she headed back to New York and the life of a newly divorced, single mother.
She was introduced to photography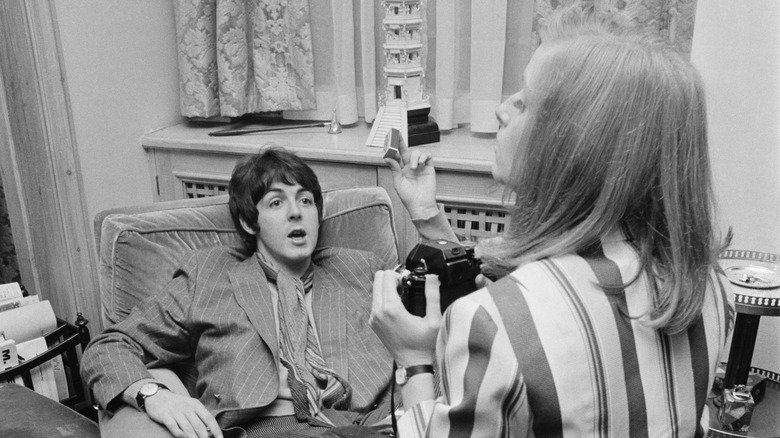 John Downing/Getty Images
Her time in Arizona was significant for a reason beyond her first marriage and child: It was in Arizona that a friend convinced her to take a photography class. "The instructor was an older woman in a wheelchair, and there were two or three older men looking at the most fantastic photographs..." she recalled to The San Diego Union-Tribune. "I was an art-history major, and they totally captivated me." When she took her first photos with a borrowed camera and some black-and-white film, she got glowing praise from the instructor. She said, "And I never went back. I just started taking pictures, and it all fell into place."
That, wrote Danny Fields in "Linda McCartney" was particularly true in the weeks and months after her return to New York. Not only was she taking her own photos and studying famous American photographers like Dorothea Lange, but she was also enamored with the New York art scene. Fields recalled visiting her in New York in the 1980s and asking about particular paintings in particular galleries. He was stunned that she could give him precise directions through galleries and tell him exactly where things were because she had spent so much time there.
She got her foot in the door with the Rolling Stones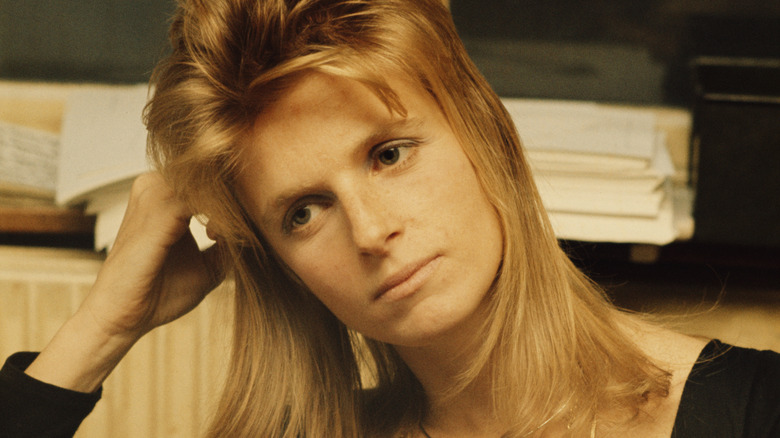 Michael Putland/Getty Images
As Howard Sounes recounts in his book "Fab: An Intimate Life of Paul McCartney," Linda Eastman was working at Town & Country magazine when an invitation came in to join the Rolling Stones on a Hudson River cruise. She was an editorial assistant at the time, grabbed the invitation, and went for it.
She'd often say that she was the only photographer on the trip, but according to what her longtime friend and biographer Danny Fields wrote in "Linda McCartney," that definitely wasn't true. What was true, however, was that Fields needed some photos for his magazine "Datebook," and his photographer fell through. So, he asked the disembarking photographers if they had photos to spare, and she did.
Fields said the photos that she gave him were completely unlike any of the other photos that were taken that day: "These were the sexiest pictures I'd ever seen," he recalled. "...that's what happens when she's on the other side of the camera." They did more than pose for her: Mick Jagger asked her out on a date, which turned into a full-fledged fling. It wouldn't last, of course, but she'd later cite the week of the river cruise as one of the most important in her life, saying: "That is when my life really began — when there was no father or husband watching over me. Photography saved me. It was like, 'Wow, there is life after death.' I became, at least, a really free spirit."
Her career as a photographer was epic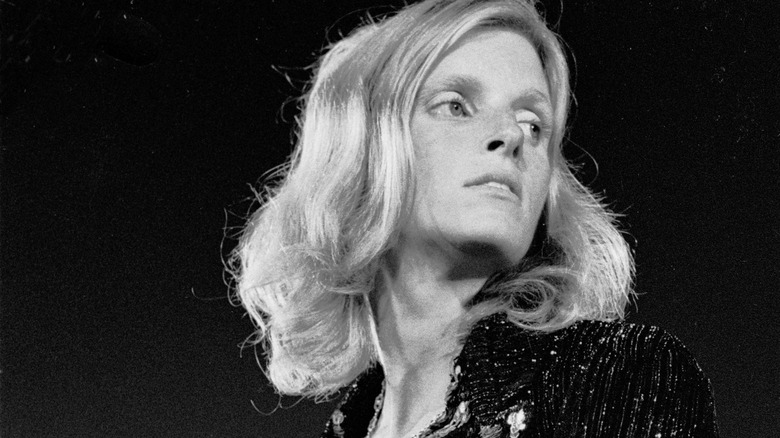 Gijsbert Hanekroot/Getty Images
She was, for a very brief time, known by her married name Linda See. Fitting? Not so much, according to Danny Fields's biography "Linda McCartney." She explained: "I once heard someone make fun of that name — they thought I called myself that because I wanted to be a photographer, like Mr. Dose the druggist and Miss Stitch the seamstress ... I hated anyone thinking I would be so cute as to do that, so I went back to Eastman."
To see the 1960s through the camera lens of Linda Eastman had to be an incredible thing: When the University of Arizona's Center for Creative Photography put together an exhibit dedicated to her work, it didn't just feature photos of The Beatles, but also of the Rolling Stones, Aretha Franklin, Jimi Hendrix, Bob Dylan, and a slew of other major musicians of the era. Not only was she lauded for her ability to get even the most unwilling stars to relax in front of the camera, but everyone knew it: She became the first female photographer to get the cover of Rolling Stone. (It was Eric Clapton.)
Sadly, she missed some of the biggest events of the decade, for a surprising reason: "I didn't have the money to go there," she shared. It wasn't the life of luxury it might seem, and she described it: "I didn't have an agent, I didn't have an assistant, I didn't have anything. I did it all myself, on public transport."
On meeting Paul McCartney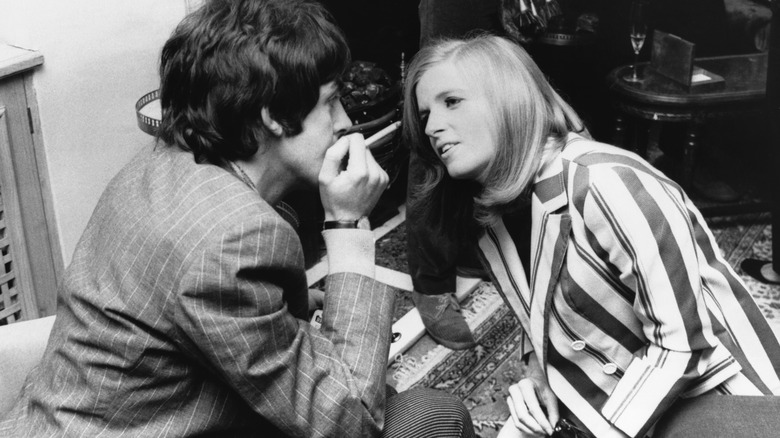 Hulton Deutsch/Getty Images
Relationships are complicated, and that's true of the one between Paul McCartney and his future wife. It would unfold over several years, starting with their first meeting in a Soho club called the Bag O'Nails when she was in London working on a book called "Rock and Other Four Letter Words." According to Danny Fields's "Linda McCartney," the two hit off immediately. He introduced himself somewhat accidentally — she was there in the company of the members of another group she'd photographed, the Animals — and after they bounced to another club, he invited everyone back to his house.
Here's where an art history degree came in handy: Paul actually wanted to show the group paintings he'd just gotten by the surrealist artist Magritte, and she not only was familiar with the artist but was excited about seeing his work up close and personal. That, Fields wrote, was equal parts intriguing and unusual.
She then got into a press conference (pictured) where she not only photographed The Beatles for the release of "Sgt. Pepper," but she chatted with McCartney more. She returned to the U.S., and it was more than a year until they'd meet again, but Fields recalled, that even after those relatively short meetings, she said something she'd never said about any of the other famous men she'd met: "Paul McCartney is so wonderful, I really am in love with him."
When you know, you know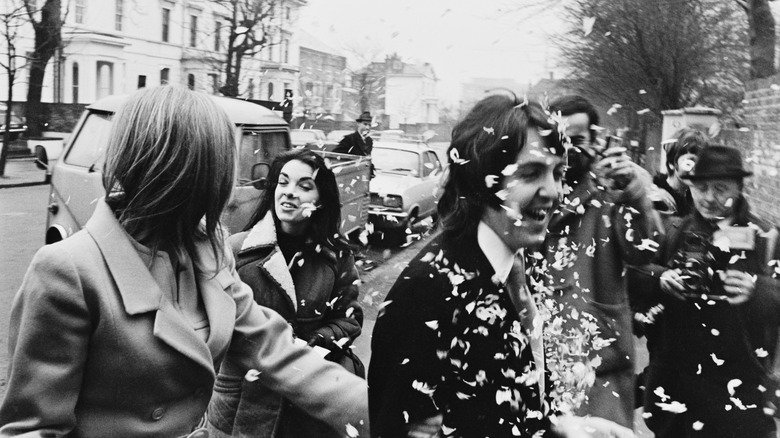 C. Maher/Getty Images
By 1968, Paul McCartney was several years into an unhappy relationship with Jane Asher, an aspiring actress who wanted to focus on her career in lieu of staying home and waiting for him to return from various Beatle-related trips. According to the Danny Fields biography "Linda McCartney," it was on one of those trips — an Apple-related venture to New York City — that he reconnected with Linda Eastman ... but it wasn't a matter of Linda being his one-and-only. Friends recall him inviting her to spend time with him in Beverly Hills, while also still making public appearances with Asher on his arm.  Also in the mix at the time was another girl he was living with, an aspiring screenwriter named Francie Schwartz. She was around throughout the summer of that year and moved into his house at a time when Asher's clothes were still there, but didn't stay long.
Paul eventually invited Linda not just to Beverly Hills, but London, and once the two became officially involved, things moved pretty quickly. She was pregnant by December of that year; he asked her father for permission to marry her, and they formally got engaged around Christmas. The wedding, too, happened fairly quickly, and the two tied the knot on March 12, 1969. It was a civil ceremony at Marylebone's town hall, and even though there was no official announcement made, police were called in to handle the crowds of disappointed fans who gathered and sobbed that the last Beatle was off the market.
She got a ridiculous amount of hate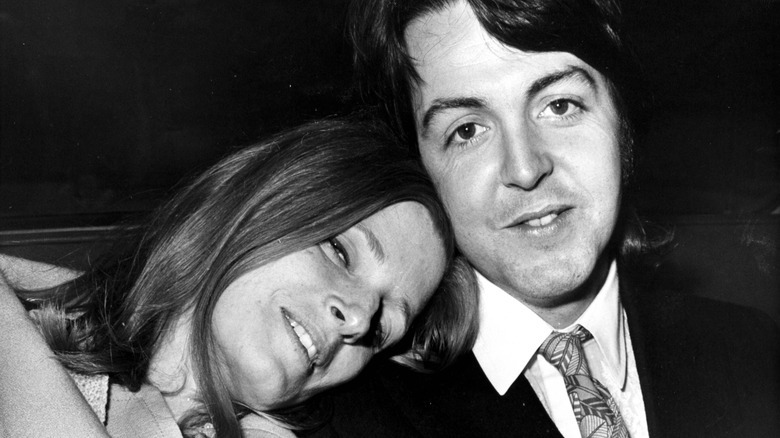 Cummings Archives/Getty Images
The breakup of The Beatles famously came after both Linda McCartney and Yoko Ono appeared on the scene, so it's not surprising that they both got blamed for the group dissolving. According to what Linda told biographer Danny Fields for his book "Linda McCartney," the hate was up close and personal. She recounted the threats that were thrown at her on the sidewalk, saying, "Some of them tried to physically hurt me — on the day we were married, one girl pushed a flaming newspaper through the front door. Did they want us all to be burned alive? There was nothing I could do about the way they felt, but they made me feel awful, just the idea of them always lurking out there, plotting their next break-in or whatever."
She even had a complicated relationship with the media: Marrying a Beatle meant a life in the public eye, but Howard Sounes — who wrote "Fab: An Intimate Life of Paul McCartney" and had first-hand experience with her dislike of the press — observed that her shyness in public created an image of "a gauche, abrasive woman [who] lacked in charm." Decades later, she would still fall back into her discomfort during interviews, and say that it wasn't easy: "I couldn't do anything right. I wasn't going to change myself ... but there was always one person in England who was there for me, and it was enough."
After the Beatles, there was Wings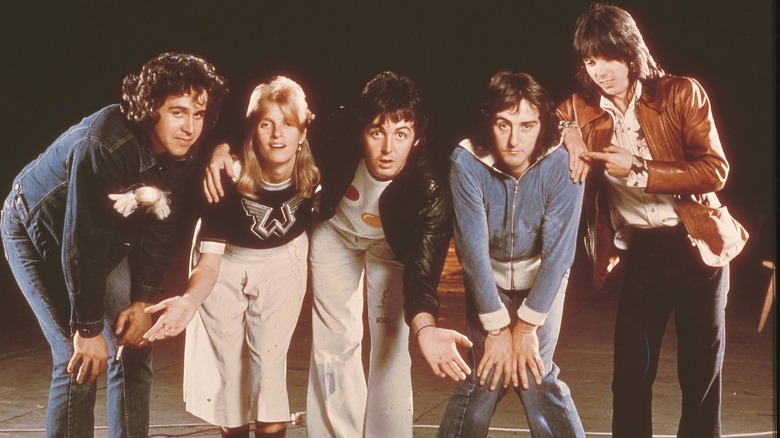 Rb/Getty Images
Linda McCartney may not have been as involved in the breakup of The Beatles as everyone thought, but there's no denying the fact that she was right in the middle of things when Paul McCartney got back on stage and back in the studio with Wings. While critics may have accused her of planning that all along, she told The San Diego Union-Tribune that couldn't be farther from the truth.
"It was hard work, and he really did have to force me. And it was very tough on me. It's nothing I elbowed my way into; to this day I wouldn't necessarily want to be doing this. But we want to be together — that's why I'm doing it."
At the same time they were putting a band together, they were spending time alone and as a family, up on their farm in Scotland. Interviewed for his website, Paul explained that although the farm started out as an investment opportunity, his time there with Linda changed that. "I never thought of it as romantic until I met Linda. She said, 'Could we go up there?' And then with Linda, and with raising the family there, I saw things I'd never seen before in the countryside and scenery. It became really special." The experiences they had in Scotland would eventually make it into their music, particularly, he says, into "RAM."
She was vegetarian before being vegetarian was cool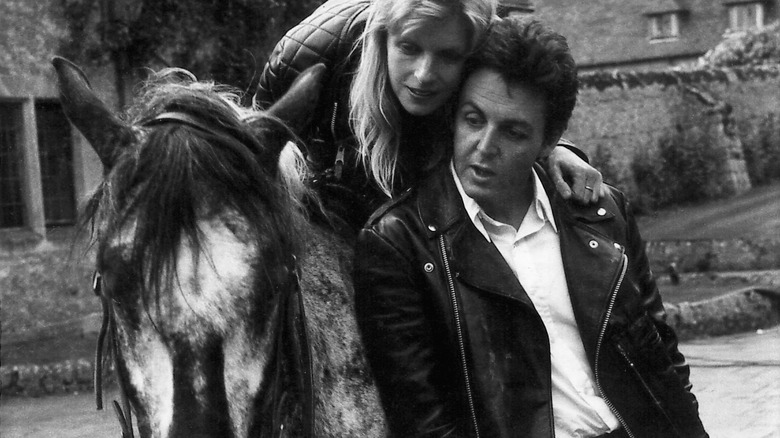 Jim Sugar/Getty Images
Just as it's impossible to talk about Wings without mentioning the Scottish farm where Paul and Linda McCartney spent so much time even as they focused on their post-Beatle band, it's also impossible to talk about their famous foray into vegetarianism without talking about the same farm. According to Paul, the sheep that lived on their farm were the reason for their vegetarianism: "We'd seen them gamboling happily in the first month of their lives, in the fields, and realized that we were eating leg of lamb and made the connection. That's really how the whole philosophy started."
Linda famously went on to write vegetarian cookbooks and found Linda McCartney Foods, but it's also important to remember that going meat-free in the 1970s was very different than it is in the 21st century. Their daughter, Mary, explained to The Times (via the Independent), "Being a vegetarian family in the late 1970s marked you out as different," she said, also clarifying, "Everybody said it was all Mum's idea and she'd forced Dad to stop eating meat, but they did it as a team."
In 2010, The Guardian sat down with Paul to have a conversation about Meatless Mondays, vegetarianism, and gradually encouraging more people to opt out of meat even for one or two days a week. "[Linda] was the original inspiration, and she had a way about her," he reflected. "There was just this ... non-aggressive forcefulness, and many of our friends over the years became vegetarian because of that." 
She died three years after being diagnosed with breast cancer
C. Maher/Getty Images
Linda McCartney was diagnosed with breast cancer in 1995, and in March of 1998 was told that the cancer had spread. She passed away the following month — just two days after they went horseback riding for the last time. She was 56 years old, and the second woman Paul had lost to a diagnosis of breast cancer: His mother had died of the same when he was 14 years old. He told the BBC he had been devastated: "I think I cried for about a year, on and off. You expect to see them walk in, this person you love, because you are so used to them. I cried a lot. It was almost embarrassing, except it seemed the only thing to do."
Since then, her family has carried on her legacy. In addition to Paul's continued devotion to vegetarianism and animal rights, daughter Stella told W that her vegan skincare line had been inspired by her mother's activism: "She certainly was a pioneer within the animal rights movement, and she brought that awareness and consciousness to me, which has inspired my own journey."
Their other daughter, Mary, has followed in her mother's footsteps to become a photographer as well: Not only has she released books and filled exhibits with her work, but she's also active with a charity called Maggie's, which provides support to families touched by cancer.