The Most Unexpected Places These Famous People Were Laid To Rest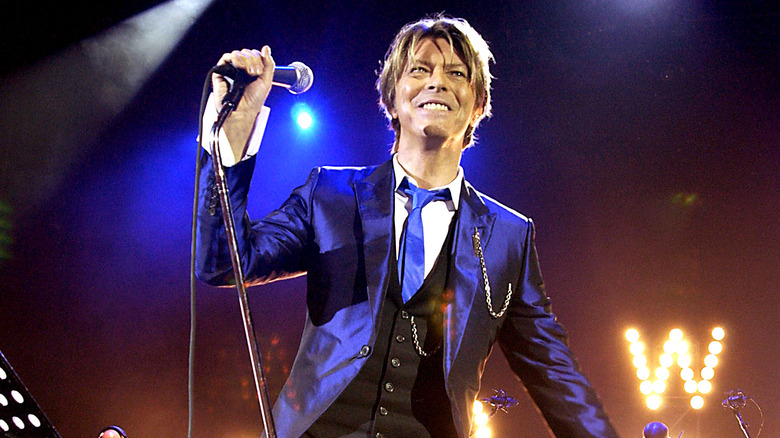 Dave Benett/Getty Images
Many of history's most important figures received burials that reflected the momentous lives they lived. For example, Princess Diana is interred on an island in the middle of an ornamental lake at the Spencer family estate; because of the massive displays of grief shown towards the beloved figure, her remains were moved to the more private spot where her family could pay their respects without dealing with crowds. Elvis Presley was also laid to rest in a grand manner befitting such a cultural icon, that of the Meditation Garden in the late singer's lavish Graceland estate in Memphis, Tennessee.
However, there are plenty of history's most noteworthy people who were laid to rest in places that might not be obvious given the lives they led. Or sometimes they were laid to rest in places that were all too obvious, exceeding the expectations of the public that followed their lives and careers. Let's take a look at the most surprising resting places of famous people.
Jim Morrison
Barbara Alper/Getty Images
Before he became one of rock 'n' roll's most iconic — and tragic — figures, Jim Morrison was born on December 8, 1943, in Melbourne, Florida. A precocious child, he became deeply interested in literature, art, and writing, and although he was a very intelligent young man, he rebelled against pretty much all rules imposed on him. Morrison was eventually able to put his artistic passions and reckless attitude to use by becoming the singer of the legendary rock band, the Doors, in 1965. The group became staples on the Sunset Strip live music scene and scored numerous hits throughout the rest of the decade.
However, despite the fame the Doors achieved, Morrison was consumed by substance abuse, which took a toll on his mental and emotional health. He took a break from the band and moved to Paris in 1971 to sort himself out. However, he was soon found dead in his apartment on July 3, 1971 from heart failure, presumably caused by a drug overdose, though exact details are sketchy. One of the more fascinating aspects of Morrison's death, however, is where he was buried: the Père Lachaise Cemetery in Paris. This centuries-old cemetery counts such notable historical figures as Frédéric Chopin, Édith Piaf, and Oscar Wilde among its "residents." There was an effort to move Morrison's remains back to his Florida hometown, but Père Lachaise seems like a more fitting home for this rock 'n' roll poet.
Wolfgang Amadeus Mozart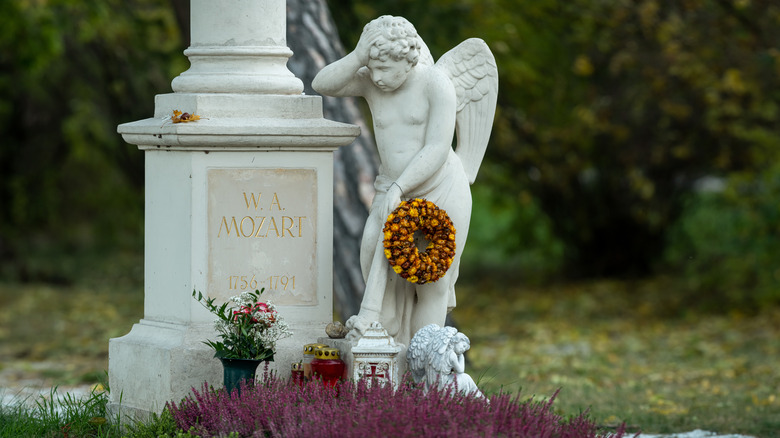 Stefan Rotter/Getty Images
Wolfgang Amadeus Mozart — born on January 27, 1756, in Salzburg, Austria — is one of the most influential composers of all time, and was the subject of the Academy Award-winning 1984 film "Amadeus." A natural talent, Mozart exhibited musical proficiency at the incredibly young age of three and was encouraged by his father Leopold to pursue a career in music. Under Leopold's tutelage, little Mozart eventually became a virtuoso on the piano, organ, and viola, and soon, a master composer. From operas to symphonies to string quartets to concertos, there was almost no form that Mozart didn't innovate in. Throughout his life, he held numerous prominent music positions, including court composer, concertmaster, instructor, and more. Though he enjoyed considerable success and fame, Mozart's final years are typified by financial difficulties due to a life of excess.
Health problems plagued Mozart until his death on December 5, 1791. You'd think that being one of the most respected figures in Europe at the time would warrant a grand sendoff. Unfortunately, Mozart was buried in an unmarked grave in the St. Marx cemetery in Vienna. While it wasn't the pauper's plot that is widely purported, it's still surprising that the great composer would be given a burial akin to that of any other citizen at the time. He was given a formal memorial stone in 1859, but because plots at the time were regularly moved around, no one's actually certain where his remains actually reside today.
John Wayne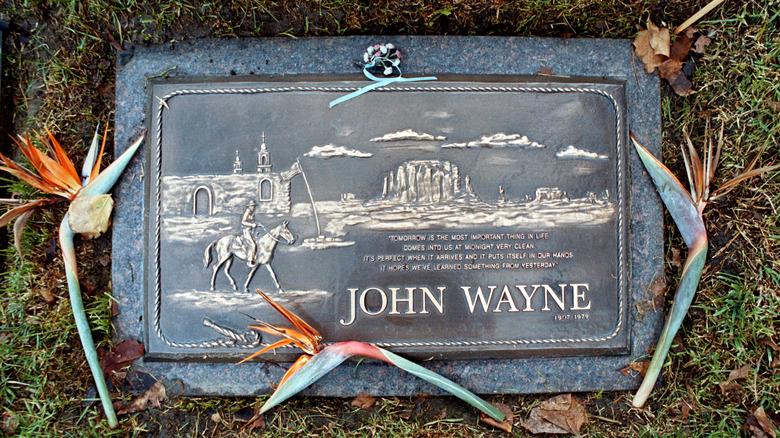 David Mcnew/Getty Images
Few actors epitomize the American Western more than John Wayne. Born on May 26, 1907, in Winterset, Iowa, Wayne and his family eventually moved to Glendale, California, which is where he first got into acting. He appeared as an extra in several silent films before getting the lead role in 1930's "The Big Trail." While his next few films were mostly ignored by the masses, it was his turn in the acclaimed 1939 hit, "Stagecoach," that really established his rugged qualities, and from then on he was one of Hollywood's toughest screen icons. However, Wayne also proved himself more than capable of handling dramatic roles like in "Sands of Iwo Jima," which saw him garner his first Oscar nomination.
It's a bit surprising, though, that one of the most recognizable cultural figures of the 20th century would be laid to rest in such a quiet, unassuming place. Wayne received a small service that was closed to the public, with his remains buried on a hill in Newport Beach, California with a stunning view of the Pacific Ocean. But what makes his resting place extra odd is the fact that it remained unmarked for almost 20 years, with nothing more than a shade tree to hint at where he was buried. In 1998, a plaque that featured the iconic actor riding a horse was placed over his grave in Pacific View Memorial Park, although it's still easy to miss if you're not looking closely.
John Belushi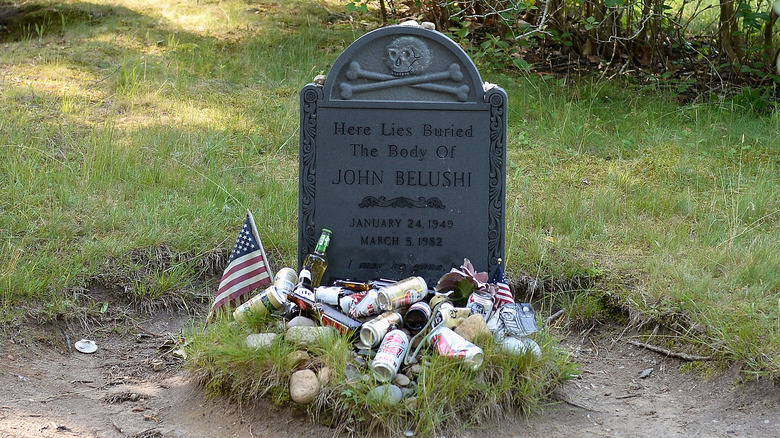 Paul Marotta/Getty Images
Comic legend John Belushi was taken far too soon. Born on January 24, 1949, in Wheaton, Illinois, he displayed an early knack for entertaining people, so it was no surprise that he ended up pursuing acting. Belushi got his taste of theater by performing in several small local productions, but it was his time in the Second City comedy troupe that saw his talents develop, particularly his comedic prowess. After attracting attention for his live comedy sketches, he was cast on the now-iconic show, "Saturday Night Live," in 1975, cementing his reputation as one of the great American rebels. He capitalized on his success by starring in the classic comedy films, "Animal House" and "Blues Brothers."
Unfortunately, Belushi spent his final years dealing with a dangerous drug habit, which ultimately claimed his life on March 5, 1982, when he was only 33 years old. He was buried in an unmarked grave in Martha's Vineyard, Massachusetts. Again, the irony of putting one of the most famous figures in a place of obscurity doesn't go unnoticed. However, Belushi's relatively secretive resting place didn't stop fans from constantly visiting his grave, disrupting nearby burial spots, and leaving beer bottles and garbage. In fact, the traffic to his grave was so bad that, in 1983, Belushi's surviving family decided to have his remains relocated to a more isolated part of the cemetery. Even in death, Belushi knew how to party.
Bessie Smith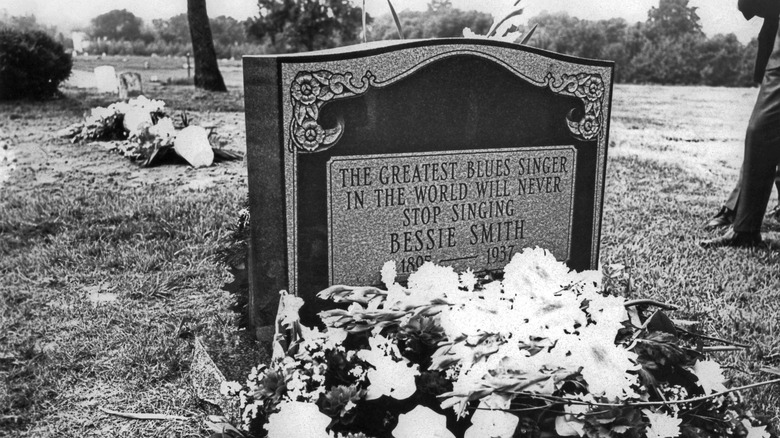 Michael Ochs Archives/Getty Images
While her name may not have the household recognition of famous music icons, Bessie Smith is one of the most influential female singers of all time. She was born on April 15, 1894, in Chattanooga, Tennessee, and worked as a street singer when she was still a teenager. Smith further fostered her talents as an entertainer under legendary blues singer Ma Rainey, making a name for herself in the vaudeville scene. Her big break came in 1923 when she was tapped by Columbia Records to record the song "Downhearted Blues," which was a major hit. Smith's popularity grew even more when she teamed up with Louis Armstrong for such classic songs as "Cold in Hand Blues" and "St. Louis Blues."
Unfortunately, before Smith could achieve the recognition that she deserved in her own lifetime, she died from injuries sustained in a car accident on September 26, 1937, at the age of 43. While thousands of people came to pay their respects to the late singer, she was unfortunately buried in an unmarked grave at Mount Lawn Cemetery in Sharon Hill, Pennsylvania. Her family was too poor to pay for a proper tombstone. However, that was changed in 1970 when rock 'n' roll vocalist, Janis Joplin (a huge fan of Smith) joined with Philadelphia nurse Juanita Green (who had met Smith a decade earlier) to purchase a stone for her, inscribed with the following: "The Greatest Blues Singer in the World Will Never Stop Singing—Bessie Smith‐1895‐1937."
Christopher Columbus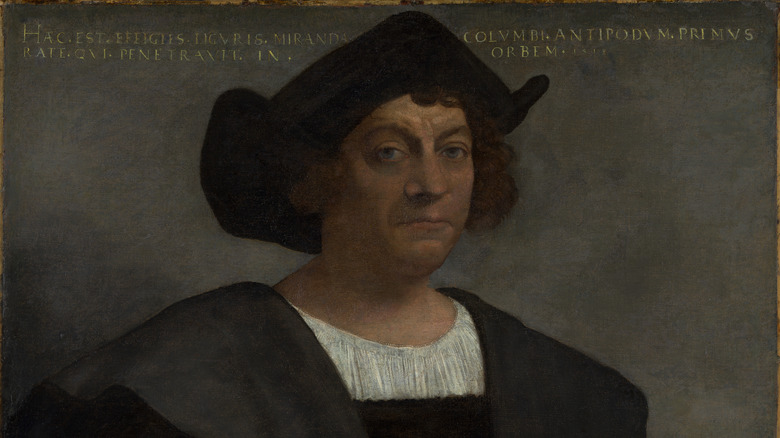 Heritage Images/Getty Images
While specific details of his early past remain unknown, it's generally believed that Christopher Columbus was born in Genoa, Italy, in 1451. He became married to the sea from a young age when he started working on a merchant ship before entering adulthood, though an attack by pirates resulted in him getting lost in the ocean until he landed in Portugal. While there, Columbus conceived of the idea of sailing across the Atlantic Ocean, a crazy notion at the time. He eventually found support from Ferdinand of Aragon and Isabella of Castile, and in 1492, Columbus embarked on a trek that led to a series of important explorations of what would eventually become the Americas.
It seems that there's just no keeping a good sailor down. Even after Columbus died in 1506, his remains kept traveling around the world. He was first buried in Valladolid, Spain before his son had him moved to a Seville monastery, where he remained until 1542. It was then that his remains were taken to a then-new cathedral in Santo Domingo (the Dominican Republic today), only for them to be moved again to Havana, Cuba. But after the country gained its independence in 1898, Columbus' remains were then sent back to Spain. Of course, much of this may be undermined by the possible evidence that it was Columbus' son's remains that were sent to Cuba, and that the real Columbus remains are still in the Dominican Republic.
Thomas Paine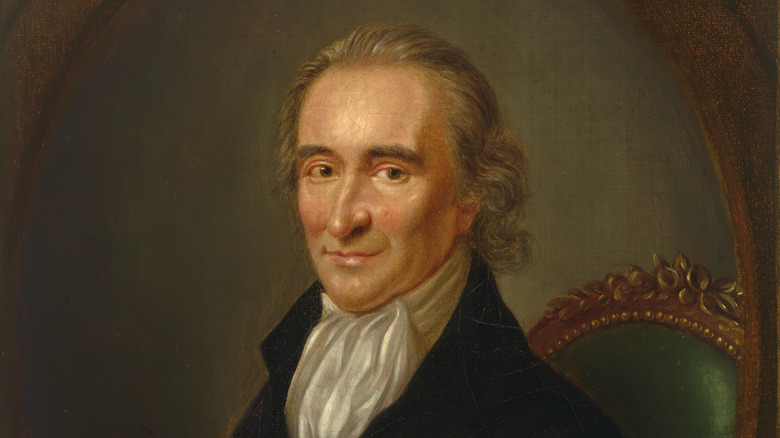 Heritage Images/Getty Images
Although born in England in 1737, Thomas Paine is recognized as one of America's Founding Fathers. He had a humble origin, as his first job was apprenticing for his Quaker corset-maker father. But Paine knew from a young age that he was meant for bigger and better things; he had his sights set on the Navy, and even served for a time in the Seven Years' War on the privateer ship King of Prussia. It was when he moved to America – then still under British rule – that he really secured his place in history. His 1776 pamphlet, "Common Sense," helped convince colonists to fight for their independence. During the Revolutionary War, Paine served in the military under George Washington.
Following a tumultuous time in both America and France, Paine died on June 8, 1809, and was buried at his farm in New Rochelle, New York. By this time, the public had largely grown sour at Paine because of his feud with the popular George Washington, and so, his death was met with little fanfare. His remains were exhumed by William Cobbett 10 years after his death, and shipped to Paine's motherland, England. However, this only resulted in several failed attempts to raise funds for a proper burial. Cobbett died in 1835, and so Paine's remains went to his oldest son, then switched several hands, and now no one knows where they are, a tragic coda to the life of one of America's most important forefathers.
James Doohan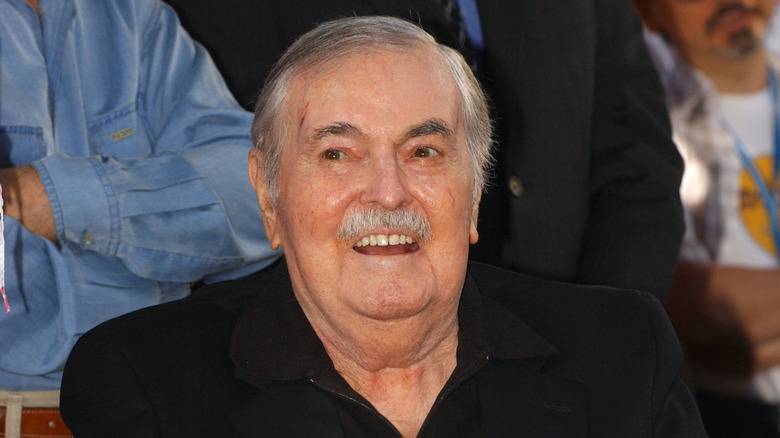 Albert L. Ortega/Getty Images
Before joining the crew of the USS Enterprise in the original "Star Trek" TV series, James Doohan was born on March 3, 1920, in Vancouver, British Columbia, and enlisted in the 102nd Royal Canadian Army Cadet Corps, and even participated in the storming of Normandy on D-Day during WWII. He was injured and sent back to Canada, where he took up acting, eventually appearing in such shows as "The Twilight Zone," "The Outer Limits," and "Bewitched." However, it was his role as chief engineer Montgomery Scott (a.k.a. Scotty) in "Star Trek" that really put Doohan on the map. He later reprised the character in the show's six feature film sequels.
Doohan, it seems, was never meant to be kept on Earth. Whether it was serving as a pilot in the armyor boldly going where no man has gone before with the USS Enterprise, it's only fitting that the actor would get a sendoff every bit as airborne as the life he lived. You see, following his death in 2005, some of Doohan's ashes were secretly smuggled onto the International Space Station when the actor's son reached out to video game entrepreneur Richard Garriott, who was scheduled to visit the ISS, to fulfill his father's final wish. Garriott carried out the task in 2008, telling the Times that "as far as I know, no one has ever seen it there and no one has moved [Doohan's ashes]. James Doohan got his resting place among the stars."
David Bowie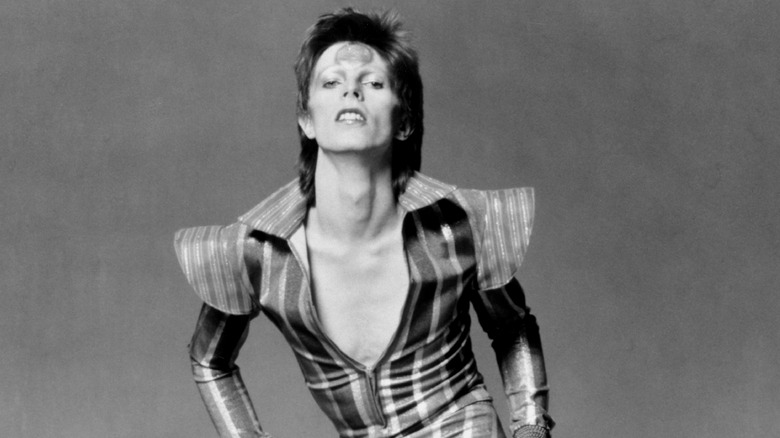 Michael Ochs Archives/Getty Images
As one of rock 'n' roll's most dynamic singers, David Bowie cultivated a gigantic audience around the world for his unique voice, captivating stage presence, and innovative musical style. He was born on January 8, 1947, in Brixton, South London, England, and picked up music when he was still a child. Bowie played with several bands as a teenager, but it was the release of his 1969 song, "Space Oddity," that made him a household name and kickstarted a successful career that lasted the rest of his life. Part of why he maintained relevance for so long is his willingness to evolve new creative avenues; from the outrageous glam rock stylings of his Ziggy Stardust days to his more refined New Wave explorations of the 1980s, Bowie always kept the masses guessing about where he was going next in his career.
Unfortunately, the cultural icon passed away on January 10, 2016, at the age of 69. But as wild and extravagant as his life was, he wanted his burial to be a small, quiet affair. A source told the Mirror that, "he would have wanted to just disappear with no fuss, no big show, no fan-fare. This would totally be his style." And so, the late singer was cremated, with his ashes spread in a Buddhist ritual in Bali, without even his closest friends or family members present. It's a surprising way for Bowie to shuffle off this mortal coil, but then again he was always full of surprises.
Steve Irwin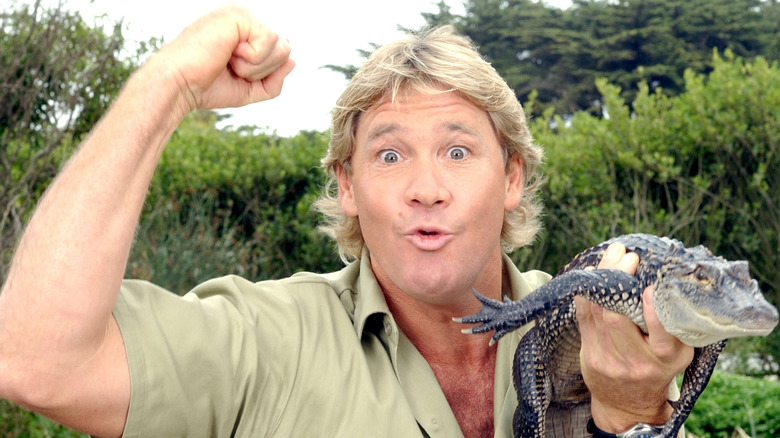 Justin Sullivan/Getty Images
For those who were around in the late-1990s and early-2000s, there was almost no getting away from Steve Irwin and his incredibly popular show, "The Crocodile Hunter." His casual demeanor around some of the world's most dangerous animals made him one of the most beloved television personalities, along with his animal activism. Irwin learned animal care from his parents, who owned and operated the Australia Zoo. In 1992, his expertise in handling crocodiles was turned into "The Crocodile Hunter," which was picked up by Animal Planet in 1996, turning him into a worldwide TV star, and launching his signature catchphrase "Crikey!" into the cultural lexicon. Irwin even appeared on the big screen, such as a cameo in 2001's "Dr. Dolittle 2," and "The Crocodile Hunter: Collision Course," wherein he and his wife Terri played themselves.
However, Irwin's life came to a tragic end on September 4, 2006, when, in the middle of filming his show, he was stung in the chest by a stingray, which induced cardiac arrest. There was a memorial service held for him at the Australia Zoo's "Crocoseum" that was televised to audiences around the world. Of course, the zoo wasn't just where his service took place – it's also where he was buried. While his family was offered a formal state funeral, they chose to say goodbye to him in a smaller, more private manner much more befitting his down-to-earth personality.
Freddie Mercury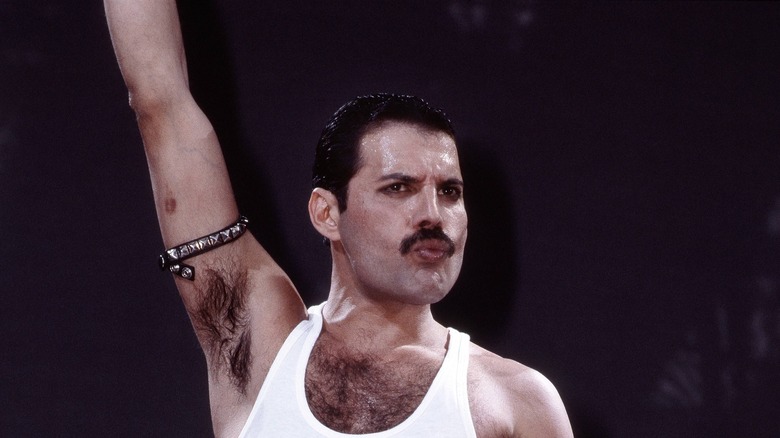 Phil Dent/Getty Images
Few voices are as instantly recognizable as Freddie Mercury's. As the singer of the legendary rock band Queen, he gave the world countless hits throughout the 1970s and 1980s. His incredibly wide range enabled the band to incorporate various genres into their distinctive sound, including soulful blues, fist-pumping hard rock, glossy pop, and even virtuosic opera. Besides his massive musical talent, Mercury's bombastic stage presence made Queen one of the more entertaining acts to see perform live. Of course, a personality as big as Mercury's meant that he had a lifestyle that was every bit as outrageous as his public image; stories abound of the wildly extravagant parties he threw for himself and his friends.
But all good things must come to an end, including Mercury's pristine tones; the singer passed away on November 24, 1991, from AIDS-related bronchial pneumonia. However, the location of his remains has been a mystery to most of the world since his tragic death. Apparently, Mary Austin — his close friend and ex-fiancé — is the only one who knows where his ashes are. She told the Daily Mail that this was Mercury's final wish, as he was afraid that his grave would be violated. And so, after inviting his family to pay their last respects to the late singer, and absconded with his ashes to bury them in a location that has yet to be discovered by anyone else.
John Lennon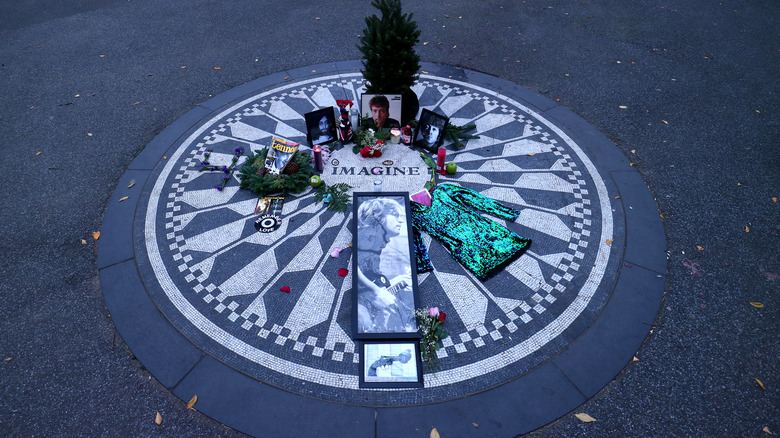 Gary Hershorn/Getty Images
Unless you've been living under a rock for the last 60 years, chances are that you've heard at least one song from the Beatles, quite possibly the most important rock band of all time. Of course, that band wouldn't even exist were it not for the musical genius of John Lennon, who not only founded them, but was also their co-lead vocalist, guitarist, and songwriter. The Beatles conquered the world throughout most of the 1960s with hit after hit. However, after marrying Yoko Ono, Lennon began to drift from the band, ultimately leaving them in 1969 to embark on other music projects, both with the Plastic Ono Band and as a solo artist.
Unfortunately, Lennon's life came to an end at the hands of a demented fan, Mark David Chapman, who shot the iconic singer to death just outside of his New York City apartment on December 8, 1980. While Lennon was born in Liverpool, Merseyside, England, Ono chose not to return his remains to his hometown and instead scattered his ashes in a Central Park garden. The garden was opened in 1985 and christened Strawberry Fields, after the beloved Beatles song based on the Salvation Army children's home he played at as a child.