The Truth About Freddie Mercury's Girlfriend, Mary Austin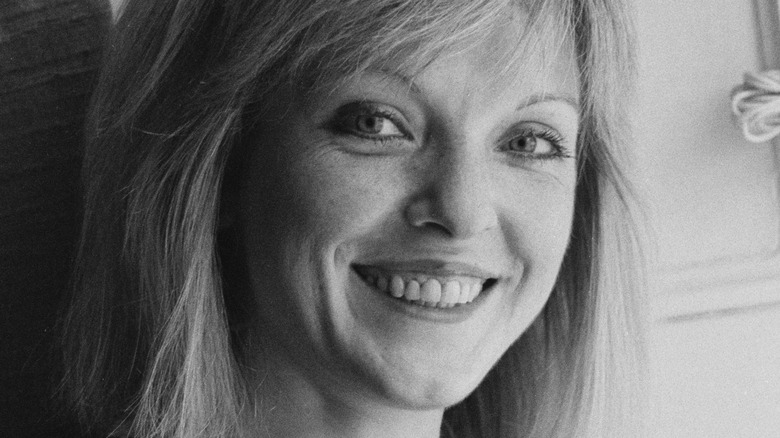 Rogers/Getty Images
It would be understandable for one to hold the opinion that the late, great Queen lead singer Freddie Mercury was rock royalty, but that is patently incorrect. He was a rock god, which was definitively proven when he sauntered onstage at Live Aid in 1985 and gave what some have called the single greatest live rock performance of all time, holding nearly 2 million viewers in the palm of his hand for 21 minutes of pure magic (via CNN). As if more proof was needed, consider that Mercury (of the mighty near-four octave range) delivered one of his greatest recorded vocals in a career full of them with his 1991 song, "The Show Must Go On," which was released mere weeks before his death due to HIV complications, according to Ultimate Classic Rock.
Mercury was rock 'n' roll, and like a lot of rockers, he had one lifelong muse: his girlfriend of six years, Mary Austin. Yes, Mercury was gay — but as he once told us, love is a crazy little thing. His relationship with Austin was one of the most genuine and unique in the annals of rock 'n' roll. Here's the truth about Mercury's inspiration, confidant, and best friend Mary Austin. 
Mary Austin met Freddie Mercury when he was a nobody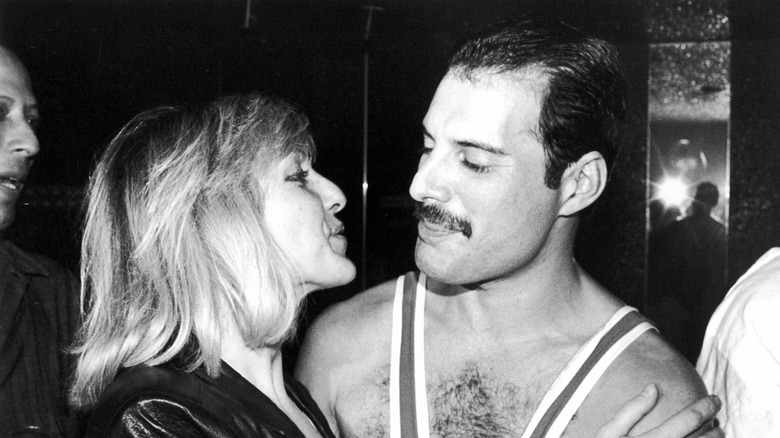 Dave Hogan/Getty Images
Freddie Mercury's real name was Farrokh Bulsara. Born in what was then known as Zanzibar (now Tanzania), he was the son of immigrants. Although Mercury showed musical inclinations at an early age, the future rock god first had a different focus. According to Britannica, he graduated from Ealing Technical College and School of Art with a degree in graphic design in 1969. It was around this time that he met Mary Austin, a 19-year-old from a poor family who was working at a Kensington clothing store, per Daily Mail.
Austin said she found Mercury wasn't very approachable at first, but that she was intrigued by him. The "wild-looking artistic musician," she said, possessed innate confidence that she had always found lacking in herself. "He was like no one I had met before," she told Daily Mail. "I liked him and it went on from there." The pair soon moved into a small flat together, where Austin says they "grew together." But the entire relationship may never have taken place if not for a different member of Queen, whom Austin happened to meet first.
Mary Austin dated Queen's guitarist before Freddie Mercury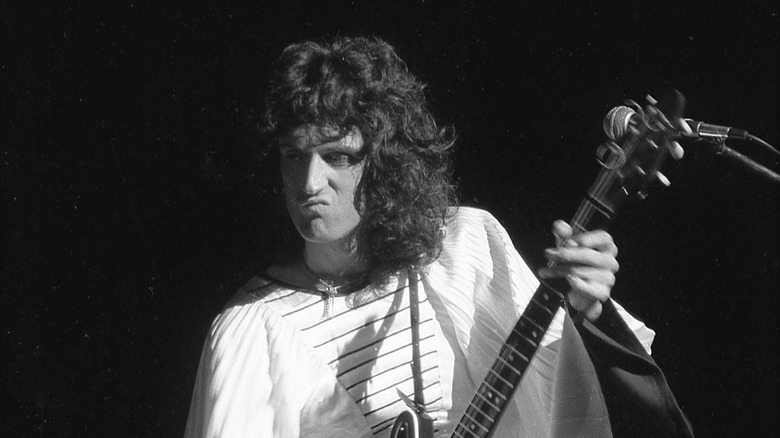 Linda D. Robbins/Getty Images
As detailed in the 2018 biopic "Bohemian Rhapsody," Queen began as a band called Smile, which played at pubs and colleges in London's local scene. The movie's meet-cute between Freddie Mercury and the band didn't happen at all in the way it was depicted, however. According to Rolling Stone, Mercury was friends with the band's vocalist Tim Staffell, and Queen guitarist Brian May remembered that Mercury had long been pestering the guys about letting him join. It was May, in fact, who first met Mary Austin — and briefly dated her — before Mercury even came into the picture.
"Strangely enough, Mary was the girl that I picked out as somebody fabulous, and I was kind of going out with her," May recalled via Yahoo! Entertainment. Mercury then probed May on whether they had a serious relationship and sought his permission to ask her out. Of course, May gave him the green light and proceeded to take a back seat as Austin became "Freddie's closest person," somehow hanging in there through Mercury's wild ride from poor art school student to internationally famous rock star.
Freddie Mercury asked Mary Austin to marry him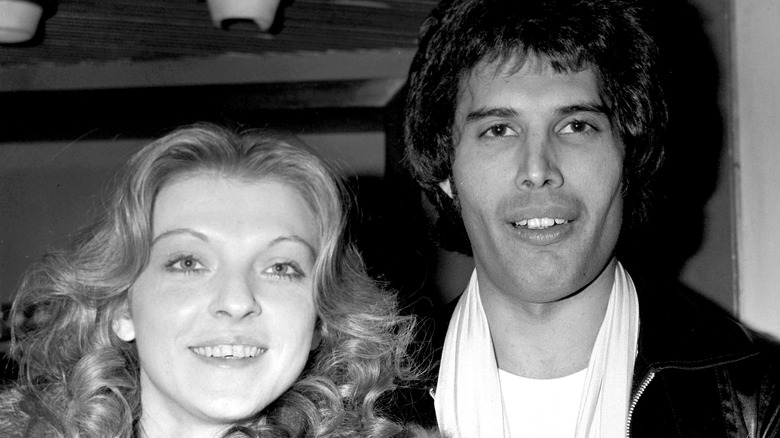 Avalon/Getty Images
In her conversation with Daily Mail, Mary Austin said that she and Freddie Mercury were happy for years, but had never really brought up the idea of marriage. That changed on Christmas Day 1973 when Mercury presented her with a Russian doll-style box, with the smallest box containing a jade ring. When Austin asked Mercury what was going on, he simply replied, "Ring finger, left hand" and asked her to marry him. A shocked Austin managed to respond in the affirmative.
Mercury, though, turned out not to be the marriage type. As time dragged on with no further mention of planning an actual wedding, Austin began to ask pointed questions. Once, she says she spotted a potential wedding dress while clothes shopping with Mercury and asked him if she should buy it. Mercury said no, and Austin says she began to feel that "the writing was on the wall" and wasn't sure what the future held. It wasn't long before Mercury would confess to Austin, who he had come to regard as his closest friend, a truth that he had been struggling with for some time.
Mary Austin helped Freddie Mercury come to terms with his sexuality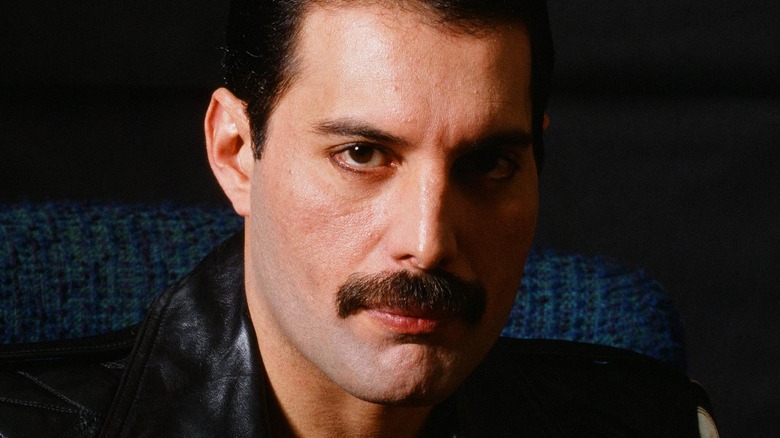 Koh Hasebe/shinko Music/Getty Images
Mary Austin told Daily Mail that her relationship with Freddie Mercury was changing as time wore on. She speculated that while the idea of marriage must have been appealing to Mercury — he had proposed, after all — he was coming to realize that there was something he had to get off his chest before going through with it. At that time, Austin said the full realization of his sexuality was something that Mercury was likely still struggling with. But at last, after six years of living together as a couple, he told her he was bisexual. 
Austin, though, wasn't so sure. "[I said] to him at the time, 'No Freddie, I don't think you are bisexual. I think you are gay.'" With Mercury's rise to stardom, it may have been easier for Austin to let him go. But although their physical relationship stopped at that point, they remained close. In spite of his preference for men, it was Austin who Mercury would later call the love of his life, and he would soon memorialize the fact in one of Queen's most beautiful and powerful tunes.
Freddie Mercury probably wrote one of Queen's greatest ballads for Mary Austin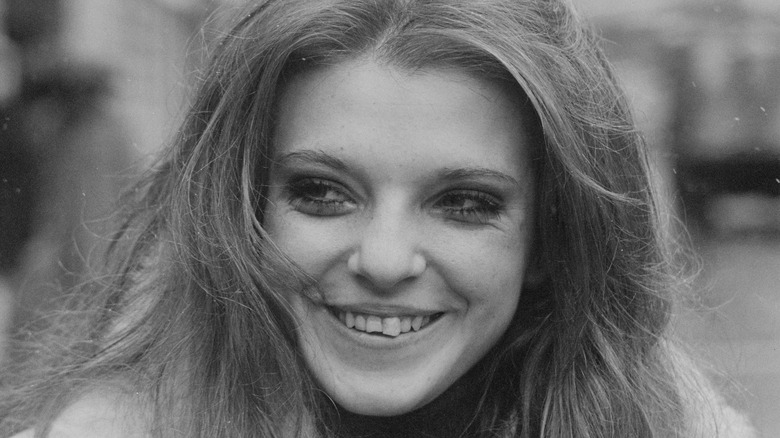 Evening Standard/Getty Images
The album that made Queen superstars was the 1975 release, "A Night at the Opera," per Ultimate Classic Rock. One of its hit songs, "Love of My Life," is a tender ballad about a man forced to leave his partner, and it includes lyrics such as, "When I grow older/I will be there by your side." There are many true stories behind popular Queen songs and, according to Biography, it's generally accepted that Freddie Mercury wrote the song for Mary Austin after their breakup (although some suggest this isn't the case).
It was also in 1975 that Mercury began dating his first boyfriend, an Elektra Records executive named David Minns. In Matt Richards and Mark Langthorne's book, "Somebody to Love: The Life, Death, and Legacy of Freddie Mercury" (via Express), former Queen manager John Reid said the song was written for Minns. However, Express notes that the timeline simply doesn't line up in a way that supports that. The bulk of "A Night at the Opera" was written during an intensive two-week period in August and September of that year, and by the time Mercury had begun dating Minns, the recording of the album was already well underway. Given the fact that the relationship was a fleeting one, it seems pretty obvious just who the budding superstar had in mind when he penned some of the most heartfelt lyrics of his career.
Mary Austin's close relationship with Freddie Mercury caused problems in her love life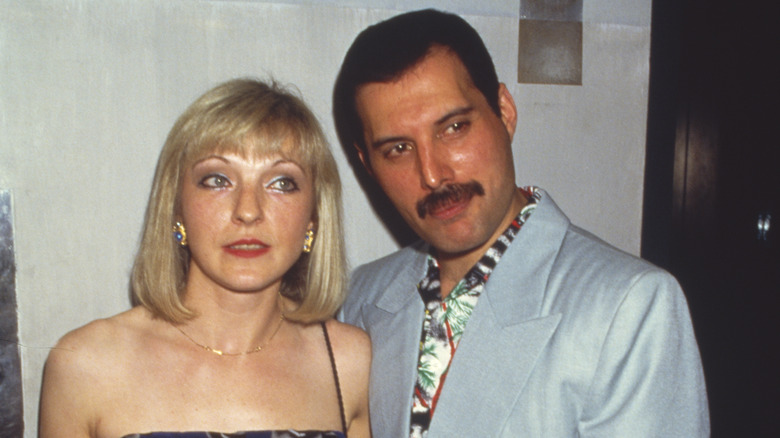 Dave Hogan/Getty Images
Just as Freddie Mercury went on to date after ending his relationship with Mary Austin, she attempted to move on as well. In a 2000 interview with OK! Magazine (via Brian May's website), it was revealed that her continued closeness with the rock star after parting ways romantically didn't exactly make it easy on Austin's suitors. For one thing, Austin continued to live with Mercury until 1980. For another, his constant presence even after that could be understandably exhausting for potential boyfriends.
Austin eventually married artist Piers Cameron, and they even had a pair of children together. But the marriage didn't last. Austin told OK! Magazine that Cameron was tired of being outshined by Mercury, who had shown Austin a side of life that Cameron simply could not relate to. As for any potential that her close relationship with Mercury might one day run its course, Austin made it abundantly clear that this had never been in the cards, saying, "There was no way I'd want to desert him, ever."
Mary Austin was there for Freddie Mercury during his illness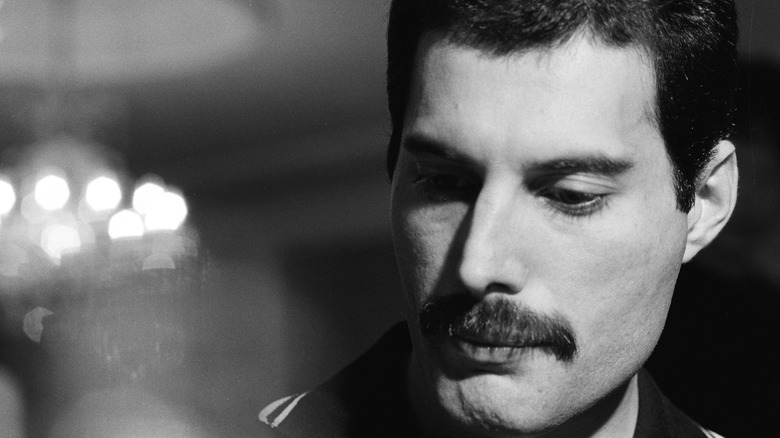 Midori Tsukagoshi/shinko Music/Getty Images
As reported by OK! Magazine (via Brian May's website), Mary Austin was the first to know of Freddie Mercury's AIDS diagnosis. She was still married to Piers Cameron when Mercury's health took a turn for the worse, and Mercury had a devoted boyfriend, Jim Hutton, who he had been dating for years. Nevertheless, Austin deftly juggled her marriage and parenting responsibilities in order to care for Mercury in the final months of his life. She was by his side up until the very end, and she shared with OK! Magazine that the singer knew when it was his time to go and faced his own death fearlessly.
"It was Freddie's decision to finally end it all. He chose the time to die. He knew it was coming," she recalled. He stopped taking his medications, and Austin remembered that the end came not long after that. "The overwhelming thing for me was that he was just so incredibly brave," she said. "He looked death in the face and said, 'Fine. I'll accept it now, I'll go.' But it was peaceful, and he died with a smile on his face."
Freddie Mercury was extremely generous to Mary Austin in passing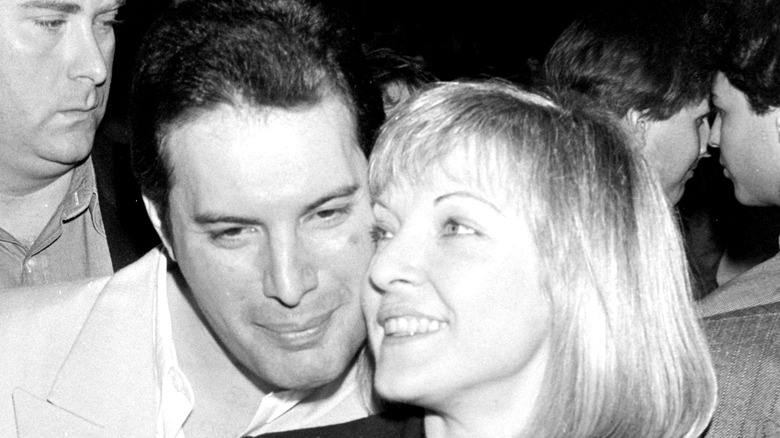 Dave Hogan/Getty Images
Since Mary Austin was the rock star's closest companion for over 20 years, it stands to reason that she would inherit Freddie Mercury's fortune after he died. According to Biography, Mercury was worth approximately $75 million at the time of his death and had assets like a London mansion with nearly 30 rooms. When Mercury passed away, he was reportedly extremely generous. He left half his estate and money from Queen's publishing rights to his parents and sister and the other half to Austin.
In 2021, Express noted that Mercury's posthumous earnings doubled that of what he made in his career, so Austin ended up receiving a pretty penny from the late rock star. In addition, Mercury's father died in 2003 and his mother died in 2016. At that time, their quarter-share was also given to Austin, meaning she now owns 75% of Mercury's estate.
Mary Austin had trouble coping with her sudden wealth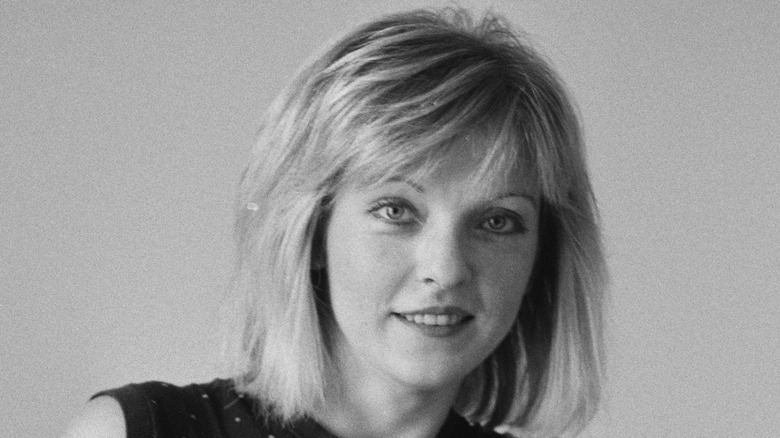 Rogers/Getty Images
As anyone who has ever won the lottery can tell you, coming into that kind of money all at once — not to mention an enormous property requiring diligent upkeep — comes with its own special set of headaches. In fact, according to OK! Magazine (via Brian May's website), when Freddie Mercury told Mary Austin what he intended to leave her after his death, she tried mightily to talk him out of it. She even suggested that the mansion be converted into a museum honoring Mercury's life and work, but he wouldn't hear of it.
Compounding matters, it took years after Mercury's death for the bulk of Austin's payout to be made. Austin admitted to feeling overwhelmed by the responsibilities entrusted to her, but she honored Mercury's wishes by remaining in the house even after all of its staff had departed. It's no wonder that Mercury's longtime nickname for Austin was "Old Faithful." It so happens that he had one final request of his most trusted friend: to keep a secret for him that she has not spilled to this day.
Mary Austin is the only person who knows where Freddie Mercury's final resting place is
Dave Benett/Getty Images
The mystery of Freddie Mercury's ashes has been a subject of interest for years. In 2013, Queen fans got all riled up when a plaque was discovered in a West London cemetery bearing his birth name, according to Daily Mail. But Mary Austin dismissed the idea that he was actually buried there when asked about it. She would know: She is in fact the only person on Earth who knows where Mercury's cremated remains are.
Austin explained that before Mercury's death, he had a fear of obsessive fans finding and tampering with his remains. "He didn't want anyone trying to dig him up as has happened to some famous people," she told Daily Mail. "He wanted [his burial site] to remain a secret and it will remain so." She went on to say that she kept the ashes in an urn in the bedroom of the London estate for a couple of years after Mercury's death and had to stage an elaborate get-away mission one morning to relocate them. 
What Freddie Mercury's biographer thinks about their relationship
Dave Hogan/Getty Images
The relationship between Mary Austin — a quiet, relatively conservative heterosexual woman — and flamboyantly gay rock star Freddie Mercury may seem like an unusual one. But in an oft-quoted 1985 interview in the New York Post, Mercury summed it up succinctly: "The only friend I've got is Mary, and I don't want anybody else," he said. "To me, she was my common-law wife. To me, it was a marriage. We believe in each other, that's enough for me."
According to biographer Lesley-Ann Jones, Mercury may have wondered what his life might have been like if not for all of the fame and adulation. Austin, Jones says, represented a window into that alternate universe. Although Mercury never did follow the marriage and kids path — he preferred cats, per Jones — he still held on to his "Old Faithful." According to Jones, Austin "was that prominent symbol of what his life could have been like, and he was sad about that."