Jamie Reid Was A Political Activist Long Before His Art Career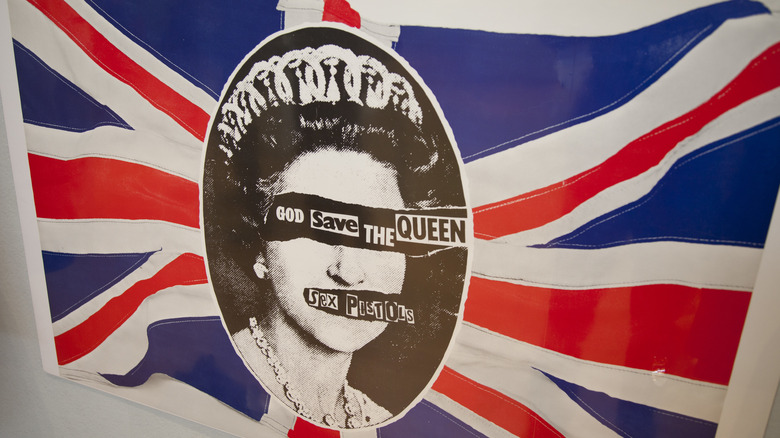 Mike Kemp/Getty Images
Jamie Reid created the punk rock aesthetic in the U.K., combining his iconic ransom note headlines with the liberal use of safety pins and a healthy dose of iconoclasm. But Reid wasn't just an artist for hire, his deeply shocking images of Queen Elizabeth II and battered union jacks came as much from his own politics as the politics of the Sex Pistols.
Reid's childhood in Croydon, South London was unconventional, and he became interested in radical political movements from a young age. He has described his upbringing as being both socialist and druid, and his parents were very politically active when he was a child and were involved in the movement for nuclear disarmament.
In the years leading up to his death, Reid advocated for many causes, from his support for environmentalism to his work with impoverished young people in Liverpool at the Florrie Centre. His core message, however, has always primarily been anti-capitalist in nature — from bashing billionaire artists to lashing out at the corporate world. The entire DIY punk look that he spawned, sprang from his activities with a small group of anti-capitalist radicals — the Suburban Press.
Anti-capitalist roots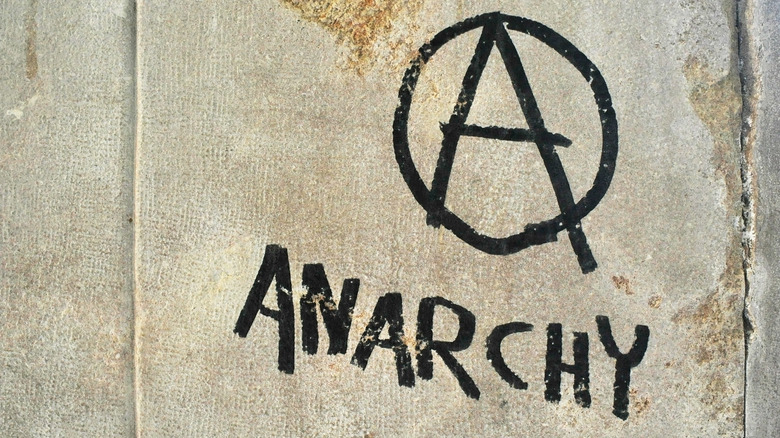 Laura Lezza/Getty Images
After finishing art college, Jamie Reid immediately became immersed in the world of underground political activism. According to Vogue, he took his inspiration primarily from the politics of Situationist International, the french marxist movement associated with philosopher Guy Debord. The Situationists and Reid would inspire anarchists in the U.K. and elsewhere for years to come.
With these ideas in mind, and prior to working with the Sex Pistols, Reid helped to run an anti-capitalist magazine the "Suburban Press." Their operation was composed of a group of like-minded radicals who supported marginalized groups and promoted radical anarchist ideas (via Lodown Magazine). It was here, from 1971 to 1975 that Reid experimented with his art and produced his signature collage aesthetic.
Long before Reid shot to fame his pieces were always provocative and anti-establishment. His "Work and Play" piece from 1972 for example (now in the Tate Gallery in London), brings together a smattering of images from glossy magazines to mock middle-class aspirations. After the Sex Pistols broke up, Reid continued to involve himself in various causes, but he never wished to be associated with the powerful members of the art world his work inspired.
Pussy Riot and social activism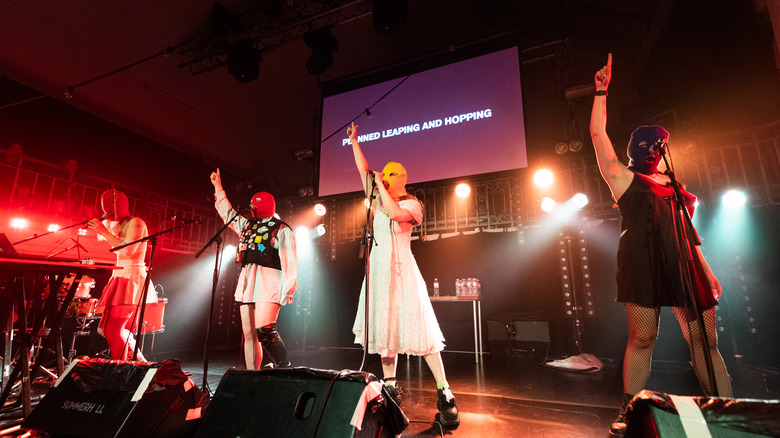 Roberto Ricciuti/Getty Images
The Sex Pistols hit the big time in 1976 but had already disbanded by 1978. Fortunately, Reid still had plenty to do and his career as an activist and political artist continued long afterward. For example, Reid agitated against some of the most controversial legislation to come out of the U.K. — such as the crippling Poll Tax, and the homophobic Section 28 laws. In more recent years he also attacked the rich and powerful on a number of occasions. He pilloried everyone from Donald Trump — who Reid once depicted with swastikas for eyes — to mega-rich British artist Damien Hirst — a "hypocritical and greedy art bully" from Reid's perspective (via The Evening Standard). In 2012, Reid backed some Russian rebels, punching up at Vladimir Putin, with a poster design for the punk band Pussy Riot. The image includes a picture of Vladimir Putin wearing one of the band's famous balaclavas.
Unlike many others in the punk movement, Reid never sold out and always fought for a cause. Just a year before his death on August 8, 2023, he wrote an op-ed for The Independent, taking potshots at the royal family and lamenting the presence of the super-wealthy in British political life.