Musicians Who Converted To New Religions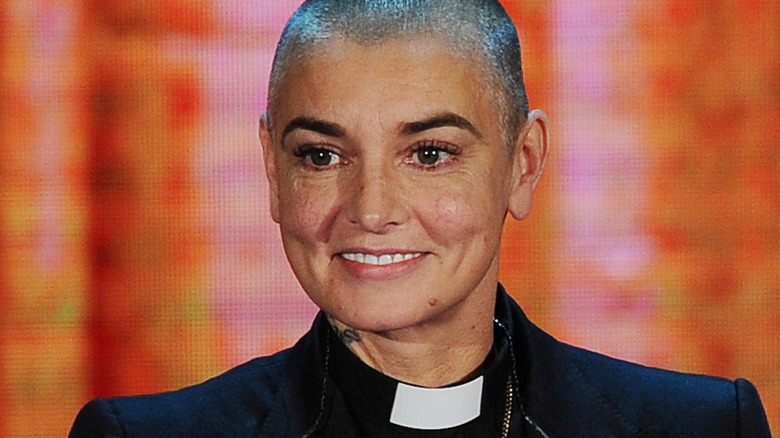 Stefania D'alessandro/Getty Images
A person's faith or religion is a curious and profound thing — it encapsulates their intensely personal belief in how the universe works and was formed, the existence of a higher power, and what happens when we die. And yet when one feels deeply that they've unlocked the answers with this private thing, they generally want to share that with the world. It's big news, then, when a prominent celebrity not only publicly speaks about that very private thing, but when they announce they've had a major epiphany in how they fundamentally view and experience life, having abandoned their religion of record for a new belief system.
Perhaps because of the nature of their work, condensing the human experience down into three-minute songs like the modern poets that they are, musicians seem to have big faith conversions more often than other celebrities. (Or maybe they're just more adept at expressing their feelings and sharing the news.) Here are some of the most famous and popular rock and pop stars of all time who notably underwent a religious conversion and told the world all about it.
Cat Stevens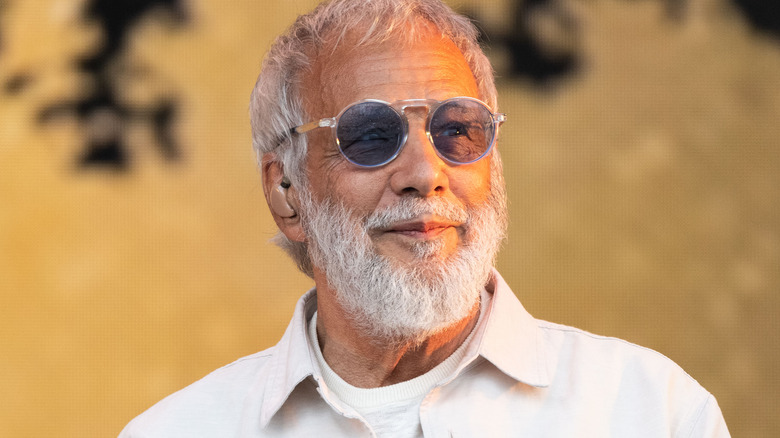 Harry Durrant/Getty Images
One of the dominant talents of the early 1970s singer-songwriter era, impassioned folkie Cat Stevens wrote, sang, and played acoustic guitar on one emotionally powerful, would-be standard after another. Among his many enduring works: "Wild World," "Moon Shadow," "Peace Train," and "Morning Has Broken." Concurrently, Stevens was on a path of spiritual discovery. During a convalescence from tuberculosis in the late 1960s, Stevens, who as a child was raised in a home that followed the Eastern Orthodox version of Catholicism, read books on Taoism, Hinduism, Buddhism, numerology, and astrology. 
By 1977, and after his ascent to global stardom, Stevens had found what he'd been looking for in Islam. He converted, adopted the name Yusuf Islam, and walked away from popular music. "It was a hard tug. I felt a responsibility to my fans, but I would have been a hypocrite," he told The Guardian. "So I stopped singing and started taking action with what I now believed," he said. The musician, who now uses the name Yusuf Cat Stevens, re-emerged briefly in 1989 when he seemed to publicly support the Islamic fatwa calling for the death of Salman Rushdie over his perceived-as-blasphemous novel "The Satanic Verses," and started performing again in 1995 — primarily religious music at first.
Prince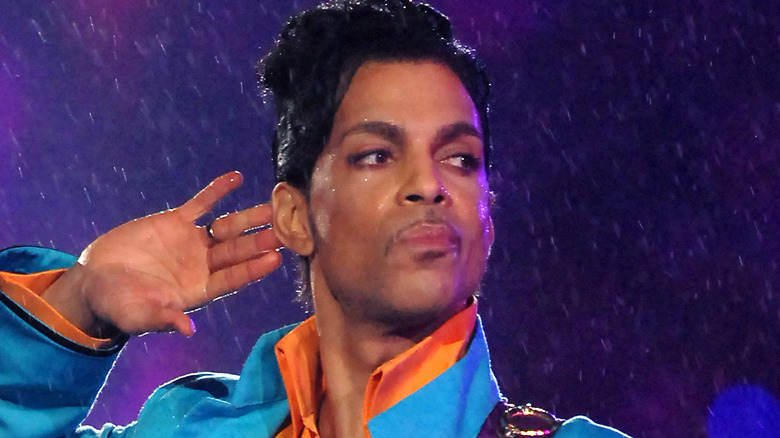 Theo Wargo/Getty Images
Blending rock, funk, R&B, and pop, Prince could sing, write, produce, and play several instruments. He was responsible for a lot of classic music, including "Little Red Corvette," "Purple Rain," "Raspberry Beret," and "When Doves Cry." Prince's songs often broached provocative subject matter — not just sex (in songs like "Darling Nikki," "Get Off," and "Do Me, Baby") but also faith; "Let's Go Crazy" begins with a church organ and preacher-like call to worship, and the "Controversy" album features the common Christian recitation "The Lord's Prayer."
Growing up in Minnesota, Prince's parents were members of the Seventh Day Adventist faith, a Bible-forward branch of Christianity that developed in the 1840s where the holy day of observation is Saturday (not Sunday), hell isn't a fiery pit of pain, and believers follow a scripture-directed vegetarian diet. Prince moved away from that religion as an adult. "When I first met him he believed in God, but after that there was a time when it seemed like he didn't believe in anything," Prince band member Sheila E. told Billboard.
In 2001, with the aid of Sly and the Family Stone bassist and friend Larry Graham, Prince converted to the Jehovah's Witness faith and subsequently adopted some very conservative and modest viewpoints. He thought twice about sexual content in his songs and publicly denounced same-sex marriage, for example. Jehovah's Witnesses traditionally share the tenets of their faith by knocking on doors. Prince participated in that program, going door-to-door in Los Angeles and Minneapolis.
Everlast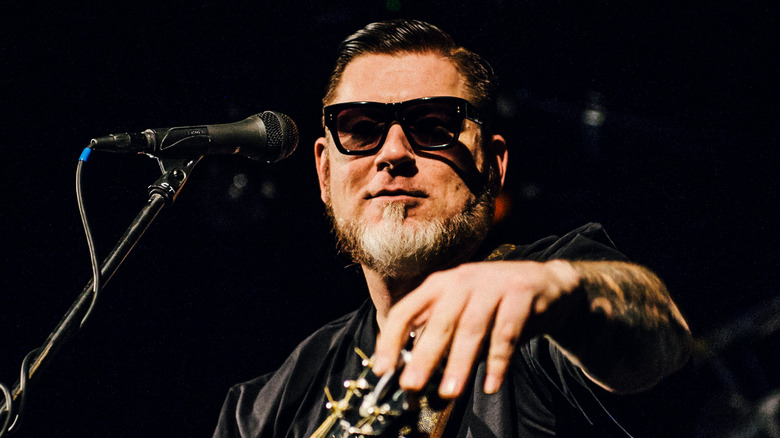 Stefan Hoederath/Getty Images
Everlast (real name: Erik Schrody) came up as a rapper, joining Ice-T's Rhyme Syndicate Cartel and releasing a flop album in 1990. Then he formed the Irish American-themed hip-hop group House of Pain, who scored a rap classic with "Jump Around." House of Pain split up and in 1998 Everest returned with another solo album, the dark, gritty soulful folk record "Whitey Ford Sings the Blues" — during which the artist almost died from a cardiac event owing to a congenital heart defect — which included the smash "What It's Like."
In addition to undergoing a radical shift in musical genres, Everest also made a big change in his spiritual life. In the late 1980s, he was close with rapper Divine Styler when the latter became a Muslim, studying with teacher Abdullah Bashir, who also became Everlast's. "I would just be around and hear things," he told Arab News. The religion resonated personally with him, although he had reservations because of his race. "I remember me being like, 'What is this? I'm white. Can I be here?'" he said of his first time hearing a Muslim prayer. "It was outta ignorance, you know? 'Cause here in America, Islam is considered a 'Black thing.'" He considers himself a Muslim now, after a childhood as a Roman Catholic.
Gladys Knight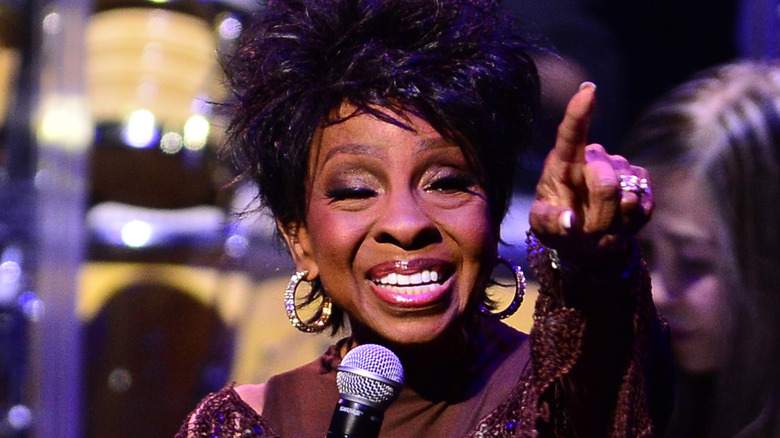 Johnny Louis/Getty Images
‌Religion and music became intertwined for soul legend Gladys Knight at the age of 2. "My mom and dad used to play the piano and sing and tell Bible stories," Knight told LDS Living. As a young child, Knight was a member of the children's choir at the Mount Moriah Baptist Church, her family's place of worship in Atlanta. At age 7, Knight won the TV talent contest "The Original Amateur Hour" and then started fronting a vocal group that included her siblings and cousins. Named for their original manager, her cousin James "Pip" Woods, Gladys Knight & the Pips became one of the biggest gospel-influenced soul groups of the 1960s and 1970s, releasing indelible, Grammy-noticed classics like "If I Were Your Woman" and "Midnight Train to Georgia."
Knight remained devoted to her Christian faith through her adult life and raised her children with religion. One of her sons would convert to the Church of Latter-day Saints, also known as the Mormons. "My son Jimmy and his wife were the first to join the Church, after his best friend shared his testimony," Knight said. Her daughter Kenya then joined, invited her mother to some meetings, and arranged a conversation with church missionaries. The soul singer became an official member of the LDS Church in 1987 upon a baptism performed by her son.
Jim Croce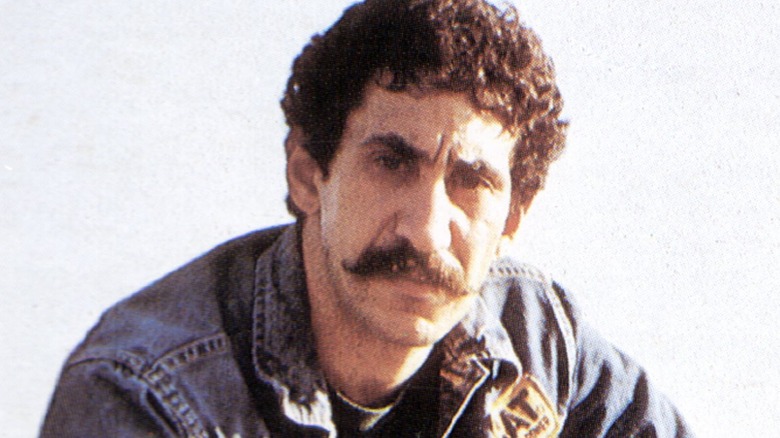 Gab Archive/Getty Images
While his time at the top of the music world would ultimately prove to be tragically brief, folk-rocker Jim Croce was an undeniable superstar. He scored his first hits in 1972, "You Don't Mess Around with Jim" and "Operator," and would reach No. 1 twice in 1973, first with "Bad, Bad Leroy Brown" and then again with "Time in a Bottle." That bittersweet ballad about the fleeting nature of life was all the sadder because it scaled the charts after Croce died in a small-plane crash at the age of 30.
Before his success as a solo act in the '70s, Croce was part of a duo in the '60s with his wife, the former Ingrid Jacobson. They played private parties and clubs in the northeastern U.S. Croce was raised in a Roman Catholic household, and it bothered his parents when he dated Jacobson, a Jewish woman. "They wanted Jim to marry an Italian-Catholic woman," Croce's cousin, Steve Angelucci, told the Detroit Jewish News (via Netporch). "Likewise, the Jacobsons did not relish the idea of their daughter marrying a non-Jew." To settle their issues as an interfaith couple, Croce converted to Judaism, learning extensively about the religion under a rabbi's tutelage before he married Jacobson in a traditional Jewish wedding.
Boy George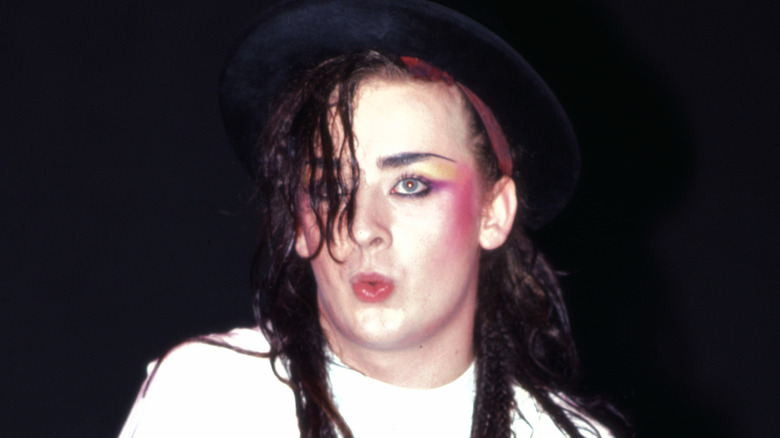 Debra Trebitz/Getty Images
Closely linked to distinctly '80s popular culture for his band's New Wave leanings and his own creative, traditional gender-role challenging fashions and persona, Boy George was a superstar. As the lead singer of the band Culture Club, Boy George (previously George O'Dowd) belted out hit tunes like "Karma Chameleon" and "Do You Really Want to Hurt Me" and charismatically lit up videos and interviews, playfully and defiantly embracing sexual and gender ambiguity.
Boy George crafted a spiritual identity unique unto himself, picking up parts of the different major faiths to which he was exposed across a lifetime. He grew up in a traditional Catholic household in the U.K., but he later spent enough time around adherents of Hare Krishna (a form of Hinduism dating to the 16th century) that he adopted that sect's practice of following a vegetarian diet. In 2010, he began studying Nichiren Buddhism. "I always say I'm Catholic in my complications and Buddhist in my aspirations," Boy George told HuffPost Live in 2014. "It changes the way I behave. It changes the way I behave towards myself, towards other people, and I would highly recommend it," the musician said of his preferred Buddhist meditation ritual.
Bob Dylan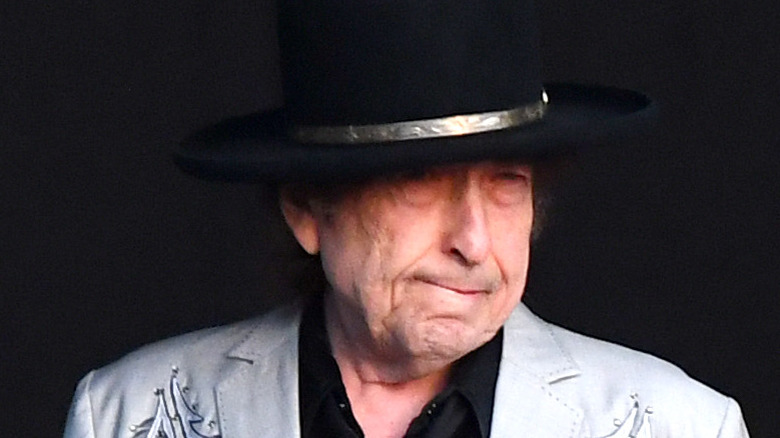 Dave J Hogan/Getty Images
Bob Dylan's real name is Robert Zimmerman, and he grew up in Minnesota in an adherent Jewish family. He attended children's Jewish summer camps in his youth and stood for his bar mitzvah upon turning 13. Throughout his lengthy career as a Nobel Prize-winning singer-songwriter, Dylan eschewed in-depth interviews and never much discussed his religious views. Then in 1979, he released "Slow Train Coming," an album that served as his revelation that he'd become a Christian. Among the Christian-themed songs on the LP: "I Believe in You," "When He Returns," and "Gonna Change My Way of Thinking."
Dylan would later explain that when he was resting in a hotel room in Tucson, Arizona, after a November 1978 show, he had a religious experience in which he felt the overwhelming physical presence of Jesus Christ. At the time, the singer was in a relationship with actor Mary Alice Artes, who brought him into a fundamentalist Christian church in California, and after three months of Bible study, Dylan was baptized in 1979. He'd record another Christian music album, "Saved" in 1980, followed by "Shot of Love" in 1981, a mix of religious and non-religious tunes. By 1982, Dylan had returned to the Judaism of his youth and didn't include any more Christian themes in his songs.
George Harrison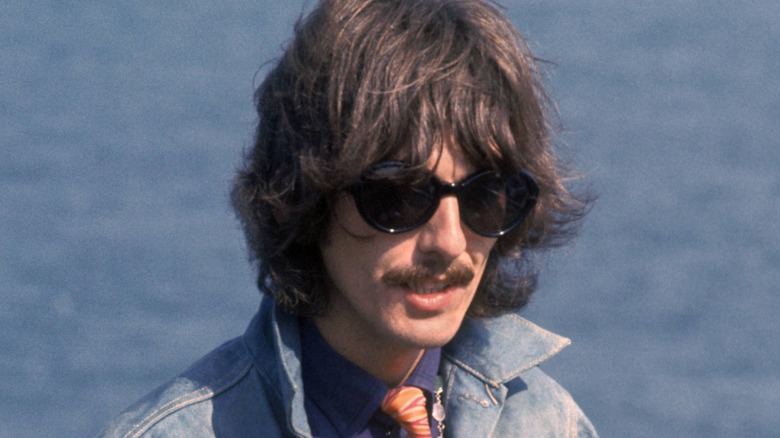 David Redfern/Getty Images
All four members of the Beatles were raised with religion. John Lennon and Ringo Starr grew up in the Church of England, while Paul McCartney and George Harrison were baptized into the Roman Catholic Church. Harrison's lifelong religious exploration would prove the most public and help shape his musical output for years. In 1966, the Beatles visited India for the first time and soaked up the culture and more. Harrison bought a sitar there (later heard on Beatles recordings), and on subsequent visits he would take up Hinduism-adjacent practices such as yoga and transcendental meditation, as taught by Maharishi Mahesh Yogi. "The people of India have a tremendous spiritual strength which I don't think is found elsewhere," Harrison said in 1966 (according to Hinduism Today). "Through Hinduism I feel a better person. I just get happier and happier," he later said of the Indian religion. 
Upon returning home to London, Harrison connected with a Hindu organization, the International Society for Krishna Consciousness, took up a daily mantra chant, and studied the Hindu religious text, the Bhagavad Gita. In 1970, the Beatles broke up and Harrison became the first member of the group with a No. 1 single — he did it with "My Sweet Lord," a song about yearning to be closer to a higher power which utilizes refrains of both a Christian "Hallelujah" and a Hindu "Hare Krishna." After Harrison's death in 2001, Hare Krishna adherents prayed over the musician's ashes, which were later dispersed in India.
Sinead O'Connor
Hgl/Getty Images
Sinead O'Connor stayed in the collective consciousness for a lot longer than most other one-hit wonders. In 1990, O'Connor took her heart-wrenching version of Prince's breakup ballad "Nothing Compares 2 U" to No. 1. In October 1992, O'Connor sang Bob Marley's "War" on "Saturday Night Live." At the conclusion, she held up a photograph of Pope John Paul II and ripped it up. "Fight the real enemy," she said, a response to allegations of widespread child abuse in the Roman Catholic Church, which O'Connor had spoken of previously.
O'Connor left the Roman Catholic Church, the dominant faith in her home nation of Ireland, and joined the Tridentine movement, a traditionalist but unconnected branch of Catholicism. Leader Michael Cox invited O'Connor in after she said on Irish TV program "The Late Late Show" that had she not been a performer, she would have wanted to be a Catholic priest, although the Roman Catholic Church doesn't ordain women. But the Tridentines do — O'Connor became a priest in that faith in 1999. After changing her name to Magda Davitt, the performer lobbied Pope Francis to officially excommunicate her from the Catholic Church.
O'Connor continued to have issues with Christianity, and in 2018, she announced that she had converted again, or rather "reverted," to Islam, according to NPR. She practiced and studied the religion at the Islamic Centre of Ireland with her imam and spiritual advisor Sheikh Umar Al-Qadri until her death in 2023.
Dave Mustaine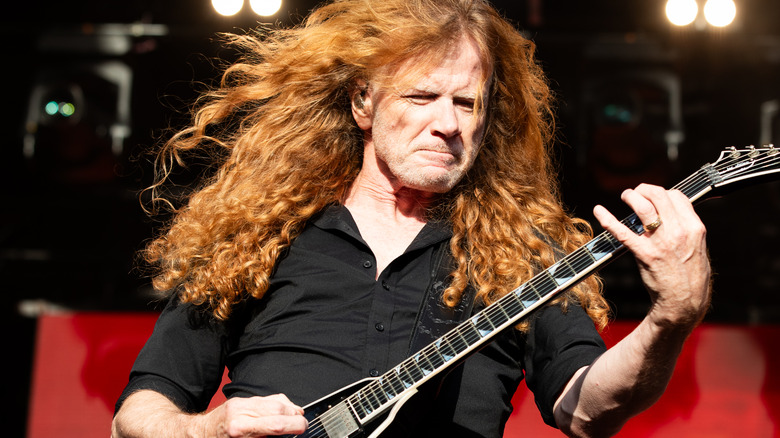 Elsie Roymans/Getty Images
For Megadeth guitarist and singer Dave Mustaine, his personal and professional lives are characterized by leaving institutions behind and ultimately finding fulfillment elsewhere. Mustaine was the original guitarist for pioneering and mega-selling metal band Metallica. Everyone in the band drank heavily — insiders nicknamed the group "Alcoholica" — but Mustaine's alcohol consumption was so extreme, and it made him so aggressive, destructive, and unpredictable, that the rest of Metallica decided to fire him in 1983. On the cross-country bus ride home, a steaming Mustaine wrote some lyrics on a political flyer about nuclear weapons which included the word "megadeath." Mustaine misspelled it as Megadeth — naming the band which he'd soon form and front.
Mustaine's religious background: He was a Jehovah's Witness. "My [mom] became a Jehovah's Witness when I was 7 and that totally ruined my life," he told Metal Hammer of the religion that forbids its followers from many secular rituals. "When everybody stands up and does the Pledge of Allegiance, and you've got to stand like a dork with your hands at your sides, and everybody's having birthdays and you're not, and no Christmas, and you can't have any friends because they're all Pagan — that really scarred me." As an adult, Mustaine became a born-again Christian. "When I found out that God wasn't this gnarly God with gnashing teeth, keeping the hottest corner of hell waiting for me, I realized, 'This isn't that hard.'"
Sammy Davis Jr.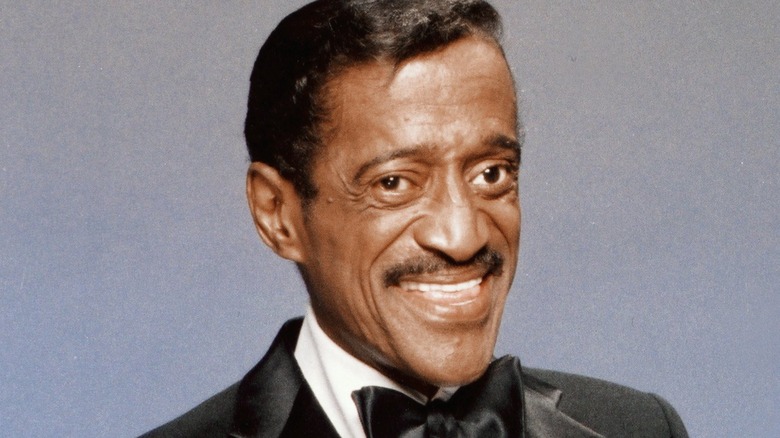 Harry Langdon/Getty Images
After making his debut on the vaudeville circuit at age 4, Sammy Davis Jr. made his first film appearance as the child star of 1933's "Rufus Jones for President." In the 1940s and '50s, Davis' parallel careers as a crooner, nightclub performer, and actor flourished. He'd make several songs his signatures, including "That Old Black Magic," "I've Gotta Be Me," and "The Candy Man," and would star in "Ocean's Eleven" with his cronies in Frank Sinatra's "Rat Pack." Until the late 1950s, Davis said in an interview (via PBS's "American Masters"), he was constantly in search of a faith system. "I looked around, I was really shopping for something to believe in." Raised by a Baptist father and a Catholic mother, Davis said he lived many years without any religion at all.
Davis' conversion to Judaism began in 1954, when a head-on automobile collision left him without an eye and laid up in a hospital bed. A rabbi visited Davis and got him thinking about the historical similarities between Jewish people and Black people. "The oppression, the segregation, the constant trying to survive," Davis said. The entertainer officially adopted Judaism after his recovery, and when he married actor May Britt in 1960, she converted, too.
If you or someone you know may be the victim of child abuse or needs help with addiction issues, contact the relevant resources below: