'90s Sitcom Stars Who Died Tragically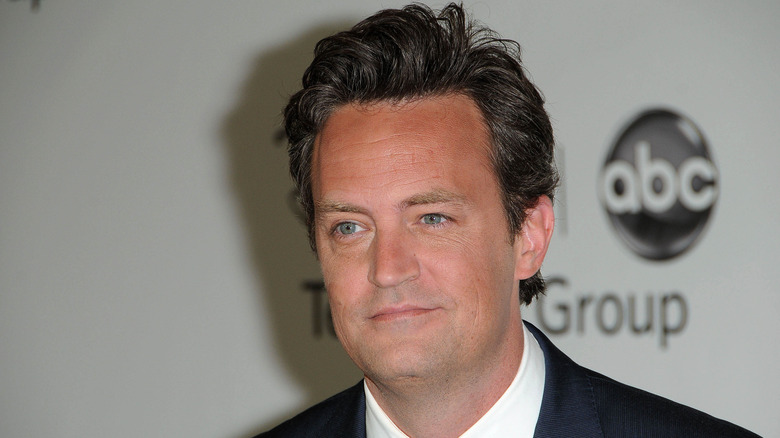 s_bukley/Shutterstock
There were a lot of sitcoms on the air in the 1990s, and many of them among the all-time best in the light-and-breezy television format — and so it shocked and saddened the world when some of the stars of those beloved favorites died. Even worse, a few died under especially tragic circumstances. When we see those actors playing the same roles in hundreds of episodes (which have now been rerun on various outlets for decades), it's hard to believe that there are real people behind those happy-go-lucky characters, who wrap up their problems in 30 minutes or less and deliver us laughs and lessons.
Here are some of the biggest stars of television's past. United not only in their achievement of reaching the pantheon of small-screen superstars, they also all died before their time, and in very sad ways. These are the '90s sitcom stars whose deaths were especially unexpected and tragic.
Dustin Diamond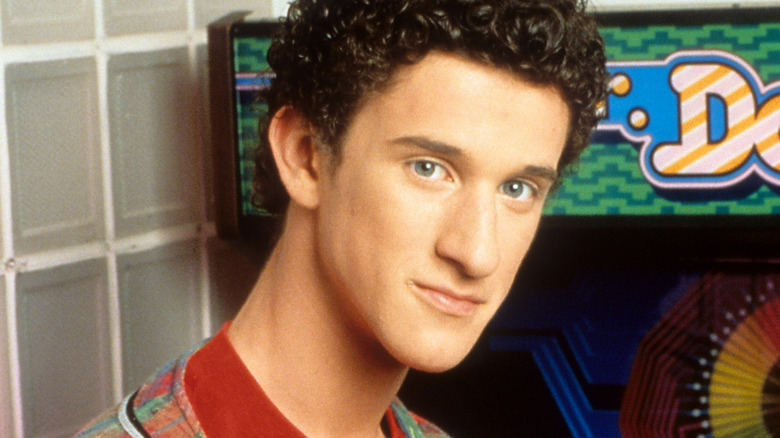 Archive Photos/Getty Images
Dustin Diamond embodied the quintessential TV nerd, and was the longest-serving actor in a franchise that spanned more than a decade. In 1988, Diamond started playing socially awkward weirdo and boy genius Samuel "Screech Powers" on the junior-high-set sitcom "Good Morning, Miss Bliss," a role he reprised when the series was reworked into the NBC Saturday morning high school comedy "Saved by the Bell." Diamond just kept playing Screech, jumping from "Saved by the Bell" when it ended in 1992, to the briefly aired primetime comedy "Saved by the Bell: The College Years," and then back to the original series' continuation — with his character working as an assistant principal — "Saved by the Bell: The New Class."
In January 2021, Diamond checked into a Florida hospital with complaints of full body pain, for reasons not immediately clear to the actor. Following a battery of tests and examinations, doctors diagnosed Diamond with stage 4 small cell carcinoma — an advanced and highly malignant form of cancer, as reported by People. On February 1, 2021, three weeks after diagnosis and despite a round of chemotherapy, Diamond died. He was 41 years old.
Phil Hartman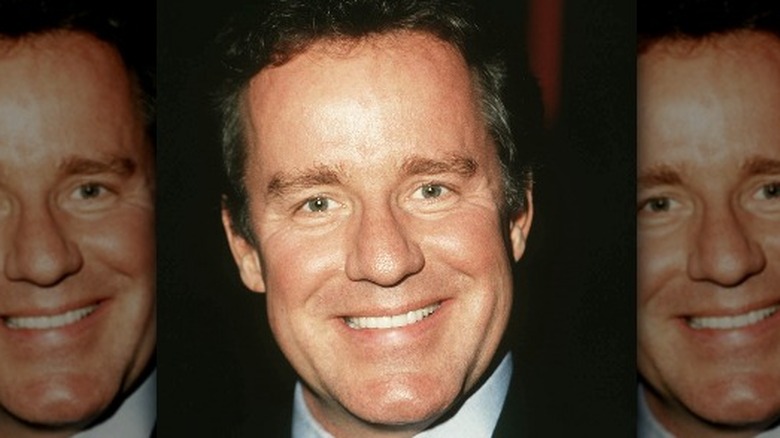 Steve Granitz/Getty Images
Following an eight-season stint on "Saturday Night Live" as one of the sketch series' all-time great comedians, Phil Hartman took a prominent supporting role in the NBC workplace ensemble sitcom "NewsRadio." Set in a New York news-talk radio station, the comedy featured Hartman as Bill McNeal, an obnoxious, smug, self-absorbed anchor. His four years on "NewsRadio" coincided with a continuing role as a member of the voice cast of "The Simpsons," occasionally playing formerly famous actor Troy McClure and sketchy lawyer Lionel Hutz.
Hartman's marriage with his third wife, Brynn, endured some tension and turmoil. In 1997, Brynn Hartman suffered a relapse in her substance abuse recovery and allegedly took cocaine given to her at a Christmas Party by her husband's "NewsRadio" co-star, Andy Dick. 
Early in the morning of May 28, 1998, police received a report of gunshots at the Hartmans' home in Encino, California, and found the couple's nine-year-old son running away from the house. After escorting him to safety, authorities rescued the Hartmans' six-year-old daughter and reported hearing another gunshot. A search of the home and subsequent investigation led authorities to conclude that Brynn Hartman, who had alcohol and cocaine in her system at the time (per the Los Angeles Times), had shot Phil Hartman while he slept, before she died by suicide. The comedian and actor was 49.
Kirstie Alley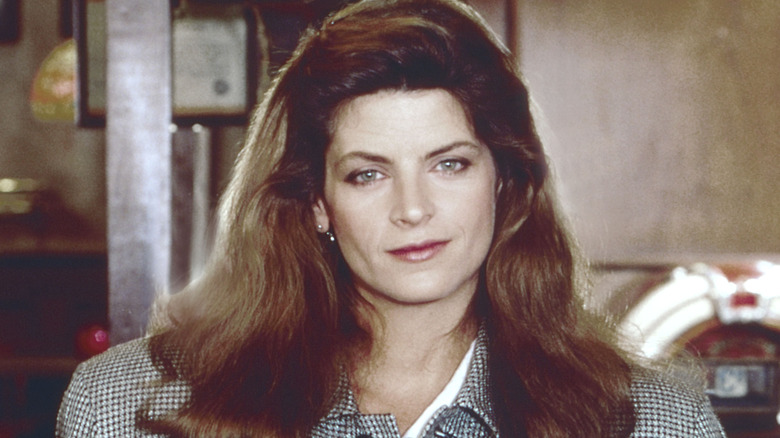 Aaron Rapoport/Getty Images
Kirstie Alley joined the popular comedy "Cheers" in 1987, as melodramatic bar manager Rebecca Howe. Replacing Shelley Long's snobbish server Diane Chambers, Alley too played the role of a romantic interest for bartender Sam Malone (Ted Danson).
In 1990, Alley won the Emmy Award for Lead Actress in a Comedy Series, ratings stayed very high, and "Cheers" ended on a finale viewed by about 100 million. A certified TV star, Alley's next big TV project was her own vehicle, the 1997 to 2000 sitcom "Veronica's Closet." In its first year, the show about a neurotic lingerie magnate earned "Cheers"-level ratings.
On December 5, 2022, Alley's children, True and Lillie Parker, announced via their mother's X, formerly known as Twitter, account that the "Cheers" and "Veronica's Closet" star had died. The general public didn't know that Alley had been ill, and the actor and her family had barely found out themselves. "Our incredible, fierce, and loving mother has passed away after a battle with cancer, only recently discovered," the Parkers wrote, adding that Alley received treatment at the Moffitt Cancer Center. Alley's manager told NBC's "Today" that his client had died from the effects of colon cancer, at the age of 71.
Lamont Bentley of Moesha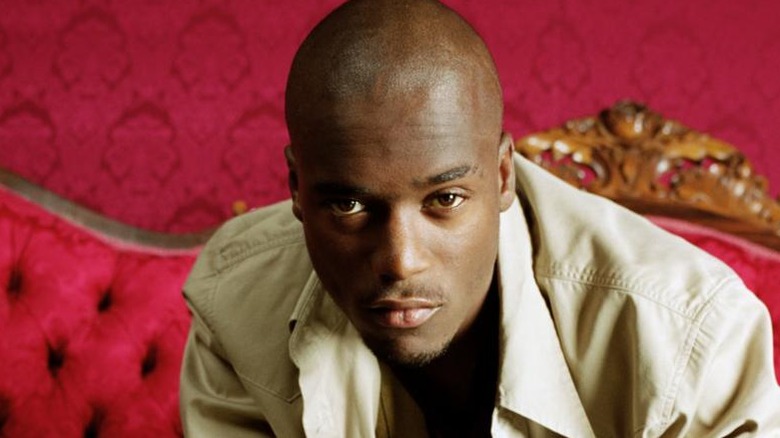 Getty Images/Getty Images
Lamont Bentley broke into show business as a teenager and landed guest-star spots on numerous teen-centered '90s TV series, including half-hour shows like "South Central," "Family Matters," "The Parent 'Hood," and "Clueless." His most notable and longest role arrived via "Moesha," the family comedy starring pop star Brandy. Bentley portrayed Hakeem Campbell, Moesha's next-door neighbor and on-again, off-again boyfriend. In addition to playing Hakeem on "Moesha" for five years, Bentley reprised the role on three episodes of the 1999-2002 spinoff "The Parkers."
In the early morning hours of January 19, 2005, Bentley was driving a Mercedes outside Simi Valley, California, on the 118 Freeway when, according to eyewitnesses, he took an exit at an advanced speed, lost control, and crashed. The car rolled, and Bentley was ejected into the freeway, where he was struck by multiple cars. Authorities declared the actor dead moments later, with an autopsy naming blunt force injuries as the direct cause of death, as reported by the Los Angeles Times. Bentley was 31 years old.
Michelle Thomas of Family Matters
On two popular network sitcoms that aired across the late 1980s and into the 1990s, Michelle Thomas portrayed the romantic ideal for male teenage characters. In the later seasons of "The Cosby Show," Thomas played Justine, the first love and girlfriend of Theo Huxtable (Malcolm-Jamal Warner). From 1993 to 1998, Thomas recurred often on ABC's "TGIF" staple "Family Matters" as Myra Monkhouse, a charming young woman obsessed with major nerd Steve Urkel (Jaleel White), until their romance takes turns into unhealthy possessiveness and stalking.
Following the end of "Family Matters," and after filming an appearance in the movie "Unbowed," as well as a few dozen episodes of the daytime soap "The Young and the Restless," Thomas died in December 1998 at the Memorial Sloan-Kettering Cancer Center in New York City. Her publicist told The New York Times that Thomas had died following treatments for cancer. The actor was 30 years old.
Matthew Perry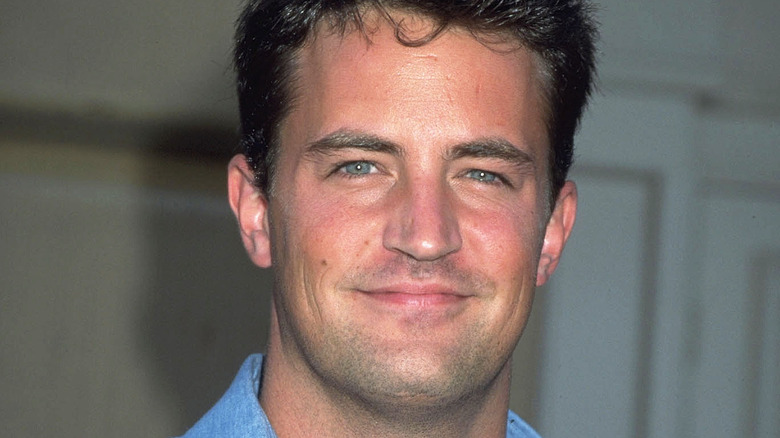 Getty Images/Getty Images
Well before starring in the 1994 to 2004 genre and era-defining mega-hit sitcom "Friends," Matthew Perry had racked up credits in TV comedies like "Growing Pains," "Dream On," "Empty Nest," and "Who's the Boss?" Then he portrayed the romantically unlucky, sarcastically quipping, self-deprecating Chandler Bing, contributing greatly to the show becoming a cultural phenomenon. Perry became instantly, globally, and permanently famous for "Friends," and he'd continue to star in major TV projects for decades, including "Studio 60 on the Sunset Strip," "The Odd Couple," and "Mr. Sunshine," which he co-created. Perry hadn't acted since 2017, but he did participate in 2021's "Friends: The Reunion," a year before the release of his memoir "Friends, Lovers, and the Big Terrible Thing," which recounted his time on "Friends" and his excruciating journey to sobriety.
On the afternoon of October 28, 2023, authorities responded to a call regarding an unresponsive person at Perry's home in Los Angeles. Perry was found by first responders in his hot tub and was pronounced dead, with the cause yet to be confirmed as of the end of October 2023. The "Friends" star was 54.
James Avery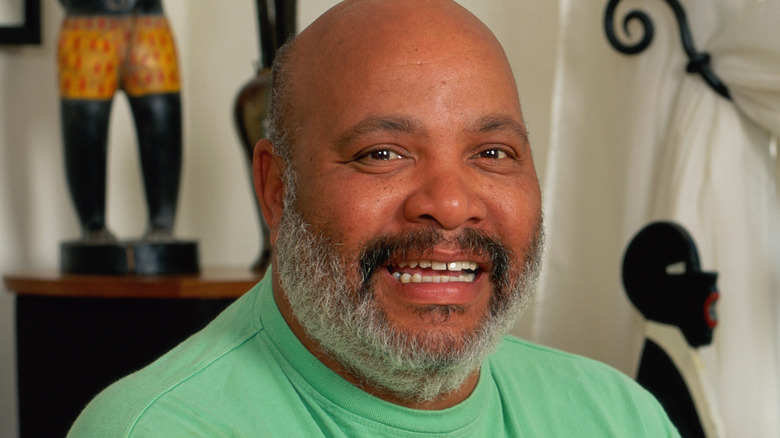 Maureen Donaldson/Getty Images
In the domain of 1990s sitcoms and its many exemplary TV dads, one of the most notable was also an uncle: father of three, wealthy California judge, Philip "Uncle Phil" Banks on "The Fresh Prince of Bel-Air." Taciturn, grouchy, but providing guidance, structure, and tough love to his nephew Will (Will Smith), who moved from West Philadelphia to Bel-Air to stay out of trouble, Uncle Phil, as portrayed by James Avery, was usually the butt of the joke and comic foil to the younger characters. An actor who appeared on dozens of TV shows before and after "Fresh Prince," Avery co-headlined the cast of the comedy from 1990 to 1996.
In November 2013, Avery suffered a heart attack, and doctors subsequently performed a bypass surgery. Seven weeks later, on December 31, 2013, Avery died in a hospital in suburban Los Angeles from cardiorespiratory arrest. An autopsy showed that Avery had coronary heart disease, type 2 diabetes, and an advanced case of kidney disease, as reported by TMZ. The actor was 68.
Farrah Forke of Wings
Farrah Forke joined the sitcom "Wings" in its fourth season in 1992, as no-nonsense helicopter pilot Alex. Her character turned the love triangle of brothers Brian and Joe and lunch counter operator Helen into a rectangle, with the male siblings also vying for Alex's affections — who ultimately opted to date Brian. After the characters split up in 1995, Forke left the show and continued to appear on "Lois and Clark: The New Adventures of Superman" (as district attorney Mayson Drake), and starred in the little-watched, short-run comedies "Dweebs" and "Mr. Rhodes."
Forke stopped acting after a 2005 voice gig as Big Barda in "Justice League Unlimited." Sometime after, she returned to her home state of Texas and received a cancer diagnosis. In March 2022, Forke's mother released a statement to the The New York Times stating that the actor had died the week before, in late February. Forke was 54 years old.
Robert Pastorelli of Murphy Brown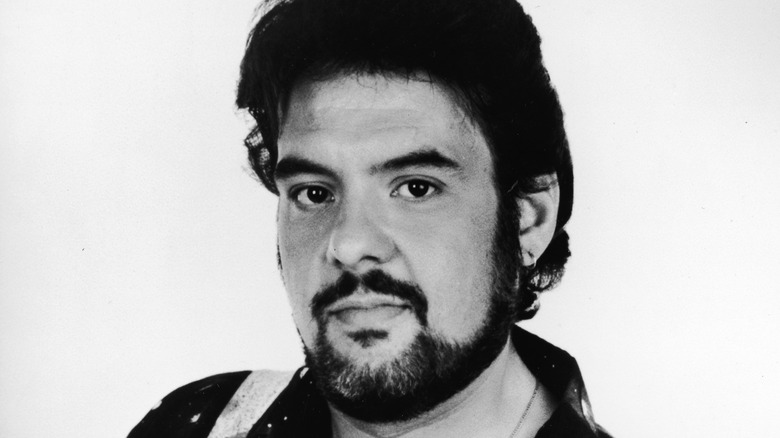 Fotos International/Getty Images
Robert Pastorelli had appeared in an episode or two of dozens of TV series before he landed a role in "Murphy Brown," which was by and large a workplace sitcom. He played Eldin Bernecky, a wise, kooky bohemian artist who took six years to paint his client's townhouse, with whom the title character (played by Candice Bergen) confided in and decompressed after a hard day being a tough and exceptional TV news journalist at the hard-hitting magazine show "FYI." Pastorelli's role proved so popular that he left "Murphy Brown" halfway through its seventh season in 1994, to star in his own CBS show, the quickly-canceled bike messenger comedy "Double Rush."
In March 2004, Pastorelli's personal assistant discovered his body in the bathroom of his Los Angeles home. Suspecting a drug-related death due to paraphernalia found at the scene, an autopsy was conducted, and the Los Angeles County Coroner determined that Pastorelli died from an accidental overdose of heroin, as reported by the Associated Press (via the Los Angeles Times). He was 49.
Bob Saget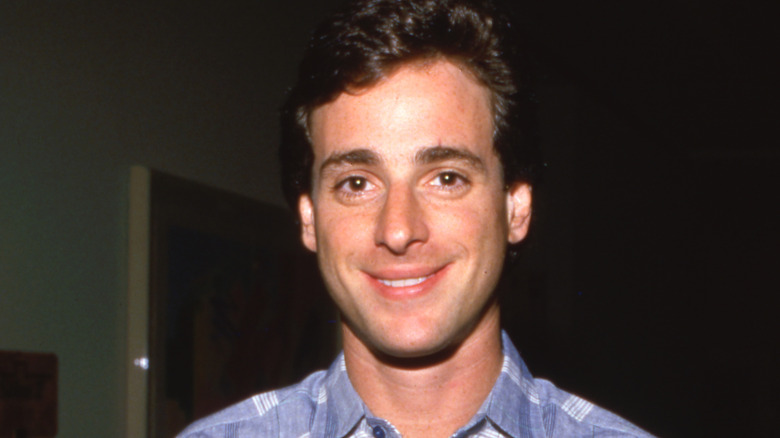 Mediapunch/Getty Images
"Full House" was one of the most frequently viewed shows on ABC's lineup, from its late 1980s debut until 1995. The ultra-sweet, family-friendly show depicted widower Danny Tanner (Bob Saget) raising his three daughters with help from his brother-in-law Jesse (John Stamos) and best friend Joey (Dave Coulier). While the other adult characters and kids got to deliver the big jokes and the catchphrases ("Have mercy!" "Rude!" "You got it, dude!"), Saget's Danny Tanner was the moral center of the show — the warm, patient, dad responsible for delivering a hug and a life lesson.
In addition to hosting ABC's "America's Funniest Home Videos" concurrently while starring in "Full House," and another, later sitcom role as the uncredited narrator on "How I Met Your Mother," Saget maintained a career as a stand-up comedian. He regularly toured his act for years, and he died on the road. 
On January 8, 2022, Saget performed in Jacksonville, Florida, and then retired to his room at the Ritz-Carlton Orlando. When his family hadn't heard from him the next day, and he still hadn't checked out as planned, hotel security ran a wellness check that afternoon and found Saget in the bed, in the dark. Authorities pronounced the actor and comedian dead shortly after responding. According to EW, police and the medical examiner's office concluded that before he went to sleep, Saget suffered a fall and struck his head, unaware he'd suffered a fatal trauma. Saget was 65.
Merlin Santana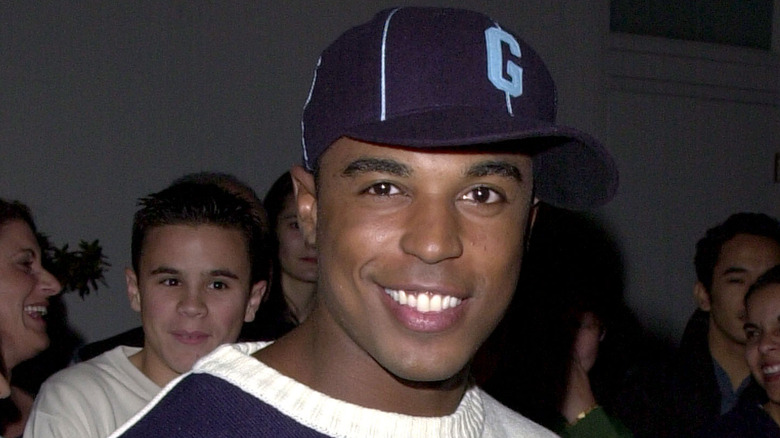 J. Vespa/Getty Images
Young actor Merlin Santana appeared in various capacities in many '90s sitcoms, beginning with a guest-star spot on "Major Dad," a seven-episode stint on "The Cosby Show," and a starring role as Marcus Dixon on the 1993-94 nontraditional blended family comedy "Getting By." Just two years later, he'd enjoy breakout success as the leading teenage star of "The Steve Harvey Show." In the high-school-set sitcom on The WB that ran for six years, Santana played Romeo Santana, a scheming, flirtatious, wannabe ladies' man with a very high opinion of himself.
The series finale of "The Steve Harvey Show" aired in February 2002, and Santana died just over eight months later. On November 9, 2002, after leaving the home of an associate in the Crenshaw District in South Los Angeles, Santana sat in the passenger seat of a non-moving car with a friend sitting in the driver's seat. Shots were fired from outside the vehicle and struck only the actor. The motorist drove for a few blocks and found police, but Santana was pronounced dead. 
Three people were arrested in connection with the death. Monique King, 15 at the time, falsely claimed to friends Brandon Douglas Byrnes and Damien Andre Gates that Santana had made a pass at her. That angered them enough to shoot the actor, who was 26 years old at the time of his death. All three parties were convicted and sentenced for their roles in the murder.
David Strickland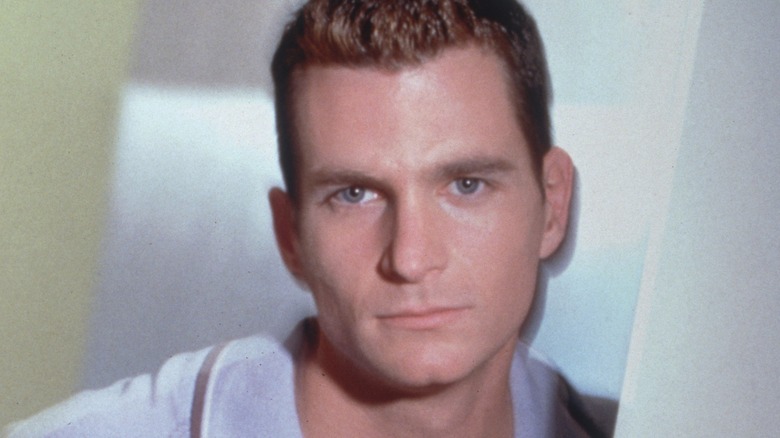 Fotos International/Getty Images
David Strickland went from playing bit parts in movies and sitcoms to portraying oddball music writer Todd Stiles, for most of the first three seasons of the hit comedy "Suddenly Susan."  Following a high-profile appearance on "Friends," the network developed "Suddenly Susan" for Brooke Shields, surrounding her with an ensemble cast of actors to play the strange staff members of a San Francisco magazine. The show raised the profile of its cast, and Strickland found himself starring in the third-most-watched show on TV during its first season.
Offscreen, Strickland dealt with mental health issues, including bipolar disorder. In 1998, he attempted suicide, then in 1999, Strickland stopped taking prescribed mental health medication and in March 1999, was discovered dead in a motel room in Las Vegas. As reported by The New York Times, Strickland was determined to have died by suicide, at the age of 29. The following Season 3 finale of "Suddenly Susan" saw the characters unable to find Todd, ultimately receiving the news that he died, like the actor who played him.
Jon Paul Steuer of Grace Under Fire
Jon Paul Steuer made his acting debut in an episode of the sitcom "Day by Day" in 1989. After some appearances on '90s shows like "Homefront," "The Wonder Years," and "Star Trek: The Next Generation," Steuer was cast as Quentin Kelly, the thoughtful and sensitive young son of comedian Brett Butler's character on "Grace Under Fire." Steuer left the top 20 hit comedy after three seasons in 1996. The 12-year-old actor's parents pulled him off the show due to Butler's reported off-screen behavior, which allegedly included her exposing herself to her very young co-star. The character of Quentin was recast, with Sam Horrigan taking on the role; Steuer never acted again.
The actor would transition into a career as a musician, moving to Portland and joining the band P.R.O.B.L.E.M.S., which he fronted under the name Jonny Jewels until his death on January 1, 2018. Steuer died by suicide, aged 33 years old.
If you or anyone you know needs help with addiction issues, mental health issues, is struggling or in a crisis, contact the relevant resources below: