The Real Reason Elvis Presley Covered Blue Suede Shoes By Carl Perkins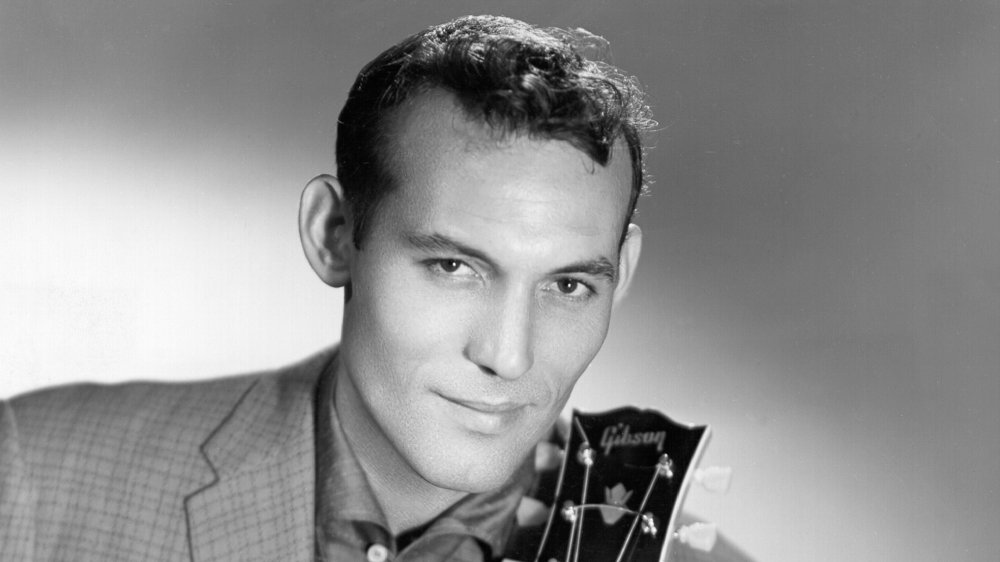 Michael Ochs Archives/Getty Images
It's not just Elvis Presley and Carl Perkins. Johnny Cash is involved, too, as is one of Cash's fellow airmen, C.V. White, who would refer to their Air Force regulation footwear as "blue suede shoes," says Louder. "You should write a song about that," Cash reportedly told Perkins, who thought, "I know nothing about shoes." But then came the fateful night in 1955 when Perkins was playing a club date in Jackson, Mississippi, when he heard a young man say to his date, "Don't step on my suedes!" Perkins thought, "Good gracious, a pretty little thing like that and all he can think about is his blue suede shoes." But the phrase stuck and led to a song that pretty much wrote itself that night.
He recorded the tune in December 1955 in his signature rockabilly style — what NPR's Fresh Air defines as "a country man's song with a black man's rhythm." Encyclopedia Britannica is a little more clinical: rockabilly is "rock and roll played by hillbillies." Whatever it was, it took, and it took off. "Blue Suede Shoes" fought for #1 with Elvis's "Heartbreak Hotel" — by now, he and Perkins were friends, both recording for Sun Records — and was still doing well in March when Perkins suffered a life-altering accident.
Johnny Cash is credited with planting the seed of "Blue Suede Shoes" with Carl Perkins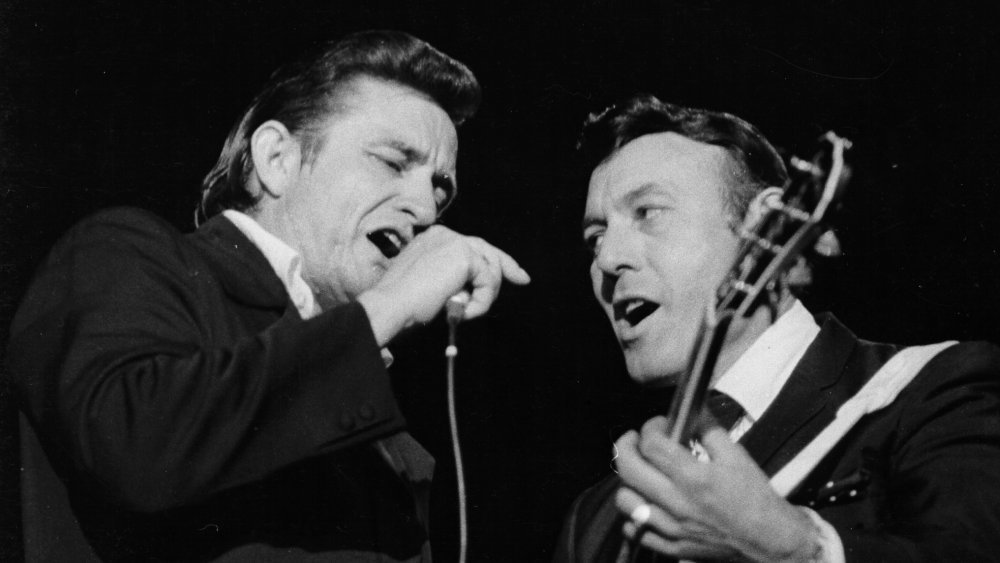 Michael Ochs Archives/Getty Images
En route to an appearance on national TV, his driver fell asleep at the wheel. The driver died; Perkins's brother, also in the car, suffered injuries that would prove fatal later. Perkins himself was badly banged up and, hospitalized, couldn't tour to further promote "Blue Suede Shoes," or anything else, for that matter.
And Elvis stepped up to help his friend. Shortly after the Perkins collision, Elvis was in the studio. His backup guitarist, Scotty Moore, said, "he did it more as a tribute thing than anything else. He had been talking to the band about it, and then he just decided he wanted to do it," according to the Old Time Rock and Roll Blog. While the song wasn't an immediate hit for Presley, over time it turned into one of his signature tunes, eventually even overtaking the Perkins original in sales, which was the first million-selling country-pop-rhythm-and-blues crossover hit. From that point on, though he continued to perform and record, Perkins was better known as a composer. He didn't seem to hold any hard feelings. Elvis, he said later, "had everything. He had the looks, the moves, the manager, and the talent. ... and no ring on the finger. I had three kids."
Perkins died in 1998 after a series of strokes, as Rolling Stone reported. He was 65. Elvis died of heart failure in 1977, age 42, per Biography.