The Truth About Chuck Berry's Time In Prison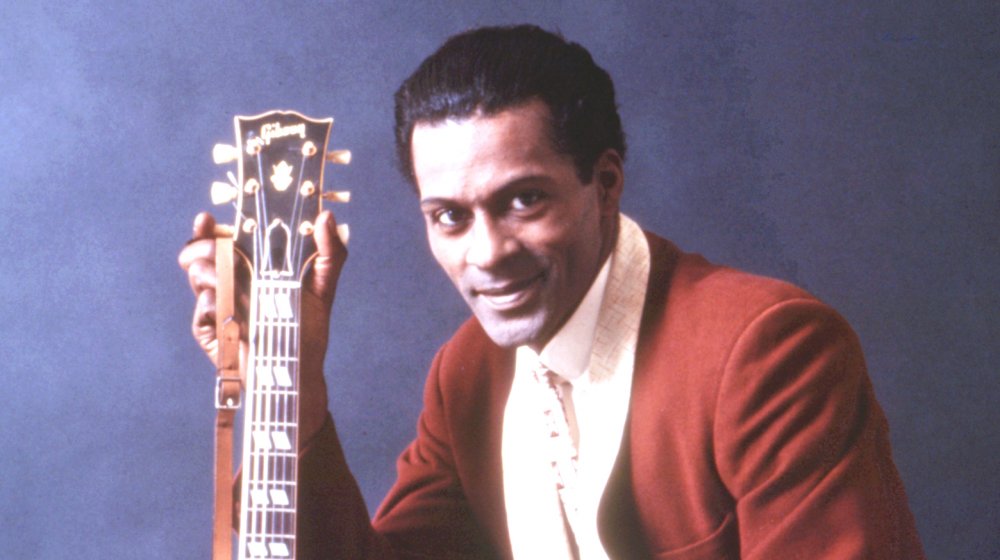 Michael Ochs Archives/Getty Images
A little bit of music history was made October 18, 1926, in St. Louis, Missouri. That was the day that Charles Edward Anderson Berry — you probably know him as Chuck — entered the world and began a life journey that would alter popular music as we know it. He was the great-grandson of slaves, born into a segregated world — says Biography, Chuck didn't remember seeing anyone white until he was three years old, and then they were firemen battling a blaze. He started singing in the church choir when he was six, moved on to school talent shows, and took up the guitar in high school.
A passion for music may or may not have led him to drop out of high school, but surely teenaged "what were you thinking?"-ness inclined him and a friend to think it was a good idea to pick up a lost handgun and use it to commit armed robbery in Kansas City, Missouri. Apprehended, tried, and convicted, Berry spent his first incarceration in the Intermediate Reformatory for Young Men, sentenced to 10 years but released for good behavior on his 21st birthday.
In the early 1950s Berry hit the stage again, playing guitar in a series of bands, impressing not only with his musicianship but his stage presence. His first hit, "Maybelline," charted in 1955, and he was off and running with what many consider the first true rock-and-roll recording. More hits followed. And — predictably — temptation.
He went into the restaurant business, too, but not in a good way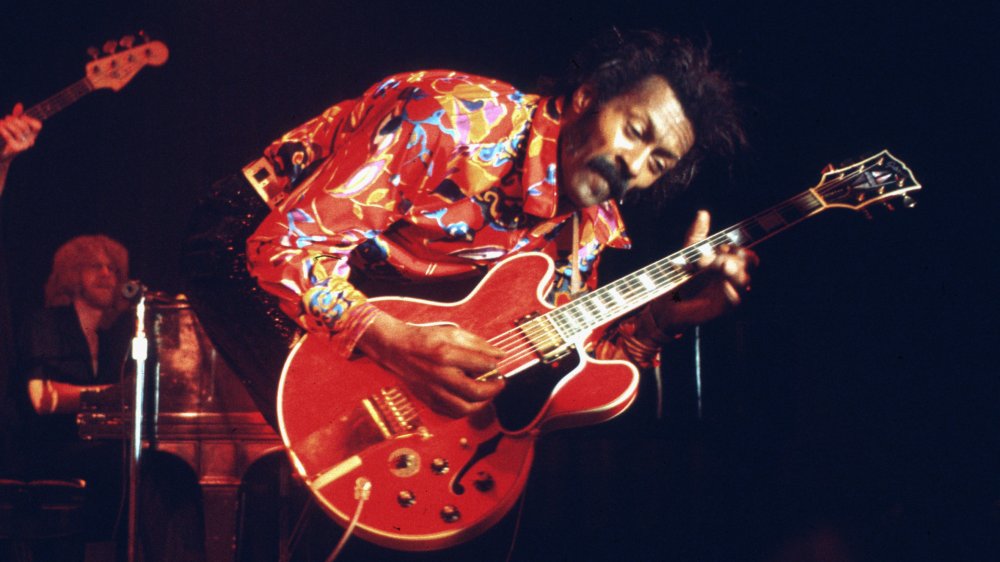 Michael Ochs Archives/Getty Images
While in Mexico he met a 14-year-old waitress/sex worker and brought her back to St. Louis with him to work in his club. Not long after he fired her, and when she was arrested for prostitution, Berry was arrested for violating the Mann Act — transporting a woman for "immoral" purposes. Berry was convicted and sentenced to five years in the federal penitentiary, as History tells us. Berry appealed, but the conviction was upheld, and he served about 18 months. The experience changed him; fellow artist Carl Perkins said Berry became "cold, real distant and bitter."
It wasn't the last of Berry's legal troubles. In 1987 he pleaded down an assault charge to harassment — as Rolling Stone wrote in his 2017 obituary, Berry was accused of hitting a woman in the face, causing damage that required five stitches. He was fined. Around that same time it came to light that his restaurant outside St. Louis had hidden cameras in the women's restrooms, recording women, some quite young, in various stages of undress, without their knowledge; tapes were found in his home, says The Guardian. He ended up paying over $1 million in settlements.
So who was Charles Edward Anderson Berry? Rolling Stone quotes Keith Richards: "I couldn't warm to him even if I was cremated next to him." Bob Dylan, on the other hand, once called Berry "the Shakespeare of rock and roll." If they're honest, every rock artist who followed owes Chuck — or Charles — a debt.