Here's How Much Bob Dylan Is Really Worth
Matthew Baker/Getty Images
As attested to by a litany of press conferences, public service announcements, and toilet paper commercials, these are uncertain times. Turning on the news and checking social media trends are experiences rife with the anxious anticipation of having a piercing gun slowly raised to one's meatiest and most sensitive regions. That's why it's so important to give positive revelations a moment to soak in. It is time, therefore, to take comfort for a spell, basking in the warming shelter from the storm ... which is the promise that Bob Dylan is doing all right financially.
And by all rights, he should be. The singer/songwriter has been a staple of the American musical landscape since back when kids still knew who Joan Baez was. That said, and even knowing that Dylan's ubiquity of uniqueness made him the only musician to win a Nobel prize in literature for their songs, it's borderline eye-popping to find out that the 79 year old icon has estimated personal holdings of around $200 million, according to Celebrity Net Worth.
The answer is blowing in the wind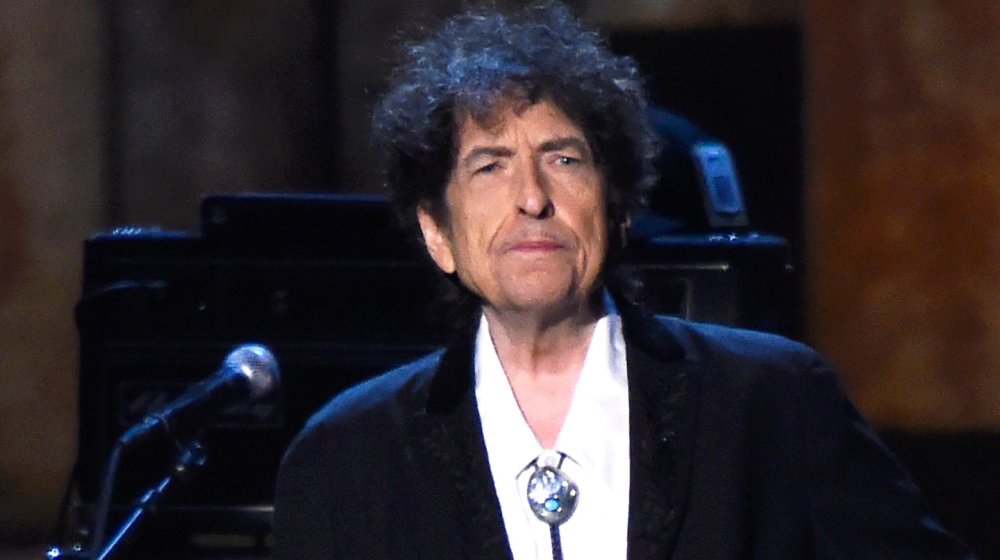 Frazer Harrison/Getty Images
Bob Dylan wasn't always rich enough to buy and sell every person you've ever loved, but more than five decades of innovative — and sometimes even alienating — music has placed him among the most successful musicians in American history. The RIAA estimates that he's sold more than 35 million albums in the U.S. alone. One of Dylan's more solid fiscal plays has been his insistence on retaining the publishing rights to his music. It's a move that's paid off. IMDB lists over 500 credits to recordings and covers of Bob Dylan songs (for instance, did you know Jimi Hendrix's "All Along the Watchtower" was a Dylan cover?), and his representation is famously open to negotiation in terms of compensation, with Variety describing them as always open to working within the scale of the production." It's a practice that's kept his music in the subconscious of audiences for generations.
Speaking of familiar tunes, Dylan could potentially have been even more obscenely wealthy if it hadn't been for a pesky divorce settlement. The Independent reports that in 1977, he was separated from Sara Dylan, his wife of 12 years and mother to four of his children. Sara received an estimated $36 million, plus half of the proceeds from all Dylan music produced during their marriage.