The Tragic Real-Life Story Of Grace Slick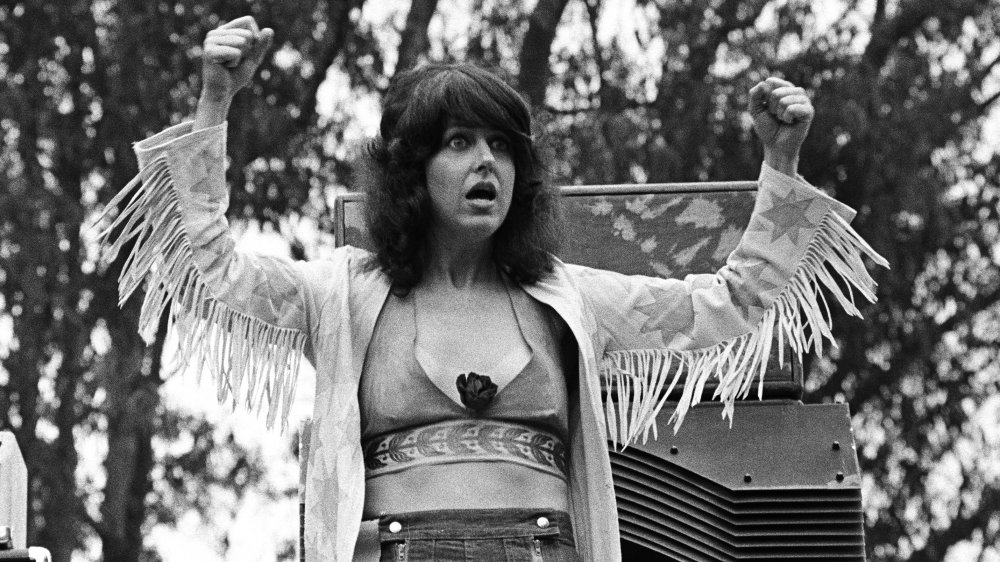 Richard Mccaffrey/Getty Images
The bookies probably would have given really long odds that Grace Slick, frontwoman for Jefferson Airplane and its later incarnation, Jefferson Starship, would live to 80, a milestone she passed in 2019.
Nobody probably thought Grace Wing would become one of the premier wild children of the newly hatched phenomenon we call rock and roll, but so she did, a woman Louder Sound characterized as a "psych rock legend" out of the San Francisco music scene. She was born in Chicago, says Biography; her mother was a former actor and singer, and her father an investment banker. It was partly that upbringing that helped her survive the '60s, at least financially — she credits her father with teaching her to save her money. "My dad, who was a merchant banker, always told me: put one third into savings, one third for bills and screw around with the rest."
She'd done some modeling before she joined Jefferson Airplane as a replacement for their pregnant (and quitting) lead singer. Slick was married to drummer Jerry Slick and brought with her songs of her own, including the enormous hit "White Rabbit," which she'd written after dropping acid and listening to a Miles Davis album "for 24 hours straight." There were more drugs in her future — she was especially fond of Quaaludes — and alcohol. And cocaine.
Slick embraced sobriety and quit the stage
David Livingston/Getty Images
As Ultimate Classic Rock tells it, the band had transitioned from Airplane to Starship and were about to play a show in 1978 in Germany. Grace "tore into an alcohol-fueled tantrum, throwing bottles, refusing to get ready for the concert and demanding more booze from room service." Once onstage she taunted and insulted the audience, a night of what she called "dumb, drunken decisions." One of the decisions the band made that night was to fire Slick — she was asked to resign, and did.
She was back three years later, for their hit single, "We Built This City," which she's clear about: she despised the band and the song. "That was a sell-out band. The Airplane was a smorgasbord, but the Starship I hated." The song was "awful."
And she decided to get sober, realizing that "the only person I can change is me." She attended AA meetings and stopped drugging. And with those decisions came the decision to quit the stage. Rolling Stone quoted her this way back in 2012: "All rock-and-rollers over the age of 50 look stupid and should retire." She's emerged a few times — she took part in a benefit for victims of 9-11 — but mostly she creates art in her home in Malibu. She paints various subjects. Though lots of white rabbits, of course.