The Truth About Journey's 1983 Arcade Game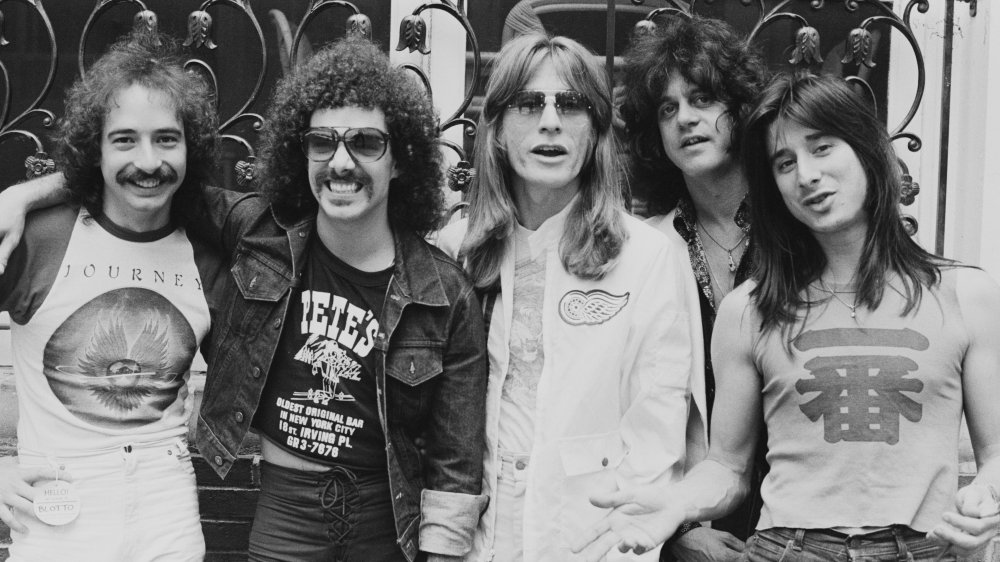 Michael Putland/Getty Images
If you think nostalgia for rock band Journey is inescapable now, imagine what it was like in 1983 when Journey mania was at its all-time peak. Journey had seven Hot 100 hits (according to Billboard) under their extremely decorative belts. They set off on their Frontiers tour, the most successful tour in the band's history, to promote the album that brought the world still-beloved classics like "Separate Ways" and "Faithfully." But there's more: Gaming giants Bally Midway released a Journey video game. As posted on Dangerous Minds, the game came in both arcade and home versions with the tagline "the hottest band in the country is about to take over the planet!" 
As discussed at Gaming History, the game featured digitized photographs of the band members' faces that hovered over cartoon bodies. Game play entailed sending Journey off on their spaceship, the Scarab, to travel through space and reunite each of the members with their respective instruments, which for some reason were hidden on five separate planets. 
Journey
Once the instruments had been rescued, the band reassembled and played "Separate Ways" for an adoring crowd. The player then played as their bouncer, Herbie, who was tasked with keeping fans from rushing the stage. Another Journey song, "Who's Cryin' Now," also figured into the plot, playing when a band member "ha[d] a mishap" and fell to the bottom of the screen, thus ending the turn. The rest of the game's soundtrack included "Chain Reaction," "Don't Stop Believin'," "Lights," "Keep On Running," "Stone In Love," and "Wheel In The Sky."
It appears (per Journey Tribute) that the lone arcade to still offer the Journey video game is Extra Play of Ruston, Louisiana, so most of us will never have the chance to find out if we can get Steve Perry and company out of space and onto the stage in time to play "Separate Ways" and win. Fortunately, it doesn't look like we're missing much. A 1983 review by Ted Gaines for Faces Magazine called the game "one of the finest examples of the new breed of scatter-shot video game." He praised the "stunning visuals, representing absolute state-of-the-art in terms of digitized graphics" but ultimately concluded that it was "a monumental flop." Who's cryin' NOW?