Here's What We Know About Kamala Harris' Husband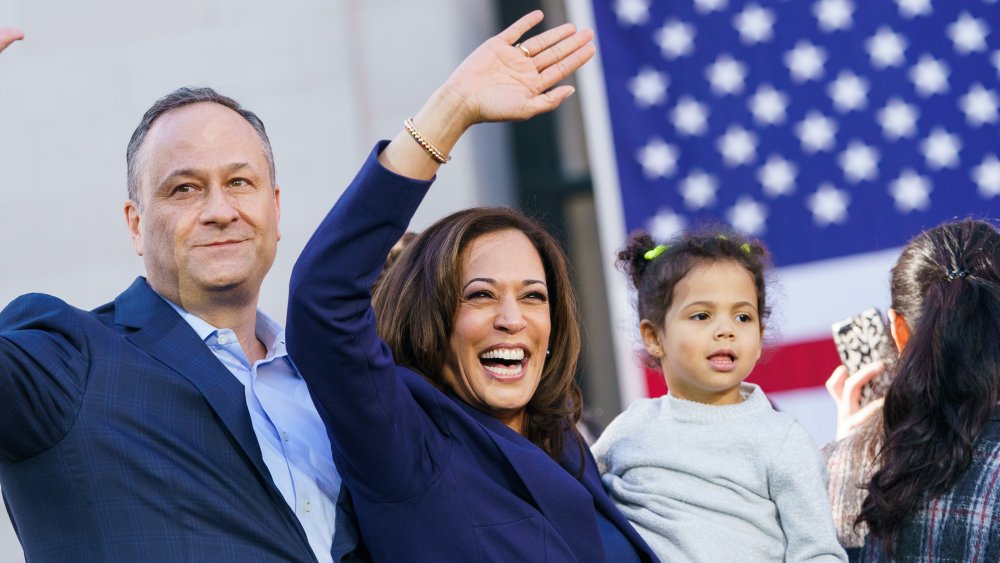 Mason Trinca/Getty Images
Kamala Harris made history upon becoming the first woman of color to appear on a major political party's presidential ticket, but what do we know about her husband, Douglas Emhoff, also positioned to make history as the country's very first Second Gentleman? In her first remarks after accepting Joe Biden's invitation to run as his vice president, Harris stated, "I can't wait for American to get to know Doug. My family means everything to me." So what do we know so far?
Per People, Emhoff was born in Brooklyn, New York on October 13, 1964, and moved to California as a teenager. He is Jewish, which would make him the first Jewish spouse of a United States vice president. He graduated from the University of Southern California's Gould School of Law and worked throughout his career as an entertainment litigator. He's currently taking a leave of absence from his job as partner at the law firm of DLA Piper. He is the father of two children, Cole and Ella, with his ex-wife, Kerstin Emhoff, who Harris calls a "dear friend," noting that "we sometimes joke that our modern family is almost a little too functional."
Doug and Kamala met on a blind date set up by public relations consultant Chrisette Hudlin in 2013. CNN quoted Harris's memoir The Truths We Hold: An American Journey in which she shared that "dating wasn't easy" as a professional woman in the spotlight.
'He's doing his thing because he loves his wife'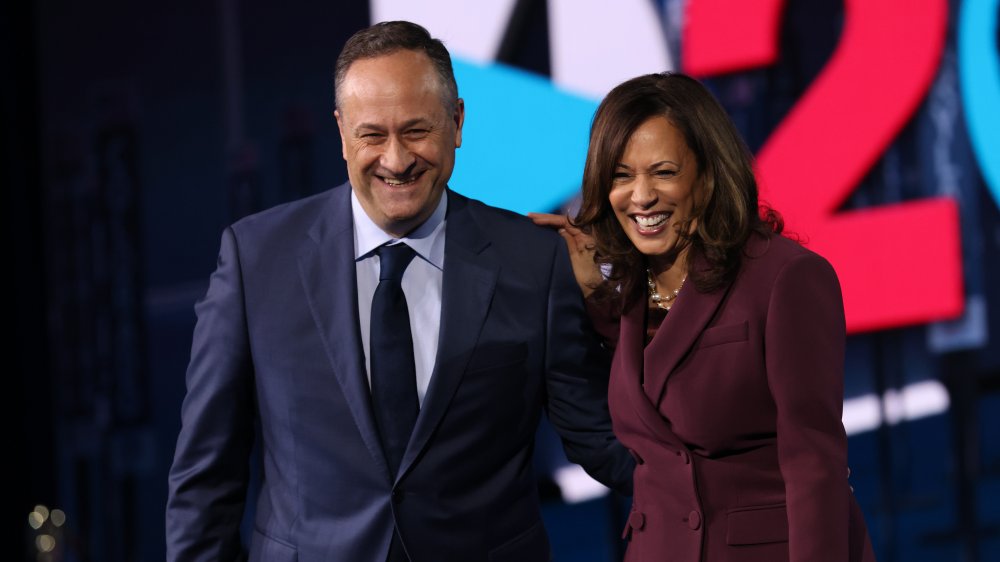 Win Mcnamee/Getty Images
Harris "had no interest in inviting that kind of scrutiny unless I was close to sure I'd found 'the One,'" but agreed to meet Emhoff. They had a great first phone call, "cracking each other up, joking and laughing at ourselves and with each other, just the way we do now," and a year later Emhoff proposed "during a discussion of what kind of Thai take-out to order." 
People reported that Emhoff has become a model political spouse, using his social media accounts "to celebrate his wife and champion her accomplishments." When asked about possible issues he might like to focus on as Second Gentleman, he mentioned "access to justice," according to USA Today. He remembered "being shocked, as a young lawyer going to Los Angeles' Superior Court, by all the people lining the halls in need of legal help." 
Emhoff's own legal career has included "serv[ing] as litigation counsel and trusted advisor for some of the biggest names in Hollywood and across the entertainment, media and sports spectrum." His most famous case is probably "his successful defense of an advertising agency in a dispute over the rights to the Taco Bell chihuahua that starred in the 'Yo Quiero Taco Bell' ads." According to another political spouse, Chasten Buttigieg, husband of former Democratic presidential nominee candidate Pete Buttigieg, Enhoff is a "a chill dude. He's not a politician. He's doing his thing because he loves his wife."