The Untold Truth Of Def Leppard's Joe Elliott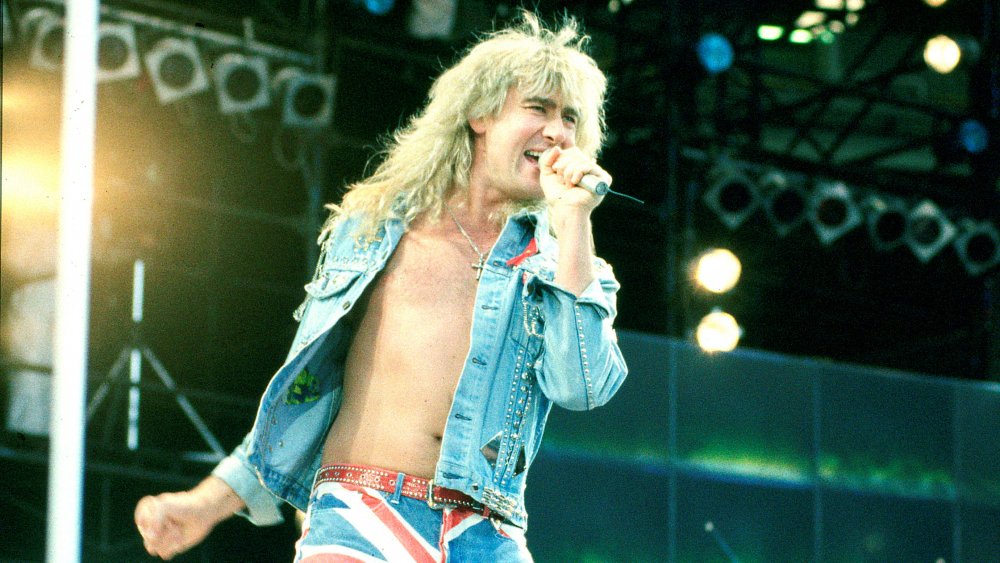 Michael Putland/Getty Images
Born in Sheffield, England in 1959, Joe Elliott is known for his decades as lead singer for British pop metal and rock band Def Leppard, belting out favorites like "Pour Some Sugar On Me" and "Photograph," often while sporting flowing blonde locks and clothing emblazoned with the Union Jack. Per TicketNews, Def Leppard is one of just five bands with two separate, original albums that sold over 10 million copies in the United States — 1983's Pyromania and 1987's Hysteria – a feat they share with The Beatles, Led Zeppelin, Pink Floyd, and Van Halen. 
In an interview with NPR's All Things Considered, quoted by MetalHeadZone, in 1975 Elliott took an art class in which he "spent the whole term just making up posters for bands that I'd like to see or wish I've seen." He eventually also started making up band names, including Deaf Leopard, noting "it was spelled correctly at the time. I just thought it sounded good — it had a nice phonetic sound to it." His art class fantasies came true when he joined the band Atomic Mass in 1977. They soon changed their name to Def Leppard, using the unusual spelling to distinguish themselves from then-popular British punk bands like the Flying Lizards, according to DefLeppardUK. They played their first show that Christmas, consisting of "five songs with about six people sitting around us," according to Elliott, but perhaps as a sign of what was to come, "we even got an encore."
Joe Elliott never stopped feeling lucky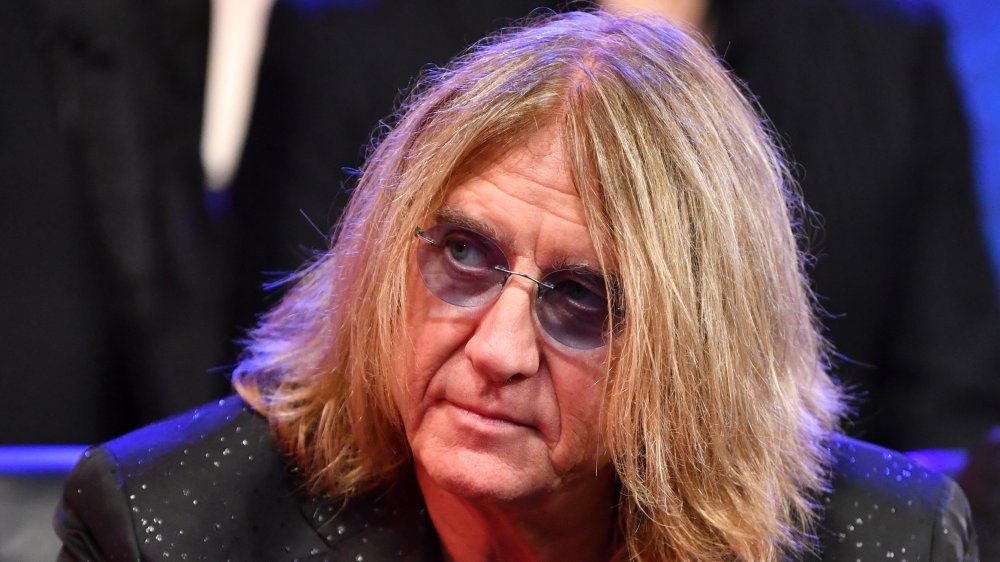 Emma Mcintyre/Getty Images
Unlike other rockers who made it big in the 1980s, Joe Elliott and the rest of Def Leppard appear to have remained relatively down to earth. At the time of a 1987 interview with Smash Hits, reproduced on DefLeppardUK, their album Hysteria had just come out after the band's three-year hiatus. The break was due in part because drummer Rick Allen "had his left arm torn off in a horrendous car crash" and had to create and learn to perform on a new drum set that incorporated foot pedals. While recalling their early days, Elliott joked, "these guys put up with me not being able to sing for two-and-a-half years" and voiced his displeasure with the amount of taxes they'd had to pay as a result of the success of their album Pyromania. "I think it's the working-class mentality," said Elliott. "I'm earning some money and you're not having any of it!"
The entire band were at that point living together in a house in Amsterdam as "the best friends in the world." Elliott made sure to boast that there would be no Bon Jovi without Def Leppard, announcing, "What they're doing is what we were doing three years ago. is fair enough, isn't it?" He was careful to remain grateful for his band's success, however: "We are lucky! God, I haven't forgotten working in a basement store in a pokey room with no windows in for three-and-a-half years — eight hours a day."
'You have to be like a professional athlete'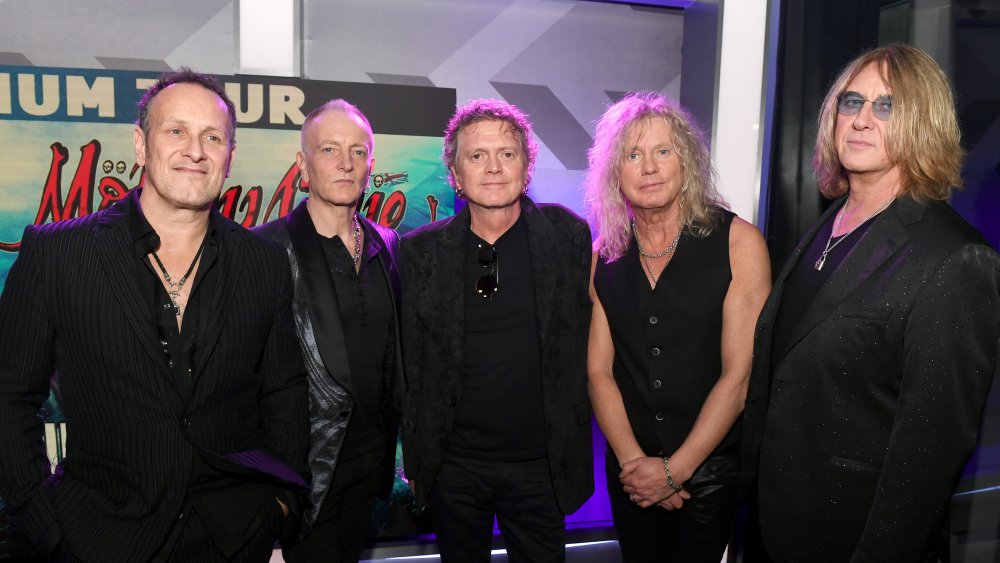 Kevin Winter/Getty Images
In his essay written on Def Leppard's 2019 induction into the Rock and Roll Hall of Fame, Robert Warran Burke called Def Leppard "an undeniable '80s juggernaut still vital today." In a June 2020 interview with Express, Elliott shared that during his time at home during the coronavirus pandemic he's been "getting on with stuff I wouldn't normally have time to get on with." He added, "We are always doing something, we're always writing, we keep in touch with each other regarding putting new ideas together," suggesting that a new album might be on the horizon for the first time in five years. Perhaps this new material will make up for the disappointment in having to postpone the planned 2020 Stadium Tour with Mötley Crüe and Poison, and the cancellation of the 20/20 Vision Tour they were to co-headline with ZZ Top.
Def Leppard owes some of its staying power to Elliott's strong, longtime work ethic. At the height of the band's popularity during their Hysteria tour, Elliott coped not by indulging in the typical '80s rock star diet of booze and drugs but by quitting drinking altogether. He told Forbes, "You have to be like a professional athlete ... I quit drinking. I stopped and it gave me a lot more energy to do it ... There was no bar hopping for me. But that didn't bother me. I wanted us to be the biggest band in the world."