Here's How Much Angus Young Is Really Worth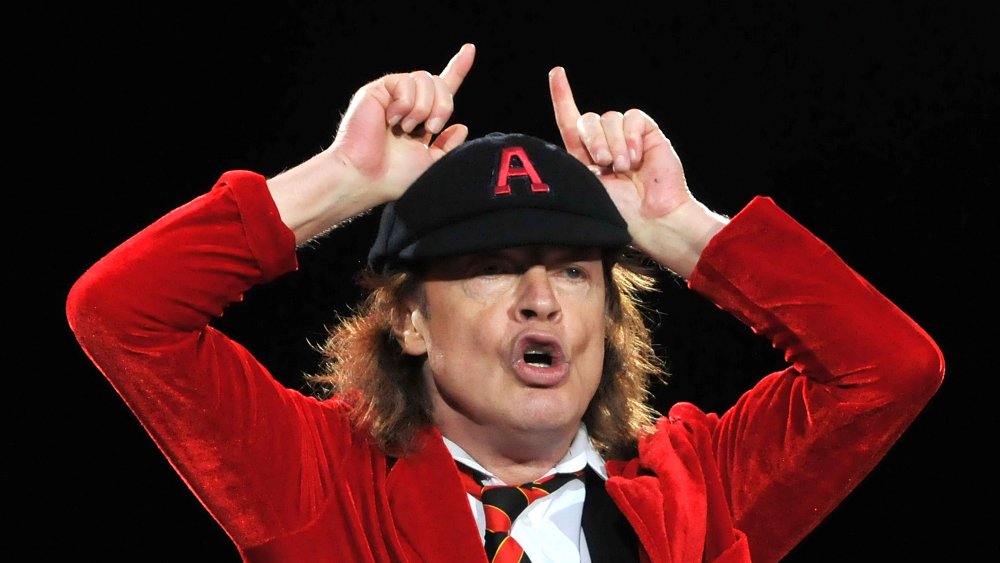 Jim Dyson/Getty Images
After more than 45 years of earning his money by duck walking, dropping to the floor for sick guitar solos, miming devil horns on his own head, and running around stadium stages in a schoolboy uniform, it's a fair question: Just how much is AC/DC's Angus Young really worth? Per Celebrity Net Worth, the amount is a cool $160 million. Where does it all come from?
Historically, AC/DC has sold a massive number of albums — 200 million worldwide, per Classics Du Jour, which includes 72 million in the United States. The iconic Back In Black from 1980 tops the list, with 22 million copies sold in the U.S. Back In Black is one of just 92 albums to ever be certified Diamond by the Recording Industry Association of America (RIAA); it comes in at number four, behind two Eagles records and Michael Jackson's Thriller. All of this puts AC/DC within the top 10 of best-selling album artists of all time within the United States, according to Newsweek – second only to Led Zeppelin in terms of hard rock artists. AC/DC's last studio album, 2014's Rock or Bust, was 2015's best-selling hard rock album, as reported by Loudwire, and was certified Gold by RIAA.
The real money doesn't come from album sales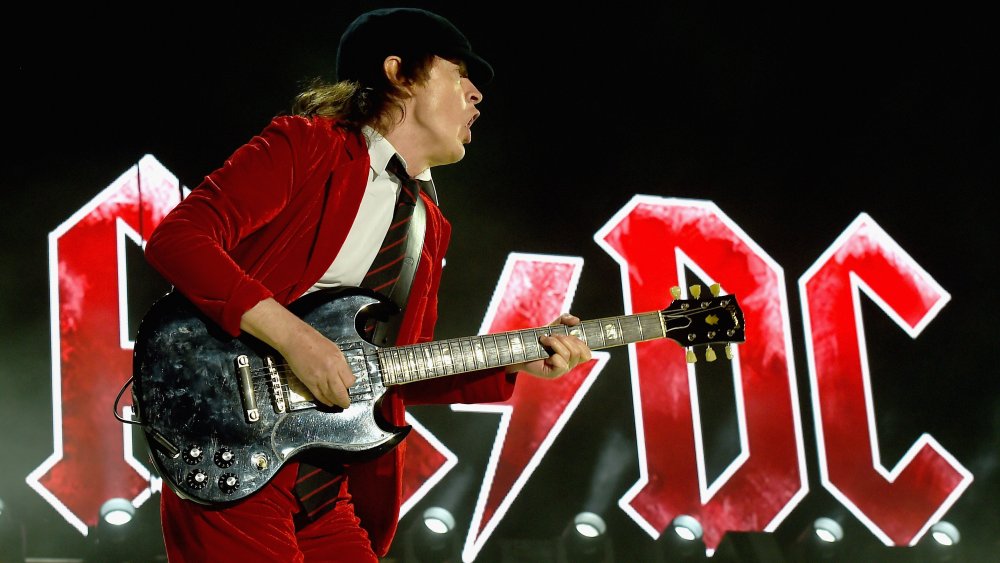 Kevin Winter/Getty Images
As Business Insider explained, it's not just a matter of selling recordings: "The majority of an artist's revenue comes from touring, selling merchandise, licensing their music for things like television, movies, or video games, and partnerships or side businesses." AC/DC holds the record for the seventh most-lucrative tour of all time. Per Insider, their 2008-2010 Black Ice tour was the last to feature guitarist Malcolm Young — Angus's brother and co-founder of AC/DC — as well as longtime lead singer Brian Johnson, who was replaced halfway through the tour by Axl Rose of Guns N' Roses. That tour brought in $441.1 million. 
Angus Young has continued to tour with AC/DC, and their last tour, 2015-2016's Rock or Bust, sold more tickets than any other live act of 2015, per Loudwire – 2.31 million tickets sold, bringing in $180 million. With a new album, Power Up, set to release in November of 2020, and Brian Johnson back behind the mic, it looks like Angus Young and the rest of the band will be saluting those about to rock for a long time to come.