The Untold Truth Of Kane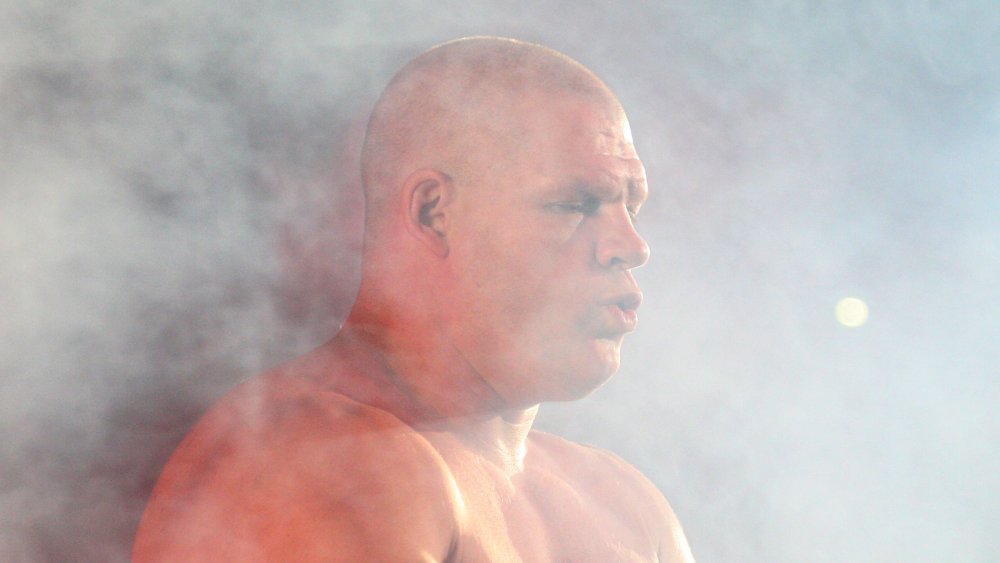 Gallo Images/Getty Images
We've known for a while now that WWE superstar Kane's face isn't actually disfigured by burn scars from a fire allegedly started by his sometimes rival, sometimes tag team partner (and younger half-brother) Undertaker. Up until 2003, Kane wore a horrifying blood-red mask we're all pretty sure was forged out pure nightmare fear, but one Monday Night Raw in June, Kane took on Triple H in an unmasking match that knocked the wrestling world back on its heels.
As it turned out, the move would be a boon to his career, but not too many people were on board with it beforehand. Kane had worn the mask since he made his WWE debut in 1997 (when it was still the WWF), but six years later, he felt he had taken it as far as it would go. "At the time, the only people behind the decision to remove it were myself and Mr. McMahon," he told WWE Classics. "The thought on some people's minds was, 'If it isn't broke, don't fix it.' But this created something new for my career. I knew I could do it and the reaction of the WWE Universe was great."
It wasn't the first time Kane had reinvented himself, either. In fact, by the end of his career, he would end up joining the ranks of a number of wrestling icons who look nothing like they did when they started out. And, man, are we glad Kane decided to make the changes he did.
Kane was a huge step up from the character he started out portraying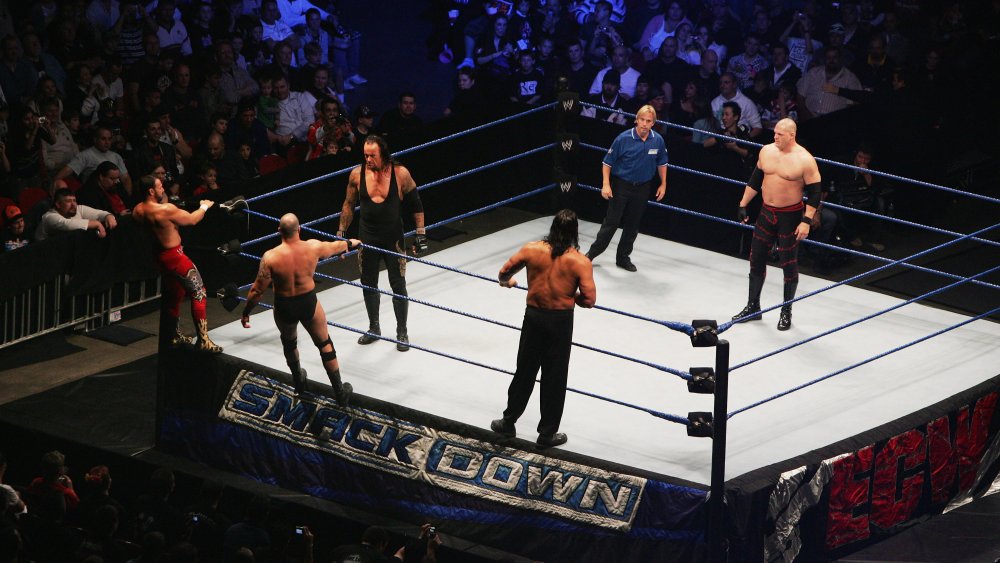 Gaye Gerard/Getty Images
Depending on your dentition, you may shudder at the thought of the first character that Kane, aka Glenn Jacobs, portrayed in the ring. According to The History of WWE, when Jacobs first hit the mat in 1995, his persona was Dr. Isaac Yankem, a dentist. Kane, The Big Red Monster, the younger half of The Brothers of Destruction, started out as a freaking dentist. Now, no matter how haunting your personal horror stories of visits to the tooth doc may be, we can all surely agree that a Dr. Yankem, D.D.S. is not the kind of wrestler you'd be fighting your friends to pick on WrestleMania for the Super NES.
His storyline was that Yankem was Jerry "The King" Lawler's dentist, but Lawler had ended up hiring him to take out his long-time nemesis Bret "The Hitman" Hart. Yankem wore a white "dentist's shirt," black wrist braces (because dentists must protect their wrists), a mullet/goatee combo of resplendent golden curls, and the gnarliest set of chompers you never wanted to set eyes on.
Really, the only way to go from a bar set this low is up, so just about anything save a choleric proctologist would have been an improvement. Luckily for Jacobs and the WWE Universe, he piledrove his way into our nightmares with the ungodly persona of Kane, and we haven't been able to get him out of them ever since.
Kane also reinvented himself outside the ring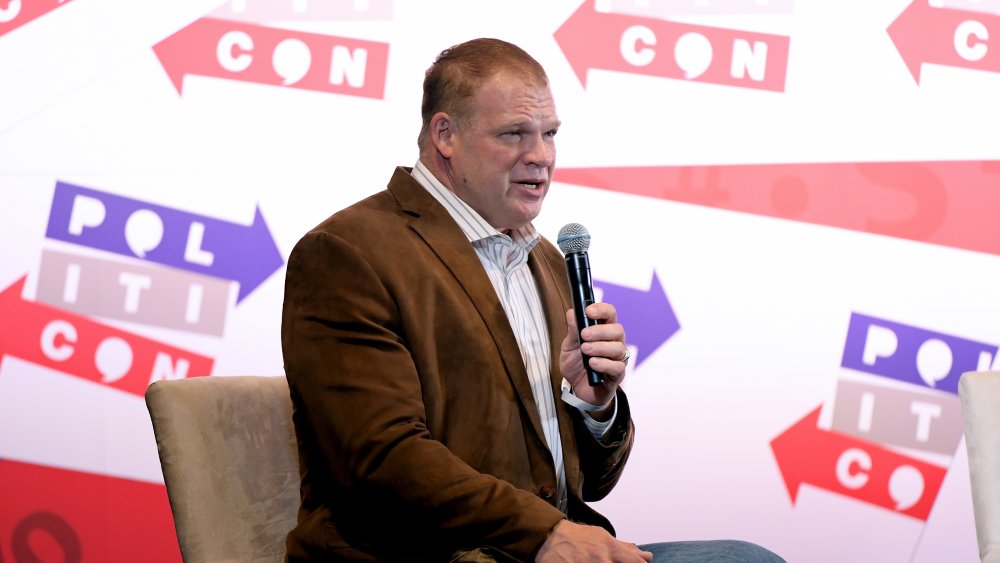 Jason Kempin/Getty Images
After his iterations as tag team partner with The Undertaker and Big Show, kidnapping Lita after his love for her went unrequited, a slew of other feuds, and a handful of world championships, Kane once again reinvented himself, this time in the real world. His time creating outrageous spectacles in the ring transferred well, unsurprisingly, to the world of politics. Long an anti-state, anti-war libertarian, Jacobs decided to simply renege on his anarcho-capitalist Murray Rothbard-inspired ideals and join up with the very pro-state Republican party when he ran for mayor of Knox County, Tennessee, in 2018. Like any good politician, Kane has proved that he can flip-flop with the best of them.
Knox News reported in 2018 that after expressing his support for a controversial immigration round-up program in his county, Jacobs was asked about his rather wordy 2010 blog post in which he clearly and astutely (check your preconceived notions of wrestlers' intellectual capacities at the door) opposed such immigration crackdown measures. The views in the post were, apparently, just theoretical. By November 2019, Kane had completely left his libertarian roots behind. Fox News reported that he had followed the Republican Party all the way, sounding off about how the Democratic Party aimed to "hurt the country" with its impeachment of the president.