The Truth About Scott Steiner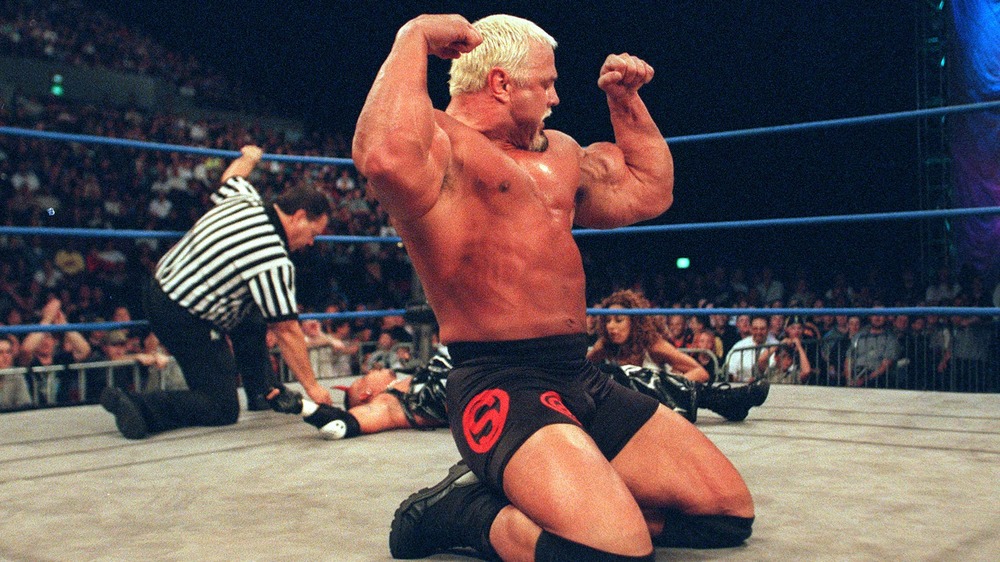 Scott Barbour/Getty Images
Scott Steiner's transformation during his more than three decades as a professional wrestler has been total, one of physique, gimmick, attitude — everything. What is now a hulking, weirdly-veined gym rat monstrosity with a two-toned bleached goatee began as a University of Michigan All-American traditional wrestler back in the 1980s. Along with his brother Rick Steiner, who now sells real estate in Georgia, Scott formed one of the most formidable tag team duos of the 1980s. They claimed the WCW Tag Team Titles seven times in 1989, as well as a U.S. Tag Team Title. According to his official WWE bio, he and Rick also took that promotion's Tag Team Championship a couple of times in the early 1990s. Part of his legacy is his patented move, the Frankensteiner, which as Fandom notes, was named Wrestling Observer Newsletter's Best Wrestling Maneuver in the years 1989 and 1990.
After their stint in the WWE, the Steiner Brothers went for a short run in the Extreme Championship Wrestling promotion before returning to the WCW in 1996 to go after some more tag team titles. But despite their previous success together, trouble was brewing in the Steiner family. As Hulk Hogan's New World Order rose to power, Scott began to see the possibility of more fame as a solo wrestler, so he turned on his brother and joined Hollywood Hogan's new stable at SuperBrawl VIII. The betrayal marked the beginning of a new phase in Scott Steiner's career.
Scott Steiner bulks up and cuts off the mullet
Yeah, we were sad to see the mullet go, as well. But we all have to grow up sometime, and so the new solo Scott Steiner shaved the business-in-front-party-in-the-back hairstyle he had rocked for decades and, for some reason, replaced it with a chain mail helmet liner that made him look like some kind of 'roided-out member of King Arthur's court who figured he had no need for the rest of his armor. Steiner hit the gym (and only the gym, he asserted) and soon had nearly doubled in size from his already exceptionally muscular physique. He started giving himself not ridiculous at all monikers like "Big Bad Booty Daddy" and "Big Poppa Pump." Although veins slithered down his huge biceps like freaky-looking snakes ever since he "hit the gym" after turning on his brother, Scott always maintained that he had come by the ridiculous amount of muscle mass naturally.
Upon his return to the WWE as a solo competitor, he had the general managers of the promotion's events SmackDown and Raw dueling it out over his contract, with the latter finally winning out. Steiner then decided to go after the World Heavyweight Champion Triple H, but he never succeeded in taking the title from The Game. He briefly went back to the WCW for some more tag team action (but not with his brother) until an injury finally took him out of competition in 2004.
Scott Steiner's totally not steroid-influenced behavior outside the ring
According to Ringside News, the WWE requested that Steiner take a steroids test upon his return to the promotion in 2002. Although he was completely steroid free at the time (riiight) he said he'd only submit to a test if his nemesis Triple H did so, as well. The request was subsequently dropped.
Despite Big Poppa Pump's claims of being steroid free, his behavior outside of the ring was aggressive and erratic. In 1998, he was arrested for twice hitting an employee of the Georgia Department of Transportation with his truck because the guy informed him that a highway exit ramp was closed. Totally not a 'roid rage reaction. He also got into a real-life fight with Diamond Dallas Page in the locker room, which the WCW was able to adapt into his on-screen storylines. He was arrested in 2001 for assaulting an EMT in the ring, apparently thinking the guy was a plant and not an actual medical professional. And in 2005, he was removed from an airplane leaving Minneapolis, Minnesota, along with Lex Luger and Buff Bagwell for what What Culture called "a disturbance" (not envying the flight attendant tasked with that one). Rather than downplay or avoid speaking about such incidents, Steiner would go on to brag about them in interviews, branding himself a violent criminal with no respect for the law. Sure, Scott, no steroids. (Riiight.)