Details You Need To Know Before The BattleBots Season 5 Premiere
We find ourselves in the last month of a uniquely difficult year. On top of a devastating pandemic, we've lived through some of the worst wildfires in modern history, a brutal hurricane season, and a presidential election that just won't seem to end. It's totally understandable if you want to break things. But don't worry. Your nice things are safe from your pent-up rage, because now you can vent it out by watching robots do all the breaking.
That's right: BattleBots is back for a brand-new season of total robot destruction. The wildly popular Discovery Channel show returns with sixty teams hailing from all corners of the globe to bash, saw, burn, chop, and stomp their way to victory. Everyone from rookies with something to prove to up-and-coming contenders to hardened veterans will duke it out to go for the ultimate prize in robot fighting competition: the Giant Nut. The steel-splitting, metal-crunching, rivet-popping action of the world's premier robot fighting venue gets started Thursday, December 3 at 8 p.m. ET/PT on Discovery Channel.
Fans of the show will be glad to hear that sportscaster Chris Rose and UFC fighter Kenny Florian have returned to BattleBots to provide their expert play-by-play commentary, while Jenny Taft reports from the builder pits and Faruq Tauheed emcees from the ring. And a new expert commentator will also be joining the crew: BattleBots veteran and robot guru Peter Abrahamson, aka the Bot Whisperer.
The BattleBots Season 5 premiere starts off with a bang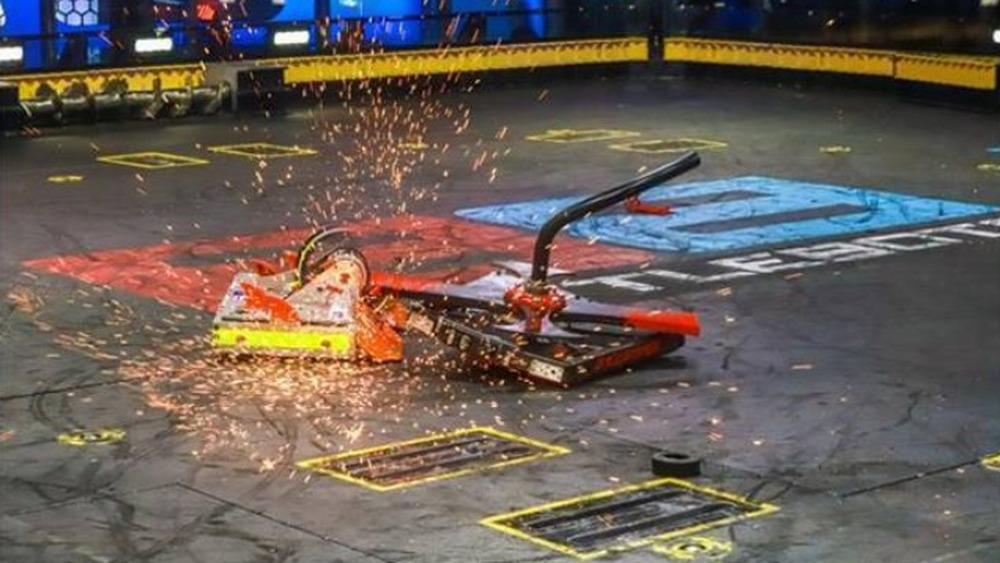 Photo Credit: Daniel Longmire/Discovery Channel
The new season of BattleBots won't waste any time getting right into the action. The premier sparks off with an epic main event, a clash pitting the former world champion Ray Billings, operating his deadly bar-spinner Tombstone, against Jack Barker of New Zealand and his vicious vertical disc spinner End Game. Other gruesome golems to keep your eye out for in the 2020 BattleBots lineup include Whiplash and SawBlaze, both of whom have their sights set on the Giant Nut. Captain Shrederator hopes to spin its way to a win over the metal-hungry Lock Jaw, built by Donald Hutson, who says it's his job "to design, build, and destroy all other robots." Also up for some metal-rending action is Bloodsport, who plans to use its horizontal spinning bar so ruthlessly on Skorpios that it expects to draw blood. You'll be on the edge of your seat watching how Skorpios counters with its brutal overhead hammer saw.
This year's builders have been cooped up in their workshops, tinkering away and putting their robots to the ultimate test, and they'll stop at nothing to leave the competition a broken, rusting hunk of junk. With such a long list of formidable competitors and expertly crafted machines, the 2020 season of BattleBots will start off with a bang and won't stop until the last robot is left standing.
What you should know about how the BattleBots fight
A BattleBots match is a head-to-head fight to the robot death, or the end of the three-minute round, whichever comes first. A panel of judges determines a winner if one robot doesn't manage to destroy or disable its opponent. The first goal of the 60 competitors is to move on to the World Championship Tournament, a single elimination contest of 32 bots hoping to bash their way to the ultimate prize of the Giant Nut at the end of the season.
Each episode examines the design and build of the robots in competition and features a profile of the teams who created them. The humans behind the robots come from all over the world and a wide range of backgrounds, from family operations to university students, professional tinkerers, and everything in between. The youngest 2020 competitor is just 11 years old. Each bot is a unique, homemade machine built from a wide variety of materials and featuring custom-built weaponry to annihilate the competition. This season's multifarious lineup even includes the first-ever 500-pound walking robot.
The COVID-19 pandemic halted production on BattleBots earlier this year, but this latest action-packed season was filmed under the strictest health and safety protocols. There was no live audience this time, and the competing teams fought it out from specially constructed "opera boxes" placed around the BattleBox arena. As usual, the only thing in danger is the other guys' bot.