This Is How Simon & Garfunkel Got Their Start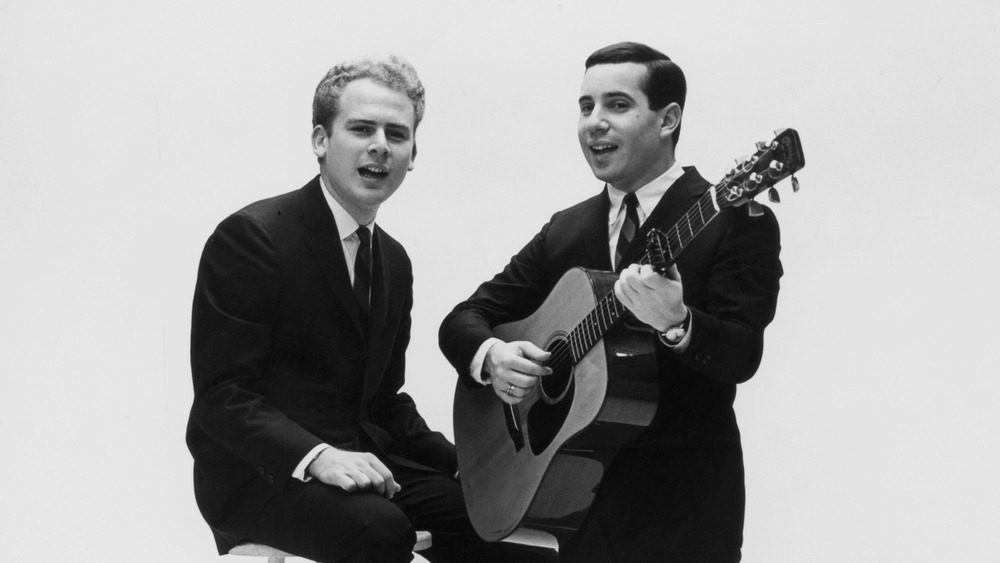 Michael Ochs Archives/Getty Images
The popular folk-rock duo Simon & Garfunkel was formed in the late 1950s and continued on to have a successful career for the next 15 years. Songwriting genius Paul Simon was born into a musical family. His father, Louis Simon, was a bass player and band leader who had made appearances on shows like Arthur Godfrey and His Friends and The Jackie Gleason Show, per Biography. Art Garfunkel was also drawn to music at a young age. His father brought home a wire recorder, and he recalled "that got me into music more than anything else... singing and being able to record it," per his website.
The two friends decided to combine their musical talents in 1953, while attending Parsons High School in Forest Hills, Queens. They began recording Everly Brothers tracks together, and soon started writing their own original music, practicing for hours in the basement. They delivered demos of their music to recording studios all over Manhattan, until, in 1957, they had finally landed a record contract. 
They were just 16-years-old when they signed to the record company Big Records, on the strength of their first recorded single, "Hey Schoolgirl," per Smooth Radio. The single, released under the duo's first name, Tom & Jerry, was a huge success. It sold 100,000 copies, reached number 49 in the Billboard charts, and even landed them a spot on American Bandstand. But they wouldn't have another hit like that for almost 10 years.
'Artie, I just wrote my best song'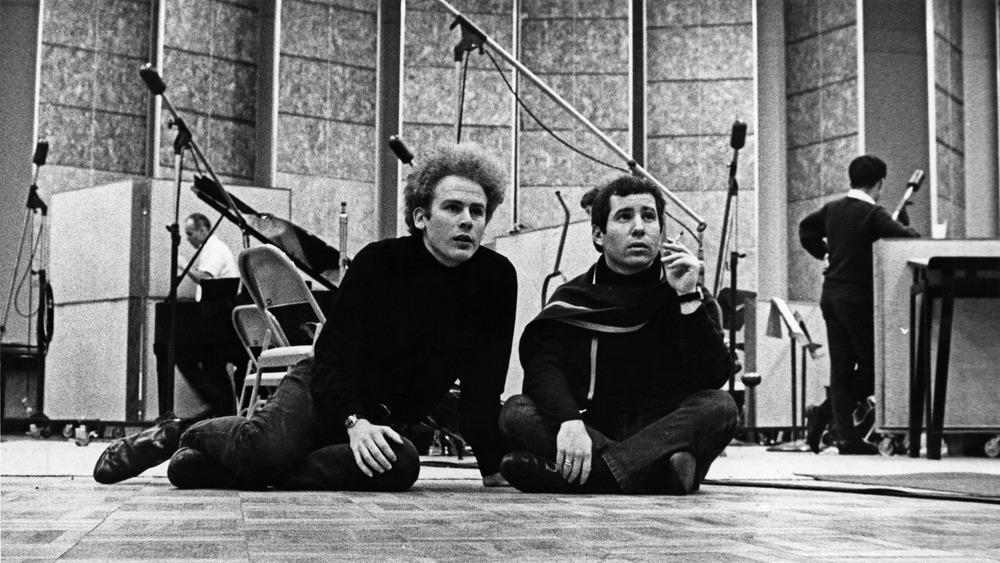 Michael Ochs Archives/Getty Images
In fact, the pair known as Tom & Jerry would never achieve success again. After "Hey Schoolgirl" was released, Big Records boss Sid Posen offered Paul Simon the opportunity to record two solo singles. Art Garfunkel felt betrayed that Simon had accepted Posen's offer without telling him, and the duo broke up.
Garfunkel went on to study at Columbia University, but in the winter of 1963, he received a call from his old recording partner. Garfunkel told Smithsonian Magazine, Simon "called and said, 'Artie, I just wrote my best song.' He drove over from Queens and played it for me in the kitchen amongst the roaches." Garfunkel liked it immediately, saying the song "had a wonderful extension to the melody... and of course it had all that brilliant urban imagery."
In March of 1964, they recorded "The Sound of Silence" along with 11 other tracks, releasing a full album with Columbia Records. The album, Wednesday Morning, 3AM, was ignored for two years. However, while critics and the media were obsessed with covering Beatlemania, the album was quietly gaining steam on its own. College students in particular were fans of the sound, and their songs slowly began garnering radio play in places like Florida and Boston. In October 1965, the record company released a new version of the song. In early January of 1966, the re-released version of "The Sound of Silence" hit number one in the Billboard charts, and Simon & Garfunkel were on their way to mainstream success.