Why Clyde Drexler Couldn't Stand Michael Jordan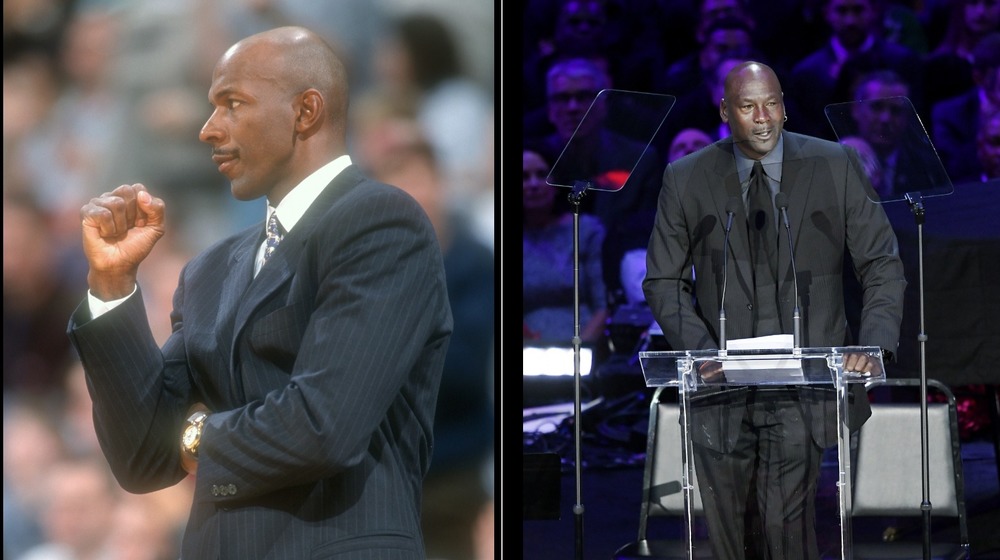 Mitchell Layton, Kevork Djansezian/Getty Images
The 1992 U.S. Olympic men's basketball team was named the Dream Team for a reason. It was packed with the biggest names in the NBA: Karl Malone, Larry Bird, Patrick Ewing, Charles Barkley, Magic Johnson, Clyde Drexler, and, of course, Michael Jordan. Its roster was so stacked with stars that even such legendary NBA Hall of Famers as Scottie Pippen and Chris Mullen ended up sitting the bench, and the team still destroyed its opponents.
There was one other All-Star player, however, who was conspicuously missing from the list. Despite taking the Detroit Pistons to two NBA Championships in the previous four years, point guard Isiah Thomas was not chosen for the team. According to Fansided, former Detroit Piston Bill Laimbeer reportedly said that "[i]t would have been very interesting to see if this happened the way it went if the team was picked back in 1989 or 1990, when the Pistons were the king of the league and Isiah was the king of the backcourt." So why wasn't he picked?
Sportswriter Jack McCallum, author of a 2012 book about the Dream Team, said that in his opinion, "Michael Jordan did not want to play with Isiah Thomas. He let that be known obliquely, implicitly, or just said it." One player who agreed with McCallum was Clyde Drexler, and the issue has caused a rift between Drexler and Jordan ever since.
Clyde Drexler is one of many former NBA players with beef with Michael Jordan
FocusOnSport/GettyImages
The Air Man was such a competitive player, both physically and mentally, that he made quite a few enemies in his day. There are numerous former NBA players who couldn't stand Michael Jordan, and his Olympic teammate Clyde Drexler is no exception. As Fansided reported back when McCallum's book was published, Jordan's beef with Thomas was the only explanation for the 6'1' two-time champion to be excluded from the team. "I don't think Jordan wanted to play with Isiah," Drexler said. "Two championships in a row, always an All-Star. And Isiah can't make it?"
He added that it shouldn't be up to the players who is put on the roster. That's a coach's job, and it should be based on merit. "If you don't like me, I don't give a f***," he continued. "We're competitors. You're not supposed to like me. But when one player has the ability to leave another player off, we've lost control of the system." For Drexler, it was about staying true to the game. "The one thing in sports that's been important to me is integrity. If someone is good, no matter what, I am never going to say he's not. If you're good, you're good."
Jordan has had notorious spats or disagreements with other legendary players like Kareem Abdul-Jabbar and Muggsy Bogues (Jordan may have ruined his career), but his feud with Thomas was particularly bitter.
Why Michael Jordan couldn't stand Isiah Thomas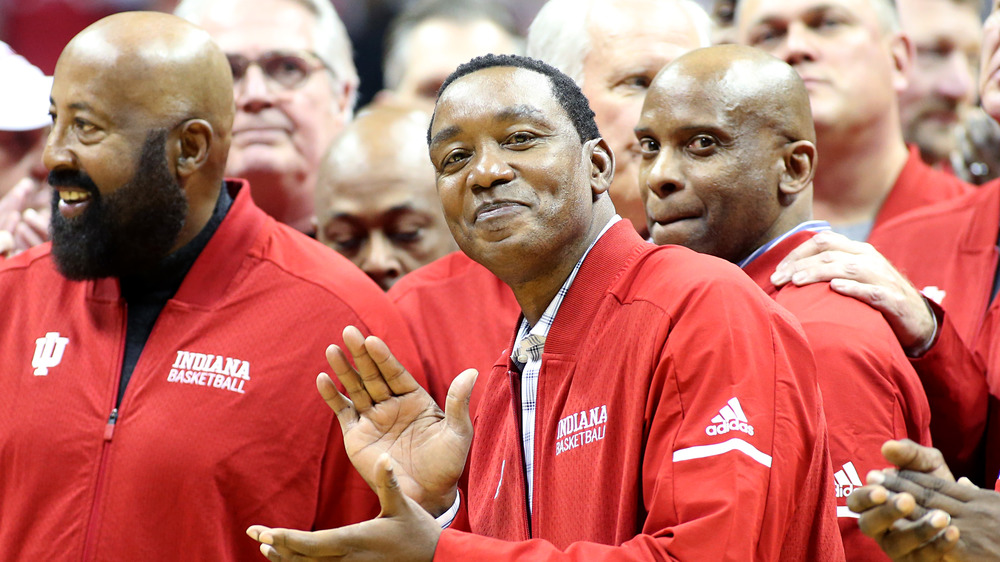 Justin Casterline/Getty Images
As noted by the NBA, the Pistons were terrible in the first years of the 1980s. But that all changed when Isiah Thomas joined the team in 1982. As the decade progressed, the Pistons, led by Thomas, would evolve into an excessively physical team known for not being scared to throw some elbows around. This aggressive style earned them the nickname "The Bad Boys."
Michael Jordan and the Chicago Bulls had their first clash with the Pistons' Bad Boys in the Easter Conference Semifinals in 1988, and Detroit came away with the victory that year. They would end up beating the Bulls in the playoffs the following two years, as well. And one way they pulled off the wins was by tailoring their tough defense specifically to shut down Michael Jordan, almost at whatever cost necessary. They called this defense "The Jordan Rules." As ESPN reported in April 2020, Thomas said in an interview for the Michael Jordan docuseries "The Last Dance," "We knew Michael Jordan is the greatest player, and ... we had to do everything from a physicality standpoint to stop him."
Michael still hasn't let that one go, despite his Bulls sweeping the Pistons in the 1991 conference finals, bringing the Bad Boys' reign of terror to an end. "Oh, I hated them," he said. "And that hate carries even to this day." So it looks like Drexler isn't the only one who can hold a grudge for decades.