The Truth About Drew Brees And Tom Brady's Relationship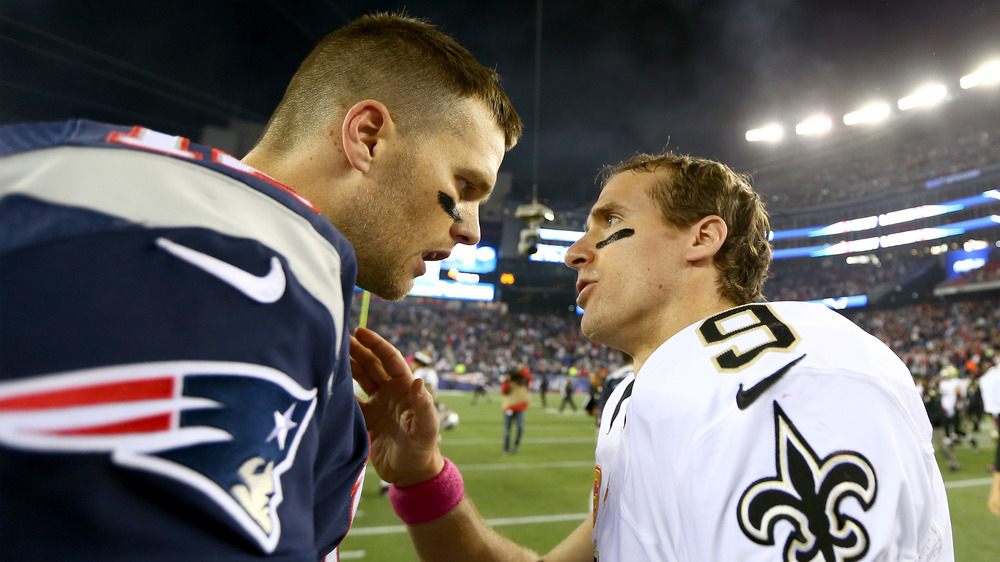 Elsa/Getty Images
As two of the best quarterbacks in the NFL, New Orleans Saints' Drew Brees and Tampa Bay Buccaneers' Tom Brady, you would expect they'd be at each other's throats a lot. After all, they are both at the top of their games, and their teams (or at least Brady's former crew, the New England Patriots) have been going against each for a while. However, Brees and Brady get along well and can even consider themselves friends.
Brees and Brady have a lot in common. Both quarterbacks are considered veterans of the NFL, having played in the league for years (Brady was drafted in 2000; Brees in 2001). They're both already in their 40s, competing against those who are much younger than them. According to The Ringer, the players first met in 1999.
Brady and Brees faced each other while in college. Brady played for the University of Michigan while Brees went to Purdue. They both remember a time when their college teams played against each other, where Michigan won. Brees said he remembers standing on the sidelines watching the Michigan players and noting how Brady, despite having to share the spotlight with a freshman, was clearly the team's leader. Brady also remembers the match well and even has good words about Brees. He said he recalls that even then, he already loved watching Brees play.
They make fun of each other's age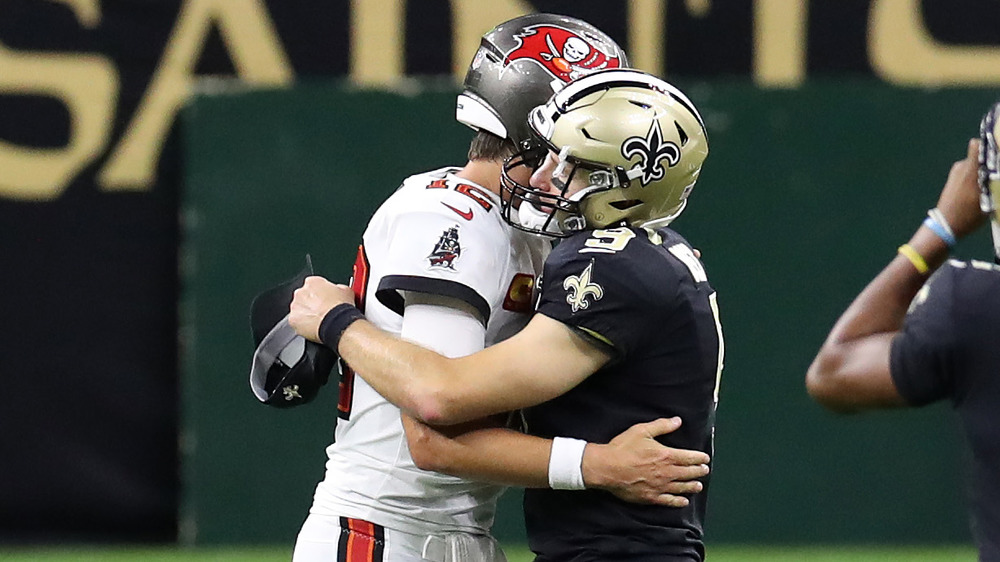 Chris Graythen/Getty Images
Now that both Tom Brady and Drew Brees are league veterans and have championship rings under their belt, nothing has changed. Both QBs have complimented each other and said kind words about their achievements. Brees admitted he respects Brady, especially as the other man has accomplished a lot in his time, considered to be the greatest of all time.
Brady and Brees acknowledge that the other is a great player, with Brady even complimenting Brees for being a leader for two different teams (Chargers and Saints) despite how competitive the NFL can be. Mutual respect is nothing new for Brady, who's known for being congenial with teammates like Rob Gronkowski.
The two even make fun of their veteran status. As reported by NBC Sports, Brady posted an edited photo of him and Brees, aged up with grey beards, and standing in front of a History Channel logo to his Twitter. Brady, in fact, is the oldest player ever to throw a touchdown in the NFL playoffs. Brees reacted by retweeting the photo and said, "This is good!" Clearly, the mutual admiration society of Brady and Brees is going strong.