Why Elton John Couldn't Stand George Michael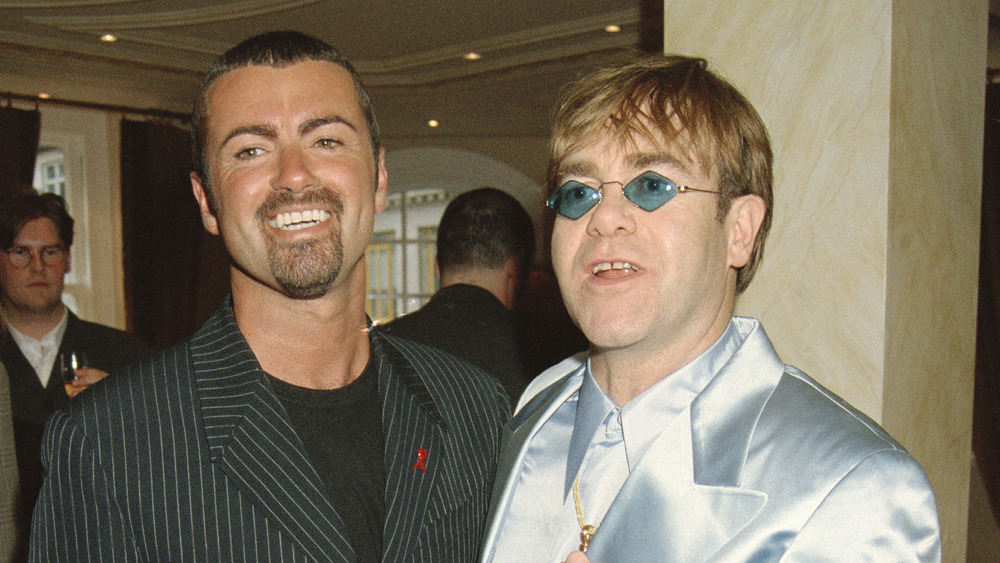 Dave Benett/Getty Images
It's hard to imagine George Michael and Sir Elton John as anything but friends. Fans know how John served as a special guest and performed "Candle in the Wind," inexplicably dressed as Ronald McDonald, at Wham's final concert at London's Wembley Stadium in 1985 (per Smooth Radio), and that very same year they also performed John's song "Don't Let The Sun Go Down On Me" together at the famous Live Aid benefit concert. They even went on to record another live version of the song in 1991 (via Elton John's website), which reached No. 1 on the music charts in several countries, including the United States and the United Kingdom, making it Michael's last No. 1 song before he died in 2016. 
However, the two had their share of bad times over the years as well, seemingly stemming from John's ongoing attempts to get Michael to stop using drugs. As reported by the Irish News, after Michael's untimely death, John came forward to discuss how he had tried to help his friend but found "you can't help people who don't want to help themselves." As a recovering addict himself, John noted that he was at that time 28 years "clean and sober" and remembered, "When people told me when I was using that I was doing the wrong thing I was so angry and I just told them to go away or I actually used stronger language than that."
George Michael and Elton John had a rocky friendship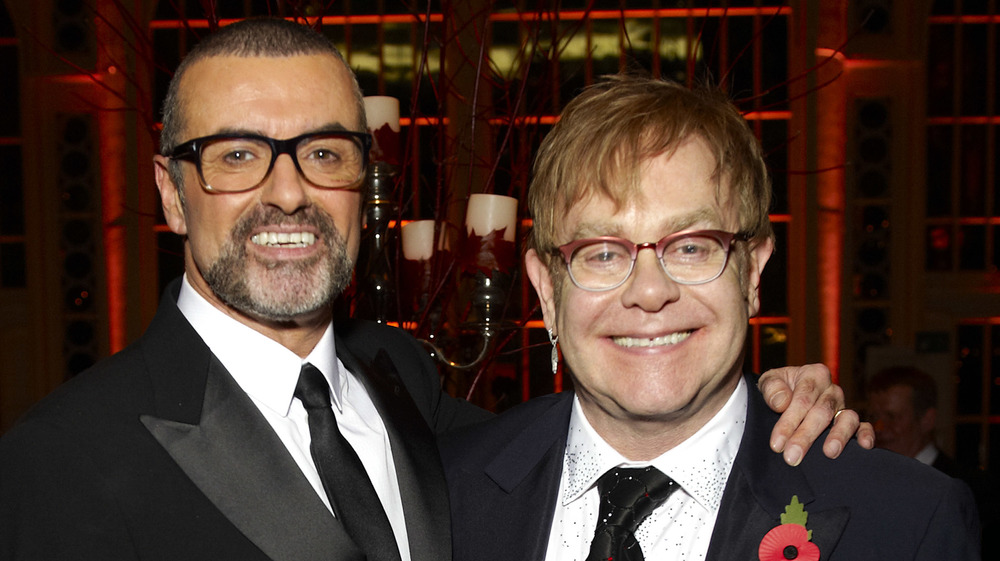 Caroline True/Getty Images
Indeed, a heated argument between George Michael and Elton John played out publicly in the mid-2000s. According to NME, when Michael released his album Patience in 2004, John told Heat magazine that he found it "disappointing" and opined that Michael was "in a strange place."
Michael responded to the criticism by writing to Heat and proclaiming that he and John had "spoken rarely in the last 10 years" and never discussed his private life and therefore, "Elton John knows very little about George Michael and that's a fact." He went on to note that John's knowledge of him was "pretty much limited to the gossip he hears on the 'gay grapevine'" and what he actually knew was limited to, "I don't like to tour, I smoke too much pot, and my albums still have habit of going to Number One." 
Nevertheless, they seem to have mended the rift at some point, taking pictures together at a charity performance for the Elton John AIDS Foundation at the Royal Opera House in London in 2011 (see above). After Michael's death, John used his radio show The Rocket Hour, to pay tribute to his old friend, per NME, announcing, "not only was he a good friend, but he was probably one of the most brilliant songwriters this country's ever produced, and certainly one of the best vocalists ever."