How Much Former Buccaneers Head Coach Jon Gruden Is Really Worth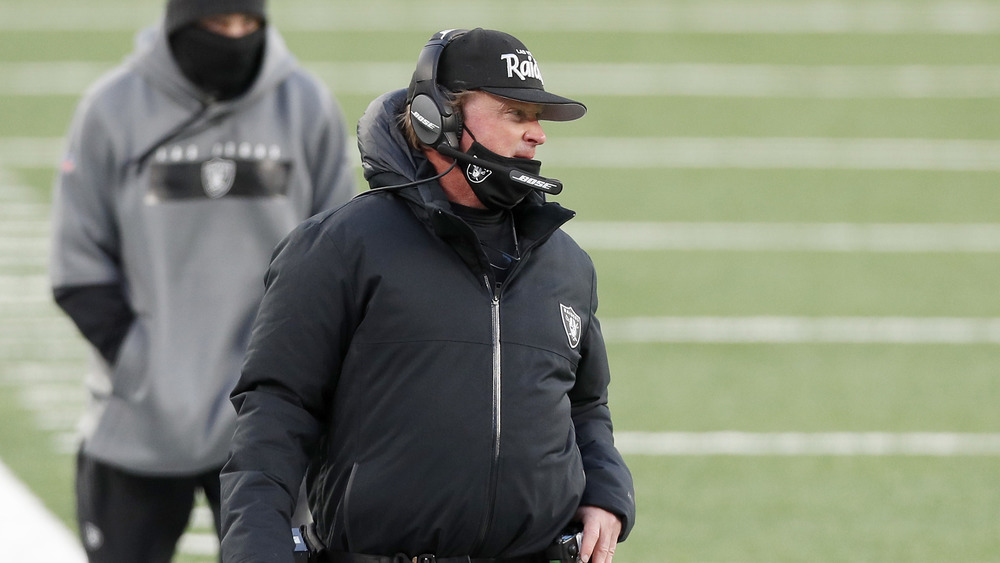 Jim Mcisaac/Getty Images
Former Tampa Bay Buccaneer head coach Jon Gruden, who's now coaching the Las Vegas Raiders, is famous for his career in the NFL and his appearances as a football analyst on ESPN. His work on the field and in front of the camera has brought him much financial success. In fact, Celebrity Net Worth states that Gruden has a net worth of $30 million, though PlayersBio reports that he's really worth $25 million. The Richest offers a slightly lower estimate of $22.5 million.
Jon Gruden was born in Sandusky, Ohio, on August 17, 1963, and according to PlayersBio, he grew up cheering on the Cleveland Browns. He was a backup quarterback for the University of Dayton, and according to Sportscasting, pursued coaching football after graduation. Gruden started out coaching in colleges before the NFL with the San Francisco 49ers, the Philadelphia Eagles, and the Green Bay Packers. He was named head coach of the Oakland Raiders in 1998, where he earned the nickname "Chucky" for his memorable behavior.
How the former Bucs coach built his fortune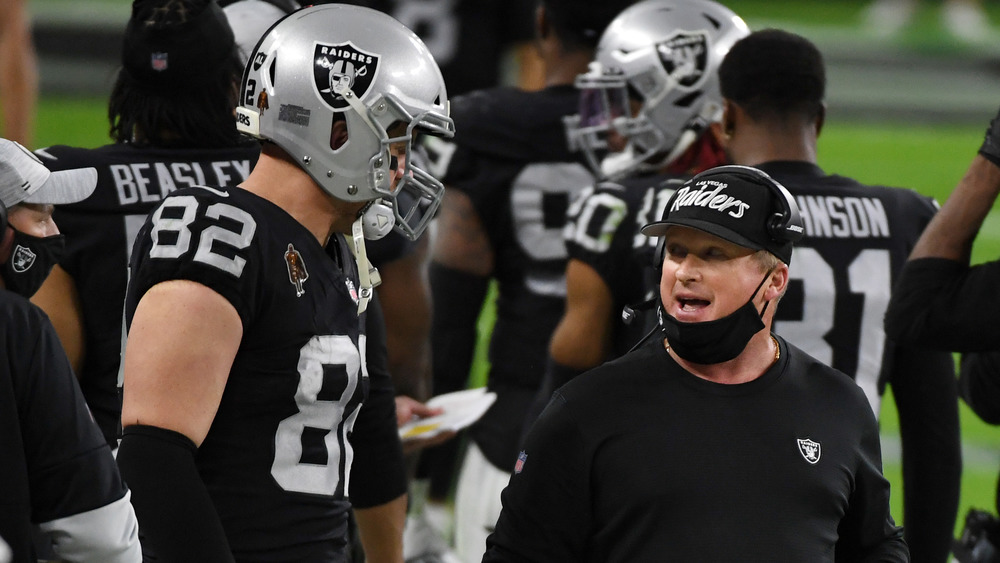 Ethan Miller/Getty Images
According to Celebrity Net Worth, Gruden's first head coaching job in the NFL was with the Oakland Raiders (1998-2001), and from there he went on to coach the Tampa Bay Buccaneers (2002-2009), which he led to victory over his former team in Super Bowl XXXVII. After losing his position with the team in 2009, the former Buccaneers head coach went on to work for ESPN from 2009-2018. According to Sportscasting, Gruden was a commentator on Monday Night Football and used his experience as a quarterback and coach to host his QB Camp.
Jon Gruden's complimentary careers helped him amass a net worth of as much as $30 million. For instance, he earned $6.5 million each year for his role with ESPN, which Forbes noted meant he was the highest paid on-air personality for the network at the time. Also, Celebrity Net Worth states, Gruden signed a 10-year, $100 million contract (which pays $10 million per year) when he re-signed as head coach of the Raiders (now Las Vegas) in 2018. Before this contract, Gruden's highest paying coaching position in the NFL was with the Buccaneers, and his salary was $4 million per year.