Why The Tampa Bay Buccaneers Already Have An Advantage At Super Bowl LV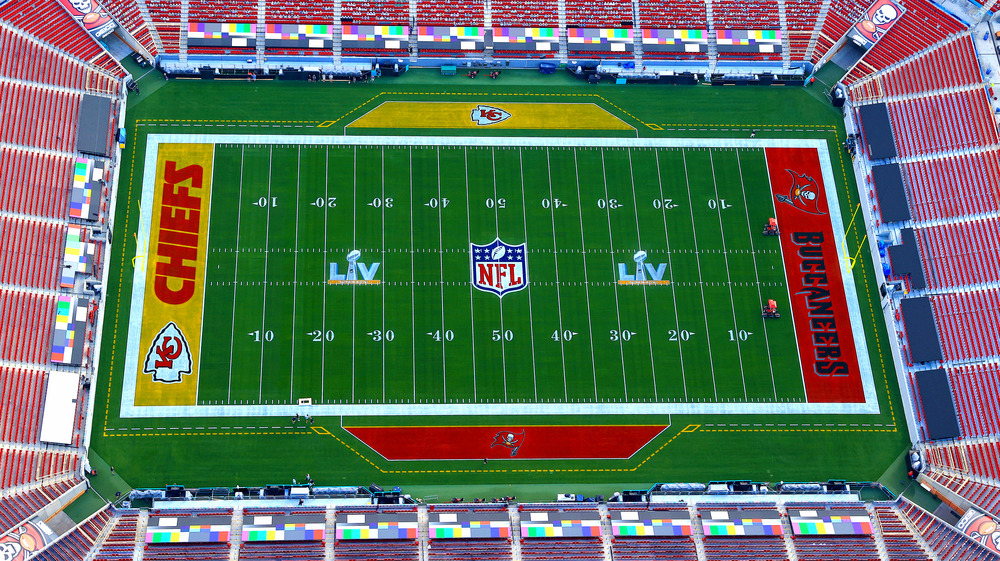 Mike Ehrmann/Getty Images
Home-field advantage, right? It's a common belief that players who play in their home stadium, on their own turf (literally or figuratively), to the roar of a supportive, local crowd, perform better and win more often... right?
This is precisely the situation that the Tampa Bay Buccaneers will find themselves in, more or less, on February 7 when they square off against the Kansas City Chiefs in Super Bowl LV in Ray James Stadium in Tampa Bay, Florida. They are the first team in Super Bowl history, per Bleacher Report, that will play the NFL's biggest annual game in their home stadium, after construction on SoFi Stadium in Inglewood, Los Angeles, was delayed. NFL rules say that a stadium must be open for at least two years before hosting a Super Bowl, per the New York Post, and so Ray James Stadium, originally scheduled for use in 2022, per Sporting News, was pushed forward to 2021. In the days leading up to the game, the Bucs will be practicing across the street from Ray James like usual, and the Chiefs will be at home right up until kickoff day. 
Of course, the Bucs will be playing on familiar turf (with new grass), but the roar of the local crowd? Not so much. COVID-19 has eliminated the 2020 season's fan factor from games. Even for the Super Bowl, only 22,000 seats out of 70,000 are open, with 7,500 of those already reserved (rightfully so) for health care workers.  
A slight home-field advantage based mostly on routine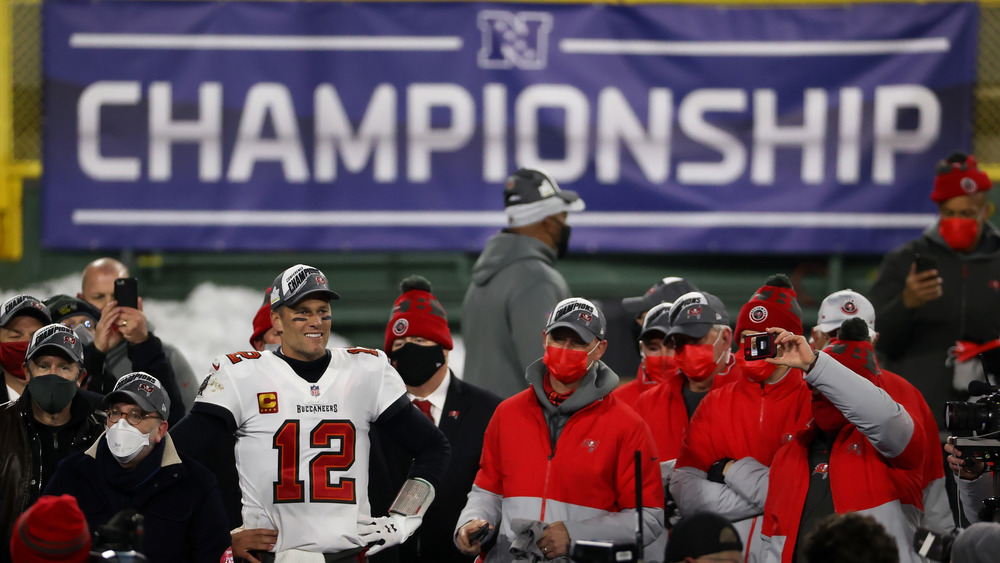 Dylan Buell/Getty Images
Most of the seats for the Super Bowl won't be available to the general public, anyway, limiting the Buc's home-field advantage even further. After healthcare workers, the rest of the 14,500 tickets will be divided up between Buccaneers, Chiefs, and "non-participating teams and corporate sponsors," leaving a mere 400 available on secondary markets, where prices have volcanoed to an absurd $11,173 – $75,460, per the New York Post. This means that the stadium will be a much more neutral venue than not, as Super Bowl stadiums are intended to be. This is especially the case during the 2020 season, when the typical home team vs. away team paradigm was patently proved false, as 0.511 percent of home teams in fanless stadiums lost their games, per the Washington Post.
Even so, as Yahoo News reports, the Bucs are still being favored by bookies. After the announcement that they would be hosting the game, their point spread jumped from -3.5 to +3. Coach Bruce Arians attributes this advantage to his team being able to stick to their usual schedules. He said on the Buccaneer's homepage, "Nothing is out of the ordinary until we hit the media sessions next week. Just to be able to stay in your routine, sleep in your bed and all that stuff – I think it's a huge advantage."
So will the Bucs nominal home-field "advantage" pay off? We'll just have to tune in on February 7.