Buccaneers Head Coach Bruce Arians Is Worth A Lot More Than You Think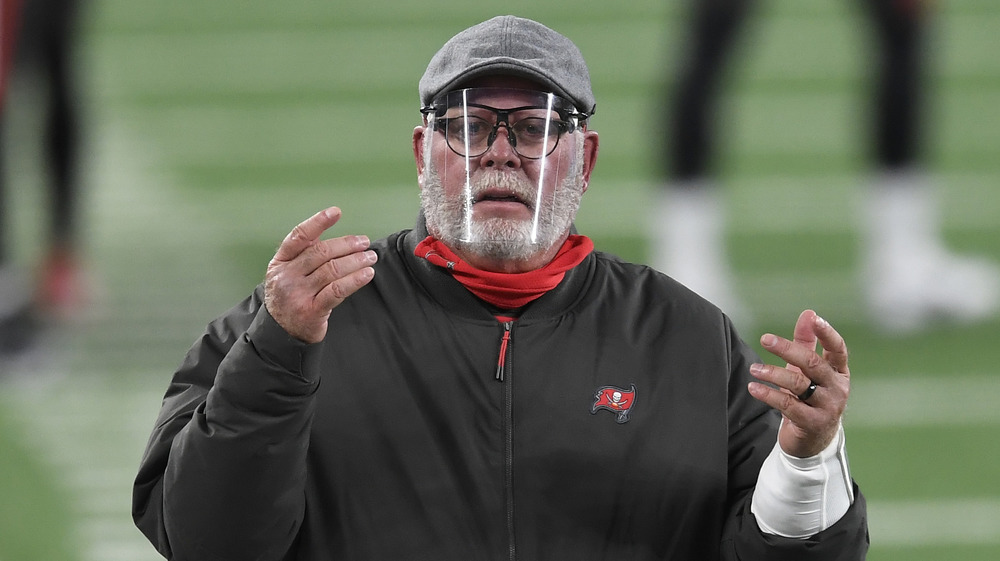 Sarah Stier/Getty Images
If you're an American football fan, you probably already know that the coaching staffs for the teams at the sport's highest level make big bucks. Furthermore, the head coaches make the most money leading the teams, and you'll find that Tampa Bay Buccaneers head coach Bruce Arians is worth a lot more than you might think. In fact, Money Inc ranks him among the top 20 of the NFL's richest head coaches of all time: Arians placed 18th, with a net worth of about $10 million.
Celebrity Net Worth lays out how Arians built his fortune and how he became the Buccaneers head coach in 2019. Born in October of 1952 in Paterson, New Jersey, Arians played starting quarterback his senior year for Virginia Tech, and he held several jobs coaching college football before landing a job with the NFL in 1989 as a running backs coach for the Kansas City Chiefs. By 2012, he became the interim head coach of the Indianapolis Colts, then he was hired as the head coach of the Arizona Cardinals in 2013. The Street notes that Arians was named AP Head Coach of the Year in 2012 and 2014.
Bucs head coach Bruce Arians came out of retirement to get to the Super Bowl
Alika Jenner/Getty Images
According to The Street, Bruce Arians came out of retirement in 2019 to sign a four-year contract and become the Tampa Bay Buccaneers' 12th head coach, as also seen on the team's website, so he will lead the team until at least 2022. Celebrity Net Worth notes that the deal earns Bruce Arians $5 Million per year, and so far, it seems like he's been worth the money. Since signing on as the Buccaneers head coach, Arians has brought on top talent, like quarterback Tom Brady, says Bleacher Report, and led the team to Super Bowl LV.
Before becoming the Bucs' head coach, Arians was a game analyst for CBS during the 2018 NFL season, a move that was widely reported by outlets like Sports Illustrated and surely earned him a nice salary. So, while he's not the league's top earner when it comes to the coaching staff, Buccaneers head coach Bruce Arians is worth quite a bit, and his estimated $10 million net worth is bound to grow.