Has The Weather Ever Canceled Or Delayed The Super Bowl?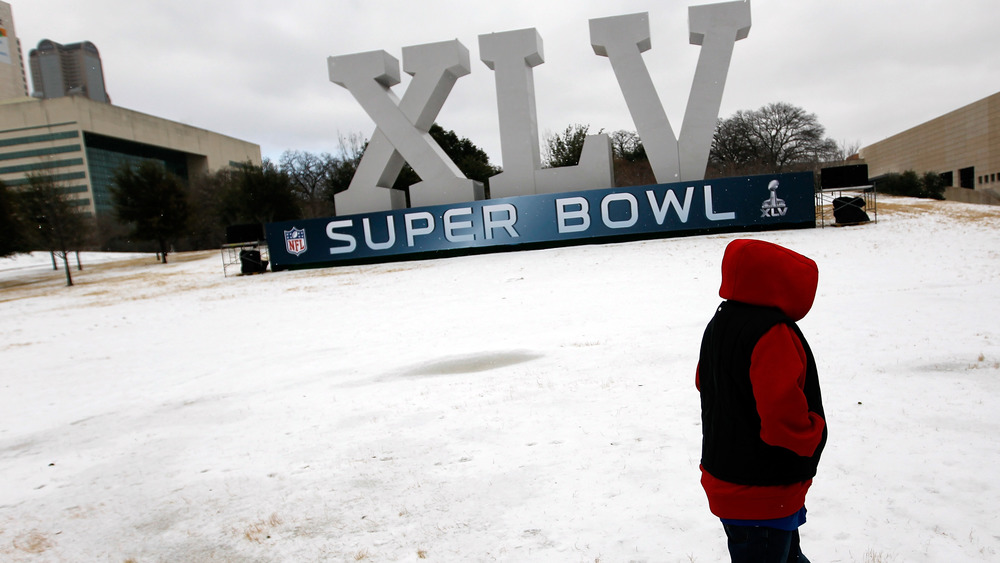 Tom Pennington/Getty Images
Since the Super Bowl takes place during the winter, there's always the stressful possibility of inclement weather affecting the big game to the point of a delayed start or even a cancellation. However, it hasn't happened yet. Per ThoughtCo, there has never been a Super Bowl delay or cancellation due to bad weather. In fact, the only delay in the history of the Super Bowl happened in 2014 when an electrical problem postponed the third quarter of the match-up between the Baltimore Ravens and the San Francisco 49ers by 34 minutes. Even so, there have been a few close calls. 
In 2011, Superbowl XLV was threatened by an unlikely ice storm in the host city of Arlington, Texas (shown above). Four inches of snow then fell later in the week, and unseasonably cold weather kept the unwelcome ice and snow around. According to the Farmers' Almanac, lots of disappointed fans couldn't get to the game when hundreds of flights were canceled and a few unlucky spectators were injured by falling ice and snow from the stadium roof. Luckily, things thawed out enough by the weekend to let the game go on as planned.
The Super Bowl must go on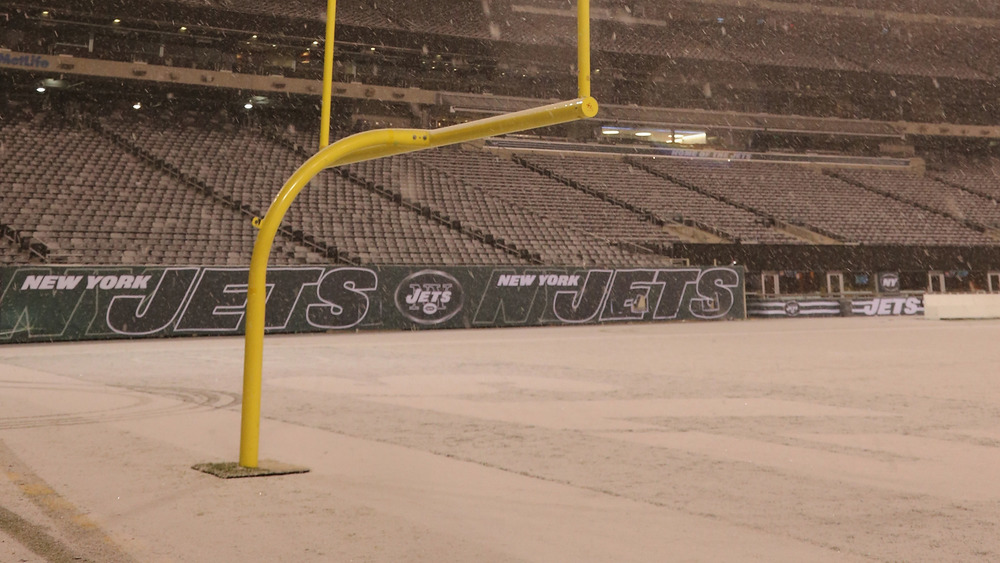 Al Pereira/Getty Images
In 2014, snow once again threatened Super Bowl XLVIII when a snowstorm blanketed MetLife Stadium in the host city of East Rutherford, New Jersey, a week before the game. Still more snow was predicted for Super Bowl weekend, but the weather seemed to want to cooperate with the NFL. The temperatures were a good 10 to 15 degrees above average on Super Bowl Sunday and the storm waited until the following Monday to drop eight inches of snow on the city, as reported by ThoughtCo. The post-game storm stranded several fans from out of town, but they could at least comfort themselves knowing the game hadn't been canceled after all. 
Most Super Bowl games are played in domed stadiums at this point, which helps the show go on regardless of the weather. That was not the case in 1972, when, per the Farmers' Almanac, the Dallas Cowboys and the Miami Dolphins played against each other at Super Bowl VI in New Orleans, Louisiana. The temperatures were well below the average Louisiana winter highs of about 65 degrees and at kickoff were a little too close to freezing at a mere 39 degrees. It eventually warmed up to a still-chilly 43 degrees, according to SportingNews, and like every Super Bowl, the game went on.