The Well-Known Horror Film Inspired By The Gainesville Ripper
Shutterstock
Serial killer Danny Rolling's murder spree was short, but so specifically horrifying and disturbing that it went on to inspire a horror movie. In the summer of 1990, after years of committing increasingly violent crimes, Rolling terrorized the college town of Gainesville, Florida, over three days. By the time he was caught, five people were dead.
Rolling was born in Shreveport, Louisiana, in 1954 to a 19-year-old mother and a father who was a police officer and Korean War veteran. His father, per Biography, was "temperamental, controlling, and violent," fighting with his family and inflicting verbal and physical abuse on Danny and his younger brother, Kevin. Danny turned to music as a way to cope and later reported that he "developed multiple personalities as a 'defense' from the nightmarish reality around him, with attempts at suicide failing to bring an escape." He was kicked out of the Air Force for drug possession in 1972, and he lived with his grandfather for a time. Rolling married a woman named O'Mather Halko, but the marriage ended due to Rolling's violent behavior. At that point, Rolling began a downward spiral of increasingly disturbing criminal behaviors. He sexually assaulted a woman that resembled his ex-wife and performed a string of armed robberies, culminating in arrest and jail time in Jackson, Georgia. 
He continued perpetrating armed robberies and getting arrested throughout Alabama and Mississippi as well as reportedly sexually assaulting multiple women. In 1989, he committed his first known murder after getting fired from a restaurant. 
A gruesome series of murders
According to All That's Interesting, Danny Rolling broke into the house of 24-year-old Julie Grissom, her father Tom Grissom, and her 8-year-old nephew, Sean, and killed them. Rolling left Julie Grissom's body spread-eagle on a bed with bite marks all over her body. He wasn't identified as the killer at that time. Shortly thereafter, Rolling shot his father twice, causing him to lose an eye. Determined to leave Shreveport for Florida, he stole papers from the house of a man named Michael Kennedy Jr. and began using his identity. 
On August 20, 1990, Rolling followed two University of Florida Gainesville students, Sonja Larson and Christina Powell, to their home. He broke into the house, overpowered them, then raped, stabbed, and murdered them. He removed their nipples and took one as a trophy. The following day he raped and murdered a student named Christa Hoyt in a similar manner, going so far as to decapitate her and leave her head on a bookshelf for authorities to find. News of the murders spread throughout the university and the city, but Rolling was still able to stalk and kill Tracey Paules and Manuel Taboada, although he didn't mutilate them, per All That's Interesting. 
Two weeks later, the Gainesville Ripper was arrested after a high-speed chase related to a Winn-Dixie robbery. Within two months, authorities noted the similarities between the murders of the Grissoms in Shreveport and the students in Gainesville, which prompted a request for DNA from inmates from Shreveport incarcerated in Florida. Rolling's DNA was a match. 
The Gainsville Ripper inspired Kevin Williamson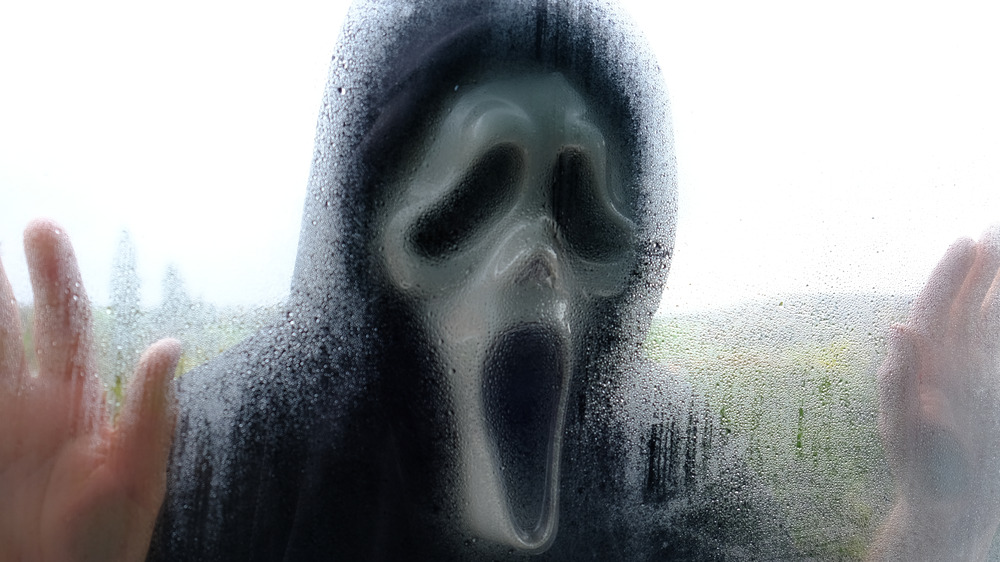 Shutterstock
Danny Rolling was formally charged with the murders of the five University of Gainesville students in June 1992. As reported by Biography, he first pleaded not guilty but changed the plea to guilty just before the start of his 1994 trial. His mother testified about the abusive behavior Rolling endured from his father. After examining Rolling, a psychiatrist described "an alternate personality of Rolling's named 'Gemini,' who drove him to his sadistic acts." Danny Rolling was found guilty by a unanimous jury and executed by the state of Florida on October 25, 2006. 
Screenwriter Kevin Williamson followed the story of the Gainesville Ripper murders and was fascinated by the idea of a college campus driven to a state of panic and the subsequent media frenzy due to a serial killer who targets students. He used the story as the background for a screenplay about a campus terrorized by a murderer; the result was the 1996 postmodern slasher movie Scream, directed by Wes Craven. The movie was a hit with both critics and audiences and is often credited with the revival of the horror genre. Per All That's Interesting, Williamson noted, "Back when I was researching Danny Rolling, I wanted to write about a serial killer on a college campus, and an FBI agent hunting down a college professor. But then I decided to do Scream." He went on to explore the situation of hysteria on a college campus with his TV show The Following, which ran from 2013 to 2015.