The Significance Of The Whistle Used During Prince Philip's Funeral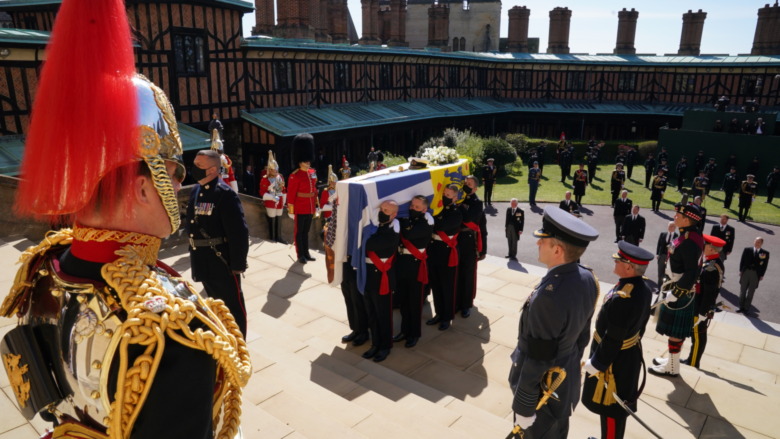 Wpa Pool/Getty Images
On April 17, 2021, the eyes of the world were on Prince Philip's funeral, which he planned out to a tee, and was rich with tradition, as well as progressive choices meant to inspire change. For example, the prince's body was transported in an electric Land Rover hearse that he himself helped design. And he was buried in a rather unusual coffin, as well. It was made of wool and cotton and was completely biodegradable. These 21st century touches paid homage to Prince Philip's long history of working to promote environmental issues the world over. According to the World Wildlife Fund website, he served as the first president of the UK office of the WWF from 1961 to 1981, after which he moved up to the international presidency until 1996.
But other observances were meant to highlight the more traditional roles of a British royal that he filled during his time as prince. One of these was the use of a boatswain's whistle to highlight his service in the British Royal Navy.
The use of the boatswain's whistle at Prince Philip's funeral is called a 'piping party'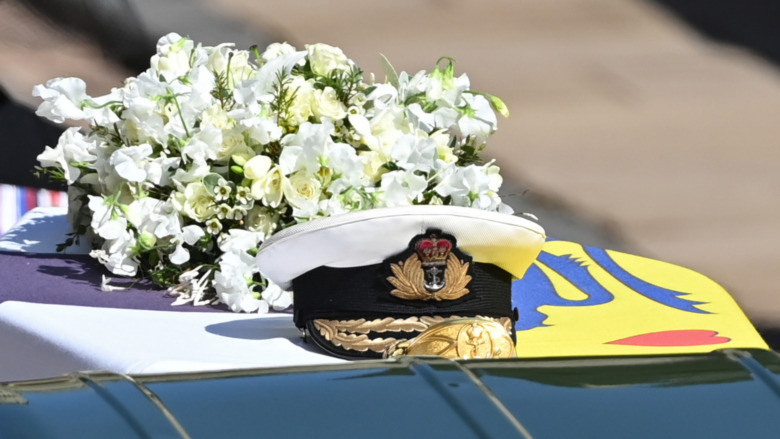 Leon Neal/Getty Images
Prince Philip was honored with was is known as a "piping party" as his coffin was carried into St. George's Chapel. According to the Washington Post, the nautical whistle was used in naval battles to pass orders, as skirmishes on the high seas are often too noisy to allow for verbal orders. The officer blowing the whistle, or the "piper," played several nautical calls, including "Still," "Side," and "Carry On," with a national moment of silence observed in between.
The Boatswain's Call Handbook states that the whistles were used on English ships as far back as the Crusades, in A.D. 1248. For the first few centuries of its use, it was known as simply a whistle, but in 1671 the Royal Navy began calling it the Boatswain's call.
According to the Royal Navy's official website, Prince Philip began his naval service when he was 17 years old. He graduated from basic training in 1940 and served for nearly 14 years. He served in World War II and earned mentions for "bravery and enterprise" during battle.