This Is The Actual Net Worth Of Stone Cold Steve Austin
Moses Robinson/Getty Images
Toward the end of the 20th century, the WWE (still the WWF back then) went from one of the bigger promotions to the worldwide name in pro wrestling entertainment. Vince McMahon turned the biz he bought from his dad into what was pretty much a global monopoly on sports entertainment. And he became a billionaire in the process. Superstar Stone Cold Steve Austin helmed a generation of inveterate badasses like Dwayne "The Rock" Johnson, Triple H, Kane and more, and although he and McMahon never seemed to be able to get along, McMahon really has The Texas Rattlesnake to thank for his rise to the billionaires list.
According to Celebrity Net Worth, McMan is worth around $1.6 billion. And while talkSPORT's Alex McCarthy crowned The Rock as the promotion's biggest star ever, he acknowledged that Austin was "the biggest draw in the history of the business." So just how handsomely was he rewarded for helping his nemesis get so filthy rich? Let's take a look at Stone Cold Steve Austin's net worth and see.
Stone Cold Steve Austin isn't as loaded as McMahon, but he's doing alright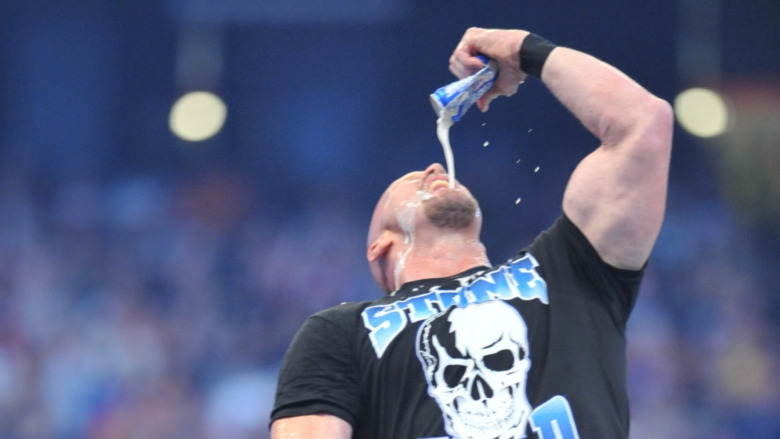 Moses Robinson/Getty Images
As you might imagine, Stone Cold Steve Austin isn't necessarily having tea with the queen. Admittedly, he most likely wouldn't do that even if he were a billionaire. (Though we'd pay good money to see that.) Still, neither is he hurting for cash. According to Celebrity Net Worth, the Bionic Redneck has moved out of the trailer park and is sitting on a cool nest egg worth around $30 million. That's a lot of six packs.
Of course, he's not buying six packs anymore, but rather making them. As Bleacher Report notes, Austin has collaborated with El Segundo Brewing Company to create the Broken Skull IPA, which is, as you'd expect, "one badass beer." That's one of the ways he's continued to earn a living since his retirement from pro wrestling in 2003. He has also hosted a reality obstacle course game show, also cranial fracture-themed, called Steve Austin's Broken Skull Challenge. And, being the epic force that he was in the WWE, his likeness is still worth a pretty penny. So it appears that the Stone Cold star will continue stunning for quite a while.