How The Battle Of Yorktown Led To The End Of The Revolutionary War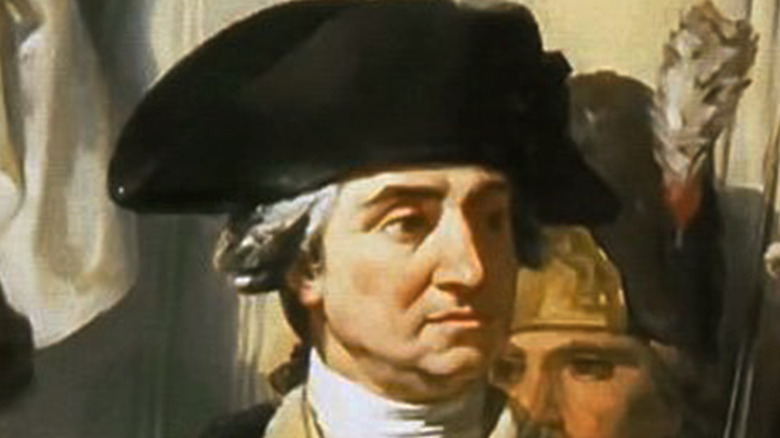 Heritage Images/Getty Images
The Battle of Yorktown laid the groundwork for an American win over Britain in the Revolutionary War. To pull this off, American General George Washington teamed up with France's General Jean-Baptiste Donatien de Vimeur, Comte de Rochambeau (via American Battlefield Trust). Despite a bit of a language barrier, the two worked out a bait-and-switch strategy for taking on British forces in the colonies. Washington wanted to attack British General Henry Clinton's northern position in New York City at first, and then he and Rochambeau decided to target General Lord Charles Cornwallis, who was based in the south instead. So Washington had fake army camps built near New York in 1781 to trick Clinton into thinking that his troops would soon be under attack.
While a small number of troops stayed in the north, the majority of American and French soldiers made their way toward Cornwallis' position in Yorktown, Virginia. The Franco-American troops received naval support and 3,000 additional French troops from the French fleet led French Admiral François Joseph Paul de Grasse, which took over the lower Chesapeake Bay and prevented British ships from reaching Cornwallis. The siege on Cornwallis and his 10 forts that surrounded Yorktown began on October 9 with both American and French artillery units commencing heavy firing that afternoon (via National Park Service). Cornwallis called for reinforcements from General Clinton, but the British ships were delayed.
Cornwallis's defeat ends Revolutionary War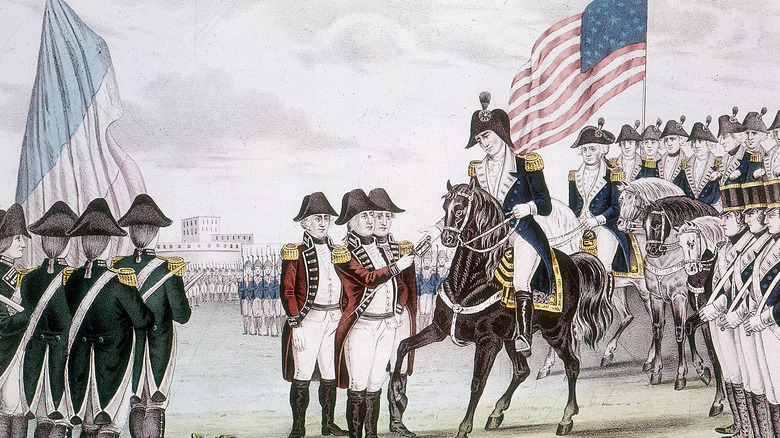 Print Collector/Getty Images
With no help in sight, Cornwallis found himself and his troops outmanned and outgunned. On October 17, 1781, a British soldier, accompanied by a drummer, approached the American side waving a white flag (via History). Cornwallis officially surrendered two days later, and all of Cornwallis' approximately 8,000 soldiers became prisoners of war (Library of Congress). The captured soldiers marched out of Yorktown as the British military band played "The World Turned Upside Down." While Britain still had 30,000 troops in the colonies, the country's defeat at Yorktown affected its will to fight on.
For the British, the loss at Yorktown helped cement public sentiment against the war. The country would have needed to recruit more soldiers and use more resources and funds to battle the American rebels. By this time, the war had stretched on for years and drained the nation's economy. And Britain had other battles to fight after all. The country had conflicts going on in India, Gibraltar, and Ireland (via National Park Service). In March 1782, the British Parliament passed a resolution to end the war (via American Battlefield Trust). It took nearly two more years after Cornwallis' surrender for the Americans to reach a formal agreement with Britain. Americans officially earned their independence with the signing of the Treaty of Paris on September 3, 1783.